Affiliate marketing is a compelling approach to making money; pretty much anyone can do it easily. It is a great opportunity for entrepreneurs and small businesses to earn revenue and expand their businesses. There are many ways to do this, but the most popular is via WordPress Affiliate Marketing themes. These Marketing themes are a great way to get your site noticed. People love using apps and even other web-based programs to earn an income.
These Affiliate Marketing WordPress Themes help you gain new customers and increase your sales and profits to grow your business. So, with that in mind, we bring this Affiliate Marketing theme collection. This guide will help you get the ideal affiliate marketing theme for your website!
List Of Best Free Affiliate Marketing WordPress Themes
1. Marketingly
2. Hoot Business
3. Nevark
4. Marketing Agency
5. Superb Landingpage
6. Advance Startup
7. Geschaft Business
Also, Read:
Best Free Grid WordPress Themes
Best Free SEO Friendly WordPress Themes
1. Marketingly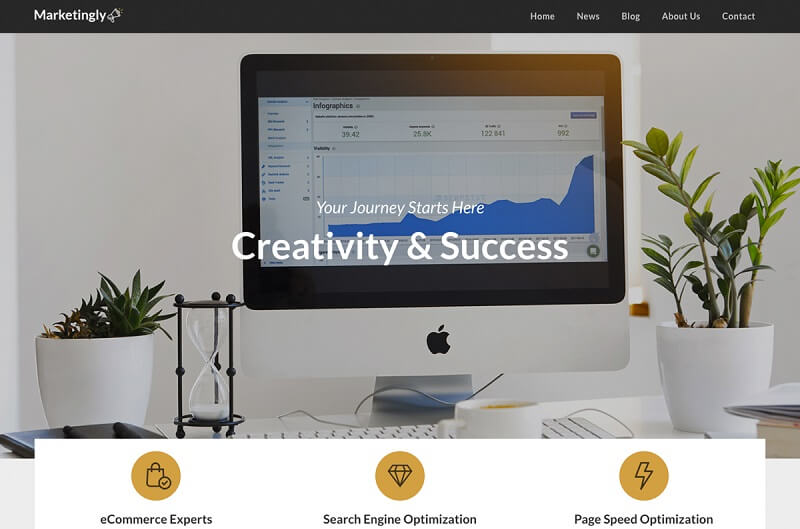 The Marketingly theme is a modern, robust solution for all your affiliated marketing needs. It is a highly customizable theme that can fit any website related to an online editorial magazine, a personal modern lifestyle blog, a classic news website, or an affiliate review. Also, the theme gives you limitless customization and a ton of ad space for the header widgets to place ads banners and AdSense to earn money through affiliate programs. Furthermore, this beautiful affiliate marketing theme is search engine friendly to beat the other bloggers and newspaper sites. In addition, this theme lets you make it Dark, White, Minimal, Boxed, Flat, and more the way you like.
2. Hoot Business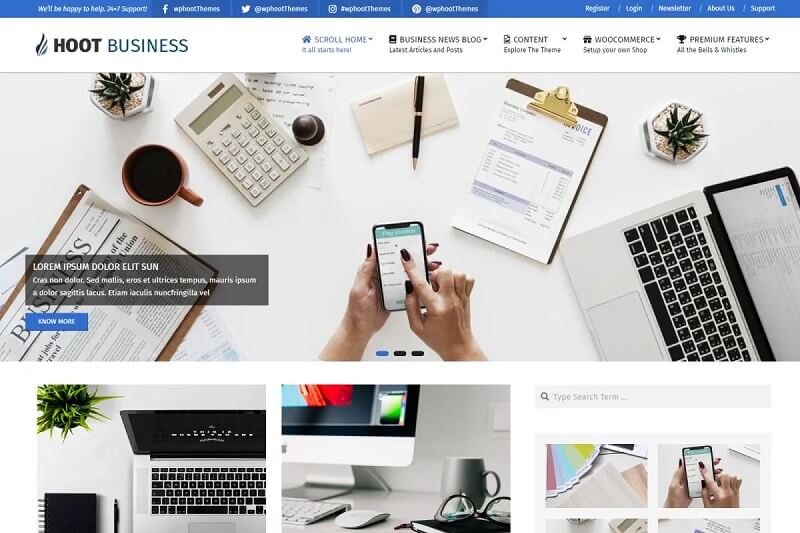 It is another free affiliated marketing WP theme that can also be used for local businesses, churches, web agencies, education, marketing, affiliate, and product sites. The Hoot Business theme also has a Fast loading and clean design. In addition, the theme is Translation and multi-lingual ready and has multiple robust widgets to show content in different forms. Furthermore, you will get SEO-optimized codes, and it works with 3rd party plugins, including Yoast SEO plugin, Contact Form 7, Google Maps mappress, Page Builder, and more. The Hoot Business theme delivers features like Font Awesome library with 991 icons, Multiple Logo Options, Unlimited Accent Color Options, Custom Widgets, and more.
3. Nevark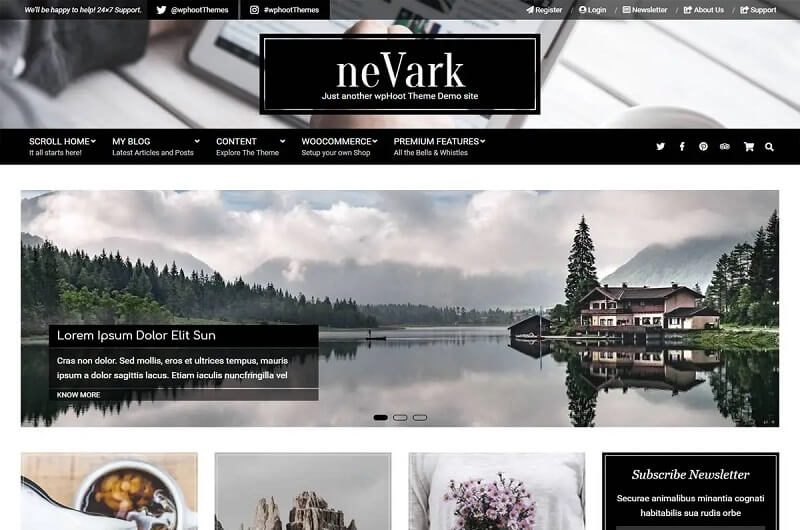 You can use this affiliated marketing for multiple purposes, including news, affiliate, service, marketing, education, online business, and product sites. Furthermore, the Nevark theme is easily customizable and has a fast-loading, retina-ready, responsive design with a modern, bold look. Also, this splendid theme supports multiple widgets for adjustable design to work flawlessly on desktop and responsive mobile screens. Besides affiliates, you can also use the Nevark theme for web agencies, studios, photography, portfolio, personal and other sites. In addition, the theme is easy to configure and customize, SEO optimized, and works with plugins such as Contact Form 7, Jetpack, Page Builder, Elementor, and various others.
4. Marketing Agency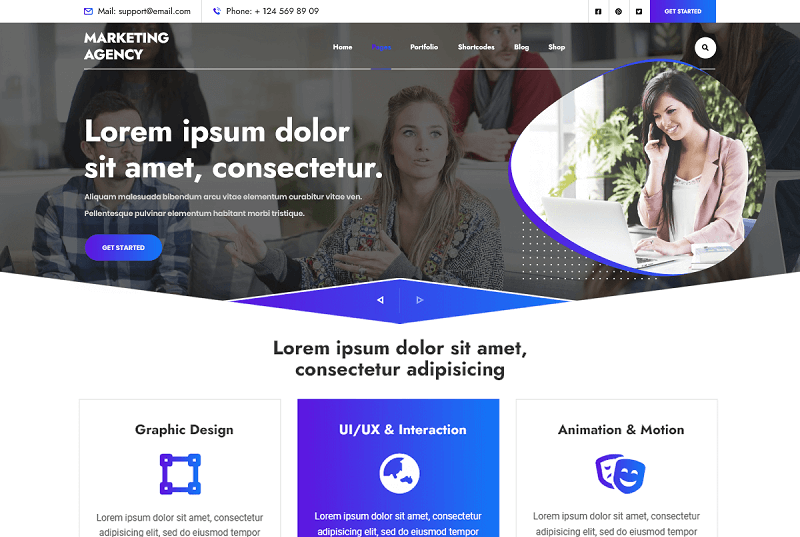 The Marketing Agency theme is responsive and professionally crafted for setting up a refined site for a digital or affiliated marketing agency. With this gorgeous theme, you can build Amazing sites for advertising and SEO agencies, including online marketing business, advertising, server security, digital marketplace, portfolio, and more. Furthermore, the Marketing Agency theme has an elegant layout with a minimalist approach to get the main content into the spotlight. It also has
social media options to provide your business with a boost and promote your marketing skills. The Marketing Agency theme gives you a Testimonial Section, Theme Options, Shortcodes, Flexible Header, and more.
5. Superb Landingpage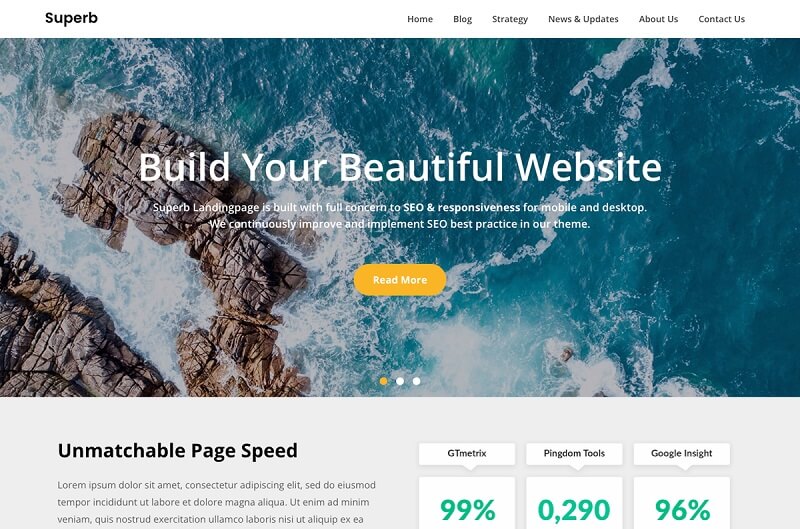 The Superb LandingPage theme is perfect for businesses, blogs, journalists, magazines, products, apps, etc. It has many features for affiliate marketing, including advertisement space for Google AdSense
and other affiliate programs. Furthermore, Superb LandingPage is a responsive landing page WP theme with the implementation of Beaver Lite Page builder. Besides this, it is SEO optimized, and your Photography images look stunning in the theme. In addition to this, the Superb LandingPage theme is elegant and gives you a dark mode, minimal, boxed, flat, or advanced design option. The theme also presents your products/apps creatively and elegantly, making it an excellent choice for promotional sites.
6. Advance Startup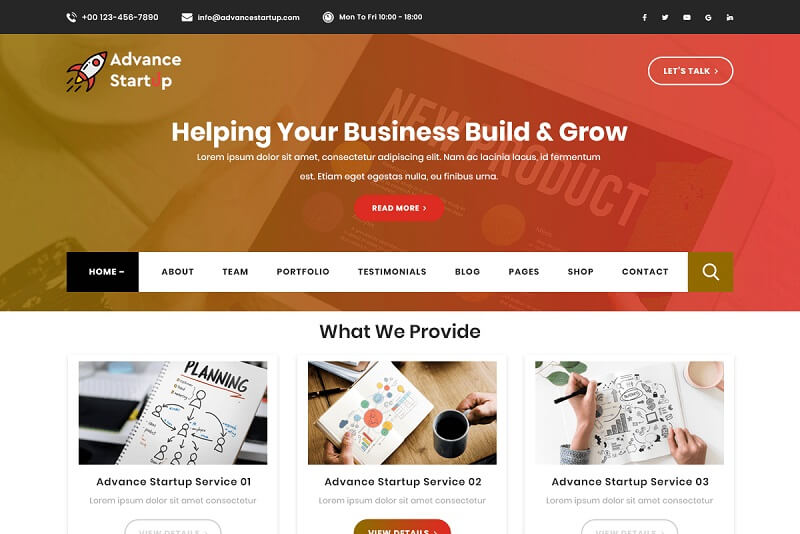 The Advance Startup theme offers header and footer format, custom color, background, font, menu style, logo, and many more. It is a resourceful, modern, and versatile startup theme to create high-quality websites. You can use the Advance Startup theme for startups, online agencies, portfolios, digital marketing, SEO agency, Affiliate Marketing, and newly establishing businesses. Furthermore, the theme is responsive, retina-ready, translation-ready, and cross-browser-compatible. Also, it has bug-free code, layout options, and a Full-width template for the perfect professional look. In addition, Advance Startup is designed and developed with an attractive homepage slider, CTA buttons, and many useful predesigned inner pages.
7. Geschaft Business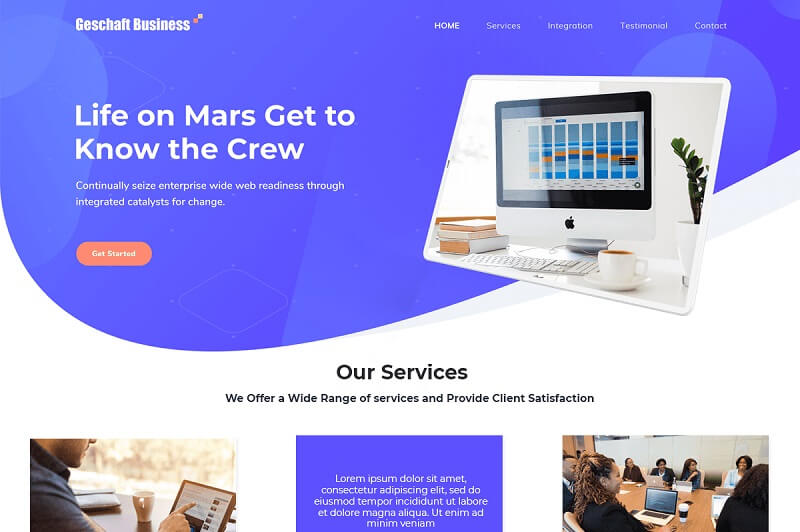 The Geschaft Business theme is a multipurpose theme perfect for small to large businesses, including landing pages, services, travel agencies, medical, consultancy, Personal Finance, Affiliate marketing, etc. The theme comes with a modern, unique, retina-ready design. Besides this, the Geschaft Business theme is also responsive and mobile-friendly, and it gives you an elegant Call to Action Button to catch the attention of your clients and visitors. Furthermore, this splendid affiliated marketing theme gives you customization options to build layouts as your need. And Testimonial section enables users to add their experience to your site. Its Social media options are just too good for social sharing your success stories.
Conclusion:
Finding a good affiliate marketing WordPress theme can be difficult. There are so many options, and it's hard to find the right one for your needs. When you're in the market for a new Affiliate marketing WP theme, it's essential to recall that Affiliate marketing is big business- a full-fledged opportunity for them to make money online and build a scalable business. So, do not go with a random theme for your affiliate marketing business; you have to invest your time and look through as many themes as possible to get best suited one for your site. I hope this theme compilation narrowed your search and got you what you wanted.