The craze for automobiles is not rare to see; you can easily find people who are very passionate about Cars and other vehicles. These automotive lovers know almost everything about them, from the horsepower to the tire rims; they know all the details. So, you can imagine how much they love these cars or vehicles. Because of that, automotive blogs or magazine sites are so popular. So, if you are also passionate about these automotive and want to have your very own automotive blog or magazine site, this theme collection of the best free automotive WordPress themes is for you!
With the help of these WordPress themes, you can create a simple blog and magazine or a business-oriented site for selling new and old cars. These WP themes come with valuable features to promote and showcase cars and display all the necessary information about the theme attractively.
List Of Best Free Automotive WordPress Themes
1. Automobile Hub
2. Automotive Centre
3. Sayara Automotive
4. Advance Automobile
5. Automobile Car Dealer
6. Expert Mechanic
7. Automobile Car Services
Also Read:
Best Free WordPress Accounting Themes
Best Free Small Business WordPress Themes
1. Automobile Hub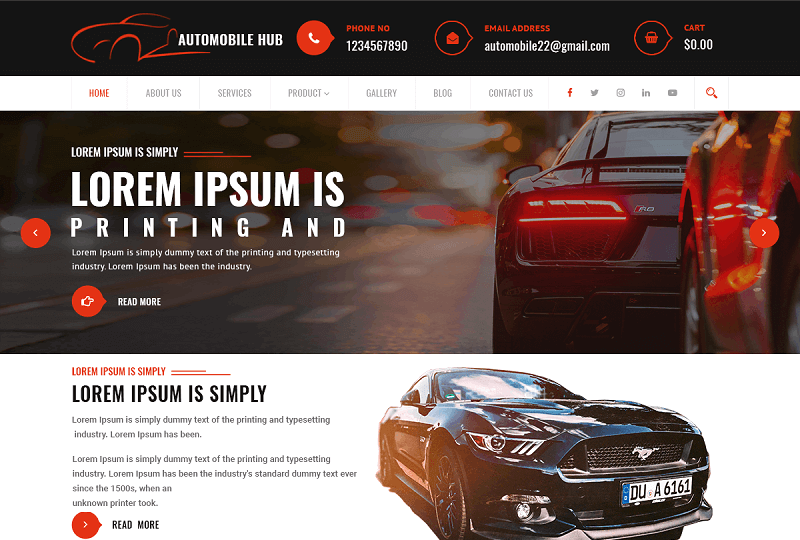 Developed by Themes Pride, this free automotive theme is a perfect choice for Car and bike showrooms, Automobile garages, Auto parts dealers, Service stations, Tire stores, Auto Wash, and other automotive-related works. The Automobile Hub theme has a dynamic, resourceful design and responsive layout. Also, it has dynamic features and functionalities suited for expanding your Automobile business. Also, this multipurpose automotive theme comes with Schema-ready codes and Social media icons to ensure the content reaches the target audience easily. Automobile Hub also has the latest browser and page builder compatibility and translation-ready features. You can easily showcase your cars, work, and services.
2. Automotive Centre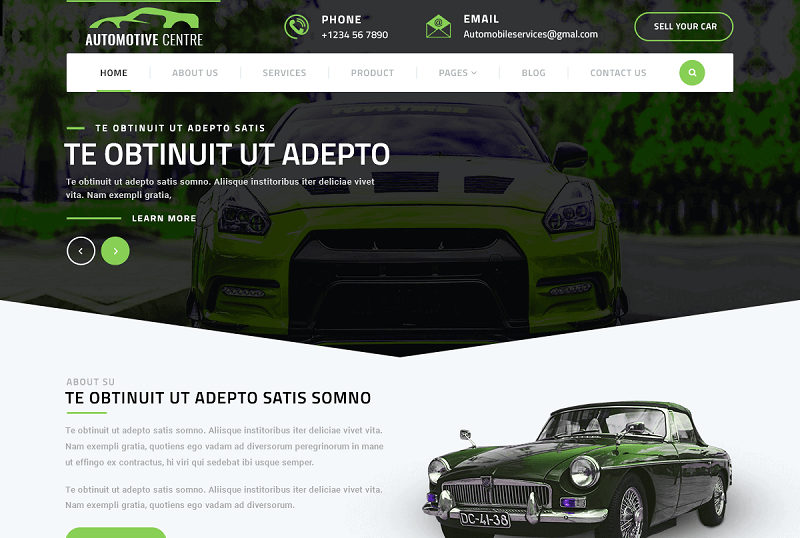 Automotive Centre is perfect for WP sites such as Car Dealerships, Motor homes, Automobiles, Car Repair Shops, Car Wash, Garages, Mechanic Workshops, Auto Painting Services, Vehicle Diagnostics, Automobile Magazines, etc. Furthermore, this fully responsive automotive theme comes with the latest web standards like HTML5, awesome CSS3, and a well-documented guide. In addition to this, the Automotive Centre theme offers Call to Action buttons and numerous styling options. Besides this, this splendid automotive theme has an innovative design, allowing you to add or remove anything that you may or may not like. Also, it has clean typography and shortcodes, making it the best extendible theme for your automotive sites.
3. Sayara Automotive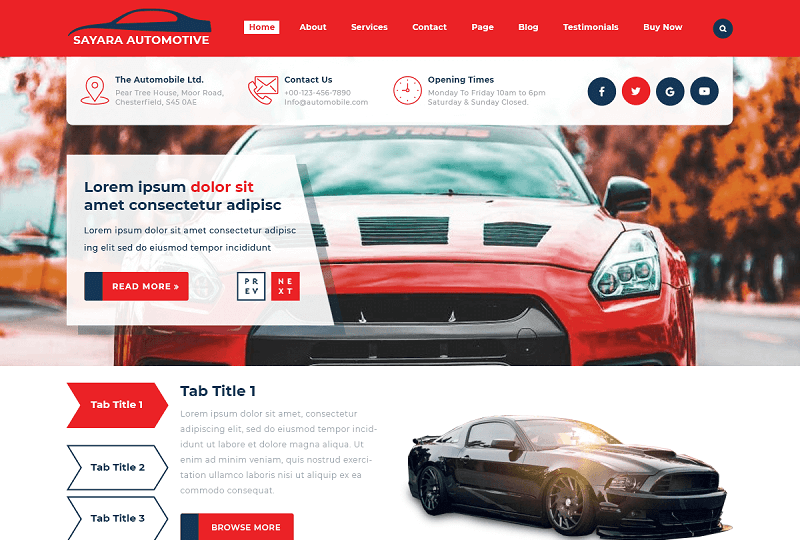 Sayara Automotive theme is the next theme on our list of the Best free automotive WordPress themes. This Bootstrap-based automotive theme has many fascinating features and integrations and is coded with WordPress standards. Also, Sayara Automotive can integrate with the Woocommerce plugin and has call-to-action buttons. That allows you to redirect your visitors to your targeted locations. Besides this, the Sayara Automotive theme has a modern layout and an impressive homepage slider to make the theme more impactful. And it is perfect for showcasing your customization work, available cars for sale, repair services, paintwork, etc. In addition, this automotive theme also has RTL Language Support, translation-ready, and you can use it with no coding knowledge.
4. Advance Automobile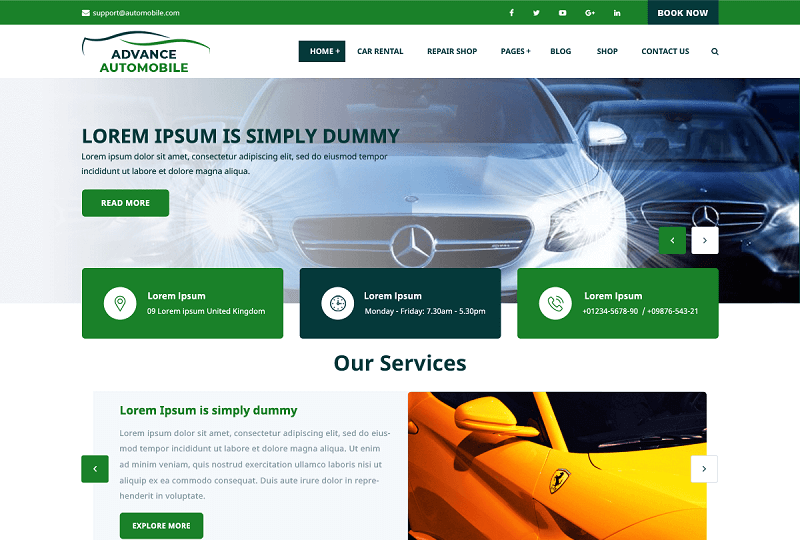 Advance Automobile is the best choice for Car Showrooms, Automobile Garages, Car Dealerships, Car Listings, Tire Stores, Auto Service Applications, Automobile Accessories, Car Repair Shops, and all other automobile-related websites. It is a modern, stylish, versatile theme with an eye-appealing layout, perfect for a personal blog and portfolio. Furthermore, Advance Automobile offers lots of splendid features that help you increase your website traffic and lets you do the customization to fit your imagination. Besides this, the Advance Automobile theme has a secure and clean code; and it also has custom-menu options. Also, the Advance Automobile theme is Translation ready; you can translate it into Arabic, Chinese, French, German, Spanish, and other popular languages.
5. Automobile Car Dealer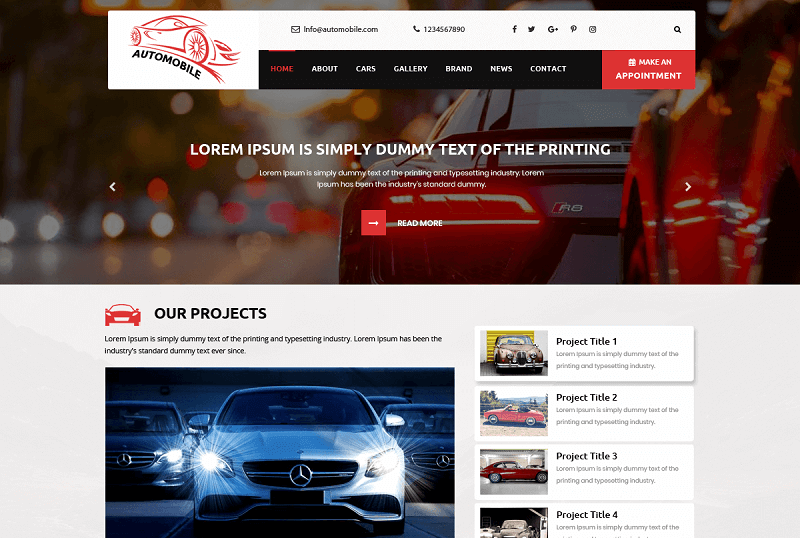 The Automobile Car Dealer automotive theme is a fully responsive theme developed by a team of professionals with essential features to help you increase your web traffic and sale. This intriguing WP theme optimized codes and is developed for designing attractive automobile sites and blogs. Also, the Automobile Car Dealer theme has personalization options and a homepage builder for live editing and managing the homepage. Furthermore, The Automobile Car Dealer theme is ideal for all automobile and car dealer-related businesses. You can use it for drawing potential clients and increasing sales and lead conversion. Also, it has a wide range of features and functions to streamline the whole automobile business process from browsing to purchasing.
6. Expert Mechanic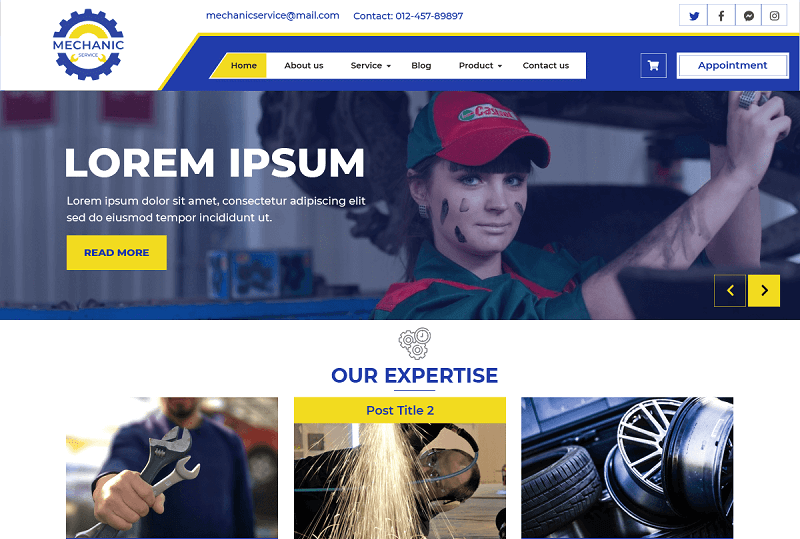 Expert Mechanic is another free mobile-friendly WordPress automotive theme perfect for representing your Car Washing Services, Motor and Repair Shops, Mechanical Workshops, Automotive Garage, Tyres Shops, Car painting, and other auto-industry-related websites. Also, the Expert Mechanic WordPress theme has a spectacular design, which includes interactive pages. Its minimal design ensures that your site shows just the important stuff. Furthermore, This powerful automobile theme has all the essential features to make the site load faster. Expert Mechanic is a unique and organized WP theme with a minimalistic design. Through the personalization options of Expert Mechanic, you can meet your branding as well as visual. Also, this theme meets your expectation for developing an impulsive automotive site.
7. Automobile Car Services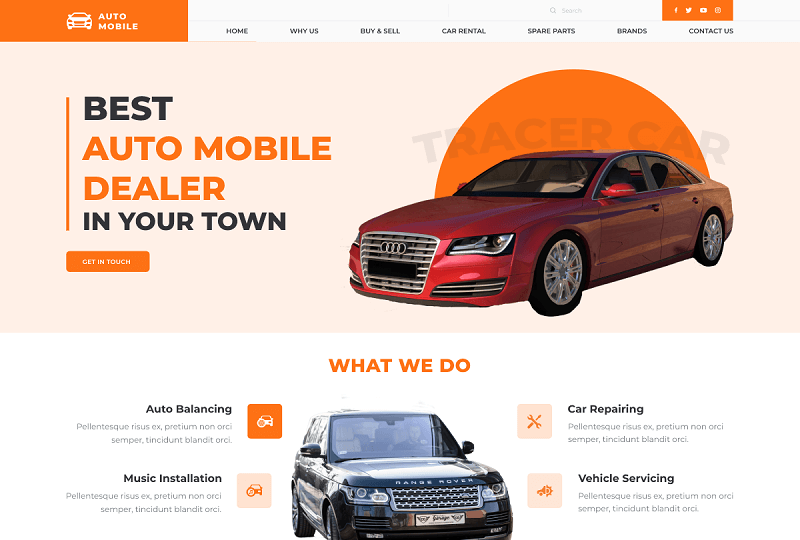 The last WP theme on our list of the best free automotive WordPress themes is the Automobile Car Services theme. The Automobile Car Services Theme is a mobile-friendly, Bootstrap framework-based WordPress theme. This intriguing theme is well suited for automobile services, automotive, and car dealers. Besides this, you can also use this theme for art and design, personal, portfolio, or blogs. Furthermore, this automotive theme allows you to exhibit your services to your visitors. It has a fully responsive design layout that works perfectly on all screens. Moreover, this beautiful WP theme has a Banner, Team section, Testimonial section, and many other sections given in the theme, along with social media icons.
Conclusion:
So, what do you think about these automotive WP themes; are they useful and worth trying? If you ask me, I have to say they sure do. All the themes in this collection are ready to use and give you all the essential features you need to run your dream automotive blog, magazine, and business site.
So, try them and let us know your thoughts about these themes in the comment box below.