Biking is one of the most thrilling and stimulating sports. Almost every highly enthusiastic person loves it. Therefore, there is a huge demand for bikes, bike gears, and accessories, or blogs related to bikes. So, it can be a good opportunity for you if you are planning to open an online store to sell bike gear and its relevant accessories or a bike-related blog site to showcase your bike, skills, or knowledge. All you need is just a good website that you can design using the best bike WordPress themes.
WordPress bike themes are great and exciting, especially if you love bikes. So, now you are thinking- what are the best bike themes to start an online store or revamp the existing one? Right! Well, this post has all the answers you need; let's start with the list of the best free bike store WordPress themes.
List Of Best Free Bike WordPress Themes
1. EV Bike Shop
2. Bicycleshop
3. Rider
4. Bike Rental Shop
5. Washing Center
6. MotoSpeed
7. Bicycle Repair
Also, Read:
Best Free WordPress Themes with Sliders
Best Free Digital Download WordPress Themes
1. EV Bike Shop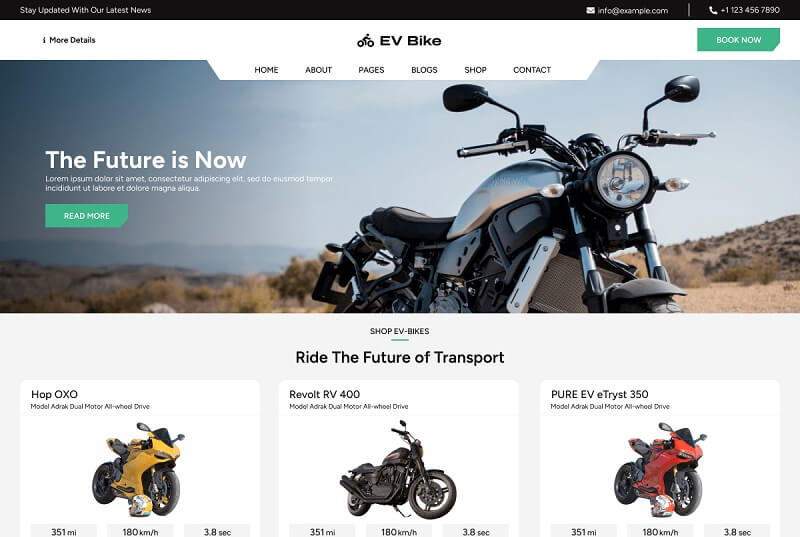 The EV Bike Shop theme is tailored meticulously for EV bikes and rental businesses and packed with all the latest features for the electric bike industry. These features include Booking Systems, Color Schemes, Typography Settings, Slider Settings, Inner Page Header, Testimonials, etc. Also, EV Bike Shop has a Default Photo Gallery and visually captivating template that seamlessly combines aesthetics with functionality. Furthermore, The EV Bike Shop theme is ideal for all sites related to bike and rental shops. You can use the EV Bike Shop theme from showcasing your bike models with detailed features to integrating eCommerce abilities for direct sales and book systems for test rides or service appointments.
2. Bicycleshop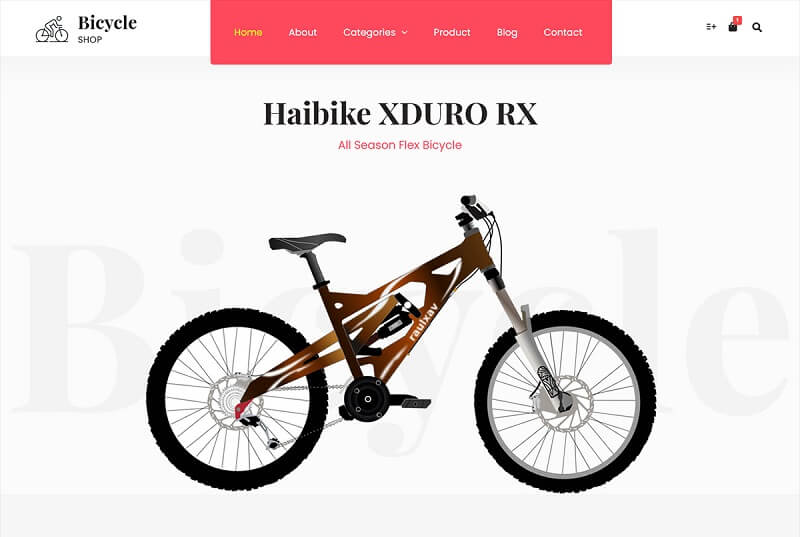 The Bicycleshop theme is the best choice for Online sales, Shopping sites, Fashion & appeal stores, Vehicle Dealerships, Furniture, Electronics stores, Interior shops, and other related websites. It is a clean, modern eCommerce template with WooCommerce integration out of the box. Furthermore, the Bicycleshop theme offers many powerful features and supports Elementor and Gutenberg editors for easy site design and customization. Besides this, the Bicycleshop theme is also SEO friendly, WPML, Polylang, and RTL-ready to increase your stores' multilingual functionalities. In addition, the social media features are also added in the Bicycleshop theme that allows you to embed all your social media pages on your site, making it a worth-trying.
3. Rider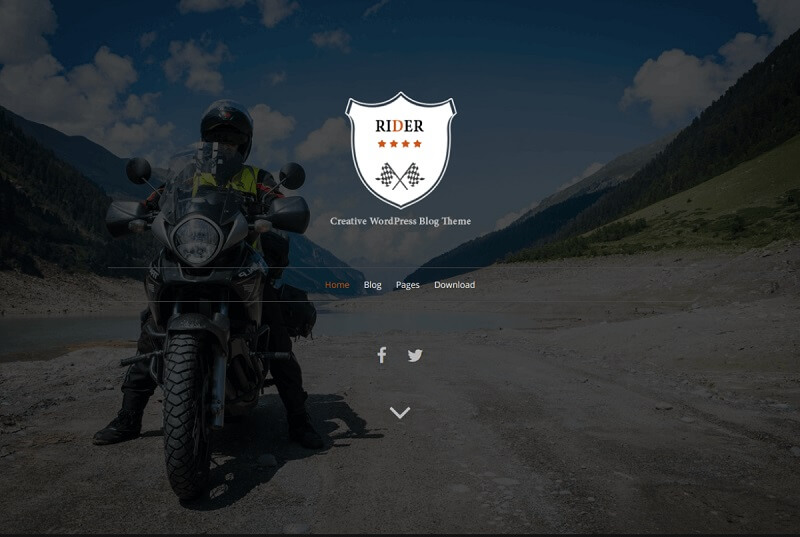 Rider is the upcoming theme in this roundup. It offers super flexible, Bootstrap-based responsive design with many intriguing features such as Custom Sidebars, Layout Controls, Background Images, Logo, Custom Widgets, Customizer Options, etc. Also, Rider is consistent with the Woocommerce plugin and language-ready, making it perfect for all the globally known languages. So, you can easily extend your store to the international market to drive more sales. Besides this, the Rider theme has detailed documentation and dummy data to build stunning sites for cyclists, bikers, motorcycle enthusiasts, bike rental hubs, and related businesses.
4. Bike Rental Shop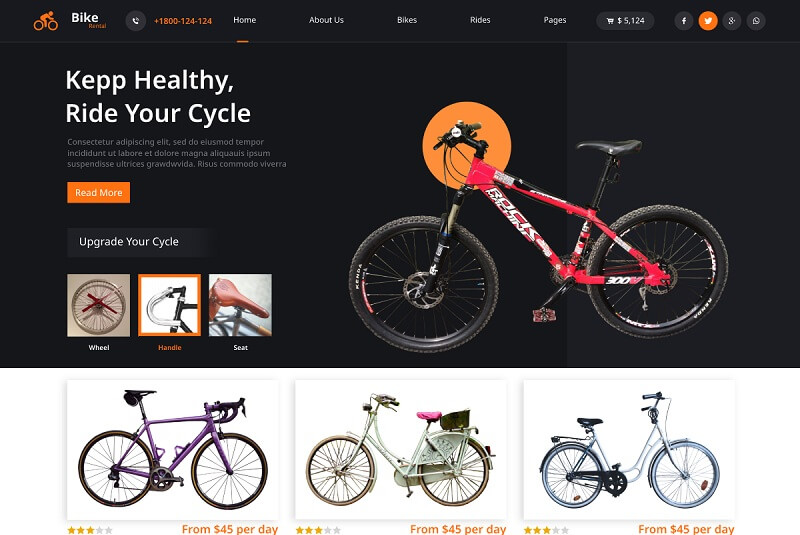 It is another highly customizable WordPress bike theme perfect for bike shops, motorcycle showrooms, bike repair, cycle businesses, auto vehicle dealerships, riding clothes & accessory shops, bicycle rental, booking, cycling accessory shops, bike tools & maintenance-related sites. Furthermore, The Bike Rental Shop WP theme has a breathtaking design that lets you set up your store site in a few minutes using demo content with your desired edits. The theme is also integrated with modern animation and a distinct and captivating interface of stunning style to deliver a premium user experience. In addition to this, this powerful bike theme offers all the necessary features, including Theme Customization, Logo upload, CTA Buttons, Slider Settings, etc.
5. Washing Center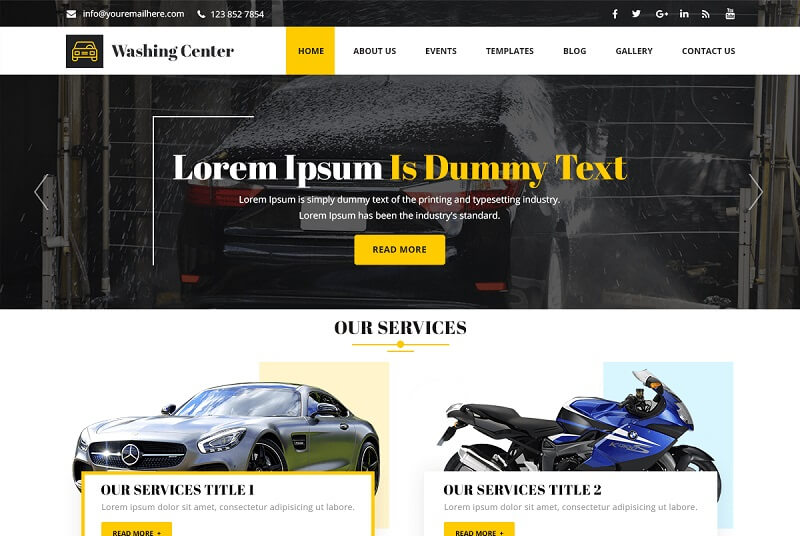 Washing Center is the next to land on our list of the best free bike WordPress themes. It is a magnificent, premium category, free WordPress bike theme that you can use for various types of sites, including automobile washing, cleaning, car dealers, motorcycle mechanics, maintenance, and other automotive-related websites. Also, the Washing Center gives you flexibility in its design and options to organize various vehicle rentals and service work. Besides this, this multipurpose theme lets your detailed auto-servicing content reach a wider audience through Social media links. Furthermore, the Washing Center theme is easy to use and based on the Bootstrap framework. Its core professional features and personalization options make it perfect for auto services, repair, and paint shops.
6. MotoSpeed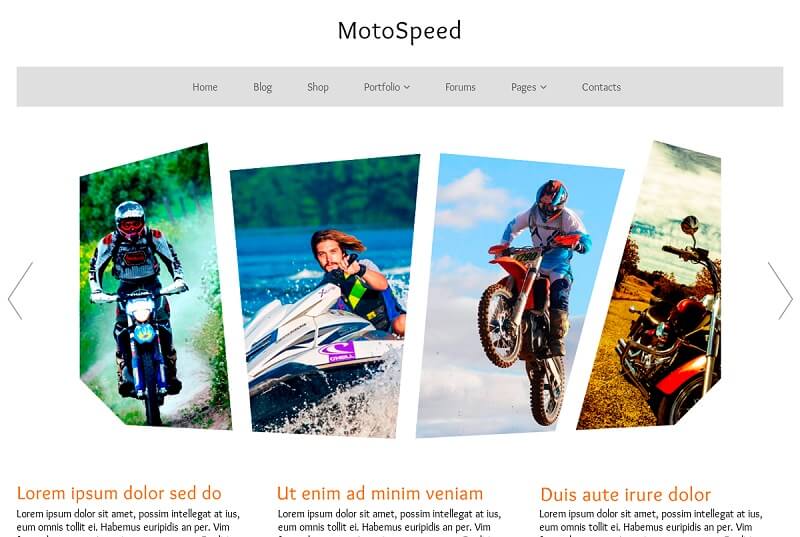 MotoSpeed is a fully responsive free WordPress bike and moto vehicle theme best suited for blogs and business sites related to cars, motorcycles, bikes, car dealerships, automobile repair, car services, etc. It delivers an easy-to-use design with appealing features such as Animation Appearing Effects, Footer Copyright Text Customizations, Widget Areas, 3 Footer Columns, a Custom Logo, a Custom Background, a Footer Menu, and much more on the front end. With MotoSpeed, you can easily make a site for rental businesses and bike repair shops. Furthermore, MotoSpeed offers dedicated sections for shop and forum, allowing you to increase your visitor engagement and sales. Besides this, this fascinating WordPress bike theme has an innovative design incorporated with an eye-appealing color scheme.
7. Bicycle Repair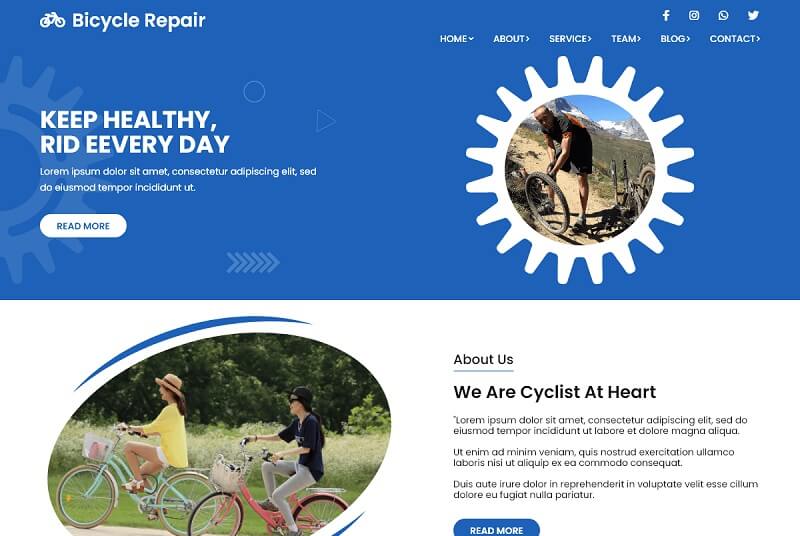 The final theme of our collection is Bicycle Repair. It is a trendy, sophisticated WordPress bike theme also designed for Bike and cycle stores, Bike clubs, Bicycle Repair businesses, Bike showrooms, Professional cyclists, and more. The Bicycle Repair theme has a Bootstrap framework-based eye-catching design and responsive features for obtaining the best results on multiple screens and devices. Also, this theme can easily integrate third-party WP plugins, including the Yoast SEO, for a professional web presence for your business. Furthermore, the Bicycle Repair theme lets you modify the layout and add Social media icons to take care of the promotional aspects. Bicycle Repair is an excellent theme you can use for your bike business.
Conclusion:
The bike industry is, no doubt, a successful industry, and it continues to grow in feature, and the high volume of commerce has drawn so much attention. So, if you are an owner of a bike showroom or related business, you will need a site to increase your sales, as this industry is growing crowded, and you have to present your brand distinctively. Bike WordPress themes offer you many benefits in terms of features and help you build a quickly noticeable online presence.