If you want to build a high-end WP editorial site that looks natural and feels professional, you will need access to professional-level Editorial WordPress Themes. This post provides such themes and demos that they can make it easy for you to get your online editorial or related site up and running with the same kind of feel.
Speed, scalability, and simplicity are what set these editorial themes apart from the competition. These are also great if you are looking for a lightweight and highly customizable theme with many features built-in for building the site from scratch! Furthermore, these themes let you access an extensive control panel and options that this theme provides out of the box to add value to your content. So, take a good look at the collection below-
List Of Best Free Editorial WordPress Themes
1. NewsPaperly
2. Feather Magazine
3. Editorial
4. Editorialmag
5. Magazinely
6. BoundlessNews
7. JournalistBlogily
Also, Read:
Best Free Brewery and Wine Shop WordPress Themes
Best Free Survey Poll WordPress Plugins
1. NewsPaperly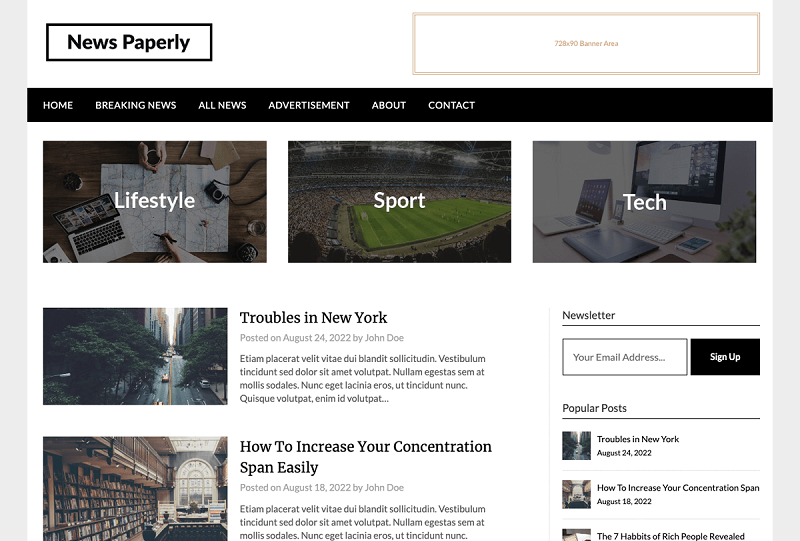 It is a fast, responsive, modern editorial WordPress theme that has compatibility with most schema markups, including jSon allowing users to add reviews or other types of affiliate content. Furthermore, you will get SEO-ready design, cross-browser compatibility, translation-ready features, WPML support, and various essential features to make your editorial site shine. Besides this, the NewsPaperly theme has lots of ad space in perfect spots like the sidebar, footer, top, etc. You can easily use the NewsPaperly theme to create WP sites for blogs, magazines, newspapers, editorial hubs, publishing houses, etc. Also, it has Multiple blog layouts, full-width templates, and social media integration, and you can publish editorial content about fashion, lifestyle, cryptocurrency, forex, betting, and more.
2. Feather Magazine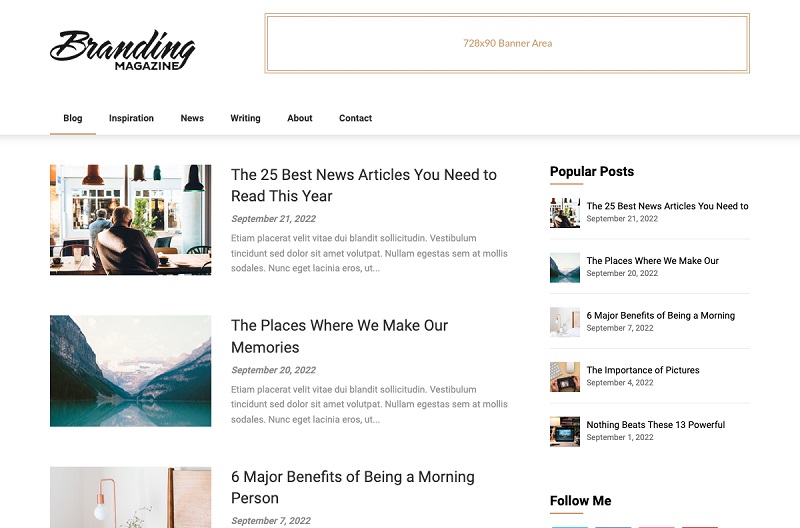 The Feather Magazine theme also fits perfectly with magazines, personal blogs, newspapers, product reviews, publishing houses, and relevant editorial sites. Furthermore, the Feather Magazine theme offers limitless customization, a ton of ad space, sidebar widgets, and contact forms, which allows you to design a WP site with beauty and professionalism. Its design is so flexible that it can adapt to dark, white, minimal, boxed, flat, and other layouts. This theme is primarily made for affiliate websites and gives users CSS variables and better server response time to improve performance. The Feather Magazine theme is a Lightweight and fully responsive WP theme that works flawlessly on every browser out of the box.
3. Editorial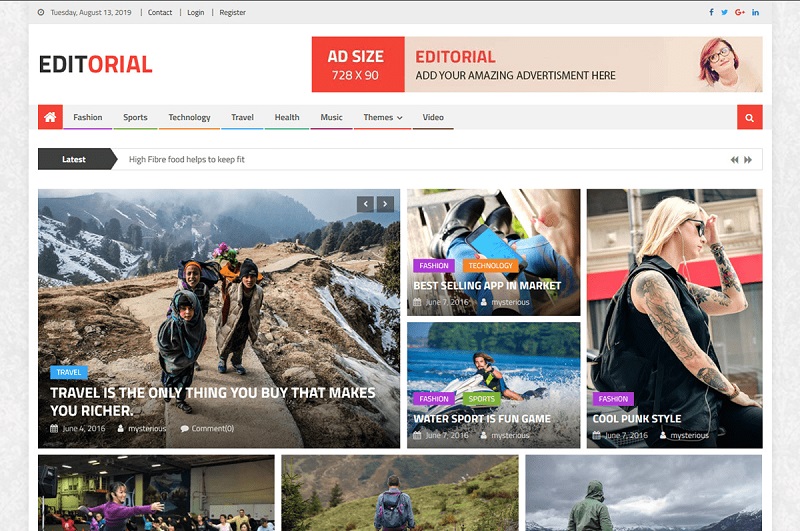 Editorial is specifically made for sites related to Publishing hubs, editorials, online magazines, newspapers, personal blogs, etc. Also, you can customize this ultimate responsive magazine-style theme with personalization options. The Editorial theme is a versatile freemium theme built on Customizer that allows users to customize most theme settings with live previews. In addition, the Editorial theme has a responsive, fully widgetized layout with good ad space and CTA buttons. Users can manage the site through these widgets. Furthermore, this flexible and powerful theme delivers a lot of customization possibilities to the users, so try it for your site.
4. Editorialmag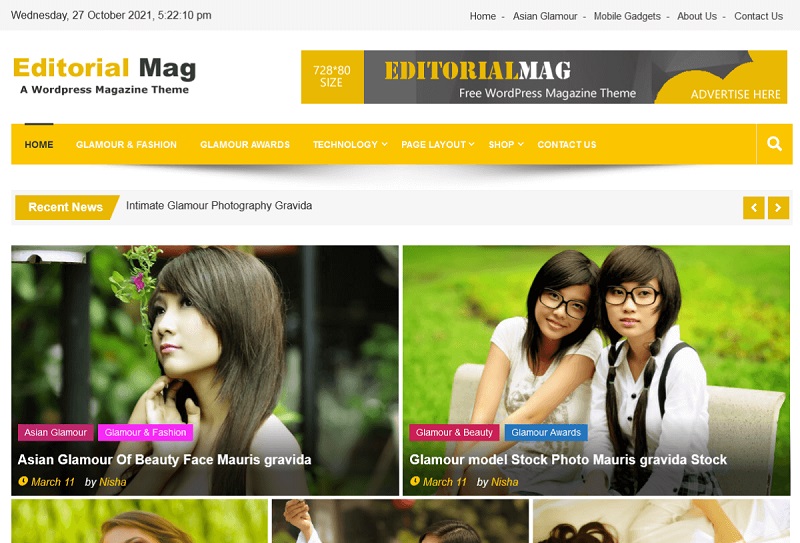 Developed by Sparkle Themes, this thoughtful, user-friendly magazine WP theme offers features like CTA Buttons, Header Settings, Footer Settings, Front Page Sections, Widgets, and many more. Furthermore, the Editorialmag theme is a customizer and widget-based WordPress theme that includes 9+ different custom widgets, 3 Homepage sections, and a live preview option. The Editorialmag theme is easy to customize and allows users to display posts in various styles with different layouts. And users can also easily rearrange each post block section as they see fit. It is mobile and SEO–friendly and supports many more 3rd party plugins, including Jetpack, AccessPress Social Share, WooCommerce, Contact Form 7, and many more. Also, Editorialmag has RTL Support, Translation-ready Features, and a Built-In 1-Click Demo Importer.
5. Magazinely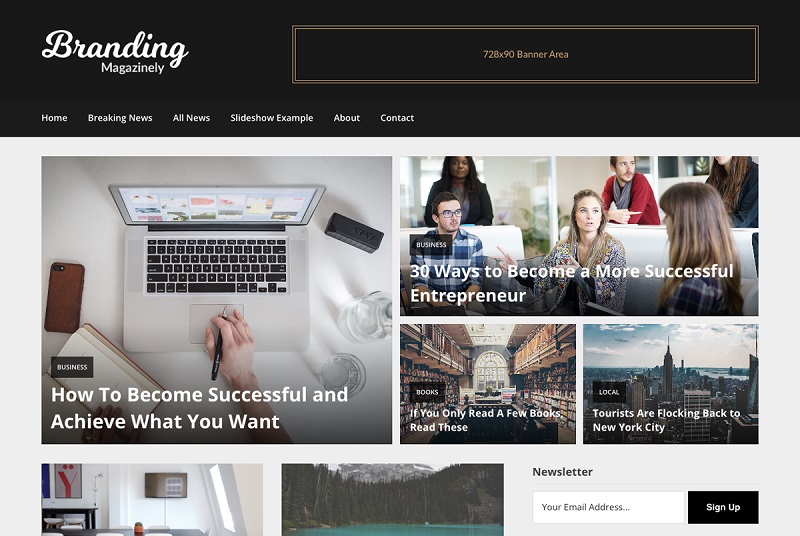 The Next editorial theme on our theme collection is the Magazinely theme. Magazinely is the most suitable choice for building a classic news, online editorial magazine, personal lifestyle blog, or affiliate review site. Furthermore, you can use the Magazinely theme to make AdSense or other affiliate websites. In addition, the Magazinely theme offers valuable features like Custom Logo, Social Media Options, Image or Video Advertising Options, Slider Settings, Custom Backgrounds, Theme Options, and many more to create beautiful and professional sites. Magazinely is bootstrap oriented editorial WordPress theme with a WP customizer that allows you to see the updates and changes in real-time.
6. BoundlessNews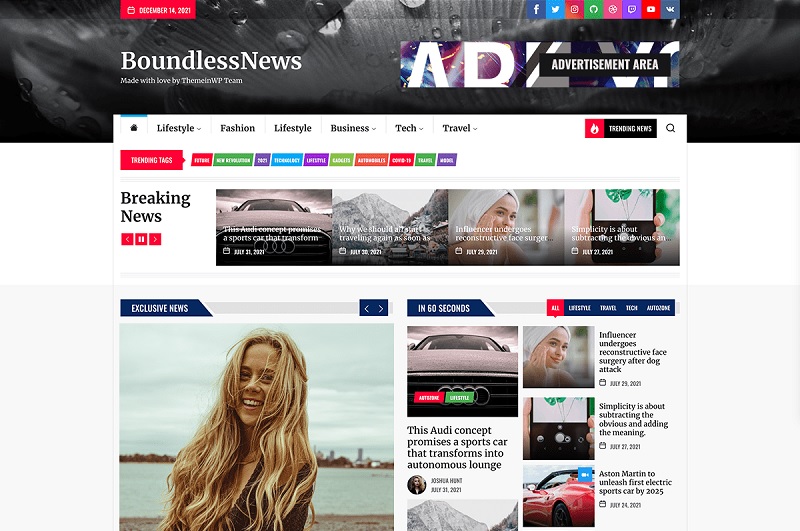 The BoundlessNews theme is a modern, flexible News and Editorial WordPress theme that offers features like Slider Section, Header Settings, Typography, Customizable Widgets, Basic Shortcodes, a Justified Gallery, and more! In addition, you will also get Amazing visuals and cool-toned shades in the BoundlessNews theme to seize the viewers' attention. Furthermore, BoundlessNews looks and works great on mobile devices, tablets, and computers; and it offers multiple homepage content blocks that you can combine in different setups to perform the pixel-perfect layout for your site. The BoundlessNews theme also comes with Yoast SEO and NewsLetter integration. So, if you want to grow your web traffic and subscribers, the BoundlessNews theme is perfect for you!
7. JournalistBlogily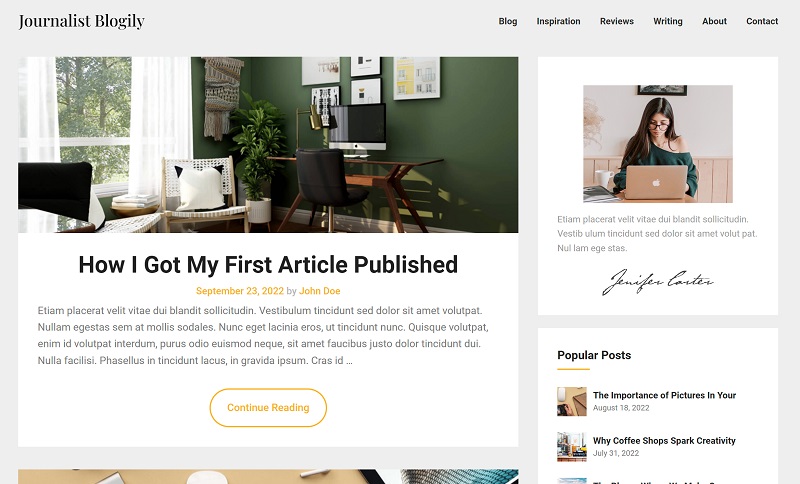 With the Journalist Blogily theme, we have reached the end of this list of the best free Editorial WordPress Themes. It is a feature-rich WP theme that lets you transform your site the way you want with limitless customizations. Besides this, Journalist Blogily is a perfect blend of looks and professionalism and an excellent choice for classic news, online editorial magazines, blogs, affiliate reviews, or related sites. Furthermore, this free theme is responsive and has Social Media Integration to expand your reach globally. And it also delivers many fascinating features and supports the RTL writing style. The Journalist Blogily theme is user-friendly, SEO-ready, and AdSense-optimized, making it suitable for personal as well as professional sites.
Conclusion:
We have created the list after extensive web search and research. All the Editorial WordPress Themes in this article are from trusted developers; I hope you like them. They have designs and features to support all kinds of editorial, news, and magazine-related sites. So, make sure to give all of them a try!