If you love football or soccer, you may have experienced the thrill and excitement that rushes through your body during the 90 minutes of the match. It is one of the popular sports with a huge craze among youths. As a result, the development of football-related sites has risen to provide a platform where one can read the latest news regarding upcoming matches from the world of football, player status, and other details. However, organizing these contents and adding new updates to the site is no easy task. Here, Football WordPress Themes come into the picture.
These themes are great for bloggers, editors, and shop owners who love football, as these themes will help them to create unique football or soccer-related sites. With so many football or soccer themes to choose from, how do you pick? We have put together a list of the best free football WordPress themes out there today based on their flexibility, features, and design. Take a look at them here-
List Of Best Free Football WordPress Themes
1. Sports Club Lite
2. Seos Football
3. Football Sports Club
4. VW Sports
5. Soccer Club Academy
6. Multi Sports
7. FSE Soccer
Also, Read:
Best Free WordPress Job Board Themes
1. Sports Club Lite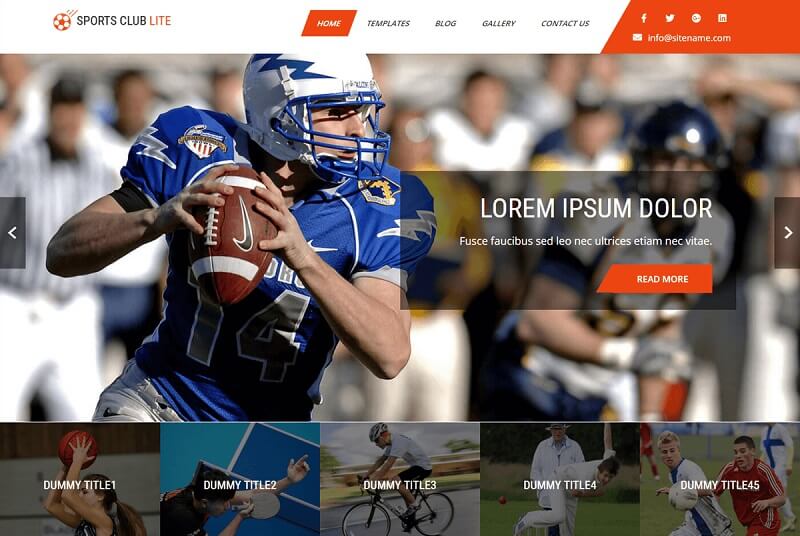 Sports Club Lite is a resourceful, modern football theme best suited for various sports club-related sites, including football, basketball, volleyball, etc. It is a purposeful and versatile WordPress football theme with an eye-appealing design to build an easy and specialized platform for the streamlined development of your professional soccer and football club. Also, this splendid theme has a multisport template, and you can translate it into various languages. Furthermore, Sports Club Lite delivers many appealing features and has a protected, clean code to give your website a professional feel. Also, the Sports Club Lite theme is designed with user engagement and sports club in mind. So, try this football club WordPress theme to build stunning and appealing sports clubs and shop sites related to football and soccer.
2. Seos Football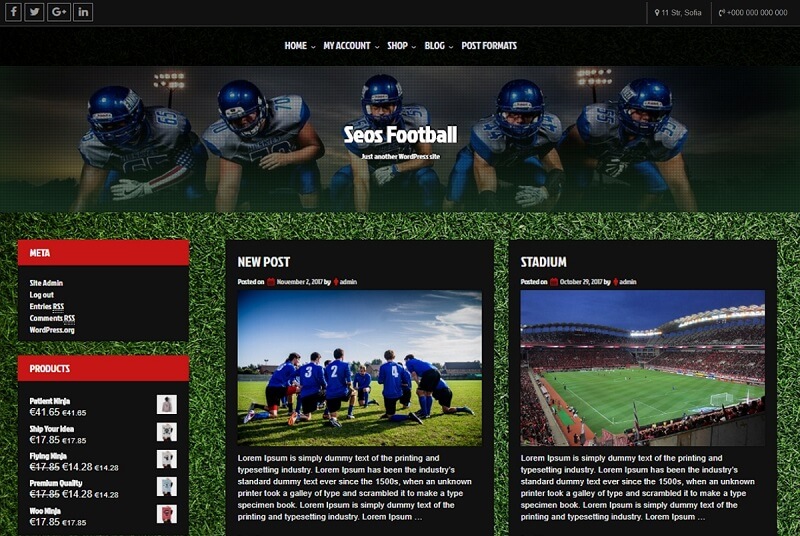 The Seos Football theme is a fully responsive, clean theme packed with 2 column layout. This splendid football theme is optimized and developed for Football, Sport, Fitness, Blog, Portfolio, or other editorial sites. Furthermore, the Seos Football theme is customizable and offers HTML5 codes. Besides this, the Seos Football theme is ideal for all sports clubs and other sports league sites. You can use this soccer theme to lure your potential viewers, grow site traffic, and run a profitable sports shop. Also, Seos Football has a comprehensive range of features and plugin support, including Custom Background, Featured Images, Flexible Header, Sticky Post, Three Columns, Translation Ready, Two Columns, etc.
3. Football Sports Club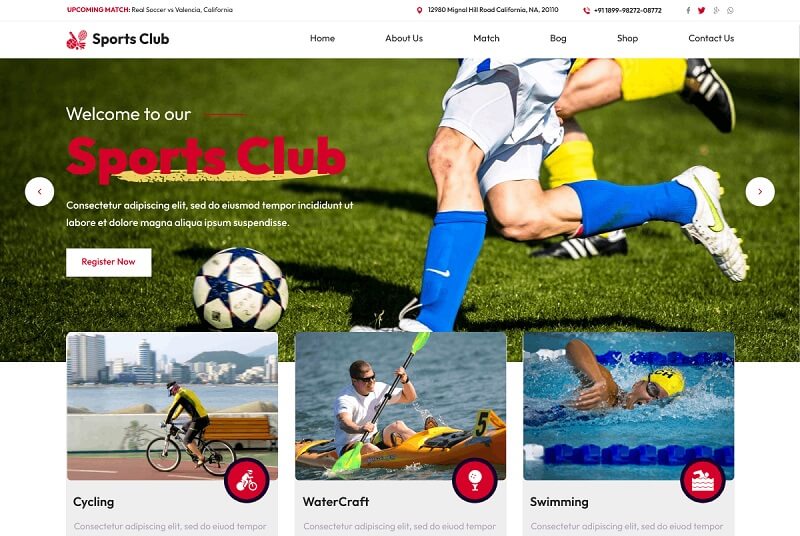 The next on our list is the Football Sports Club WordPress theme. The Football Sports Club offers various fascinating features like Archive Layout Options, Page Layout Options, Featured Slider Section, Popular Post Section, About Section, Latest Post Section, Right Sidebar, Post Layout Options, and many more. Besides this, Football Sports Club has a modern and trendy layout that charms all football lovers, sports enthusiasts, baseball, basketball, and related websites. Furthermore, this fascinating football theme is mobile-friendly and will provide you with SEO-friendly and optimized code for getting faster page load time. With engaging elements and translation-ready features, you can design your football club site with ease.
4. VW Sports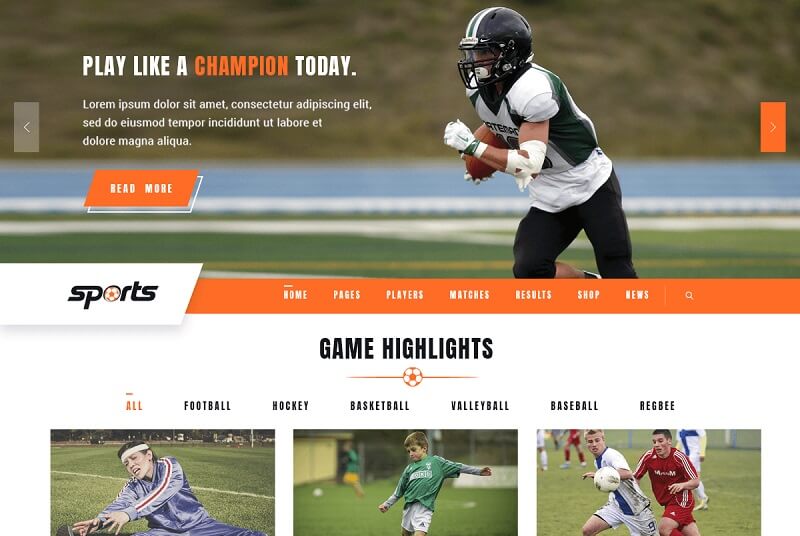 VW Sports is perfect for all types of sports or sports club websites, such as football, cricket, basketball, soccer, etc. This fully responsive soccer theme is perfect for adding a sophisticated online appearance. Also, VW Sports has compatibility with bbPress, Lead Form Builder, and many more. This theme has interactive CTA Buttons and web standards, such as HTML5 codes and animations. Furthermore, the VW Sports theme delivers high-end characteristics and customization options that enable you to customize your football club site with just a few clicks. Besides this, this great football theme has a creative layout, many social media options, shortcode compatibility, and widgets.
5. Soccer Club Academy
Developed by Peccular Themes, this free football and soccer club WordPress theme is perfect for business websites related to Football, Soccer, Sports Clubs, Associations, Training Schools, Sports Academy, Tournaments, etc. The Soccer Club Academy theme is highly responsive and has an eye-appealing design. Besides this, this powerful football theme has dynamic features and functionalities, including the list of Players, Coaches, Events, winning matches, club's updated news, and Awards. You will also get a Team profile and Easy Customization options like Color Options, Font Style, Images, and Events that you can set. Also, Soccer Club Academy has the latest browser compatibility and translation-ready options. Furthermore, the Soccer Club Academy theme is packed with theme options, allowing you to build a user-friendly and visually attractive soccer club and sports league website.
6. Multi Sports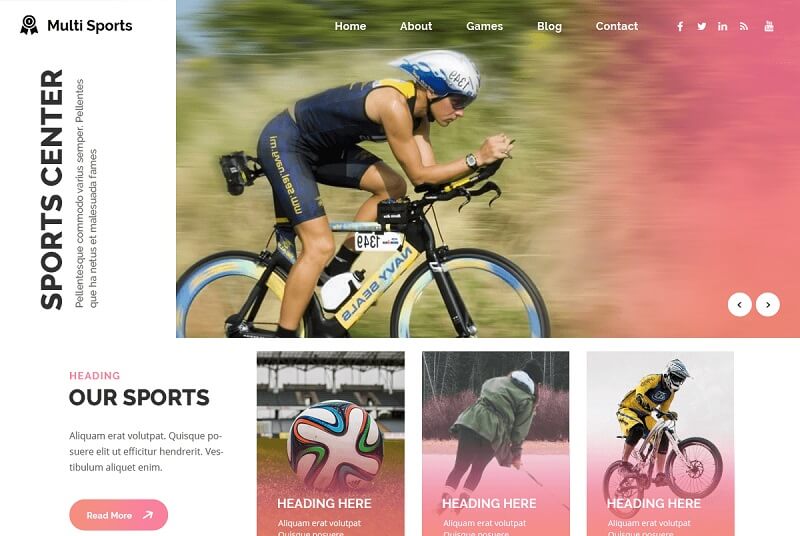 Multi Sports is another extraordinary WordPress football theme perfect for Cricket, Soccer, Hockey, Basketball, Volleyball, Baseball, Games, or any other sport-related site, including sports leagues and sports academies. Also, the Multi Sports WordPress theme has a stunning design tailored with modern CSS and animation to give your site a professional look. With this theme, you can build fast-loading pages and provide your visitors with an extraordinary web experience. In addition, the Multi Sports theme has a Bootstrap-based design and all the necessary features, giving you a strong foundation for your sports club site with good flexibility.
7. FSE Soccer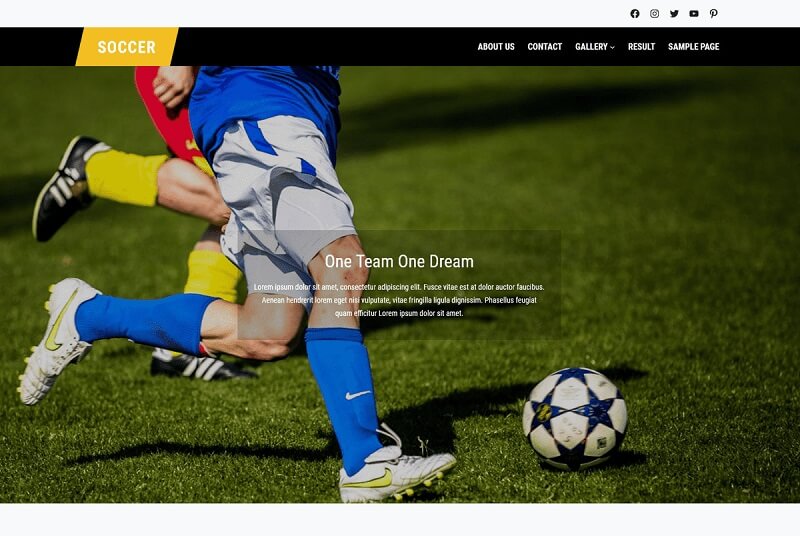 FSE Soccer is a Full Site Editing, flexible soccer WordPress theme best suited for showcasing your soccer team, club, matches, etc. This FSE Soccer theme delivers a remarkable design integrated with eye-catching aesthetics and robust functionality to make sure your soccer club site shines in the crowd. Furthermore, this elegant football theme has compatibility with WooCommerce and empowers you to customize every part of your soccer club site seamlessly to provide an immersive soccer experience to your visitors. Also, the FSE Soccer theme has options for Shortcodes, and its creative, modern design has eye-appealing color shades, making viewers drawn to the sports clubs.
Conclusion:
Football WordPress themes are very popular at the moment with their great-looking design and features. They can be used by football bloggers or anyone interested in using this kind of theme.
They are designed especially for football fans and lovers who want a creative way to celebrate soccer. With football season rapidly approaching, it is never too early to start planning your website and posts for the season. There are a lot of things to do, from writing articles to talking about all the upcoming games. So, what are you waiting for? Pick your football theme and build your dream football or soccer club site.