If you are scrutinizing a WordPress theme for your prep or kindergarten school, here are the 7 Best Free Kindergarten WordPress Themes on the market for you to try!
Each of these themes is developed by a reputed designer, and they offer a plethora of useful features to help you create a custom kindergarten site in no time. Also, they are beautiful and functional and can be a great way to help you with your next educational project, whatever that may be. So if you've got a lot to say to kids and their parents, and you want a site to say it as distinctly as possible, consider one of these themes. There's a good chance they'll do the trick. But don't take our word for it—check them out yourself and see which works best for your needs.
List Of Best Free Kindergarten WordPress Themes
1. Kindergarten School
2. VW Kindergarten
3. Child Care Kindergarten
4. kindergarten Education
5. Play School Kindergarten
6. Preschool and Kindergarten
7. Kiducation
Also, Read:
Best Free WordPress Lightweight Themes
Best Free Review WordPress Plugins
1. Kindergarten School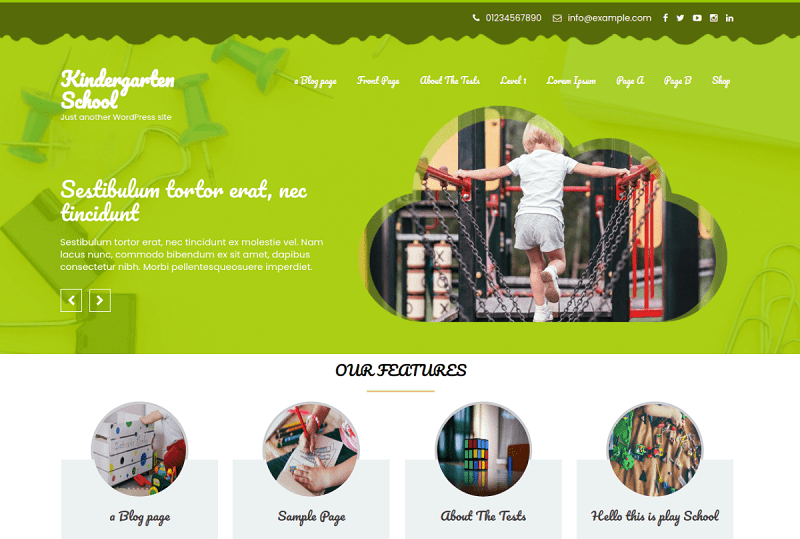 First on our list is The Kindergarten School WordPress theme. It is a versatile option that can cater to the needs of various websites related to preschools, such as children's stores, adoption agencies, childcare services, babysitters, nursery schools, playgroups, learning kits, after-school activities, and game zones. It has eye-catching colors and an attractive design that leave a lasting impression on the visitors. The theme's code is secure and clean, which enhances its overall performance. Moreover, the minimalist design of the theme ensures faster page load times. The intuitive and user-friendly theme customizer provides ample customization options to let you unleash your creativity. All in all, Kindergarten School is an excellent choice to create a visually appealing website.
2. VW Kindergarten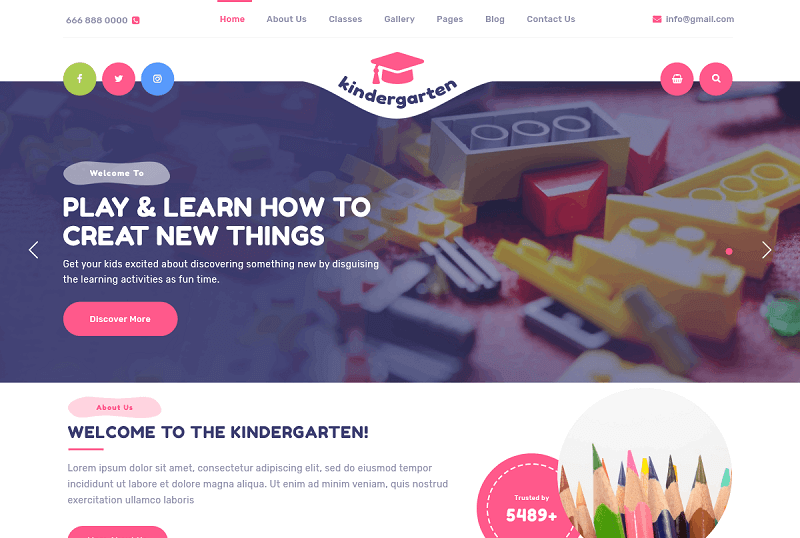 VW Kindergarten is an ideal WordPress theme for websites related to preschools, nursery schools, daycare centers, infants, kids, babysitting, and daycare services. It is a versatile theme that can serve multiple purposes, thanks to its elegant and sophisticated design crafted by WordPress experts. The theme's minimal design is its unique selling proposition, which enhances its overall appeal. Despite being a free theme, VW Kindergarten does not compromise on quality and includes optimized codes that provide a smooth performance. The theme's SEO-friendly codes cater to the SEO requirements of your website. Furthermore, the theme includes a Call To Action Button (CTA) that helps to improve the conversion rates of the site.
3. Child Care Kindergarten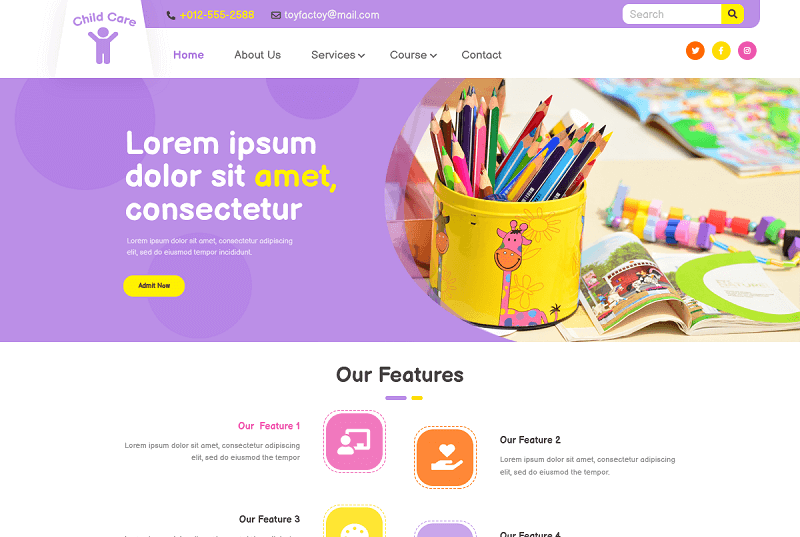 The artistic, modern, and sophisticated design of this theme is sure to impress all your website visitors. It is an SEO-friendly theme that helps your website get indexed quickly on Major search engines such as Google. Moreover, it is mobile-friendly and features a responsive layout that adjusts seamlessly to all devices. You can enhance the functionality of your website by adding shortcodes. The theme is translation-ready and supports RTL layout, making it a great choice for websites in multiple languages. The theme offers a plethora of customization and personalization options, allowing you to tailor your website according to your needs. Additionally, the theme includes social media options, allowing you to link all your social media pages and showcase your work's credibility.
4. kindergarten Education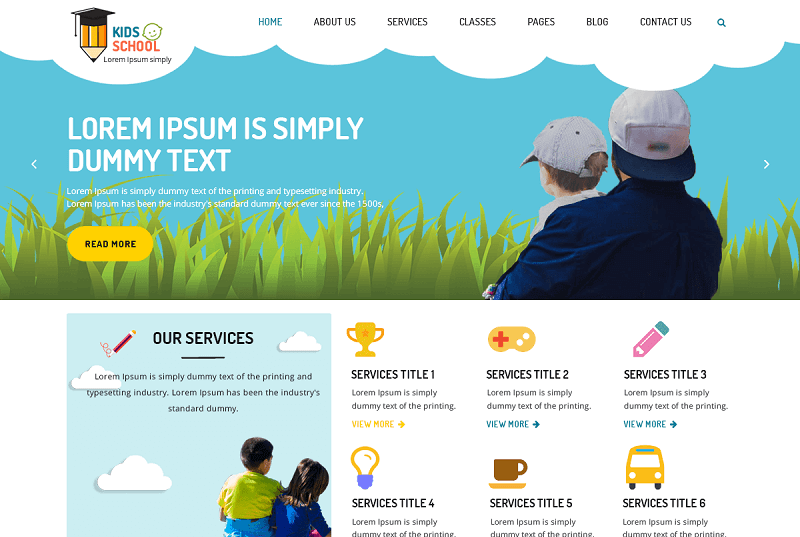 The theme is a visually appealing and minimalist kids school theme that comes packed with numerous user-friendly customization and personalization options. The kindergarten Education theme is ideal for babysitting, summer camps, day nursery, and Elementary Schools for kids. The theme includes a host of features, such as quick page speed, mobile-friendly design, one-column layout, cross-browser compatibility, SEO-friendliness, multiple menu locations, translation readiness, and left and right sidebars. The theme's secure and clean codes eliminate the need for manual coding, making it easy to use for anyone. Additionally, it offers a plethora of shortcodes that help in incorporating functional features into your website.
5. Play School Kindergarten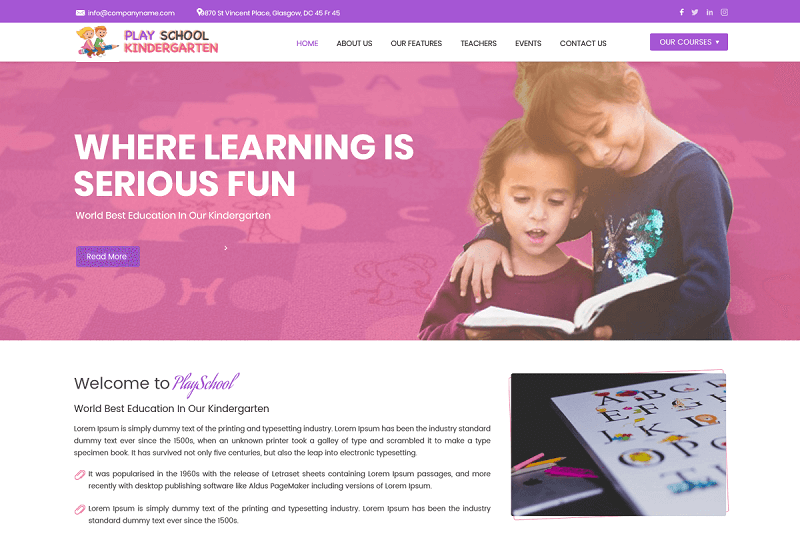 The Play School Kindergarten theme is a professionally designed WordPress template that caters to kindergartens, nurseries, preschools, and play schools. Its fresh color scheme gives it an attractive appearance. The theme is fully responsive and compatible with different web browsers, making it accessible to a wide range of audiences. Additionally, it has a sleek design and loads quickly. To further enhance its coding, shortcodes have been implemented. Customization is also possible with this theme, allowing you to make minor changes such as background, color, logo, tagline, etc., as per your preferences. Moreover, this SEO-friendly theme has integrated social media, enabling you to share your content on various networking platforms.
6. Preschool and Kindergarten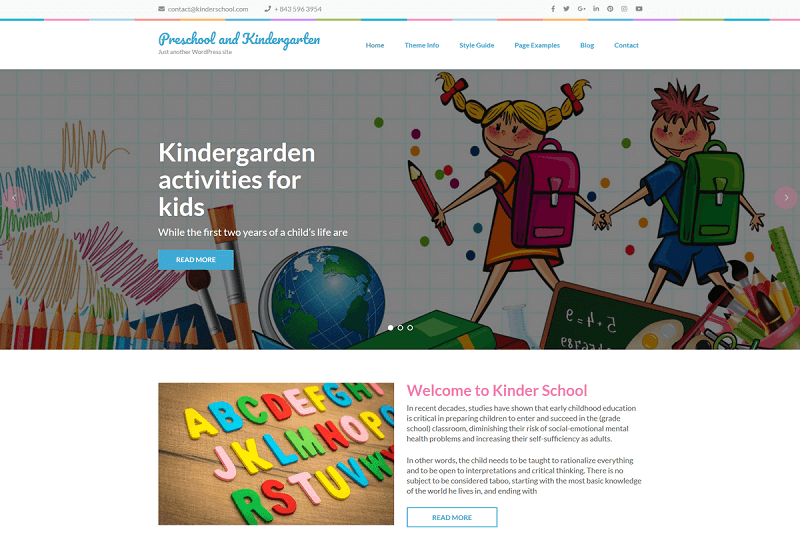 The next theme is a stunning educational template that caters to elementary schools and kindergartens. It is mobile responsive and translation-ready, making it available to a foreign audience. The theme is highly versatile and multipurpose, providing a wide range of functionalities. It includes a custom menu, an attractive slider, an About section, a courses section, a testimonial section, featured programs, a banner with a call-to-action button (CTA), and social media integration. With optimized codes, the theme is SEO-friendly, making it easier for your site to rank on various search engines. The Preschool and Kindergarten theme is an excellent starting point for building your educational website.
7. Kiducation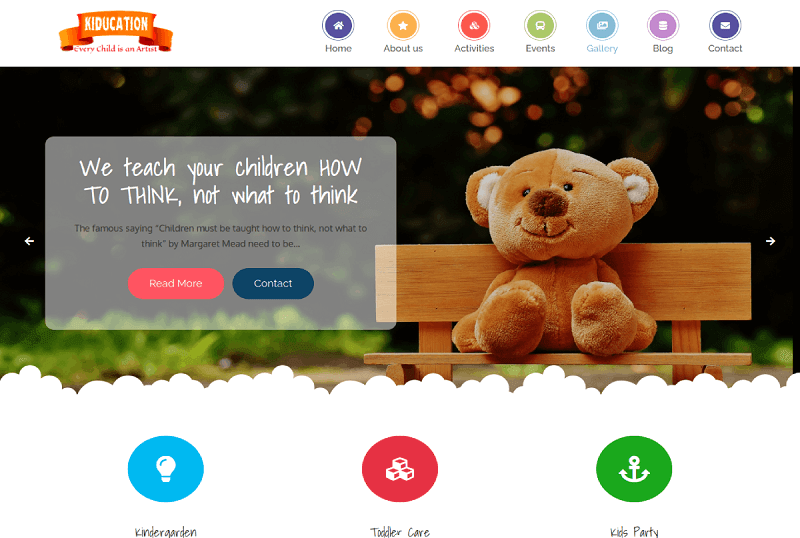 The Kiducation WordPress theme is a clean, simple, and responsive educational template that caters to childcare, preschools, kindergartens, and children's art and craft schools. This free theme is excellent for kids' education agencies and is retina-ready and highly responsive. Kiducation also has a wide range of customizable features, including customizable front-page sections through the Customizer API. Additionally, it comes with many options, such as column layout options for front-page sections, making it highly versatile. So, try this amazing kindergarten WordPress themes once.
Conclusion:
We have researched the Top free trusted kindergarten wordpress themes for you, and I hope you find them useful for your next Kindergarten site project. Each WP theme in this collection is unique in its own way and serves a special purpose for your business website. So, try them, and if you have any questions, feel free to ask us; we will be glad to offer our opinion.