If you want to build and run a law firm or individual website related to the law or legal sector, you will require a professional law WordPress theme with a minimalistic design and all the essential features. Besides this, Running a law firm or other law firm websites is easier to say than done. Right! Running these firms and websites demands special efforts and standards. Therefore, many professional legal sector and Law firms use paid or free law WordPress themes to meet their Client's expectations.
Besides this, using these WordPress themes can get you access to advanced features and functionality, essential for developing and boosting your reputation and helping your law firm stand out. Most law firms and the legal sector understand that their clients approach them to seek help. Therefore, a good website design is required that delivers all the crucial information and earns clients' trust.
So, if you want a sophisticated and professionally designed law wordpress website, you will require a feature-packed professional law WordPress theme. Here are the 10 best free law WordPress themes at Testerwp that you can try!
List Of Best Free Law WordPress Themes
1. Lawyer Zone
2. Lawyer Landing Page
3. EightLaw Lite
4. LawPress Lite
5. Expert Lawyer
6. Law Firm Lite
7. VW Lawyer Attorney
8. Lawman
9. Lawyer Lite
10. Lawyer WP
Also Read:
Best Free Parallax WordPress Themes
Best Free Feminine WordPress Themes
1. Lawyer Zone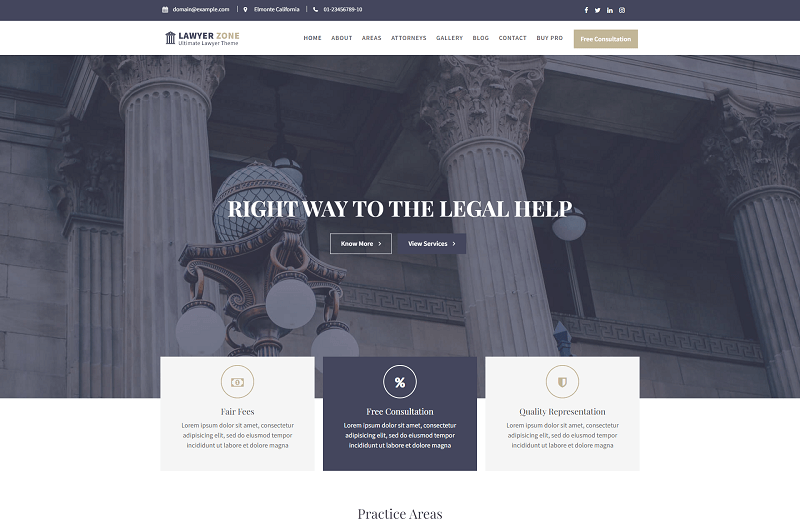 We are beginning our list of the best free law WordPress themes with the Lawyer Zone theme. It is a fully responsive, chic, and modern WordPress theme loaded with fundamental features to improve your website traffic and business. Besides this, the Lawyer Zone law theme is optimized and developed for creating professionally attractive and engaging law firm websites.
Furthermore, The Lawyer Zone law WordPress theme is an excellent selection for law organizations such as Law offices, law firms, and lawyers. Also, you can use this attractive WordPress theme for a portfolio page for individuals like barristers, advocates, legal officers, and other people involved in the law field to draw potential clients and increase conversion rates & leads.
2. Lawyer Landing Page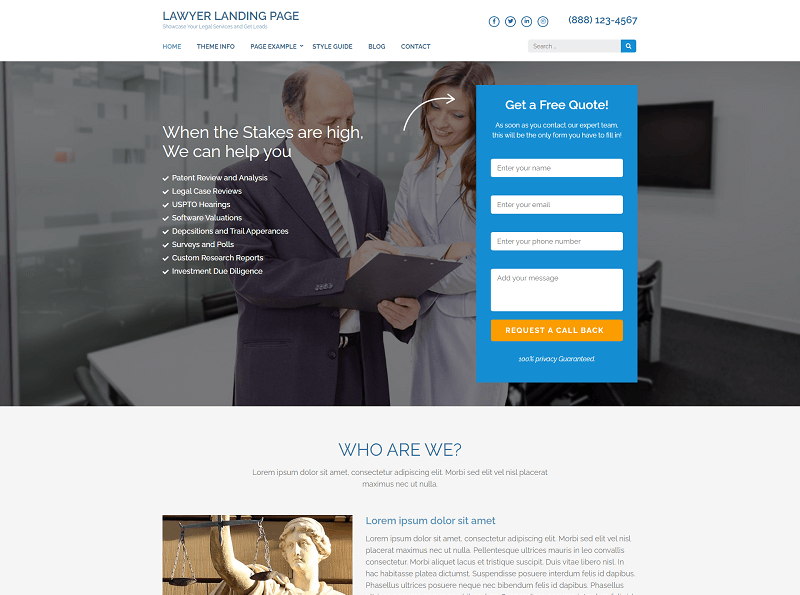 The Lawyer Landing page is another fully responsive, refined law theme for WordPress. This free law theme is ideal for lawyers, law firms, freelancers, attorneys, and other business websites related to law firms. Besides this, the Lawyer Landing page theme offers a splendid design layout optimized for both portable and desktop devices. Furthermore, this stunning landing page law theme is rigorously tested and optimized for better SEO and faster page load time.
In addition to this, the Lawyer Landing page theme has Team, About, Service, Testimonial, FAQ sections, and Banner with Call to Action Button. Also, this law theme is Developed with user engagement in mind, letting you create visually captivating, professional sites without writing codes, and it has a secure and clean code too.
3. EightLaw Lite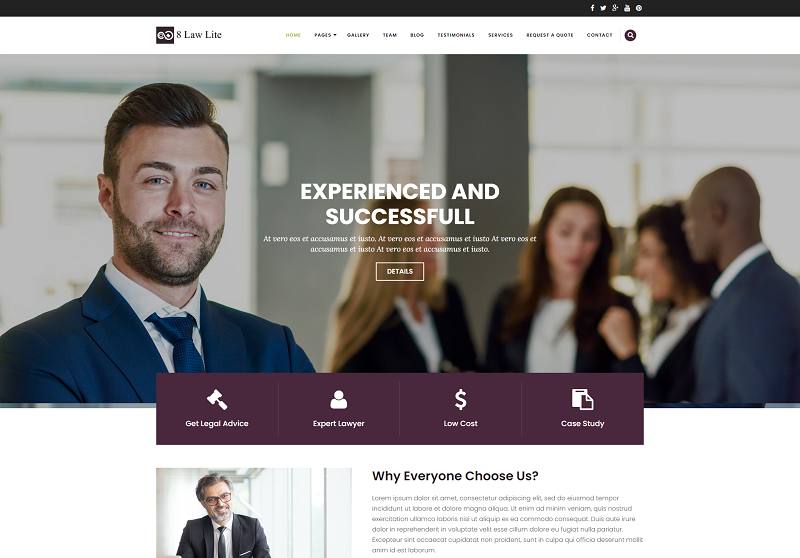 EightLaw Lite is another clean, minimalist mobile-friendly free law theme perfect for law firms & agencies, lawyers, private attorneys, business consultation, and other websites, including blogging and personal websites. Furthermore, the EightLaw Lite law theme has a gorgeous layout combined with various animation and CSS effects, delivering a superior UX experience to your visitors.
Furthermore, the EightLaw Lite law theme has essential features such as full-screen beautiful sliders, multiple sidebar options, a media gallery in carousel slider, CTA, social media icons, a team & testimonial section, and Multiple blogs layouts. EightLaw Lite has built on WordPress Live Customizer, and it is so responsive that your site looks excellent across all devices. It is a free yet feature-rich law theme that offers you a professional layout and robust support.
4. LawPress Lite
The LawPress Lite theme is the next law theme on our list of the best free Law themes for WordPress. Developed by ivanchernyakov, this law theme is perfect for websites such as lawyers, law firms, consulting businesses, attorneys, barristers, education, solicitors, advocates, and other legal firms. The LawPress theme is a highly responsive, clean theme with an eye-catching layout.
Furthermore, this law theme has an SEO-friendly, clean layout to outshine your competitors in Google and other search engine results in rankings. Also, this attractive theme has dynamic and robust features, including various plugins and page builders integration suited for making engaging, professional law firm websites. Besides this, the LawPress Lite theme is packed with theme options and provides many advantageous features.
5. Expert Lawyer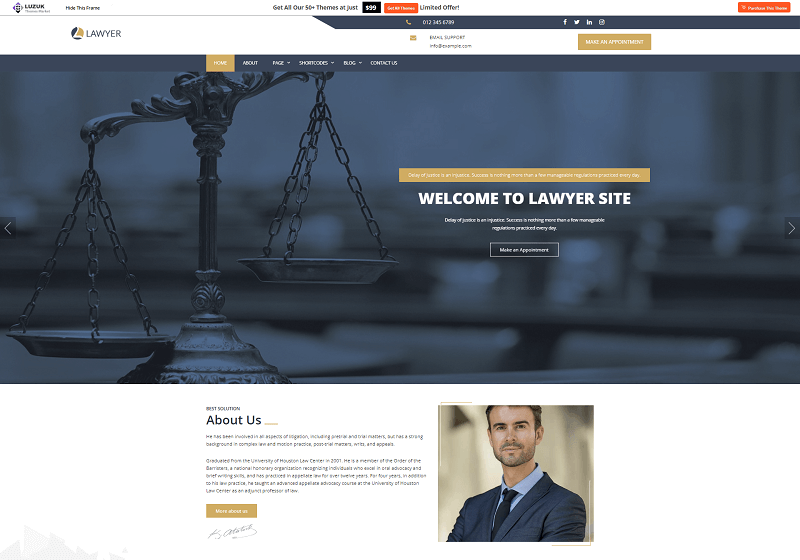 Expert Lawyer is perfect for law firms and individual attorneys, legal consultants, journals, courts, practitioners, etc. Besides this, this modern, feature-loaded law theme has many call-to-action buttons, flexible personalization options, and Modern web standards, including HTML5 and CSS3 effects. Also, you can use this law theme as a portfolio page, blog, and specialist marketing with law practices.
In addition to this, the Expert Lawyer theme delivers quality theme resources and high-end features. Also, this splendid law theme has a unique design perfect for an organized web presence. Furthermore, the Expert Lawyer theme is SEO friendly and has a multipurpose, responsive layout, making it stand out from its competitors and has the option to modify this law theme and create the desired pages.
6. Law Firm Lite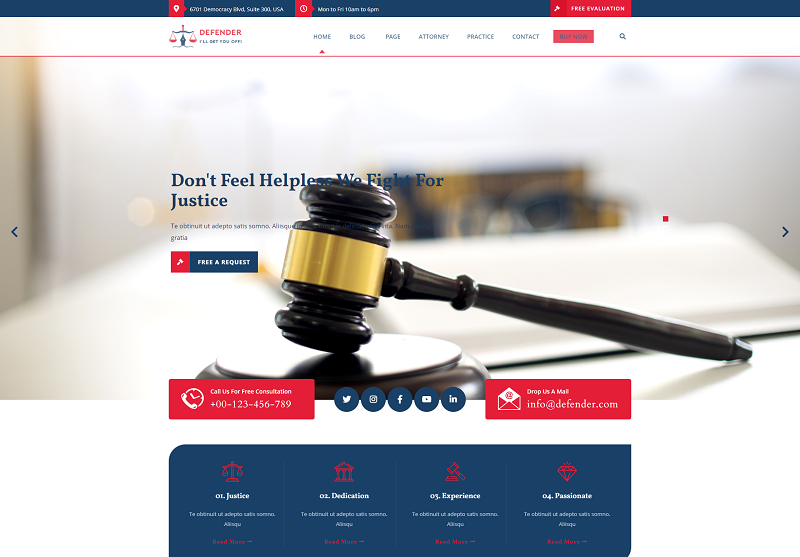 Law firm lite is the next following law theme on our list. It is a modern, Bootstrap-based law theme with many appealing features and integrations. Besides this, this enchanting law theme also has page builder & cross-browser compatibility, responsiveness, clean typography, and smooth integration with popular plugins such as the Woocommerce plugin and its add-ons, letting you expand your website functionality even further.
Furthermore, the Law firm lite theme has a responsive, luxurious layout optimized for SEO. Also, this law theme is ideal for legal offices, legal advisors, defenders, divorce settlement, Bankruptcy, criminal lawyer, civil law, counsel, campaigners, political, legal executives, etc. Law firm lite is also advantageous for various businesses related to law and businesses associated with the legal sector.
7. VW Lawyer Attorney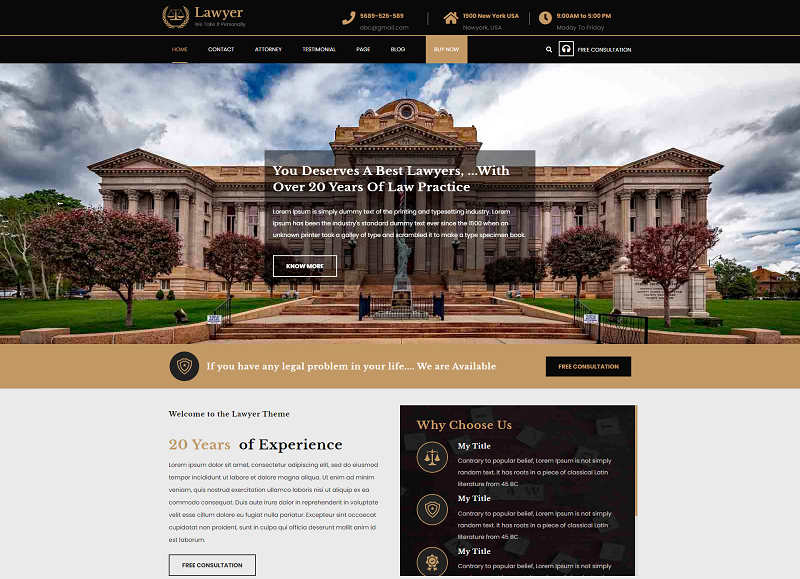 VW Lawyer Attorney is a stylish, classy, and modern WordPress theme developed especially for Lawyers, Legal Firms, Law Firms, Advocates, Lawman, Barristers, Judiciary, Legal Advisers, Legal Offices, etc., with an eye-appealing design layout. Also, it has a clean and minimalist design with many fantastic animated elements that let you build a one-of-kind law website. VW Lawyer Attorney theme also utilizes clean and secure codes.
Moreover, VW Lawyer Attorney offers many splendid features and allows you even add or remove anything you want. Besides this, the VW Lawyer Attorney is optimized for SEO to improve and has shortcodes & numerous styling options. Besides this, the VW Lawyer Attorney theme is built on the Bootstrap framework to ease the web development process.
8. Lawman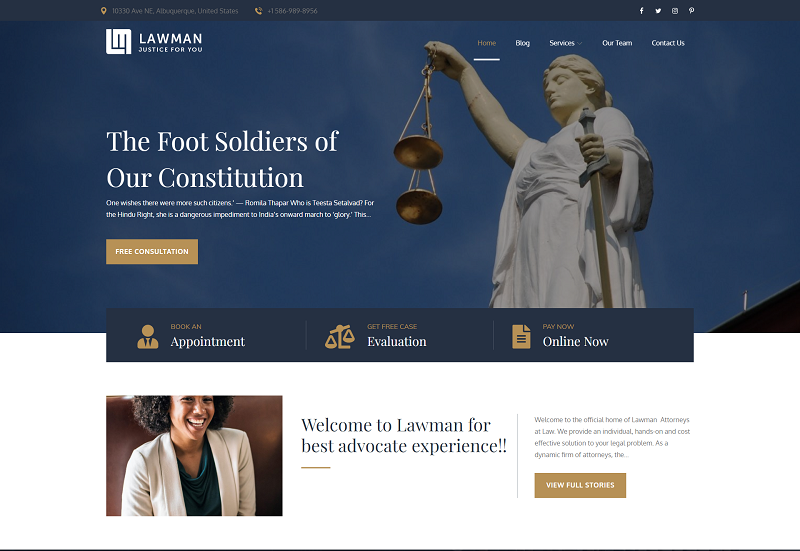 Lawman has packed with functionalities without compromise on its sophisticated, clean design, and it is perfect for businesses and firms related to the law and legal sector. Also, this fully responsive law theme is designed and optimized for SEO with user engagement in mind. So, no matter which law practice you use, the Lawman theme is all you require to set up your law firm and achieve new heights with a stunning website.
Furthermore, the Lawman law theme delivers quality WordPress theme resources and has a viewable and adaptable design, meaning your law theme looks gorgeous on all the devices. In addition to this, the Lawman theme has a responsive layout, translation, RTL support, and multi-lingual ready feature too.
9. Lawyer Lite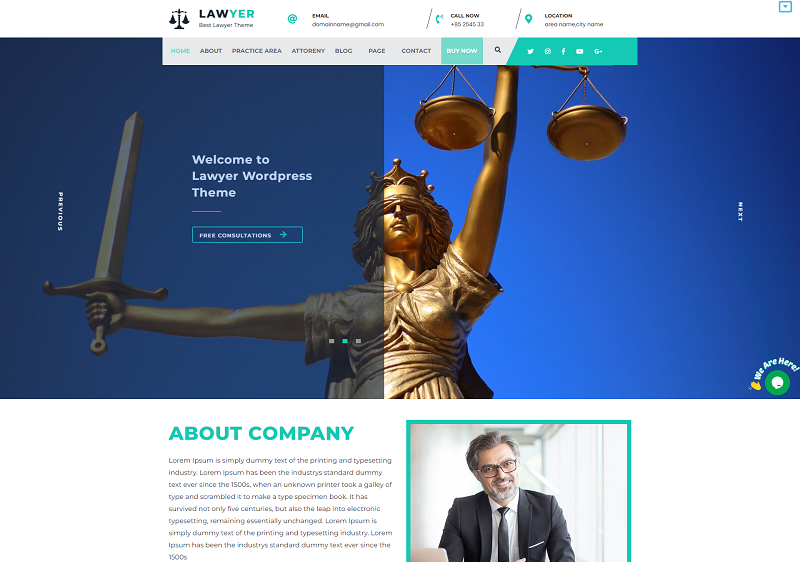 Lawyer Lite is another modern, flexible, mobile-friendly law theme perfect for the law and legal sector and firms and other law-related blog WordPress sites. Furthermore, the Lawyer Lite law theme has a clean layout combined with the animations & effects and a user-friendly interface for smooth navigation. In addition to this, this gorgeous law theme lets you integrate your site with social media platforms and provide it with a larger public platform.
Furthermore, the Lawyer Lite theme has all the elementary features required to capture the most engagement. Lawyer Lite is so responsive with a clean, sophisticated, modern layout that your law website looks flawless across all devices while showing the solemnness in your work. Also, the Lawyer Lite theme has a banner and call to action (CTA) button, cross-browser compatible, translation-ready and, clean & secure codes, and many more.
10. Lawyer WP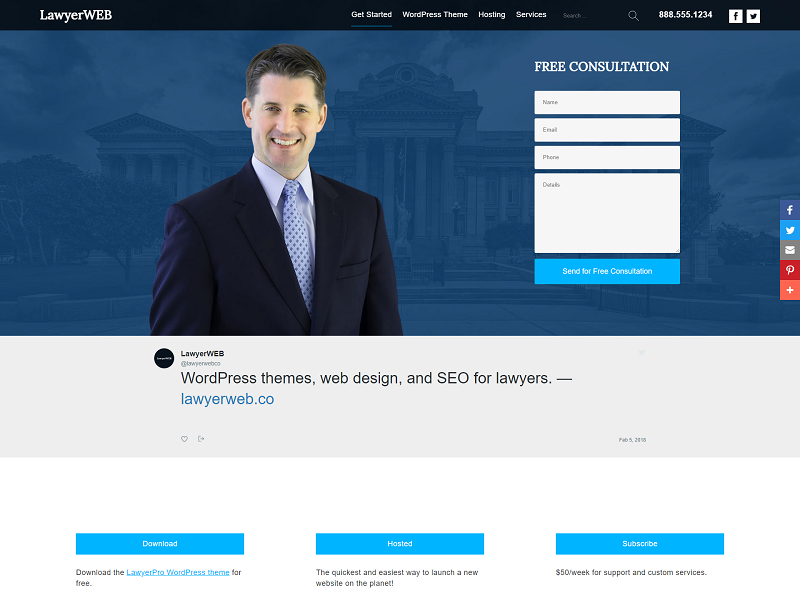 The last law theme on our list is the Lawyer WP law theme. The Lawyer WP theme is a beautiful, fully responsive WordPress law theme that lets you create a website to promote your professional legal services, such as a Lawyer, Attorney, Law / Legal Firm, etc. Besides this, the Lawyer WP has built-in WooCommerce and bbPress support and is carefully coded with quality and minimalism.
Moreover, this law theme lets you access features like custom menu areas, custom widget areas & page templates, Google Fonts, etc. Also, the Lawyer WP theme has a fully responsive design layout that works flawlessly on all devices and gives a pleasant UX experience. Furthermore, this creative law theme allows you to manage and present your and your firm's details more effectively through its beautiful design.
Conclusion:
When you start exploring law themes, especially for Platforms such as WordPress, you will find hundreds of free and premium law themes. All of these law themes have their unique, beautiful design suited for modern-day businesses but have similarities in features.
In these terms, finding the best law theme for your law firm or website might be a tough call. You can try these free law themes listed in our list. I hope these law themes may serve your requirements for business and website.
Furthermore, if you have any queries regarding these law themes or the article, feel free to use the Comment section below-