As we all know, WordPress is a comprehensive website development platform. On WordPress, you can find all kinds of various stuff related to website development, and themes are one of them. WordPress themes are drastically evolving as time passes. More and more WordPress themes function as frameworks these days. As for Minimalistic WordPress themes, they serve several purposes, from personal blogs to business websites. Therefore, many business owners and entrepreneurs use paid or free minimalist WordPress themes for more flexibility, customization, and personality/style preference.
Furthermore, minimalist themes are in high demand. One thing that makes these themes stand out is the amount of whitespace. Whitespace around your content makes your content stand out and minimizes distraction. Hence, the WordPress theme delivers your information or message more effectively. So, if you want a minimalistic theme for your website or business, here are the 10 best ones you can try!
List Of Best Free Minimalist WordPress Themes
1. MinimalistBlogger
2. Minimalist Blog
3. SKT Minimal
4. VW Minimalist
5. IKnowledgeBase
6. PortfolioX
7. Maizzy
8. Tech Software Company
9. Nokke
10. Feminine Business
Also Read:
Best Free Parallax WordPress Themes
Best Free Restaurant WordPress Themes
1. MinimalistBlogger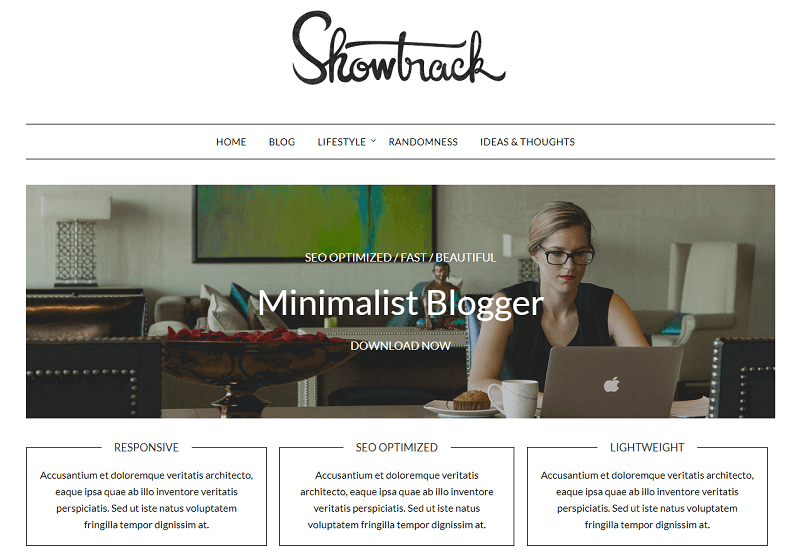 We are opening our list of best free minimalist WordPress themes with the MinimalistBlogger theme. It is a fully responsive minimalist theme best suited for bloggers and newspapers. This modern, minimalist theme offers a fabulous design optimized to fit all types of display sizes. Also, the MinimalistBlogger theme is easy to customize through the widgets, typography, and color features.
Besides this, the MinimalistBlogger theme also has options for monetizing your blog through advertisement widgets. Furthermore, this exquisite theme offers a unique sidebar that allows you to add Adsense affiliate links, Widgets, or whatever else you wish to add. The MinimalistBlogger also lets you create user-friendly, visually stunning personal writing/journalist portfolio websites without writing codes. The MinimalistBlogger theme has a clean & secure code and optimized page loading speed.
2. Minimalist Blog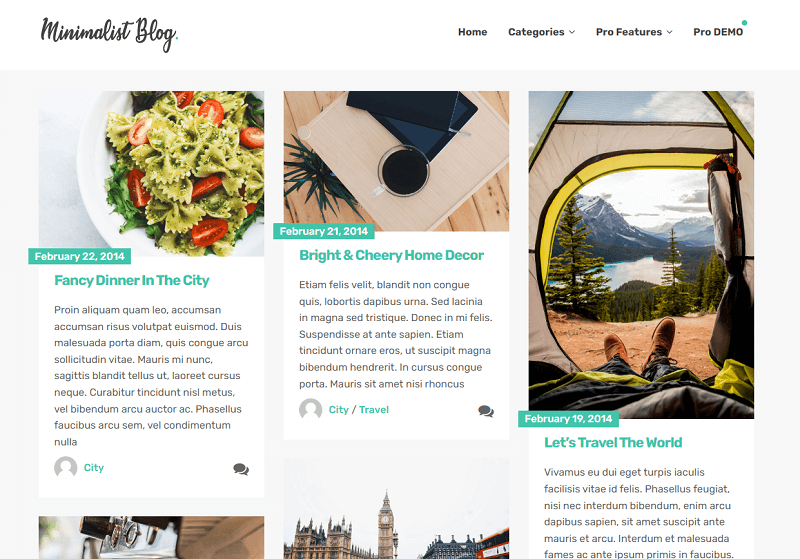 The Minimalist Blog is another beautiful, mobile-friendly WordPress minimalistic theme perfect for travel, news, personal, food, business, Portfolio, beauty, health & fitness, media, and all blogging sites. Also, The Minimalist Blog theme has options making it very easy to customize your theme according to your preference. With this multipurpose theme, you can build a minimalistic site in minutes by drag and drop. Its CSS and animation effects deliver your visitors the best user experience possible.
The Minimalist Blog theme has all the necessary features with a minimal, elegant design. Its clean, modern, and responsive design will flawlessly showcase your content to your viewers. The Minimalist Blog is so responsive and Designed with best SEO practices that your website opens perfectly across all devices with a fast loading speed.
3. SKT Minimal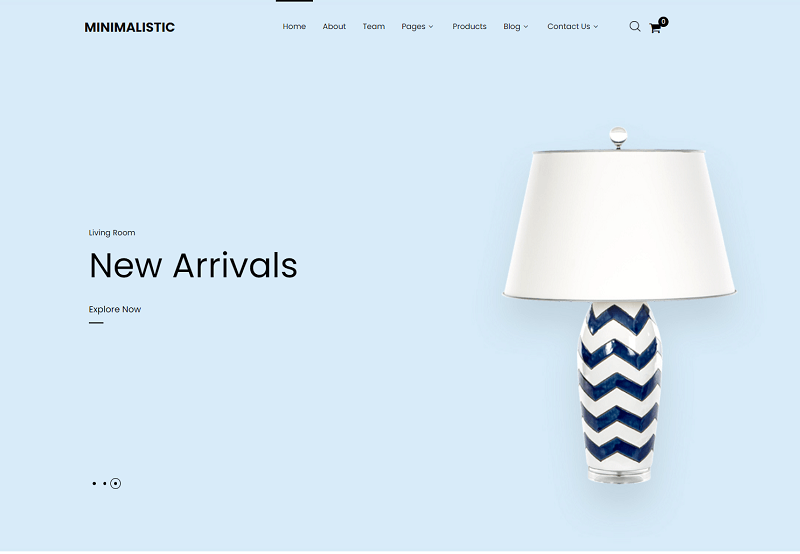 The SKT Minimal theme is the next minimalistic theme to land on our list of the best free minimalist WordPress themes. This WordPress theme has a neat white, fully responsive design that you can use for interior design, creative, portfolio, software, consulting, digital, architecture, photography, and infographic websites.
Furthermore, this fully responsive is fast, easy, simple to use, and suitable for people who desire a slate-type site. The SKT Minimal theme is modern, SEO-friendly, and beautifully designed with cool effects and optimum page load speed for minimal and professional websites. Also, The SKT Minimal WordPress theme has quite the flexibility and cross-browser compatibility and is packed with over 120+ ready-to-use templates, allowing you to create beautiful website posts.
4. VW Minimalist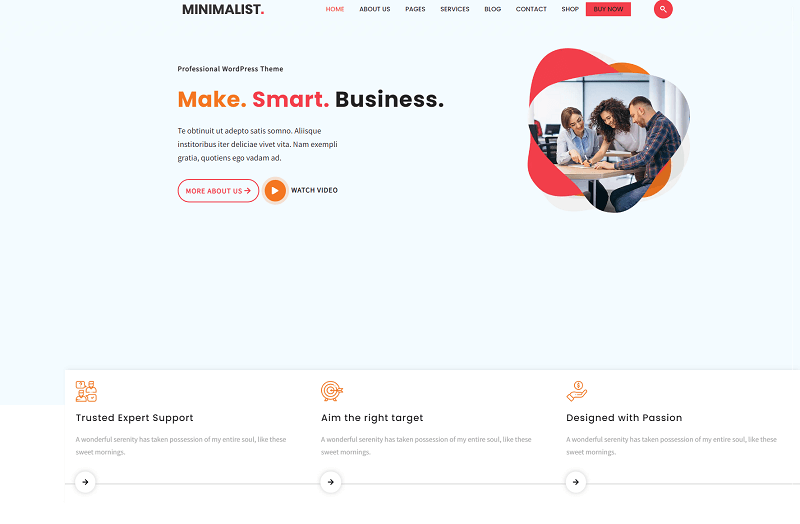 VW Minimalist is perfect for all types of writing and blogging business websites. This multipurpose modern minimalist theme has attractive features and functionalities that are extremely useful for taking your site to the next level. Also, its expertly designed layout works flawlessly across various platforms and web browsers. Its codes are entirely tested & optimized for performance and deliver a safe environment for the websites.
Besides this, the VW Minimalist theme delivers high-end features, HTML codes, and CSS animations. Furthermore, this cool minimalistic theme has an innovative design layout based on the Bootstrap framework that you can further customize from the theme options panel. Also, VW Minimalist has clean typography, popular plugin support, and a responsive layout, making it most appropriate for giving the best user experience your users.
5. IKnowledgeBase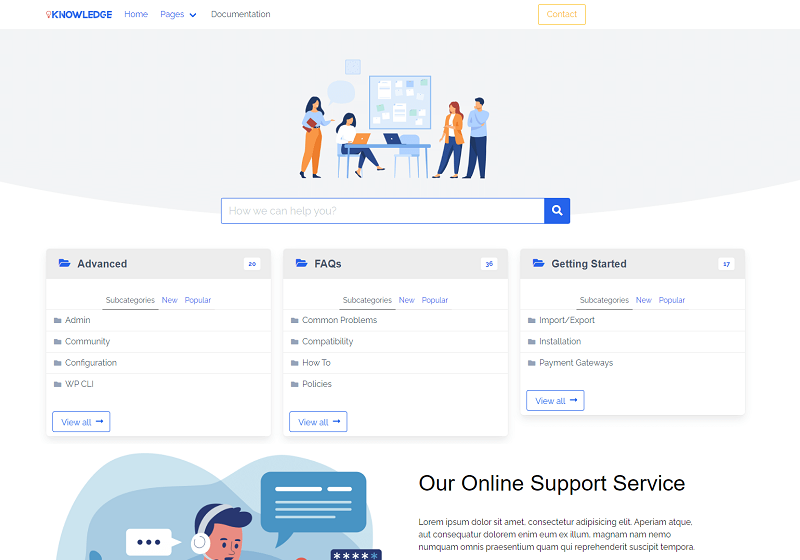 The IKnowledgeBase minimalistic theme is another fully responsive, mobile-friendly theme packed with intriguing features to help you improve web development. This splendid WordPress theme is optimized and developed for creating Knowledge Base, Wiki, Helpdesk, and FAQ sites. Furthermore, the IKnowledgeBase has a custom widget section to show the current navigation in a separate post and a category.
Besides this, The IKnowledgeBase theme can also manage the display of categories on the website's main page and uses Breadcrumbs for easy site navigation. You can easily use it to learn about your potential customers and increase your conversion rate. Also, it has a wide range of features, including an Ajax-powered Live search that helps your viewers find information instantly. That makes it an ideal option for all FAQ websites.
6. PortfolioX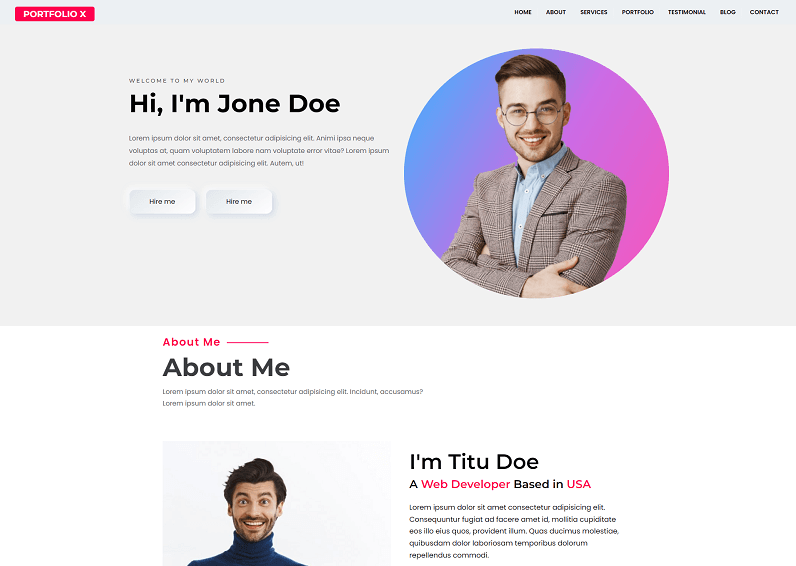 The Portfolio X theme is a premium, fully responsive WordPress portfolio minimalistic theme. This fascinating theme is ideal for portfolios, personal blogs, online stores, personal websites, agencies, business, photography, etc. It features a multipurpose responsive layout with a clean and minimalistic design. The Portfolio X also has many flexible options, making it easy to customize as you require.
Also, this minimalistic theme is a creative WordPress theme, and its design is beautifully and thoughtfully developed with user engagement. The Portfolio X theme is so responsive that it works perfectly on all display-size devices. Furthermore, this beautiful minimalistic theme is optimized for SEO and faster page loading speed to deliver a premium UX experience to your visitors.
7. Maizzy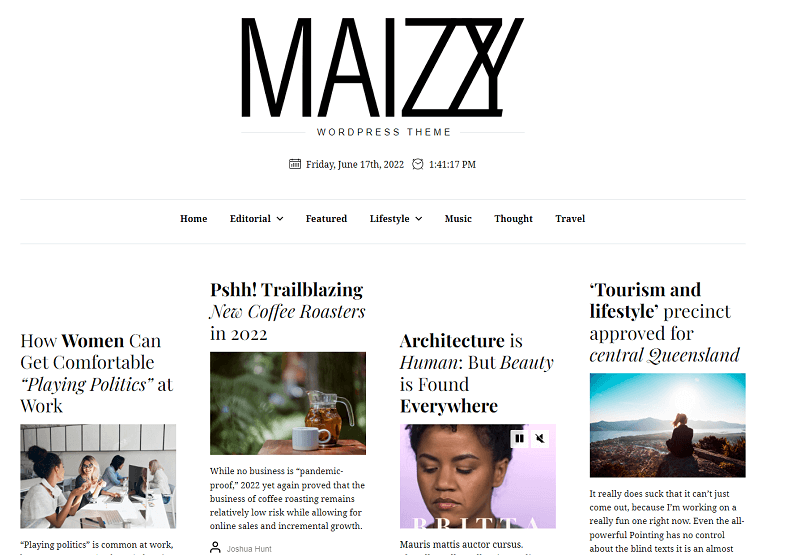 Developed by themeinwp, this free WordPress theme is perfect for creative people, photographers, bloggers, etc. The Maizzy minimalistic theme is highly responsive and has an innovative eye-appealing design. Besides this, this powerful theme has dynamic features and a clean, responsive design that fits any display size. It also offers Content Presentation features, including Basic Shortcodes, Justified Gallery, Slider Gallery, Lightbox, Typekit Fonts, and Custom Fonts.
Also, this minimalistic theme has fast page load speed optimized, SEO-friendly designs to improve your web search result visibility. Maizzy also has the latest browser and social media integration and powerful widgets. Furthermore, the Maizzy theme is loaded with optimization and webmaster tools, allowing you to design a user-friendly, engaging, and visually appealing minimalistic website.
8. Tech Software Company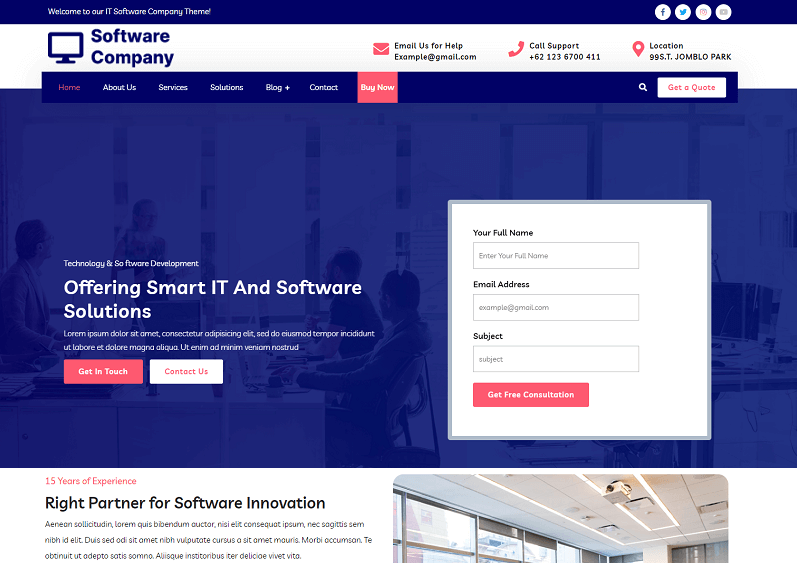 Tech Software Company is a lightweight, minimalistic theme best for IT companies, tech startups, IT business endeavors, marketing agencies, and relevant company websites. It is a modern, responsive WordPress theme with a stunning and practical design. Also, this minimalistic theme has a retina-ready layout for a sophisticated view of content, and its responsiveness makes it adaptable to any screen size.
Also, Tech Software Company delivers many splendid features and customization options for you to tweak and choices open for colors and typography. Besides this, the Tech Software Company theme has a clean, protected code, and its elegant, modern design includes the premium, well-optimized codes in the layout without compromising the quality. The Tech Software Company theme is designed and optimized with user engagement and business growth in mind.
9. Nokke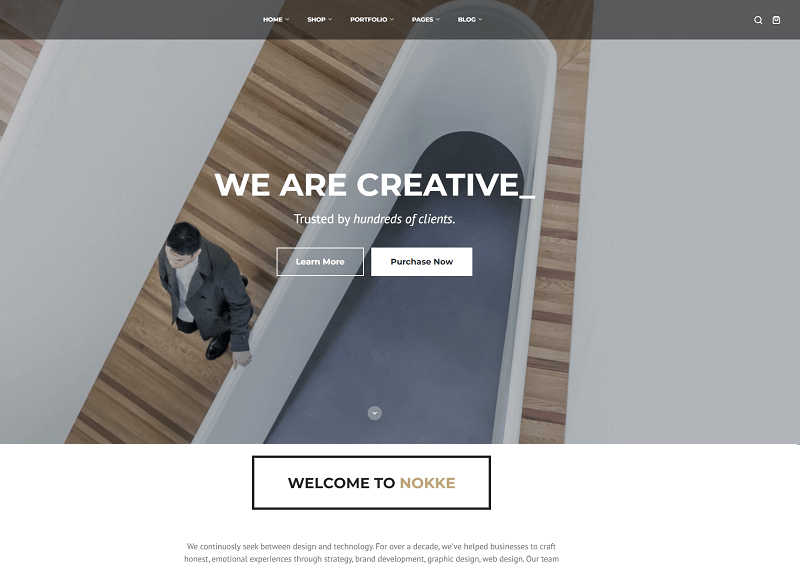 Based on the bootstrap framework, the Nokke minimalistic theme is an excellent choice for businesses, agencies, portfolios, personal websites, blogs, online stores, etc. This minimalistic theme is a modern, responsive, and luxurious crafted Elementor WordPress theme that works well on all types of display devices. Also, it comes with several home page layouts, a mega menu, header, footer, and product builder for creating stunning websites in minutes with the help of a drag-and-drop Elementor page builder.
Furthermore, the Nokke is a sleek, SEO-friendly minimalistic theme that comes with all the functionality and faster page load you require to set up a new agency site. Also, this minimalistic theme offers lots of valuable features such as WooCommerce and translation-ready, color scheme, shortcodes, RTL support, custom widgets, and a powerful customizer panel.
10. Feminine Business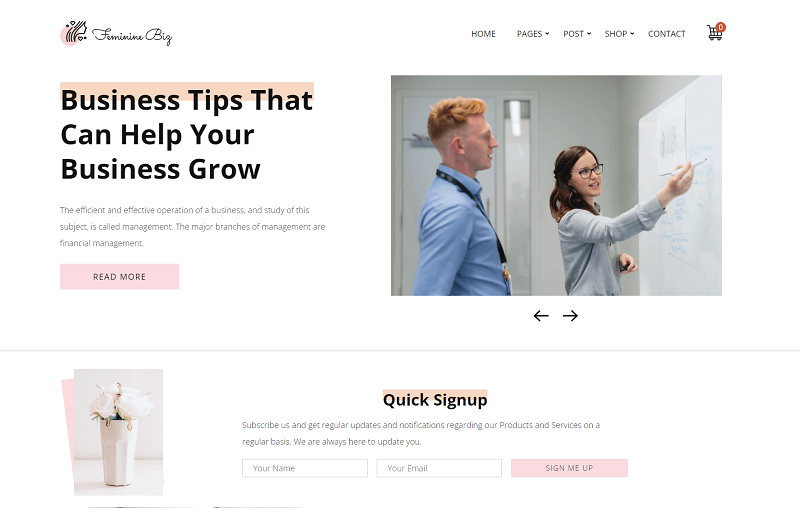 Feminine Business is excellent for aspiring women entrepreneurs, businesswomen or business owners, and feminine blogging websites. Also, Feminine Business created feminism in mind, especially for women to take their first step into the modern digital world without understanding much about web marketing and development. Furthermore, this modern, minimalistic feminine theme comes with Gutenberg compatibility and reliable support.
Besides that, this enchanting feminine theme offers high-end attributes and easy-to-customize features for your WordPress website. Also, the Feminine Business theme has a flexible and responsive design with options for advertisement widgets to monetize blogs. It is very lightweight, SEO friendly, and has a Newsletter and Instagram section to stay in touch with followers and also full-fledged documentation, making it polished and stand out.
Conclusion:
WordPress is flexible yet powerful, making it the perfect platform for business sites. Therefore, the world's top companies are choosing WordPress to power their sites and blogs, and you can do too.
A Minimalist WordPress theme can make your website load faster and look beautiful with its fast and clean codes. Also, a good WordPress theme is crucial to the performance and aesthetics of websites. For example, an awesomely designed WordPress theme can offer you a long list of custom functions and elements.
Furthermore, a minimalist WordPress theme is meant to give a fresh new look to your blog without getting in your way. You can try these free minimalist WordPress themes mentioned in this article and give your website a clean, minimalistic, fresh look.