Ease of accessibility, modern conveniences, and inorganic or junk food make the human body lazy and weak. Therefore, people are now paying more attention to what their bodies consume and how they exercise. And their first course of action is to find info on the web. It makes the online health industry extremely competitive but prospective for new or offline nutritionists or diet planers to spread the word about their business and earn some fortune. Many nutritionists and diet planners use Nutrition WordPress Themes for their sites to stand out and get more clients/customers.
When it comes to your nutrition program, these themes are specifically designed for this purpose. Therefore, in this post, we have added the best free nutrition WordPress themes for selling nutrition-related projects, promoting nutrition services, sharing nutritional advice, and more. So, explore this collection and try a nutrition theme for your site.
List Of Best Free Nutrition WordPress Themes
1. Cookery Lite
2. Nutrigen
3. Nutrition Diet
4. Keto Organic Diet
5. Weight Loss
6. Dietitian Lite
7. Nutrilite Lite
Also, Read:
New Translation-ready WordPress Themes
Best Free WordPress Broken Link Checker Plugins
1. Cookery Lite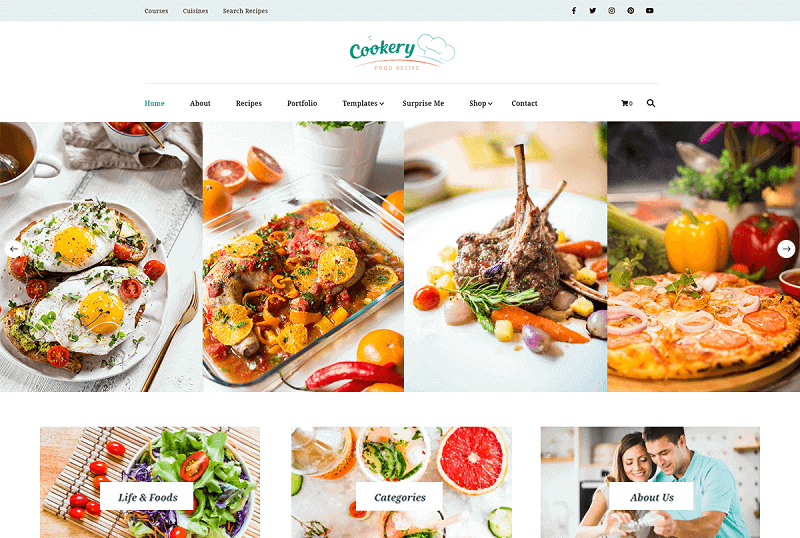 The Cookery Lite theme is a lead-generating nutrition and food recipe WP theme loaded with multiple CTA buttons to capture leads. Also, this stunning theme is optimized and designed for building different blogs such as fashion, lifestyle, recipe, travel, beauty, parenting, and much more. Besides this, Cookery Lite offers professional Schema friendly design compatible with the Delicious Recipes plugin that includes top-notch features, including recipe keys, advanced search, nutrition value, recipe blocks, and more to make and share your recipes. Also, the Cookery Lite theme is ideal for those who want a minimalist design that ranks higher so people can find their recipes. Cookery Lite has a comprehensive range of features, including Unlimited Colors, 900+ Google fonts, an Instagram Section, and more.
2. Nutrigen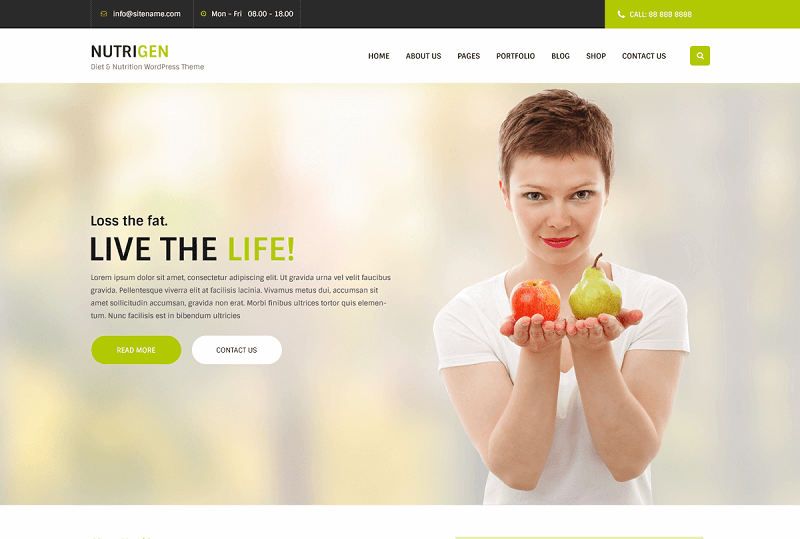 Developed by Fly Themes, this free WP theme is perfect for Health Centers, Fitness, Diet, Educational, and Nutrition. Furthermore, the Nutrigen theme is SEO optimized and has customizer options and technical features, letting you create your unstoppable online business sites with incredible speed. Also, the Nutrigen theme has Gutenberg support, Responsive Design, and a CTA button to improve the conversion rate. In addition, the Nutrigen theme has Social Media Integration, WooCommerce Compatibility, Logo Upload, and Translation Ready features. And the Nutrigen theme has widget support to get you customization capabilities further. This theme also works well with the plugins like Jetpack and Contact Form 7.
3. Nutrition Diet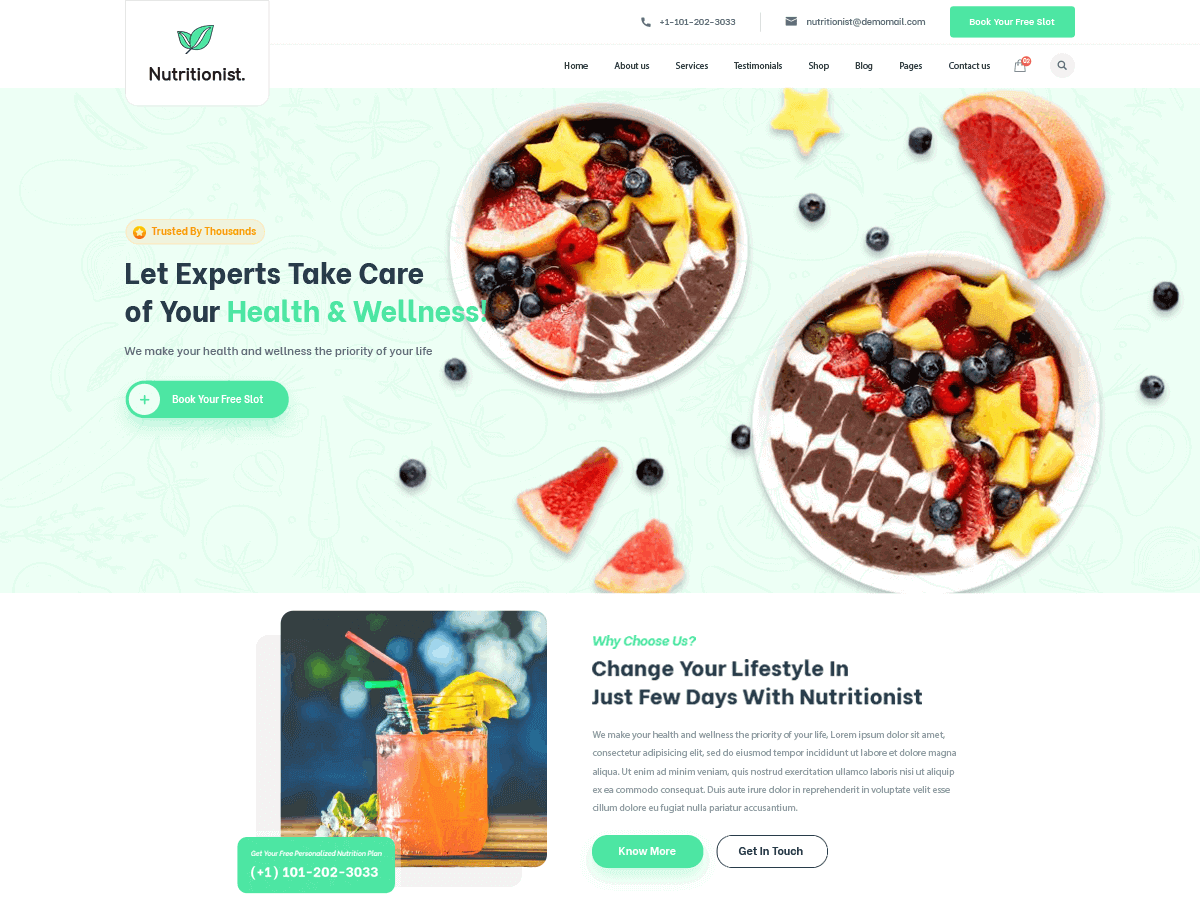 The Nutrition Diet theme is another well-crafted nutrition WP theme. You can use the Nutrition Diet WP theme to create sites for nutrition experts, health coaches, dieticians, weight loss and gain specialists, pediatricians, etc. Also, The Nutrition Diet WP theme has a minimal and elegant design and is retina ready, allowing you to showcase the worldly display of dietitian services and deliver a phenomenal web presence. Also, this nutrition theme is crafted for experts in the diet and nutrition field and comes with eye-catching CTA buttons, sliders, banners, a custom menu, footer widgets, and social media icons to take your business to the next level through advertisement.
4. Keto Organic Diet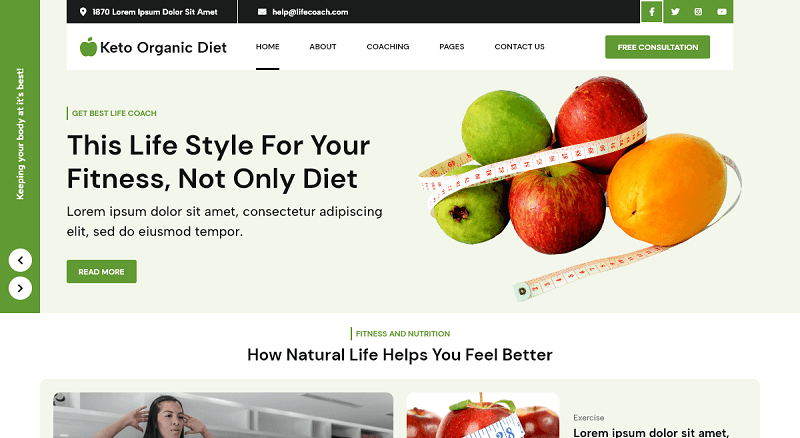 The VW Keto Organic Diet theme delivers an engaging and stunning design with all the necessary tools to help your blog site look modern and professional. Besides this, this SEO-ready theme lets you customize its layout to create sites for dieticians, organic farms, health centers, sports, weight loss programs, diet coaches, nutritionists, etc. Also, VW Keto Organic Diet has clean typography and translation ready to help you translate into 70+ local and international languages. VW Keto Organic Diet has compatibility with form builders, WooCommerce, and pretty much anything needed for the nutrition sector. With its easy-to-use interface, cross-browser friendly, and Customization tools, you can make a perfect diet, food, and health or nutrition-related site.
5. Weight Loss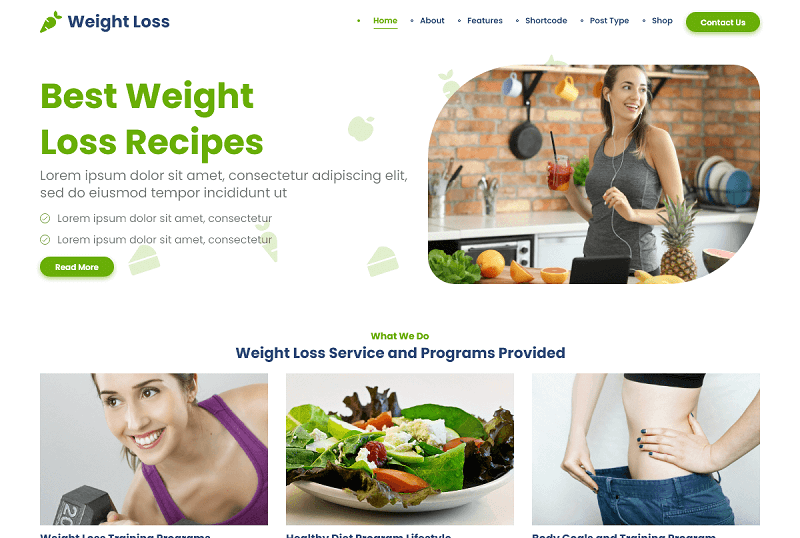 Weight Loss is an exclusive weight loss and health-related WP theme solution created for fitness freaks, weight loss centers, health and nutrition experts, wellness, yoga centers, dieticians, and all the relevant sites. Also, it is a well-documented theme with the latest web standards and well-written HTML codes. Furthermore, Weight Loss is built on Bootstrap and delivers a user-friendly interface and many personalization options. In addition, the Weight Loss theme has sections such as Testimonial, Team, Blog, etc. Besides that, many interactive Call to Action Buttons is available that will not direct the audience only but also boosts conversions. Also, the Weight Loss WP theme lets you take advantage of its features and functionalities to build your nutrition and diet-related sites.
6. Dietitian Lite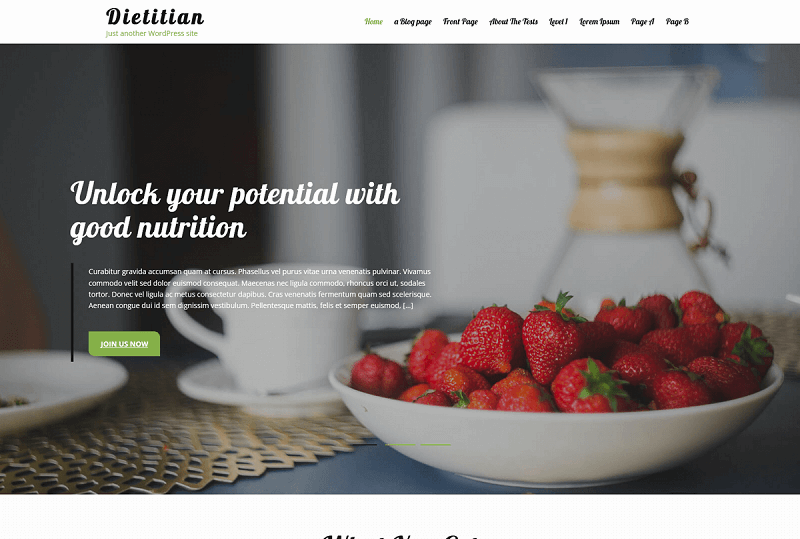 The Dietitian lite theme is a stylish, fully responsive WP theme made for providing nutritional information. This enchanting theme is suitable for websites related to diet consultants, dietitians, diet coaches, healthy food, fitness, etc. The Dietitian lite theme relies on flexibility and features to take your nutrition and dietitian business to new heights. Besides this, The Dietitian lite theme allows you to use the right spots to showcase the services you offer. Furthermore, this beautiful nutrition theme gives you an easy way to import demo data and a chance to upscale your business with it.
7. Nutrilite Lite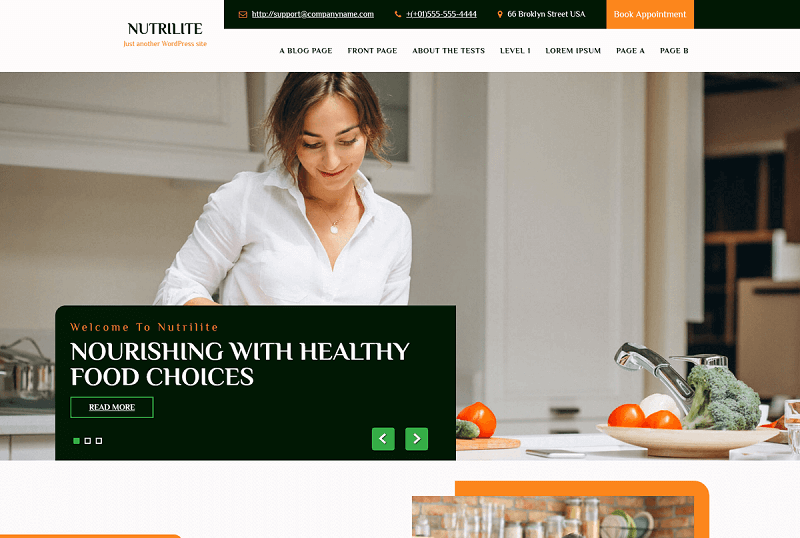 The last theme is Nutrilite. It is a clean, modern, responsive WP theme for dieticians, fitness experts, nutrition specialists, health coaches, and other nutrition-related sites. Furthermore, Nutrilite lets you manage site design, content, and sections with Theme Options and Widgets for effectively displaying nutrition or diet-related information. Besides this, you can integrate the Nutrilite theme with Woocommerce, and it looks great on all screens. Nutrilite has page templates that can be modified according to your requirement, and you can sell your products with this theme. Also, this theme does not demand coding skills to use it. Furthermore, Nutrilite has an easy-to-use theme panel and supports popular browsers like IE, Mozilla Firefox, Google Chrome, etc.
Conclusion:
These Nutrition WordPress Themes are great if you want to have a nutrition-related website. They are simple, easy to use, and offer plenty of valuable information to your site visitors who are interested in making nutritional healthy lifestyle choices for the betterment of their health. Many people search for diet or vegan blogs, and these themes can help your site stand out from the rest, so get them for your site.