Sports and fitness, no doubt, play a crucial part in one's life. Hence, Sports and fitness websites always will be around. Not just individually but also at a corporative level, a Sports website can change things around. A thriving sports club site can unite the fans as a unit and provide them with all of the details they require to cheer up their heroes through their matches. However, to achieve these merits, you will have to find either paid or free sports WordPress themes that fulfill your sports clubs and fans' requirements.
But the catch is that it is not easy to find that kind of theme since WordPress holds thousand of website themes only for fitness, sports, and sports clubs. So, to ease up your work, we bring you the collection of 9 best free sports WordPress themes that can deliver your content to your audience and fans in a unified manner.
List Of Best Free Sports WordPress Themes
1. Sports Club Lite
2. Seos Football
3. Sports Lite
4. Pranayama Yoga
5. Sports Blog
6. Water Sports Club
7. fSport
8. VW Fitness
9. Multi Sports
Also Read:
Best Free News WordPress Themes
Best Free Bootstrap WordPress Themes
1. Sports Club Lite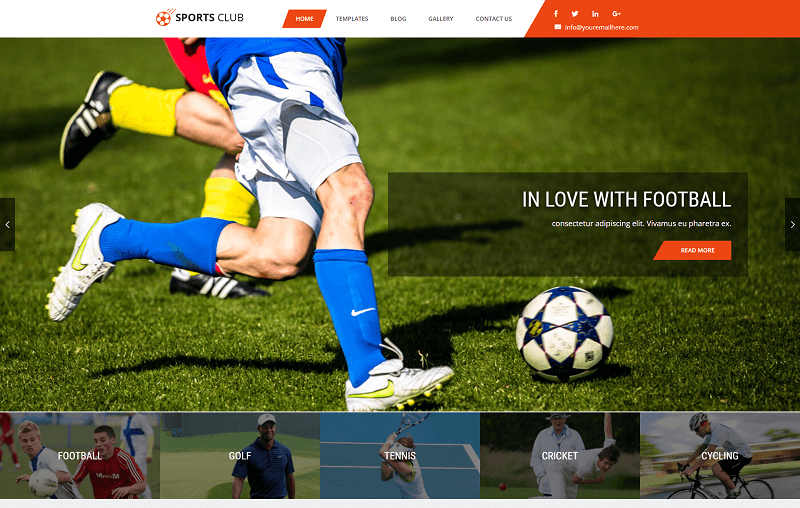 Sports Club Lite is a modern, engaging, and free WordPress sports theme. It is a versatile sports league theme that you can use for sports clubs such as basketball, volleyball, rugby, football, hockey, swimming, tennis, baseball, or any other sports clubs. Furthermore, the Sports Club Lite theme is developed to deliver an easy and specialized interface to develop streamlined professional sports clubs.
Besides this, the Sports Club Lite theme is full of attractive features and also perfect for creating personal trainers, gyms, martial arts, dance schools, and other health & fitness-related websites. In addition to this, the Sports Club Lite is a highly customizable theme, so you can easily give your site personalized unique touch to shine in the crowd and lure the visitors to your site.
2. Seos Football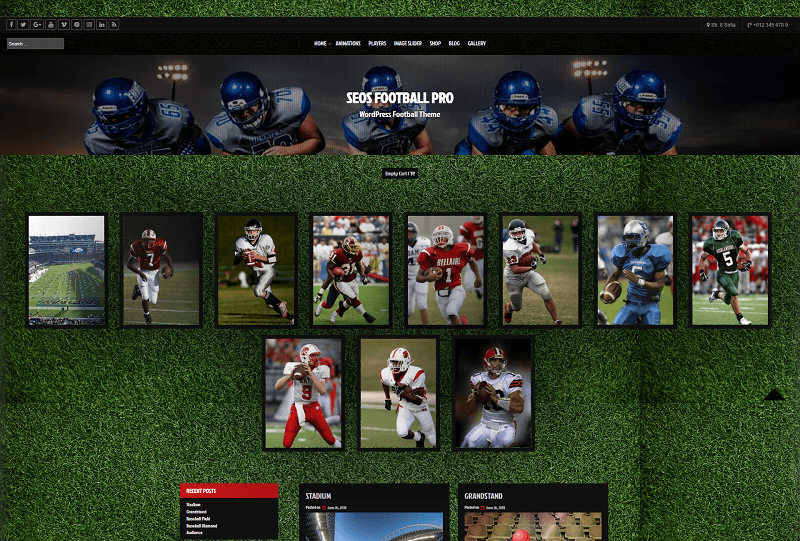 The following sports theme on the list is the Seos Football WordPress theme. It is a clean, multi-purpose, and easy-to-customize sports WP theme excellent for building football, sport, gym, fitness, basketball, volleyball, rugby, photography, etc. Besides this, you can also use the Seos Football theme to create a personal blog, magazine, publishing, portfolio, news, and other editorial websites.
Furthermore, the Seos Football theme offers a multi-purpose HTML5 template with a 2-column responsive design layout. Also, this splendid theme comes with extensive documentation and demos to help beginners create their unique masterpieces.
3. Sports Lite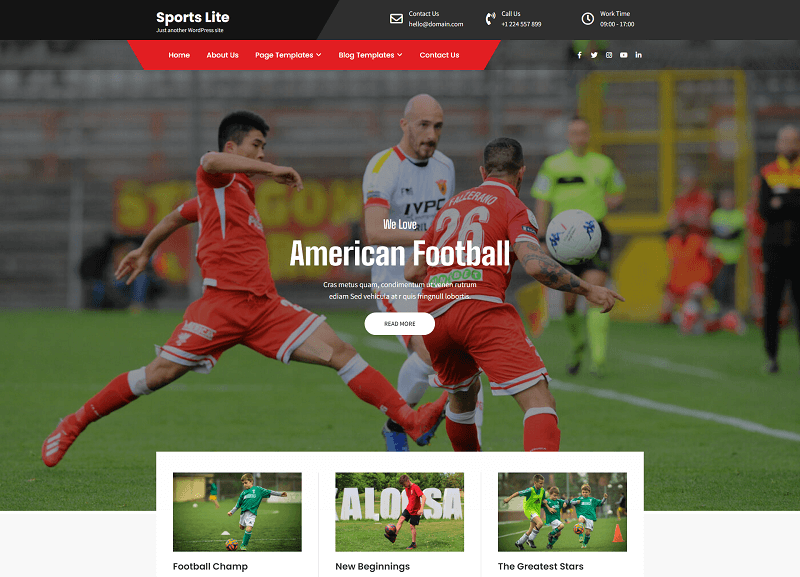 Developed by Grace Themes, the Sports Lite theme is ideal for creating responsive, lightweight, and engaging Sports and sports club sites like volleyball, football, hockey, swimming, tennis, basketball, baseball, fitness, gym, or any other sports club websites. Just like the Seos Football theme, the Sports Lite theme can also be used for sports blogs, magazines, news, and all other sports-related websites.
Furthermore, this modern and engaging theme offers a dynamic and colorful design layout with good flexibility and customization option for building distinctive professional sports club sites. It is an all-around sports theme for both experts and beginner WP users, so must try this theme!
4. Pranayama Yoga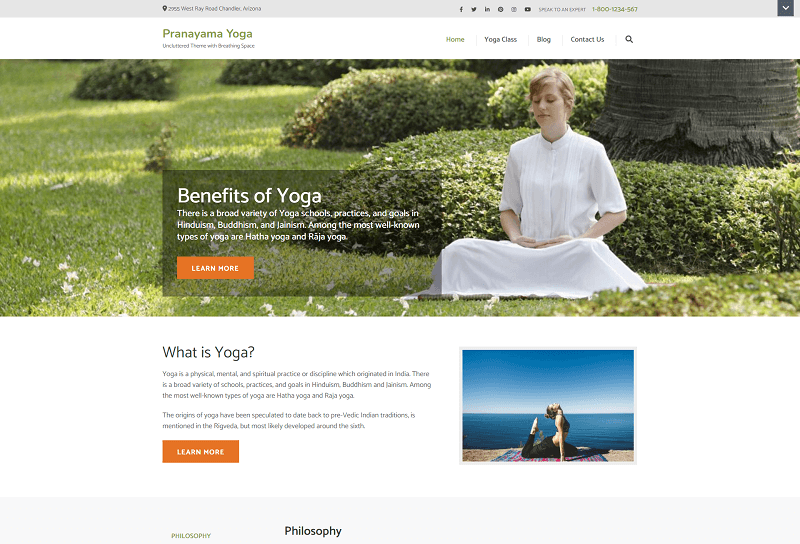 Pranayama Yoga is another powerful and versatile sports club theme with a responsive, adaptable, and flexible design. Due to its customizability and multipurpose nature, it is not s not limited to yoga and fitness sites only. You can use the Pranayama Yoga theme for other websites too. Also, this stunning theme comes with SEO-friendly codes and good page loading speed to rank your site on Google and other search engine results.
In addition to this, the Pranayama Yoga theme also offers many valuable features such as a Custom menu, Banner Section, Testimonial Section, Banner with Call to Action Button (CTA), About section, Social media, and many more to build interactive and visually stunning sites. Also, Pranayama Yoga has 4 footer area & custom widgets, and a right sidebar, and it is built on Customizer to easily customize sites with a live preview option.
5. Sports Blog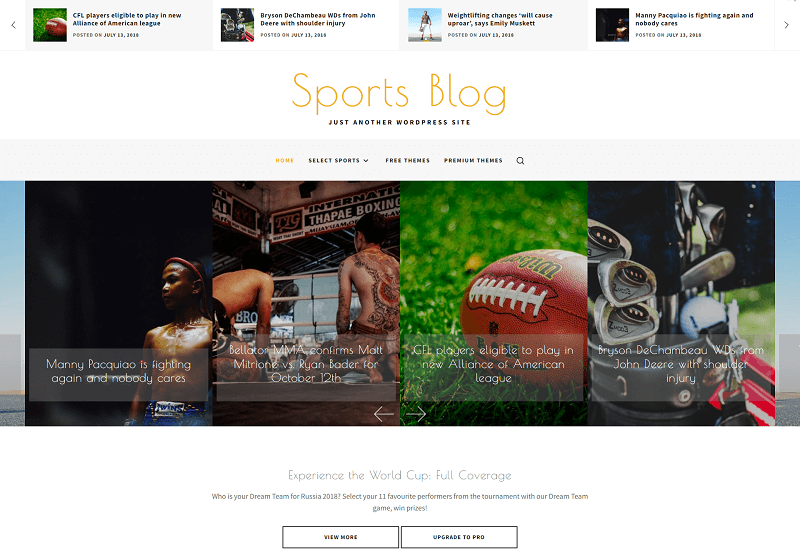 Sports Blog is another one of the most responsive free sports WordPress themes. Its modern design is carefully developed for creating fantastic blog sites. Also, the Sports Blog theme features a huge number of various styles and options to deliver a premium UI experience to your visitors.
Furthermore, the Sports Blog theme offers almost everything you need to take your customization one step further. Its sections and elements are embedded with simplicity and details so, well-tailored to match to taste of your visitors. Also, Sports Blog is fully responsive, so it fits flawlessly in various kinds of devices in different sizes.
6. Water Sports Club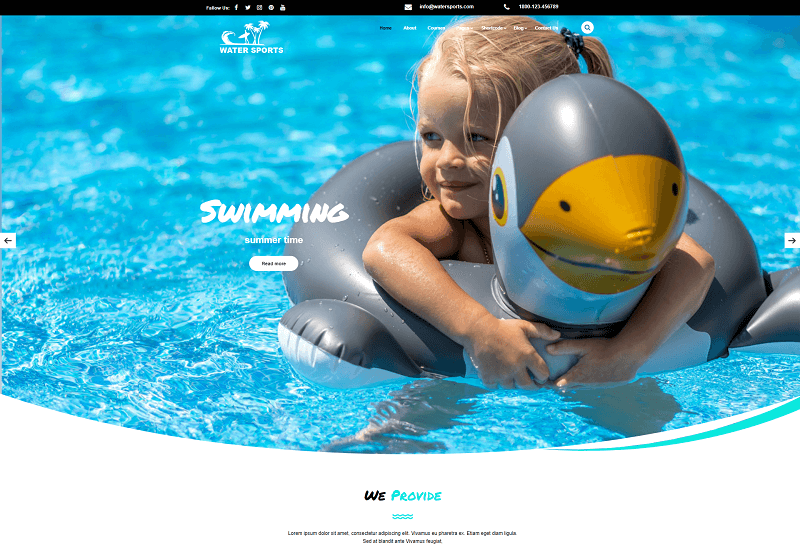 The Water Sports Club theme is perfect for beachside sports and water sports websites such as Canoeing, Surfing, swimming, beach, boating, rowing, windsurfing, Scuba Diving, river rafting, or any other water sports and relevant services sites. Also, water sports trainers and lifeguards can use this theme to advertise their skills and services.
Furthermore, the Water Sports Club theme also improves your visibility on search results with its SEO-optimized codes. Its elegant and sophisticated design with retina-ready features makes the site look pixel-perfect on every display size screen. Besides this, the Water Sports Club theme is based on bootstrap and has many customization options to play with the theme design. And you can add Call To Action (CTA) buttons at any place you want to make the site more engaging.
7. fSport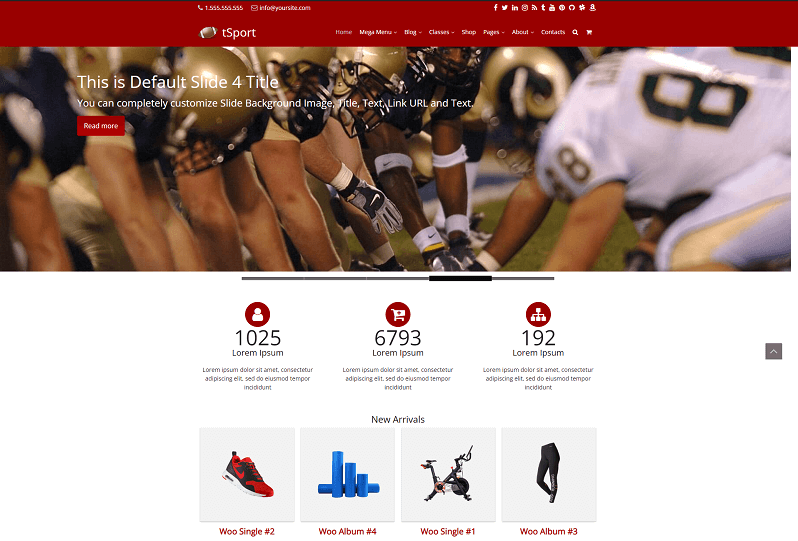 Because of its overloaded features and responsive design, we have given this theme a sweet spot on our list. It is a customizable sports theme that delivers valuable features like a Homepage widget, Header Widget, & Sidebar Widget Area, Custom Logo, Footer Copyright Text & Menu, Two Footer Columns, Opening Hours widget support, Custom Background, Translation-Ready, and many more.
Furthermore, the fSport theme is also SEO optimized and has multiple browsers compatibility, so you don't have to worry about whether the theme is compatible with your browser or not. You can use this theme easily for any sports & sports club website, and sports services and training.
8. VW Fitness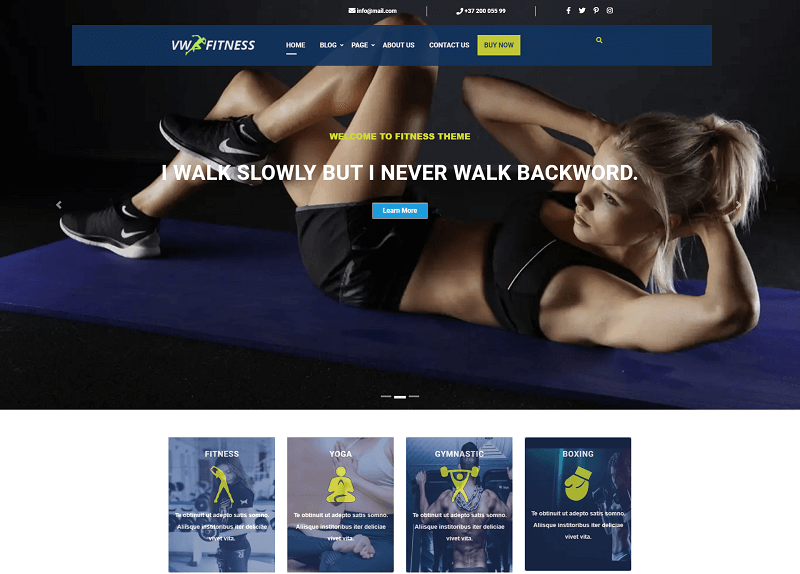 The VW Fitness is a free multipurpose sports WP theme excellent choice for personal, portfolio, fitness trainers, yoga, gyms, fitness studios, spas, gymnastic coaching, beautiplus, physiotherapy, muscular, Beauty, medical supplies, health clubs, and sports clubs websites. It is a modern, responsive sports club theme with an engaging design layout, and the VW Fitness theme is so responsive that it works adequately on all types of devices, including iPad and tablets.
Furthermore, the VW Fitness theme is SEO-friendly and has Call to Action Button with faster page load time, making it shine in crowds. Also, this enchanting sports theme delivers many advantageous features such as a Banner section, Left sidebar, Testimonial section, Appointment form section, Social media, RTL Support, Translation-ready, etc. Besides this, VW Fitness also gives a professional look to your online site.
9. Multi Sports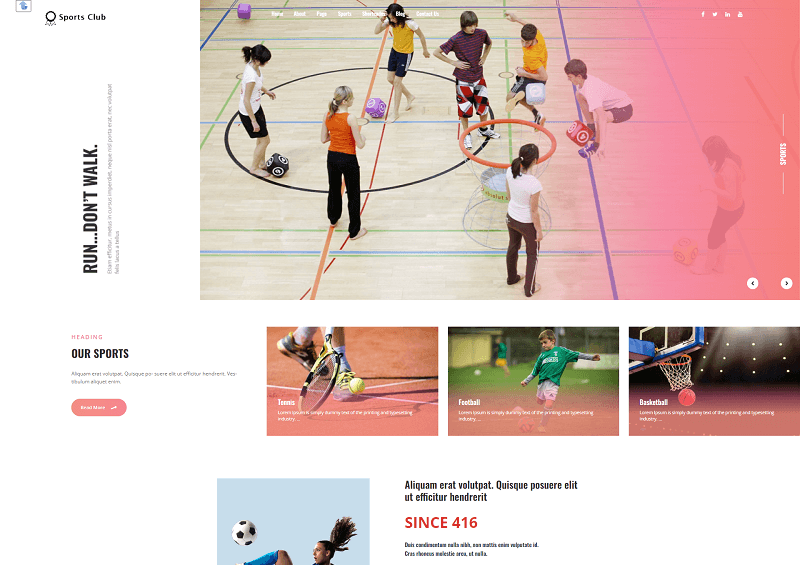 The last sports theme on our list is the Multi Sports theme. The Multi Sports Theme is an easy-to-customize, responsive WordPress sports theme. This charming theme is perfect for websites related to sports, sports clubs, and training like cricket, Rugby, Soccer, Hockey, Tennis, Basketball, Football, Volleyball, Baseball, Games, trainers, Players, etc. Every section of Multi Sports is developed with clarity and offers many personalized options to match your taste.
In addition to this, its design is also SEO friendly and optimized with beauty and thoughtfulness to deliver a premium user experience. The Multi Sports theme grants you enough flexibility and responsiveness that its design works nicely on all devices.
Conclusion:
The world of sports has gained notoriety for its marvelous and widely acknowledged achievements. It is not just a field to showcase your talent but also a lucrative financial venture. Besides this, sports is a good source of entertainment, as well as has a big market. Many people watch sports and update themself through TV, sports websites, and Sports apps.
So, it is a promising opportunity for you to earn some fortune with an engaging sports website. Try these free sports WordPress themes to update and inform your visitors about the teams, matches, and their favorite players!
At last, if you have any queries, please let us know in the Comments section below.