No doubt marriage is one of the most crucial days for anyone. Therefore, everyone will strive to do their best to immortalize this memorable occasion through images and videos. For this, many people use paid or free wedding WordPress themes to showcase their love journey online for everyone to watch.
Besides this, using sites to schedule marriage and wedding events is growing popular these days. Generally, spouses and brides-to-be always try to find ways to make setting up the schedule of weddings and wedding events easier. And one of the obvious ways to do this is by using a wedding website. There are lots of ways to build wedding websites on WordPress.
If you want to have a beautifully and professionally designed wedding wordpress website, you will need a beautiful feature-packed wedding theme. Here are the 9 best free WordPress wedding themes that you can try. These themes will help you create your beautiful, professional website with an eye-catching design.
List Of Best Free Wedding WordPress Themes
1. Unite
2. Catch Wedding
3. Blossom Wedding
4. Match
5. Kalon
6. TOGETHER
7. VW Wedding
8. Banquet Hall
9. Classic Wedding
Also, read
Best Free Feminine WordPress Themes
Free Landing Page WordPress Themes
1. Unite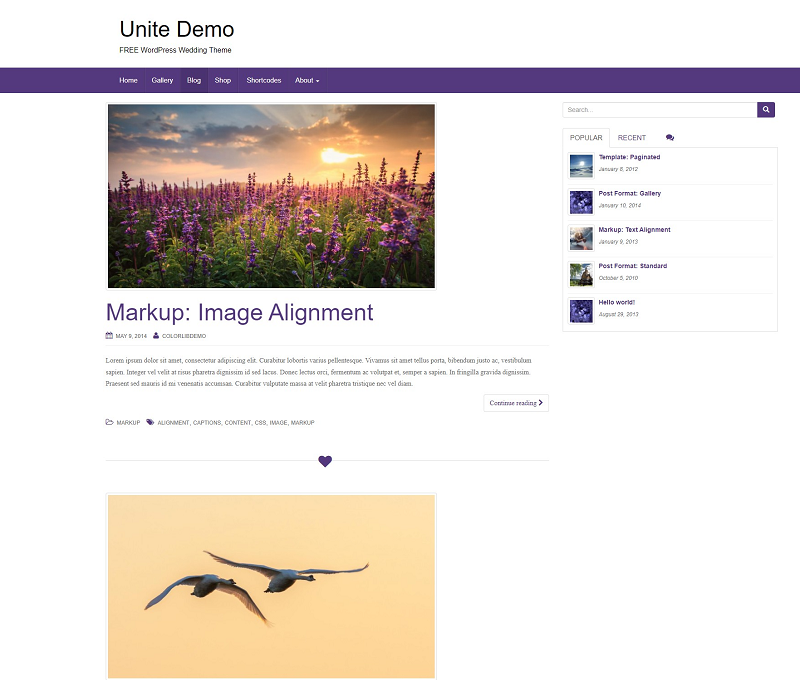 Unite is a fully responsive, modern free betrothal WordPress theme best suited for WordPress websites related to weddings. This theme delivers a superb design optimized for all devices. With Unite theme, you can easily create professional wedding blogs without writing codes. Also, this is available in German and French.
In addition to this, Unite theme offers dedicated sections for Shop and Shortcodes that help you boost your website or store functionalities. In addition to this, this fascinating theme has a creative design combined with eye-catching colors, making visitors drawn to your website and blog. The Unite theme is also SEO optimized and supports WooCommerce, allowing you to create your very own eStore.
2. Catch Wedding

Catch Wedding is another free mobile-friendly WordPress marriage theme perfect for weddings, engagements, betrothal events, and other wedding-related websites. Also, The Catch Wedding WordPress theme has a spectacular design combined with modern CSS effects. These effects and animations deliver your visitors the best user experience.
Furthermore, This powerful marriage theme has all the essential features and functionalities. Catch Wedding is a unique and organized betrothal theme with a minimalistic design. Catch Wedding is so responsive that your site looks perfect across all devices. Also, this theme meets your expectation for designing a whimsical wedding website of your preference.
3. Blossom Wedding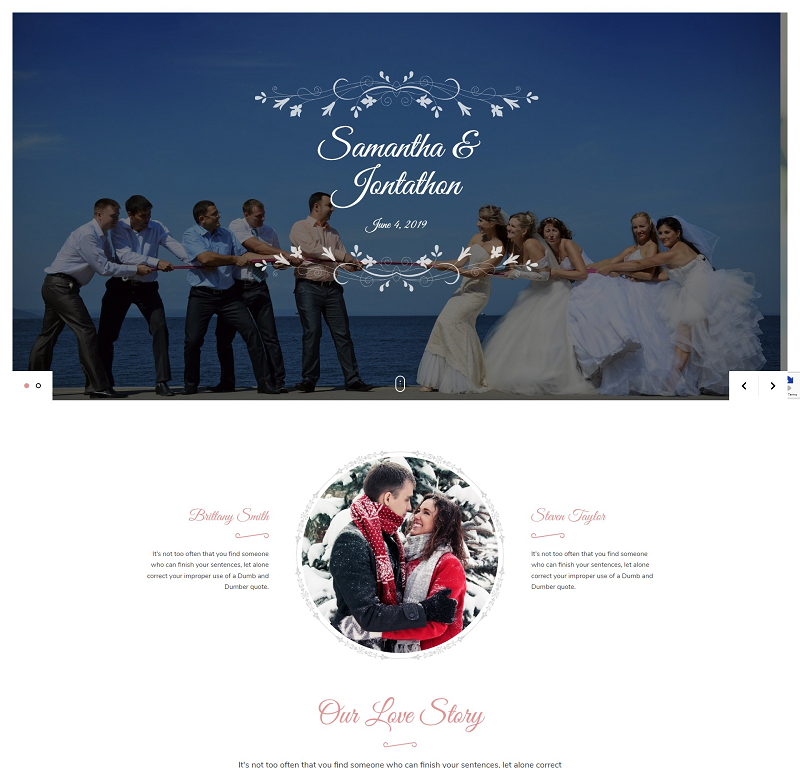 Developed by Blossom Themes, this free wedding theme is a perfect choice for marriage blogs, events, and other wedding-related works. The Blossom Wedding theme has an eye-appealing design and responsive layout. Also, it has dynamic features and functionalities suited for boosting your business development and reputation.  
Also, this multipurpose betrothal theme comes with Schema.org Markup-ready codes and SEO-optimized layouts to boost Google and other search engine results rankings. Blossom Wedding also has the latest browser compatibility and translation-ready features. You can easily showcase your work, photos, and videos and tell visitors about marriage programs and events.
4. Match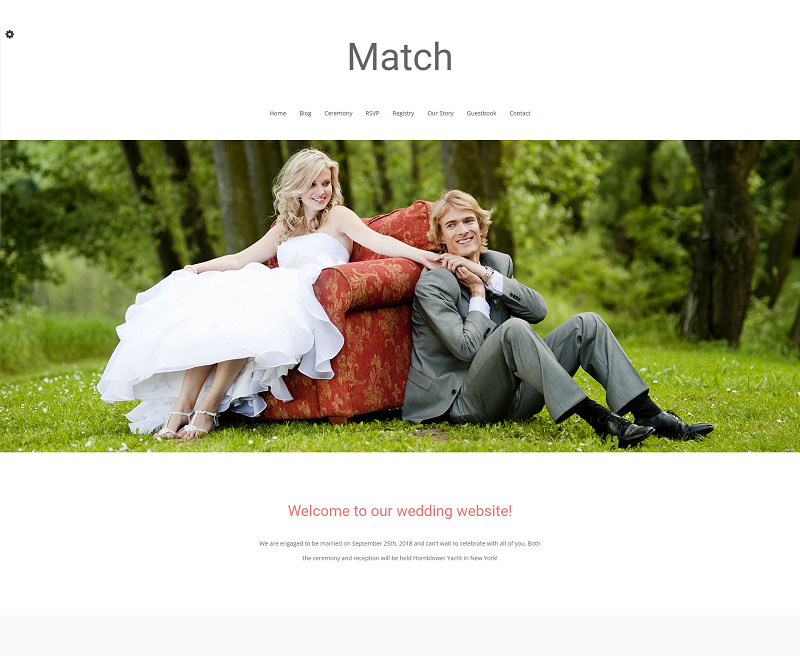 The Match theme is the next theme to land on our list of the best free wedding WordPress themes. This betrothal theme is a splendid, fully responsive theme that you can use for all types of wedding-related websites, including portfolio, travel, and photography. Also, The Match theme has quite the flexibility and Gutenberg compatibility allowing you to create beautiful posts with ease.
Besides this, this responsive marriage theme allows site owners to showcase their work, services, events, marriage blogs, testimonials, etc. Also, the  Match theme is clean, easy to use, and beautifully designed for elegant and professional websites.
5. Kalon
Kalon is perfect for WordPress websites such as marriages, event organizers, feminine blogs, party hosting, photography, portfolio, and other wedding-related websites. This fully responsive betrothal theme comes with the latest web standards like HTML5 and CSS3 animations and a step-by-step well-documented guide.
In addition to this, the Kalon theme offers high-end features and WordPress theme resources. Besides this, this splendid marriage theme has a creative design, allowing you to customize sites with customizer tools. Also, it has clean typography and a massive, responsive layout, making it best for sharing your memorable moments. Kalon's faster loading speed delivers an excellent user experience to visitors while browsing the site.
6. TOGETHER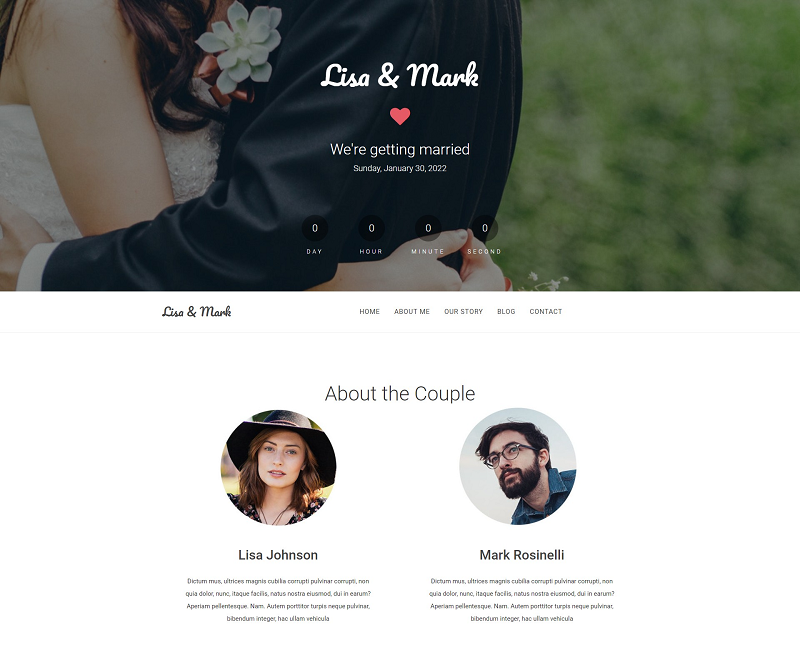 The TOGETHER wedding theme is a fully responsive theme packed with essential features to help you boost your web traffic and business. This intriguing marriage theme is optimized and developed for designing clean and attractive marriage sites and blogs. Also, the TOGETHER theme has a theme customizer and home page builder for live editing and managing the homepage.
Furthermore, The TOGETHER wedding theme is ideal for all wedding-related businesses such as marriage, engagement, events, betrothal ceremonies, etc. You can use it to draw potential clients and lead conversion. Also, it has a wide range of features, including social profiles, that make it an ideal option for all wedding websites.
7. VW Wedding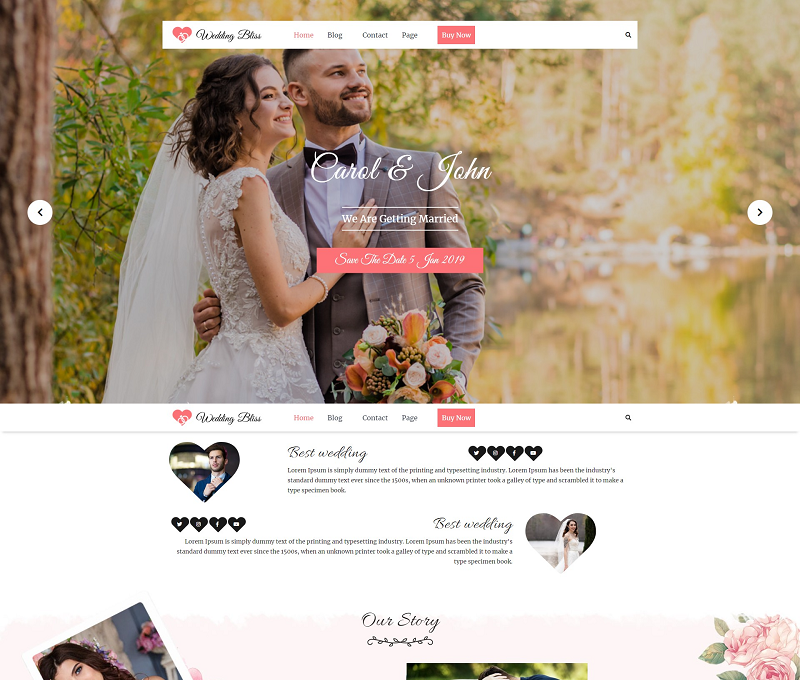 VW Wedding theme is the next theme on our list of the best free marriage WordPress themes. This Bootstrap-based betrothal theme has lots of fascinating features and integrations. Also, VW Wedding can integrate with the Woocommerce plugin and has cross-browser compatibility. That allows you to extend VW Wedding theme functionality even further.
Besides this, the VW Wedding theme has a modern layout design, and it is perfect for showcasing your work, anniversaries, birthday parties, wedding album, destination weddings, DJ services, events, etc. In addition to this, this marriage theme also has RTL Language Support, translation-ready, and WPML compatibility.
8. Banquet Hall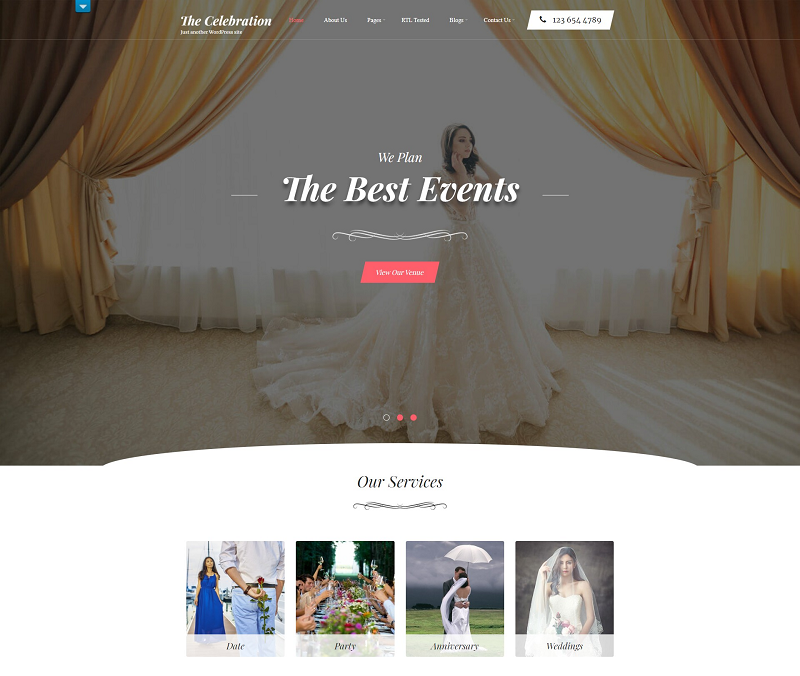 Banquet Hall is the best choice for wedding anniversaries, albums, catering, DJ services, wedding-floral services, marriage services, bride, invitation, marriage planners, betrothal band, honeymoon planning, wedding photography, feminine blogs, and all other wedding-related websites. It is a modern, clean wedding theme with an eye-appealing design layout.
Furthermore, Banquet Hall offers lots of splendid features that help you increase your website traffic and lead generation. Besides this, the Banquet Hall theme has a secure and clean code, and it is also SEO optimized to improve Google search engine visibility. Also, the Banquet Hall theme is translation ready and designed with user engagement in mind. This marriage template let you build beautiful and appealing websites with ease.
9. Classic Wedding
The last wedding theme on our list is the Classic Wedding theme. The Classic Wedding Theme is a mobile-friendly, fully responsive WordPress theme. This intriguing theme is well suited for marriage-related businesses like wedding or event planners, DJs, etc. Besides this, you can also use this theme for art and design, personal, portfolio, or feminine blogs,
Moreover, This marriage template allows you to exhibit your work creatively to your visitors. The Classic Wedding theme has a fully responsive design layout that works flawlessly on all devices. Furthermore, this beautiful betrothal theme lets you connect with your visitors and convey the marriage details and happy moments. Besides this, It is also optimized for fast loading speed to deliver a superior user experience to your visitors.  
Conclusion:
When you start looking for a wedding theme, especially for WordPress, you will find tons of free and paid themes. All of these themes have unique, beautiful layouts with similarities in features.
In these terms, selecting the best wedding theme for your website or page might be a difficult task. You can try wedding themes listed in our list. These themes may fit your requirements and help you create that one-of-a-kind remembrance of a once-in-a-lifetime event like a wedding, engagement, etc.