Although we have gained new heights in visuals and graphic designs, most people still prefer clean white designs over a fancy one. They have created a soft sport among professional developers and businesses. With that in mind, we are presenting you this collection of 7 best free white WordPress themes for you to add your creative and personal touch to your websites while keeping them clean and minimal.
In this theme collection, you will get themes with responsive design. And they make every design element of your site look gorgeous no matter the device screen and browser. Thanks to the versatility of WP, building websites becomes hassle-free and easy. Also, these clean white WordPress themes are created to increase your business professionalism and can serve you well.
No matter what business you are in, these white WordPress themes will help you build your professional personalized dream site. So, get some inspiration and pick your desired WP theme from this collection.
List Of Best Free White WordPress Themes
1. Twenty Nineteen
2. Cockatoo
3. HGW Whiteboard
4. White Nina
5. Whiteblogs
6. CT White
7. White Xmas
Also Read:
Best Free WordPress Themes with Sliders
Best Free Digital Download WordPress Themes
1. Twenty Nineteen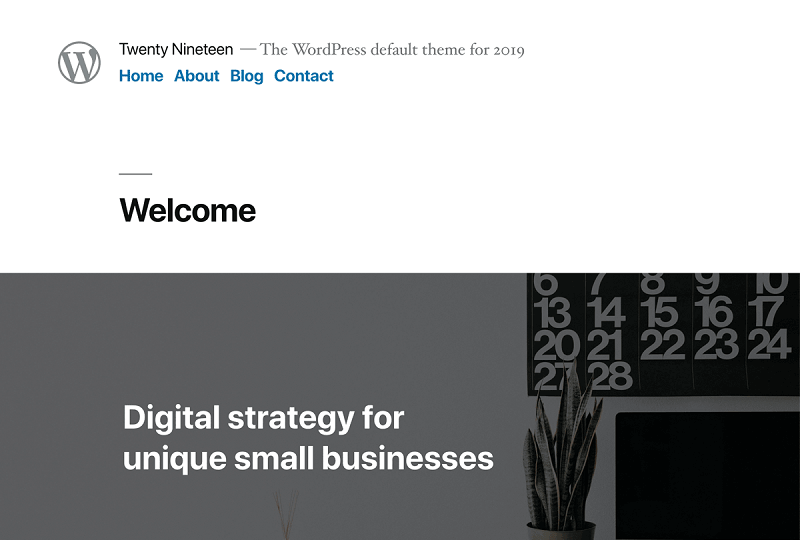 Twenty Nineteen is the best choice for all photo blogs, launching a new business, Charity, supporting a non-profit, and all other related websites. It is a white, responsive, and fully customizable theme designed to show off the power of the block editor. The Twenty Nineteen theme features custom styles for all the default blocks. You can see all the changes in the editor exactly the way it looks on your website.
Furthermore, the Twenty Nineteen theme offers many powerful features and various sections with ample whitespace and modern headlines paired with the comforting body text. Besides this, the Twenty Nineteen theme is SEO optimized and supports popular plugins like Polylang, Yoast, etc.
2. Cockatoo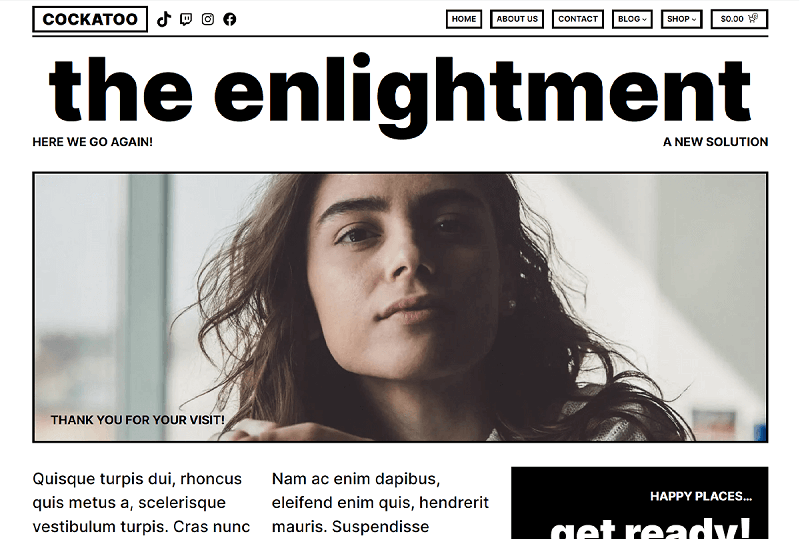 The Cockatoo theme is developed by Wows Themes. It is a modern, unique WP block-based theme with FSE features. Cockatoo has a bold, eye-appealing White design for portfolio, business, or any other content type websites. Also, this white theme can easily incorporate the latest WP plugins allowing you to display your art, business, event, portfolio, blog, and webshop, and lets you sell your products in the most effective way possible.
Furthermore, the Cockatoo theme is compatible with page builders like Elementor, SiteOrigin, etc., which lets you change the design using drag and drop. Besides this, this splendid white theme has cross-browser compatibility and gives a demo for beginners to start their website projects.
3. HGW Whiteboard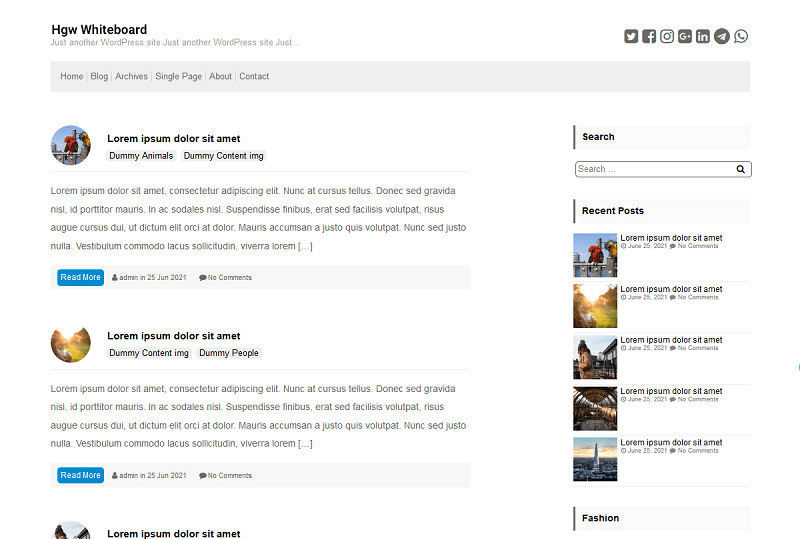 This theme offers fascinating features such as Custom Widgets, Theme Customization, Logo Upload, Featured images, Social media Links, and many more. Also, HGW Whiteboard is compatible with the page builder plugin to easily extend your theme customizability and help you build your site hassle free.
Besides this, the HGW Whiteboard theme has a lightweight, white, modern layout with a custom menu and good ad space. You can also use the HGW Whiteboard theme to expand your social network by adding your site pages to social networks. You will get a dedicated section for this. The HGW Whiteboard theme is a mindfully crafted white WP theme that you should try at least once.
4. White Nina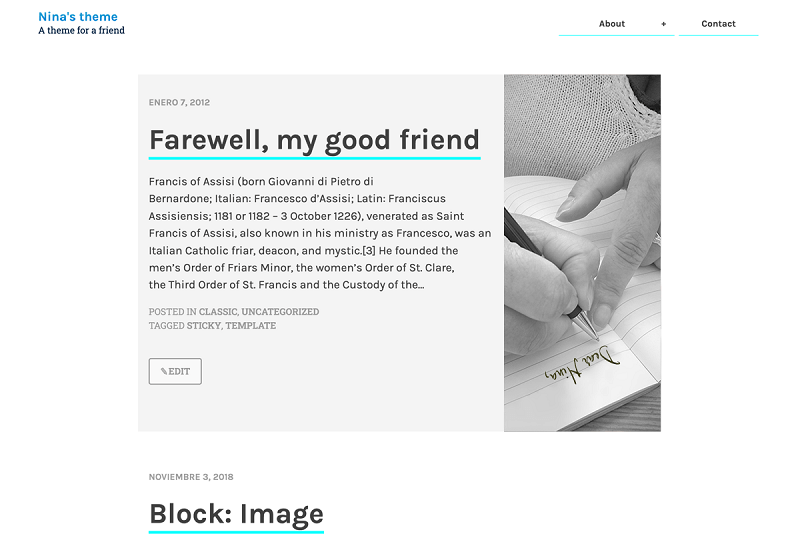 The Next theme on this theme collection of best free white WordPress Themes is White Nina. Developed by Marbaque, this free white WP theme is best-suitable for all kinds of content-related websites. White Nina has an eye-catching, simple white design and dynamic features to help you set up your site in no time.
In addition, this splendid WordPress theme comes with features to keep your content organize and looking perfect, and engaging to your visitors. Also, it includes SEO-friendly codes to rank shortly on Major search engines. White Nina is also responsive and has cross-browser compatibility, so it can adjust to any screen or browser.
5. Whiteblogs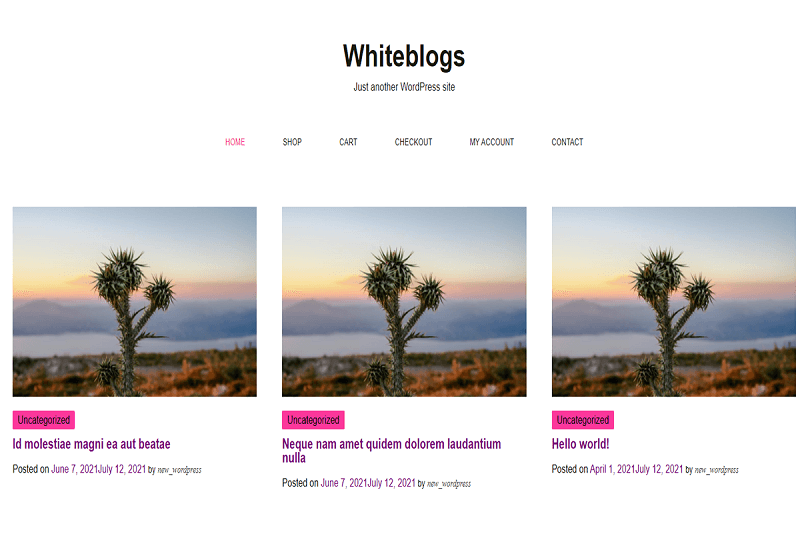 The Whiteblogs theme is perfect for WP blog websites such as Food, Education, Travel, Lifestyle, Technology, the latest trends, etc. This highly responsive free theme comes with custom backgrounds that you can change according to your liking. Also, Whiteblogs offers essential features, WP theme resources, and a custom menu.
Besides this, this charming white theme has an innovative design that you can easily personalize with customizer tools, and you can add or subtract anything and change the site design. In addition, Whiteblogs offers you attractive features like Custom Logo, Custom Menu, Featured Images, Threaded Comments, Translation Ready, and so much more.
6. CT White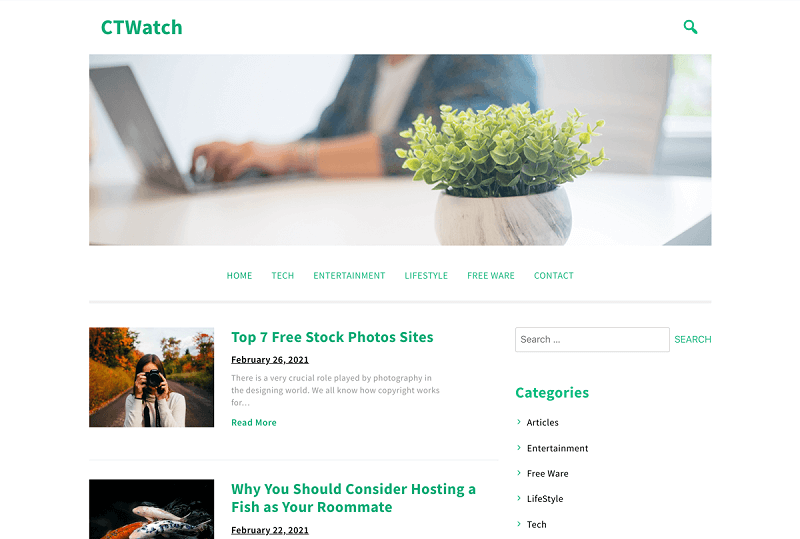 It is another free simple, sophisticated white WP theme perfect for online blogs and other content-related service websites. Also, the CT White WordPress theme gives you a vivid design merged with modern animation and CSS effects to give your visitors a satisfying user experience. Its minimal white style engraves your followers as it focuses more on the content details.
In addition, the CT White theme presents all the mandated features and functionalities like SEO-friendly, Custom Logo, Custom Menu, Featured Images, Threaded Comments, Translation Ready, Social media integration, Cross-browser compatibility, etc. Besides this, with CT White, you can add a dedicated section to make your design look professional.
7. White Xmas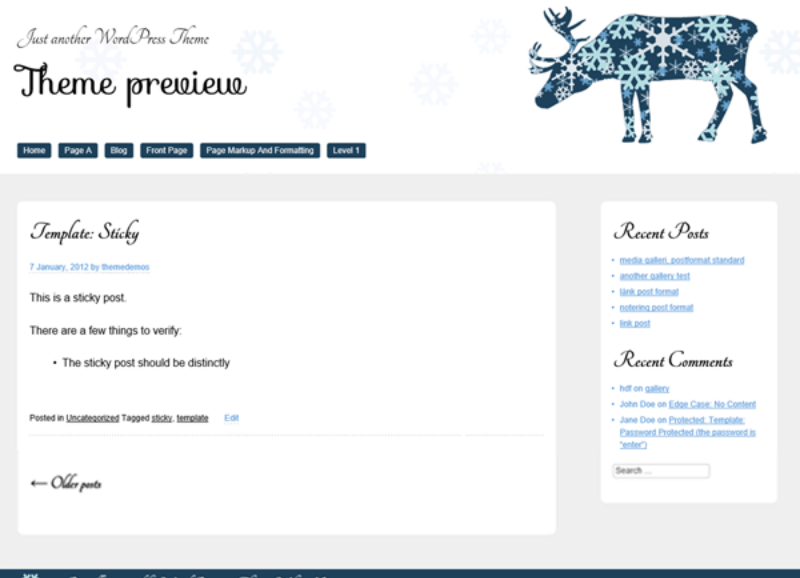 White Xmas is a responsive, accessible seasonal Christmas blog theme best suited for users who want a blue-white clean, spacious layout. It can be a great option for creating beautiful content-focused professional blogging sites. With this theme, you can easily make professional or personal blog sites through theme customizer.
Besides this, this fascinating white WP theme has a perfect color scheme to attract visitors to your Christmas blog site. Furthermore, White Xmas offers dedicated features for social media to help you grow your followers and social network. The White Xmas theme is also SEO ready and has Right Sidebar, Sticky Post, Translation Ready, Two Columns, and more.
Conclusion:
White can be an excellent color to use for your next site. It is the symbol of cleanliness and represents sincerity, purity, and peace, making it the perfect color for applications, websites, and any other requirements. White WordPress themes are a great choice to get your business on the right track with their clean designs. In addition, all of the themes in this collection are responsive and can be used by professional developers to make any kind of personal and professional site. So, try them now!