Digital marketing has become a crucial element in the marketing strategy of any business. It enables companies to connect with their target audience more personally and monitor their performance effectively. Therefore, WordPress Digital Marketing Themes are an important part of a successful eCommerce site. Also, the power of digital marketing is seriously undeniable. However, it can be difficult to convince businesses of the importance of being a sophisticated marketer with an attractive website. In reality, Marketing WordPress themes help you to brand your business in a way that makes your brand easily identifiable and shows off your personality.
In addition, Digital Marketing has become a crucial part of reaching or retaining your target audience. So, in this post, we will help you select the best theme for your business's marketing strategies and ensure that it is compatible with an all-in-one Google Analytics account. So let's explore this amazing theme collection together to find out the best digital marketing theme for you.
List Of Best Free WordPress Digital Marketing Themes
1. SEO Digital Marketing
2. Digital Marketing Elementor
3. Digital Marketing Agency
4. Digital Marketing Expert
5. Digital Marketing Lite
6. Digital Advertising
7. Marketing Agency
Also, Read:
Best Free Mega Menu WordPress Themes
Best Free WordPress Themes for Startups 
1. SEO Digital Marketing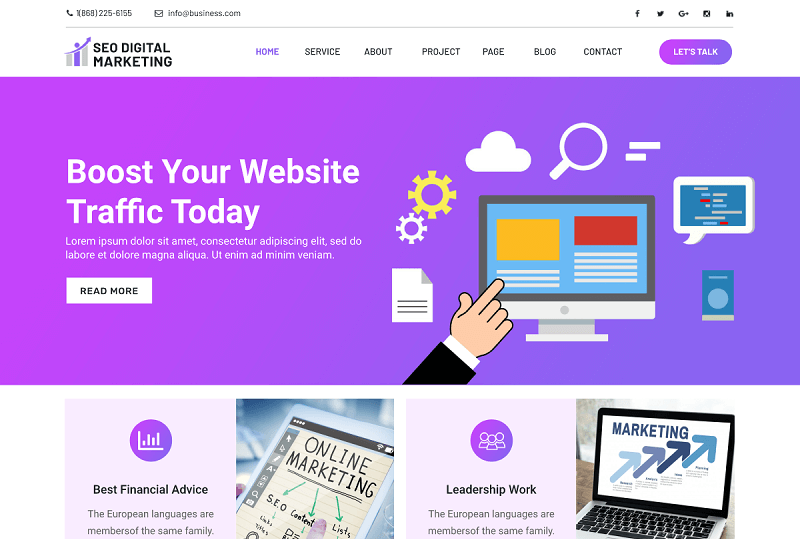 The SEO Digital Marketing theme is a visually impressive and SEO-friendly theme designed primarily for various businesses, such as SaaS, marketing, creative agencies, startups, and others. The theme has a broad range of applications, including digital marketing, portfolio, software, app landing, and more. It features a header and footer builder, responsive design, and translation readiness, making it easy for visitors to understand the content of the website using our translation feature. This theme is perfect for users who want to improve their website's ranking on search engine results pages (SERPs). It includes all the necessary features that a high-quality website requires, such as optimized codes, fast page load times, call-to-action buttons, and translation readiness. With its easy-to-use interface, any marketing firm can create a professional website without hassle.
2. Digital Marketing Elementor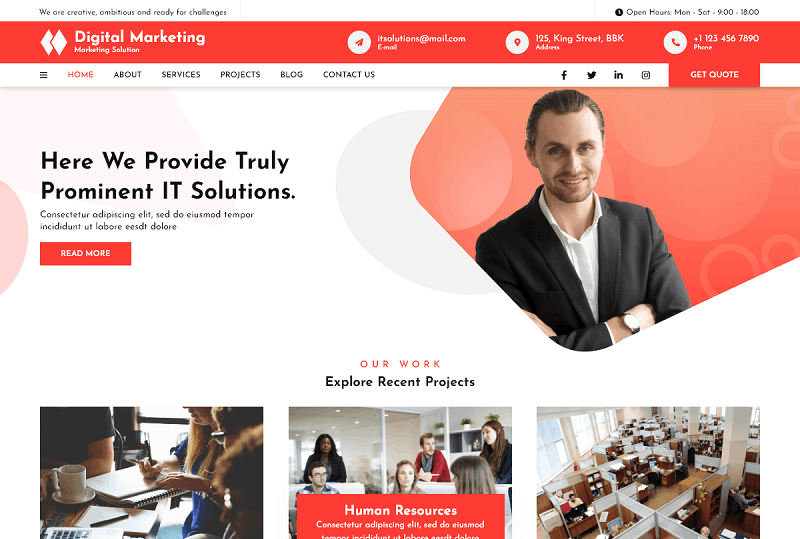 Elementor is a WordPress plugin that facilitates the creation of visually appealing pages using a drag-and-drop page builder. So, integration of it with the theme provides complete control over every aspect of website design in one place, allowing users to build dynamic websites with a visual editor. Among the many digital marketing platforms and strategies available, this Elementor theme is one of the most popular and effective. This theme empowers businesses to create attractive and efficient landing pages while monitoring their performance and results. Building a theme on Elementor is an excellent option for businesses of all sizes, especially small businesses, and startups, that are seeking a powerful and user-friendly digital marketing platform.
3. Digital Marketing Agency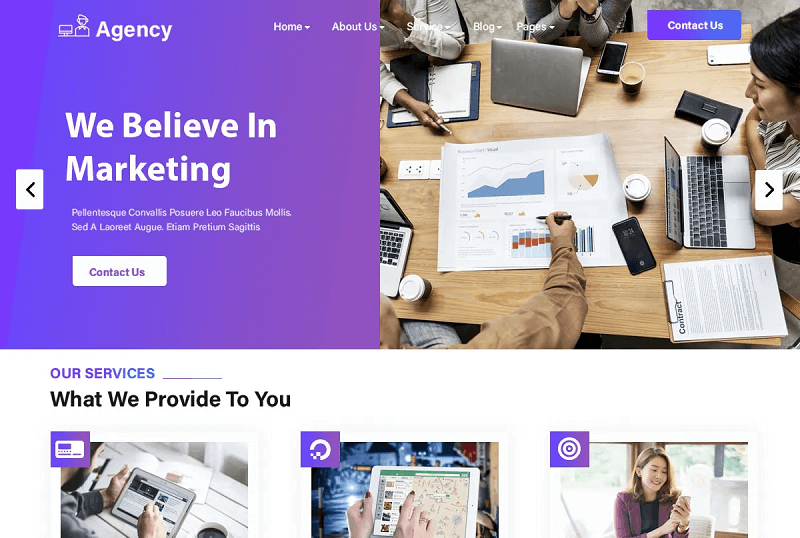 The Digital Marketing Agency WordPress Theme is a versatile website theme designed for various marketing agencies, professionals, and branding agencies. It is easy to use and can be edited, customized, and updated by anyone, anywhere, without requiring any professional knowledge or experience. The theme comes with pre-built and sophisticated homepage layouts that give a professional look to your website. It is built using the latest technologies, such as CSS3 and HTML5, ensuring a modern and sleek design. With this theme, you can easily edit and update the content and images using your creativity. It is also compatible with screens of all types, sizes, and ratios, making it accessible to a larger audience.
4. Digital Marketing Expert
The Digital Marketing Expert WordPress theme is a modern and clean theme designed for marketing agencies, digital marketing professionals, SEO service providers, and more. It is a multipurpose theme with a minimalistic approach and a sophisticated layout that gives a professional look to your website. The retina-ready design ensures a stunning display of images and content. This free theme includes a beautiful services page with an impressive banner and sections for Team and testimonials. It also features Call to Action Buttons (CTA) to guide visitors to take the next course of action, making the website interactive. The theme is built with secure and clean codes that are SEO-friendly and optimized for faster page load times.
5. Digital Marketing Lite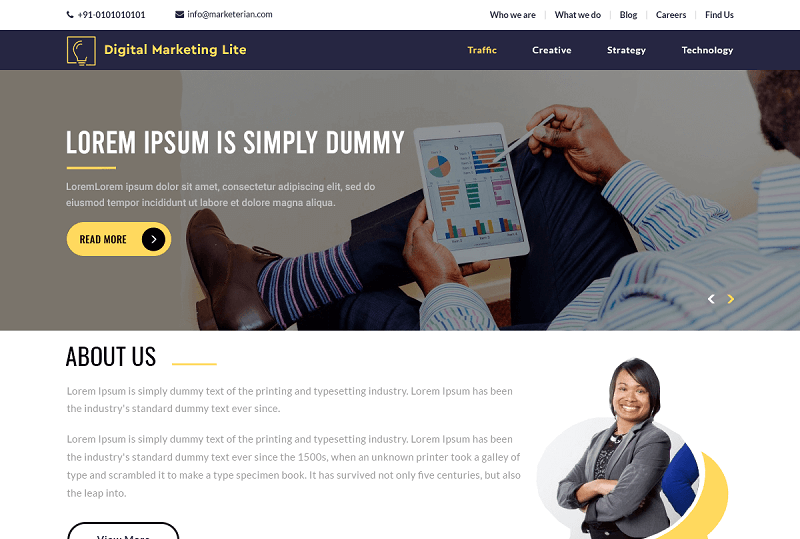 Digital Marketing Lite is a premium-level theme that is available in the international online market for free, and it is specifically designed for professionals, advertising, firms, enterprises, digital marketplace, internet marketing, and web marketing-related businesses. It comes with exclusive and elegant features such as being multipurpose, minimal, and elegant as well as responsive, retina-ready, translation-ready, and mobile-ready. The theme is visually stunning and animated, making it an excellent choice for marketing and SEO. With this theme, you have the option to sell digital products, including stock photos or digital art, making it suitable for various digital businesses.
6. Digital Advertising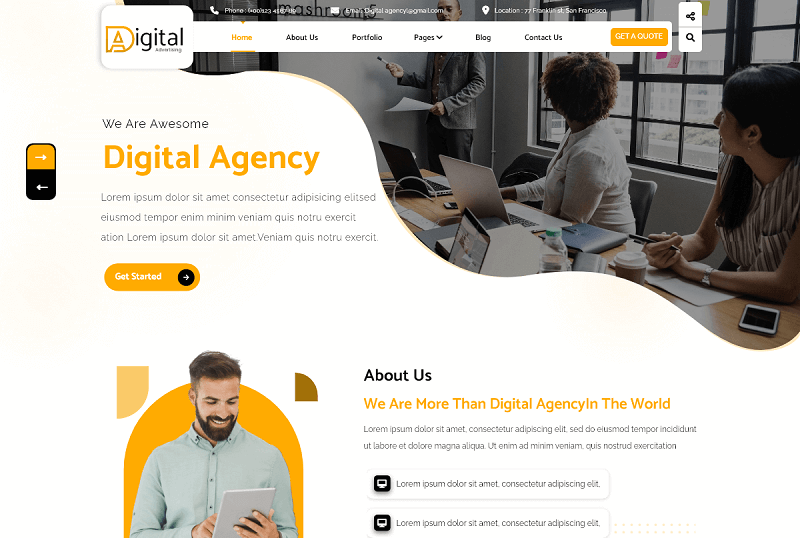 Digital Advertising is a free WordPress theme with a professional appeal and minimal look, perfect for branding agencies, advertising agencies, creative studios, portfolios, development agencies, freelancers, and portfolios. It features a clean and user-friendly design with an interactive and intuitive theme interface, making it easy for novices and beginners to use without any coding knowledge. The theme is responsive, ensuring that your website looks great on all screen sizes. Call to Action Buttons (CTA) add interactivity to the design and can help boost conversion rates. The theme also has well-optimized codes, resulting in faster page load times. It is created with the Bootstrap framework as a base and includes translation-ready options, making it suitable for international audiences. Overall, Digital Advertising is a stunning theme that combines professional appeal, usability, and performance for digital advertising and related businesses.
7. Marketing Agency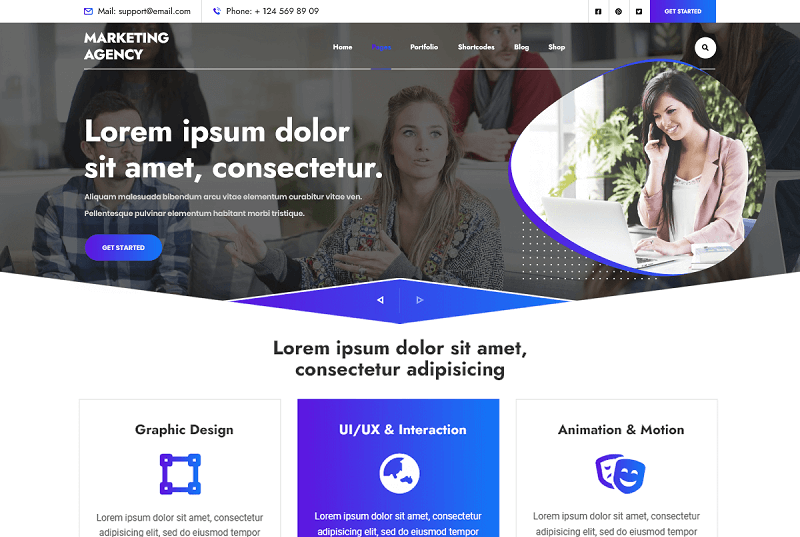 The Marketing Agency theme is a high-quality and skillfully designed option for creating a professional website for your digital marketing agency. It comes free of charge and boasts an elegant and minimalist layout that highlights your primary content. You have plenty of personalization options to tweak the appearance of your site and add your unique touch. The integration of social media options is a great feature to boost your business. Additionally, its retina-ready design presents stunning images on the theme banner to capture the attention of potential clients. With its mobile-friendly and responsive design, you can ensure that your website looks great on screens of any size and never miss out on mobile traffic.
Conclusion:
WordPress has some pretty impressive skills when it comes to marketing and SEO. And what better way to showcase them than with WordPress digital marketing themes? These themes are one way to showcase your business. They give you the ability to tweak settings, add your content and design, and more. So, try them now.