Product showcasing sites are a great way to generate revenue. You can showcase your or others' product, including hardware products, apps, software, or portfolios on your site. If you run an online store, its success largely relies on the way you handle showcasing your products. Unlike in offline stores, where customers can feel and experience the products the store is selling or ask the owner in person about product features and quality, in online stores, info about the product is vastly limited to what you want to show. Most online stores or product-selling site owners use an appealing WordPress Theme for Product Showcase.
These themes offer fantastic Landing pages to present your products effectively or engagingly and convert your visitors into sales. So, in this collection, you will find the best product showcase WordPress Themes that help you to build your online reputation and run a successful online store.
List Of Best Free WordPress Themes for Product Showcase
1. Hoot Ubix
2. Royal Shop
3. Multipurpose Corporate
4. SKT Luxury
5. Advance Startup
6. SwiftStore
7. Amaz Store
Also, Read:
Best free Facebook WordPress plugins
Best Free Education WordPress Themes
1. Hoot Ubix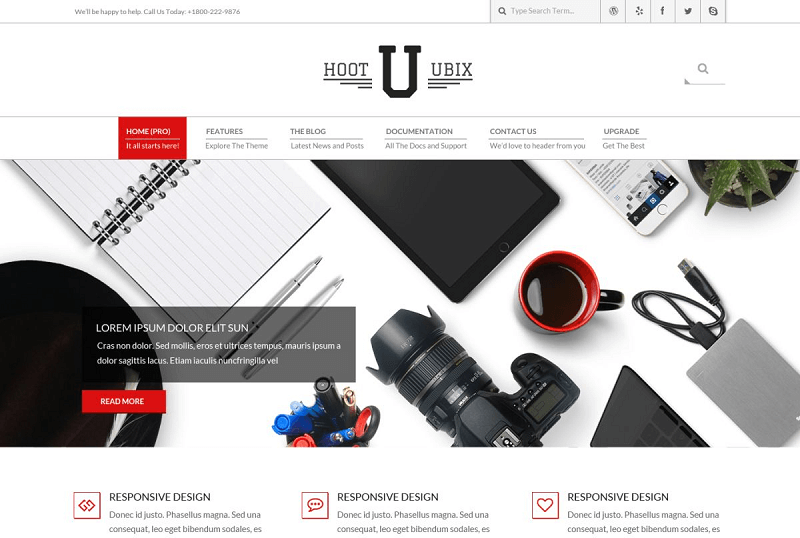 Hoot Ubix is a fully responsive, light, clean, free Product Showcasing WordPress theme. You can use this theme for showcasing portfolios, photography, cooking recipes, etc. This stunning WP theme delivers a remarkable design with many customization options to configure the Homepage to your teste. These customization option includes changing the colors to match your brand theme and adding patterns, textures, and images to make the site page unique.
Furthermore, the Hoot Ubix theme is rigorously tested for speed and has options for Shortcodes to help you expand your site functionalities. Besides this, this enchanting theme runs on robust code and has optimized for maximum performance, enhancing user site experience. Also, the Hoot Ubix theme is SEO optimized and designed for users, from freelancers to corporate users.
2. Royal Shop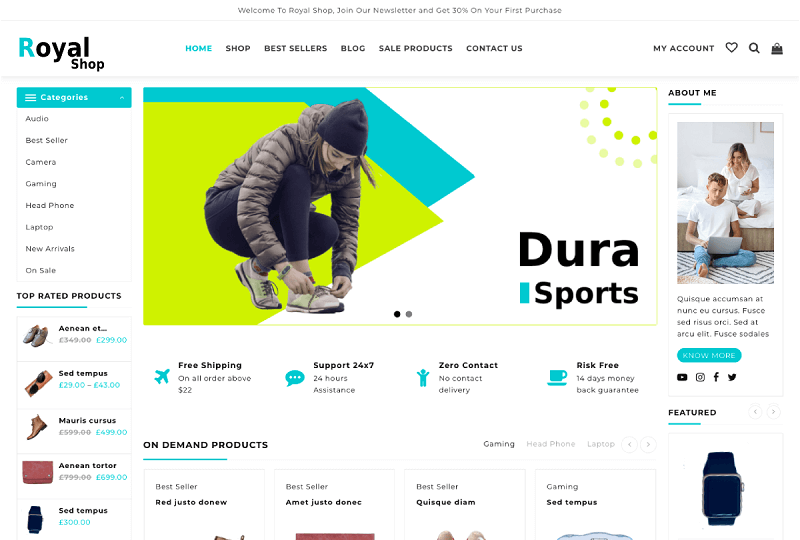 Based on the Bootstrap framework, the Royal Shop theme is an excellent choice for Electronics, Restaurants, Grocery, Beauty, Health, Clothing & Fashion, Sports Equipment, and other stores to showcase their products and increase sales. This product-showcasing theme is beautifully and cleanly designed and works well on all types of devices.
Furthermore, the Royal Shop theme is SEO-friendly and comes with useful prebuilt Homepages that you can install in just one click. Also, this fascinating WP theme offers many valuable features, customization, and personalization options, including Main Slider Layouts, Filter Product Slider, Ajax search, Preloader, Social Icons, Product Slider, Products Categories Slider, Multiple Widget Support, WooCommerce Products Settings, and much more.
3. Multipurpose Corporate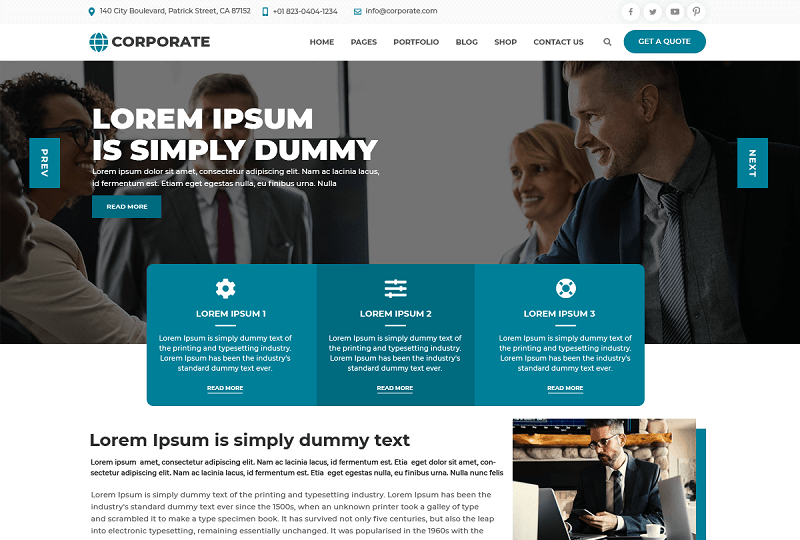 Multipurpose Corporate is another beautiful, free mobile-friendly WordPress product-showcasing theme designed with a professional approach. Also, the Multipurpose Corporate theme has a stunning design to showcase your services and work in the most professional way. With this theme, you can effectively serve any type of Corporate Business, Store business, Startup, etc.
In addition to this, the Multipurpose Corporate theme has all the necessary features, making it excellent for personal, blogging, and agency websites dealing in different areas. Multipurpose Corporate has a user-friendly and interactive UI and is so responsive that your site opens flawlessly across all devices. Also, the Multipurpose Corporate theme has a testimonial section where your clients can write reviews about your services, products, staff, and site.
4. SKT Luxury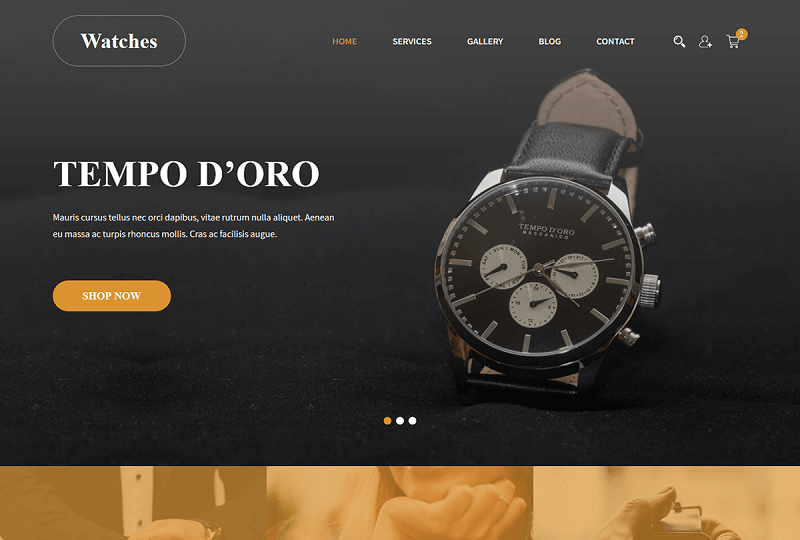 The SKT Luxury is a luxurious theme for showcasing luxury brand products like Watches, Sunglasses, Shoes, Clothes, Cigars, Antiques, perfumes, bags, etc. You can also use this theme for promotion, service, and portfolio showcase industry. It is a fully responsive theme optimized and developed for building modern and stunning sites. Furthermore, the SKT Luxury theme has a theme customizer, a Homepage builder, and a ready-to-import Elementor template plugin as an add-on.
Besides this, The SKT Luxury theme is ideal for creating all types of business, blog, or eCommerce sites. You can use SKT Luxury to draw potential clients, promote products & services, and increase your conversion rate. Also, it has a comprehensive range of features making it an ideal option for all business sites.
5. Advance Startup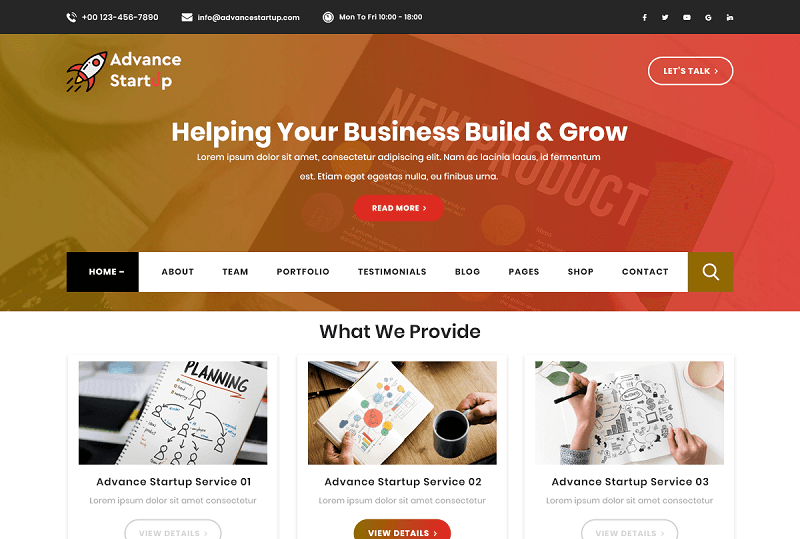 The Advance Startup theme is the upcoming theme on this List of WordPress Themes for Product Showcase. This Bootstrap-based theme is a resourceful, feature-rich theme that offers many appealing features and integrations. Also, Advance Startup has cross-browser and page builder compatibility and can be customized by changing its Color, Background, Font, Menu Style, Logo, and various other elements without indulging in coding.
In addition, the Advance Startup theme has a modern, multipurpose layout design perfect for marketing agencies, affiliated marketing, product showcasing, or other corporate businesses. Also, the Advance Startup is entirely SEO optimized and retina ready, translation ready, and readily supports languages of RTL style.
6. SwiftStore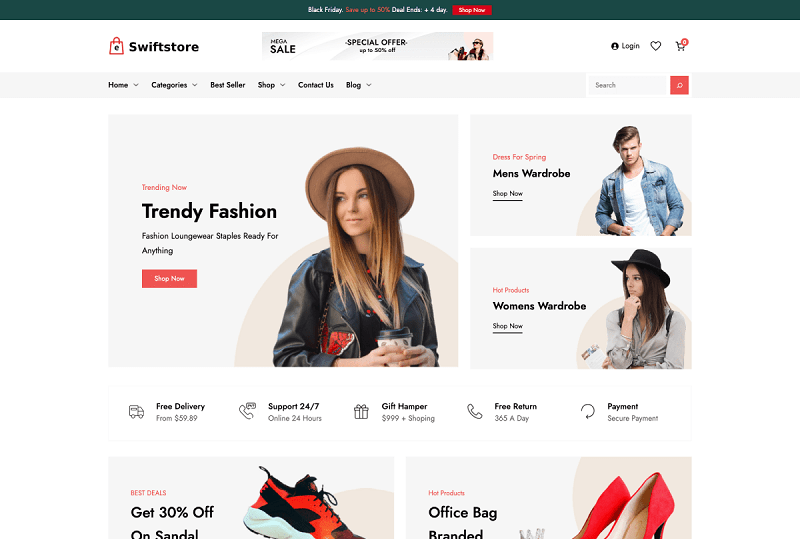 Developed by Firefly Themes, this free dynamic and feature-rich WordPress Theme is perfect for WooCommerce-related sites. The SwiftStore theme is highly responsive and has an eye-appealing WooCommerce-ready design to rev your online store's success. Besides this, this powerful WP theme has seamless integration with WooCommerce and flexible customization options powered by Full Site Editing.
Also, SwiftStore has the latest browser compatibility and provides a robust foundation for building a visually stunning and high-performing eCommerce site. Furthermore, the SwiftStore theme is packed with Theme Options and delivers many features for efficient product management. You can effortlessly showcase and sell your products while giving an outstanding shopping experience to visitors.
7. Amaz Store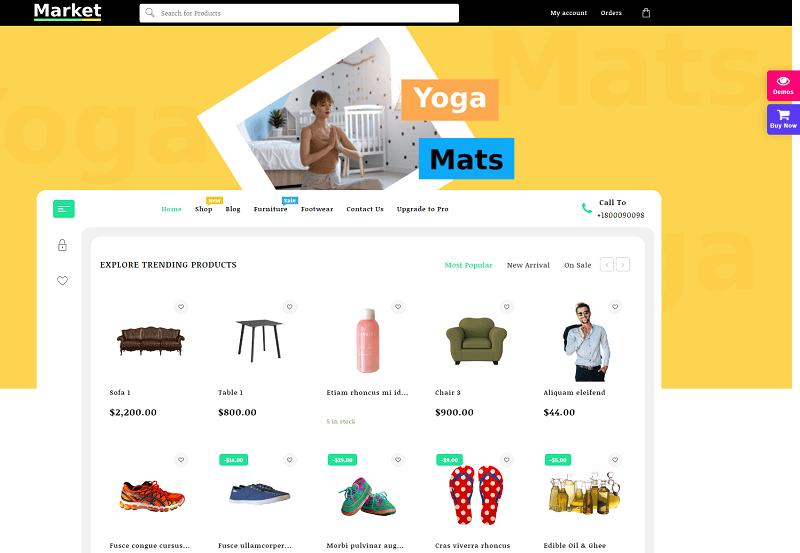 The Amaz Store theme is a modern, cool WordPress eCommerce theme. This fascinating theme is well suited to selling your products online and comes with unique and visually appealing Homepage sections and ready-to-import pre-made demos. Also, the Amaz Store theme has Product sections to showcase products on Homepage.
Also, its design is beautifully and thoughtfully crafted and has sections like – Tabbed Product carousel, Woo category section, Product list carousel, etc. The Amaz Store theme offers a Frontpage Header Slider layout, a Ribbon section with Images & Videos, Banners, and a Service section. And with WooCommerce plugin integration, you can promote your products and services in style and sell them to customers worldwide.
Conclusion:
You can use these WordPress Theme for Product Showcase with testimonials, ratings, etc. They are the most popular themes with Amazing testimonials and reviews. So, if you plan on creating an online store, this quality product showcasing WordPress themes that give you all the features you may ever need to run a successful online store.