Search for a WordPress theme to showcase your Graphic designing skills and upscale your business. Try these specially designed 7 Best free WordPress themes for Graphic designers like you!
This collection of WP themes is full of various feature-rich themes with beautiful and bold layouts. With these themes, you can easily showcase your graphic designing and photography skills and get increase your followers on different social channels thanks to their social media options. So, try themes from this collection and start promoting your graphic design work and business online.
List Of Best Free WordPress Themes for Graphic designers
1. Fotografie
2. Hamilton
3. VisionArt
4. Photo Journal
5. PhotoBrust
6. Artist Portfolio
7. Darcie
Also Read:
Best Free WordPress Themes with Sliders
Best Free Digital Download WordPress Themes
1. Fotografie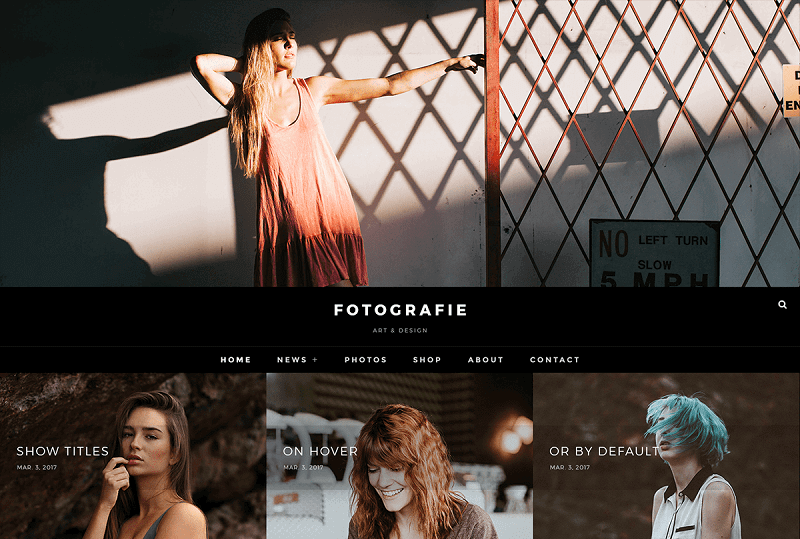 The Fotografie theme is a modern, mobile-friendly WordPress Photography theme for Photographers, Graphic Designers, Freelancers, Artists, or Bloggers. Furthermore, the Fotografie theme has a clean layout integrated with high-quality features and animation effects. Besides this, this beautiful graphic designer theme lets you add social media icons and links to your site, giving visitors the true essence of the German word. In addition to this, the Fotografie theme has all the crucial features to showcase your photography and graphic designing skills and grab the most engagement. Fotografie is so responsive that your designer or photography sites look pixel-perfect all the time. Also, the Web Designer Elementor theme has header media options, hero content, portfolio, featured content, color options, menu options, translation-ready features, and many more.
2. Hamilton
Hamilton's eye-appealing design is perfect for building creative portfolio sites for photographers, illustrators, graphic designers, etc. Also, this eye-appealing design has many wonderful animated elements, and you can display your posts in a beautiful image grid. Also, you can set the grid into either two or three columns. The Hamilton theme also has Block Editor/Gutenberg support and clean, SEO-ready codes. Besides this, Hamilton offers a dark mode to make your site keep up with the latest trends. Besides this, the Hamilton theme is optimized for SEO to improve rankings; And it gives you features like custom background color support, a resume page template, Jetpack infinite scroll support, editor styling, etc.
3. VisionArt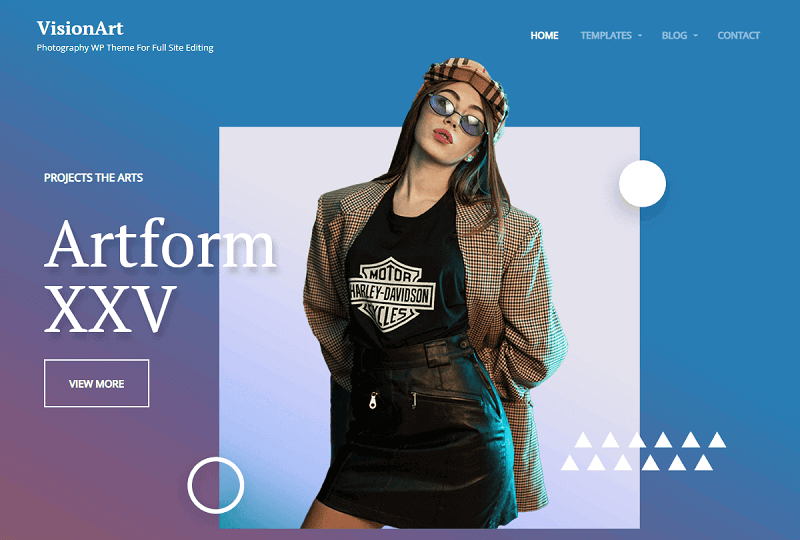 The VisionArt theme has many functionalities and features within a refined, clean design. And it is another free photography perfect for photographers, graphic designers, creative artists, and other creative photography-centric sites. Also, this fully responsive WordPress theme comes with a light color scheme, and you can customize your site the way you want with Full Site Editing features. So, no matter which niche of the designer site you visualize, the VisionArt theme is all you ever need. Furthermore, the VisionArt WP theme has a flexible and adaptable layout, 25+ different block patterns, 22 FSE Templates, and 11 Template Parts. In addition to this, the VisionArt WP theme is translation ready and has Stats, Team, 404 Header With Background.
4. Photo Journal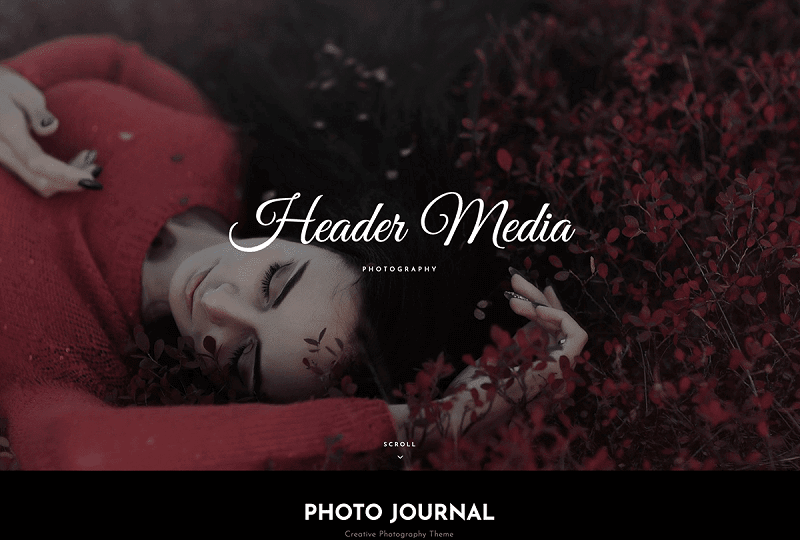 Photo Journal is a dark photography and graphic designer WordPress theme packed with many features, Call to Action buttons, and customization options. Furthermore, you can use the Photo Journal theme as a portfolio or gallery theme. It is best for those who want a feel of both class and minimalism. In addition, the Photo Journal theme is resourceful and capable of delivering high-end theme features to ensure your images and high-resolution photography truly pop into your visitor's mind memorably. Furthermore, this splendid designer WordPress theme has a unique dark concept in the theme that adds extra charm to your photography exposure, and this also helps in establishing your web presence.
5. PhotoBrust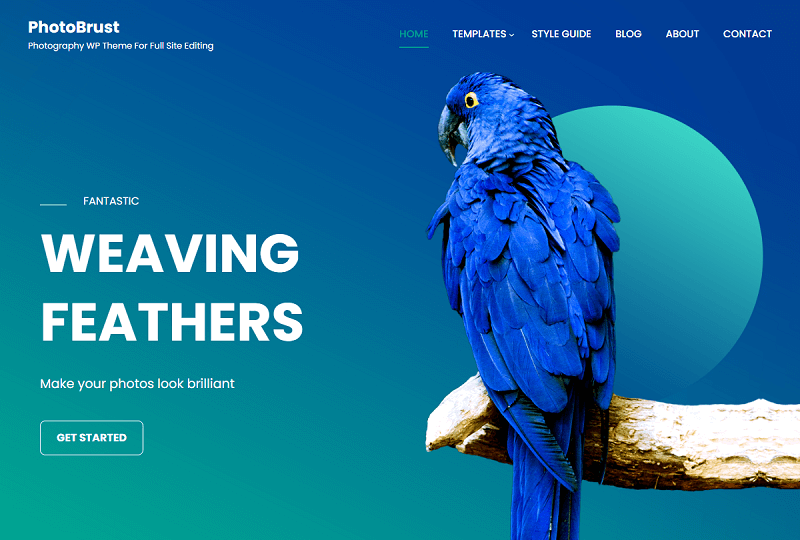 The PhotoBrust theme is the next graphic designer theme in our collection. Developed by Wen Themes, this designer theme is a highly responsive, minimal WordPress block theme with a smooth eye-comforting layout. You can use this layout for all types of designer websites, like photographers, photo bloggers, graphic designers, freelancers, etc. Furthermore, this free theme has an SEO-friendly, retina-ready design to surpass your competitors in SERPs rankings. Also, the PhotoBrust theme has the latest HTML5 codes and robust features, including includes 13+ different block patterns, 10 Templates, and 5 Template Parts suited for making engaging professional designer websites. Besides this, the PhotoBrust theme has customization options, blocks, and block patterns, which lets you start building stunning photography sites in no time with blocks.
6. Artist Portfolio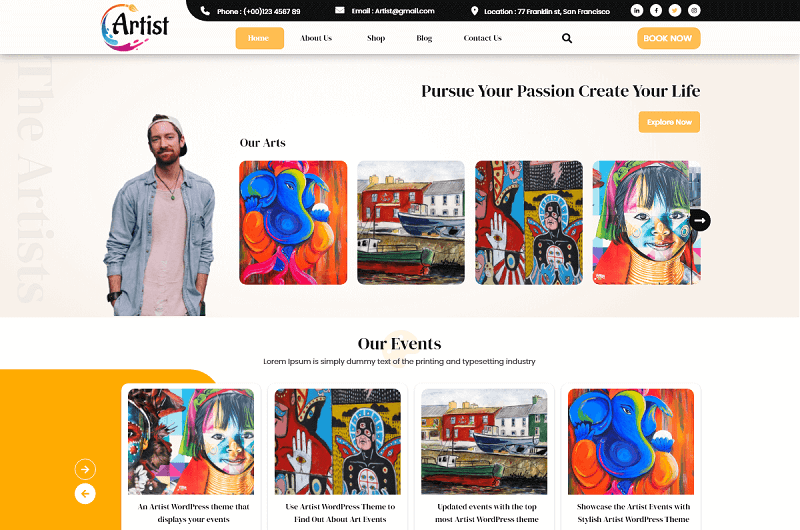 The Artist Portfolio theme is a portfolio-based, fully responsive, refined WordPress theme for artists and designers. This stunning designer theme is ideal for websites related to Web developers, Graphics designers, Artists, Art lovers, Photographers, Art agencies, Filmmakers, etc. Besides this, the Artist Portfolio theme offers an amazing layout that works brilliantly across all screens out of the box. Furthermore, this stunning WordPress theme is tested rigorously and optimized to ensure you get the best crawling experience and deliver your visitors the web pages with faster page load time. Besides this, the Artist Portfolio theme has a banner and various sections, including About, Service, and Testimonial, and you can make changes to the favicon, color, fonts, and typography.
7. Darcie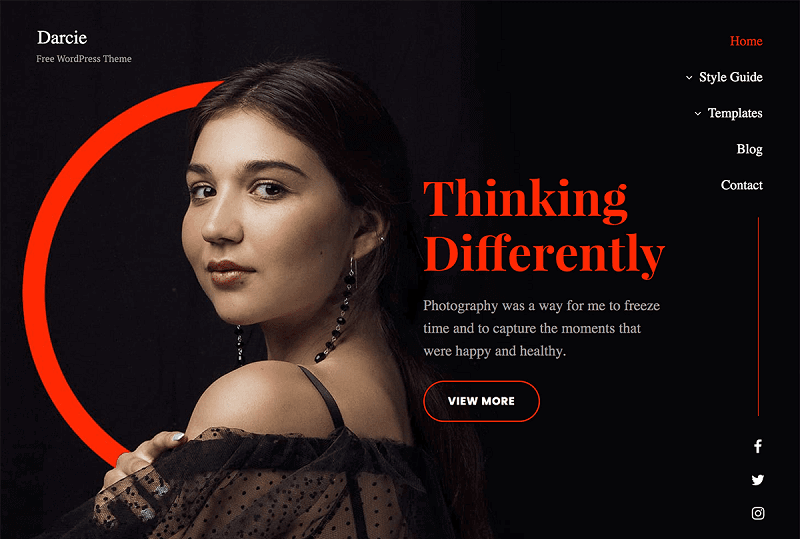 We are ending our list of the best free WordPress Themes for Graphic Designers with the Darcie theme. It is a modern creative dark photography WordPress theme loaded with premium category features to effectively showcase your photography and designer skills to your visitors. Besides this, the Darcie WordPress theme is optimized and developed for making professionally stunning photo-centric websites and blogs. Furthermore, the Darcie WordPress theme offers features like Featured Content, Hero Content, Featured Slider, Services, Testimonials, and more. Also, you can use this appealing designer photography theme to create portfolio sites. And you easily customize its sections to give your website a unique look and feel. So, try the Darcie theme and build your dream graphic designer site.
Conclusion:
This collection of WordPress themes is made for graphic design needs specifically. The WordPress themes in this collection are responsive, and designers can use them for different business niches. If you are a graphic designer, you must know how significant having an engaging and beautiful website that showcases your design and photography skills can be in this industry. So, if you need a new responsive, beautiful designer site or want to give a new look to your existing site, these WordPress themes for graphic designers are perfect for you! So, try them.