Enhance your website's speed and performance with these 7 free fast loading WordPress themes. Get your site running smoothly in no time! Your WordPress theme will affect how your website performs and how fast it loads. If you're looking for a website theme that won't make your website struggle to load, consider using the themes we will cover in this article.
Why choose a fast-loading WordPress theme?
Before we recommend free, fast-loading WordPress themes that are great for website performance, let's discuss the importance of having one first.
According to Sytian Productions web designer Philippines, one of the most important reasons you want a WordPress theme that loads fast is that it makes web visitors leave your site after a while. It reduces your bounce rate to give it more specific digital marketing terminologies.
Selecting a fast-loading WordPress theme will significantly affect how fast your website will load. This faster performance enhances user experience innately and improves search engine rankings.
A fast-loading WordPress theme will improve your SEO because search engines like Google prioritize websites with faster loading times, resulting in higher visibility and increased organic traffic. Since your website consistently performs well for its users, search engines would recommend it more.
Also, a fast-loading WordPress theme reduces the overall file size of your website, minimizing the time it takes for your website to deliver content to users' browsers. A good theme has an optimized code structure, eliminates unnecessary scripts or plugins, and utilizes caching techniques to enhance speed.
Now that we've discussed the importance of fast-loading WordPress themes, it's time to share some of the best WordPress themes you can use.
List of the Best Free Fast Loading WordPress Themes:
1. Best Shop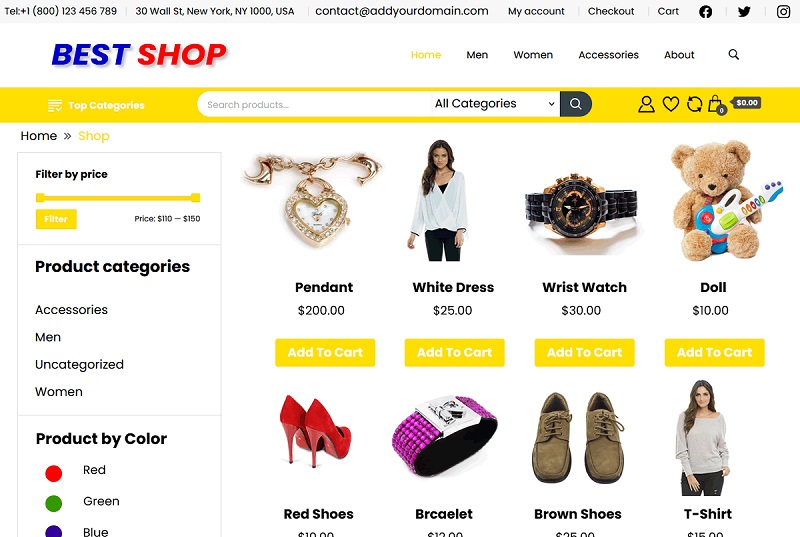 If you're running an online store or have an ecommerce business and want a simple WordPress theme that supports the shop functionality, then Best Shop is the theme you should try.
This WooCommerce and WordPress theme has a simple and basic shop interface so you can start running your shop smoothly. This theme can also help make it easier for you to modify your web pages because it's compatible with many other page builders on WordPress, such as Elementor, Divi, and more.
With this theme, you can easily categorize products together as you'd like so your shoppers can easily find the product they need from your shop. They do this through functionalities such as the product category lists and grids, which makes it easier for you to make product pages with this theme.
So far, this plugin has had over 3,000+ downloads and counting, so you can safely use it for your shop if you want a free theme.
2. Kava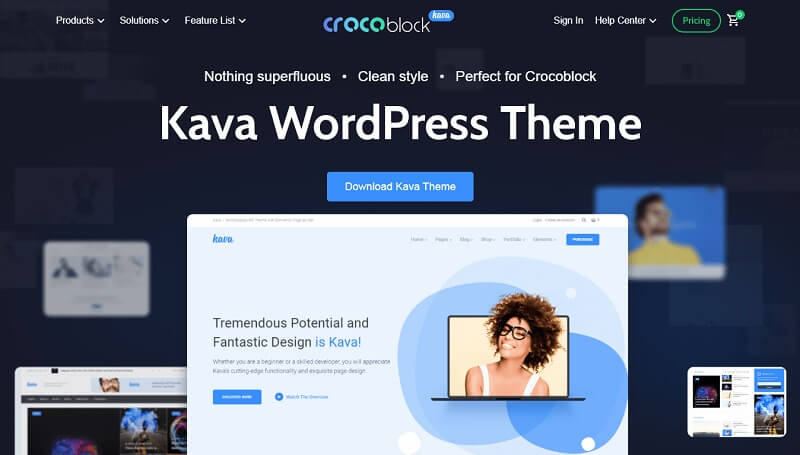 One of the reasons you're running a website may be because you have a blog you're using. If that's the case for you, then one specific WordPress theme that can help you run your blog and present your blog articles more cleanly would be the free WordPress theme called Kava.
Although it's a good blog theme, it boasts itself as a multi-purpose WordPress theme, so you can use it for whatever your website needs. You can even use it if you're running an online store because this theme is WooCommerce-ready. It is also compatible with many other page builders, such as Elementor.
This theme has other features worth noting, such as its global readiness, given that it can adapt to right-to-left (RTL) languages, and you can translate the content at any time.
3. Hestia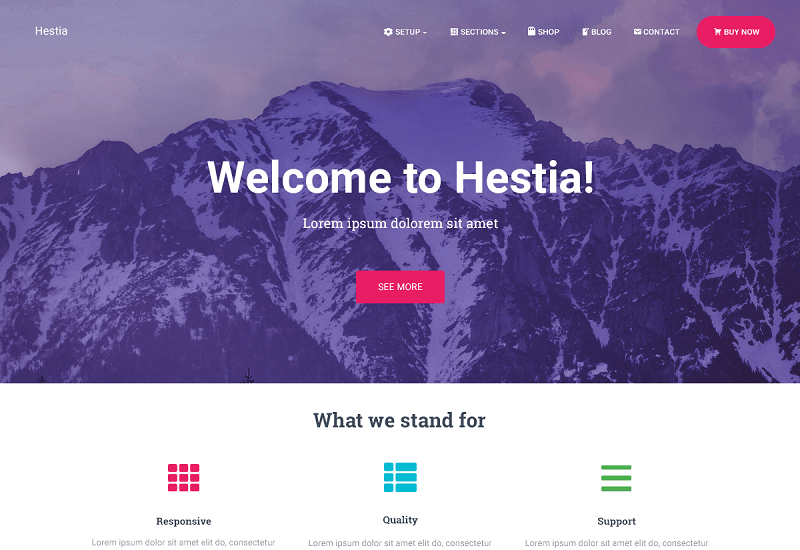 One of the more popular WordPress themes for free that have a lot of installs would be Hestia. With over 100,000 installs already, this free theme is trusted by many websites worldwide, so it's definitely worth a try.
Hestia is a WordPress theme that is also a great all-around theme with an excellent and modern design, so your website doesn't have to look outdated just because you are using a free theme. It has a one-page theme that you can enjoy for a smoother and cleaner look and processing for your website.
Many of its users appreciate the customizability of this theme because they can easily add code to parts of the theme they want to change. It also works well with Elementor and is light and loading fast.
4. Bizberg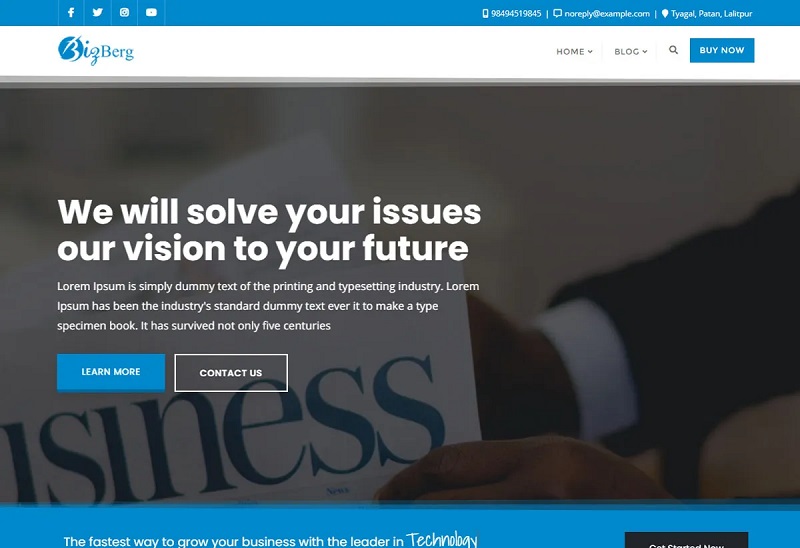 For anyone trying to minimize the work they need to do to set up a website as much as possible, consider getting a business website WordPress theme from Bizberg.
Bizberg has a vast inventory of pre-built websites for various businesses and niches. For example, they have a pre-built wedding website, construction websites, restaurants, blogs, portfolios, etc. You can easily download a pre-built and created website based on your niche if you find the right business in their list of pre-built site themes.
If you take the pre-built website, don't forget to remove the demo content already. Make sure that you include your content in it.
5. Hello Elementor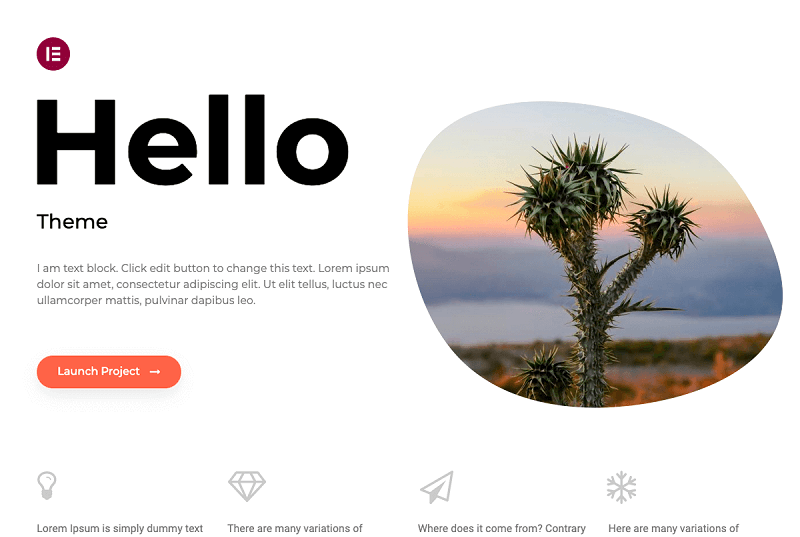 If you use Elementor as your primary page builder, you might as well get Elementor's free theme, which has the name Hello. It's the best starting point if you're going to rely heavily on Elementor to help build your web pages.
This theme has a lot of widgets that you can add to your website so you can customize your website as much as you want and need. That way, you can tweak and personalize your website as you need, whether for a business or your personal use.
With its drag-and-drop editor, you can also enjoy a lightweight website. It's even compatible with WooCommerce, so that you can create your online store with it.
Millions of users downloaded this theme, so you're sure to enjoy this theme for whatever your needs may be.
6. Astra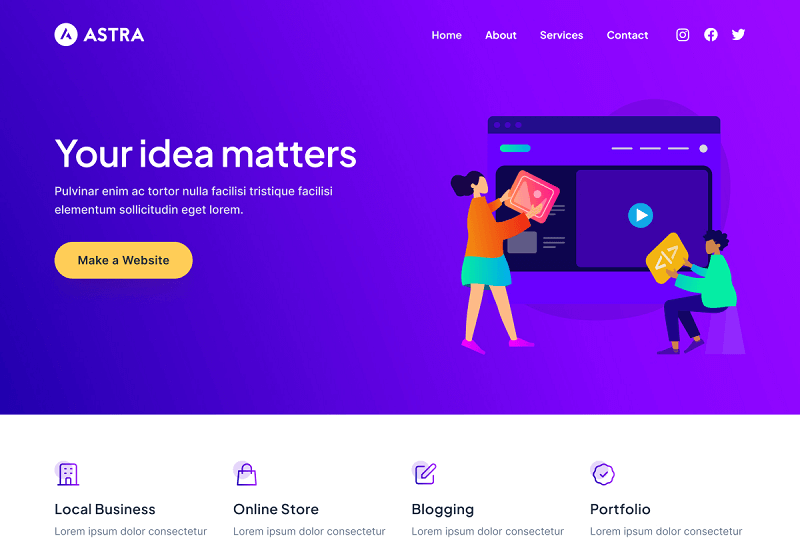 Astra is a theme you should try if you're looking for a minimalist WordPress theme that fits whatever vibe you want. This theme is another one that has had millions of installs already, which adds to its positive reputation.
What's great about Astra is that you don't need to learn code to be able to customize your site here. It also integrates smoothly with other WordPress plugins, such as Yoast and Elementor.
Overall, this theme is an excellent and reliable choice you won't regret. That is less than 50 KB, so you're sure it also loads fast.
7. OceanWP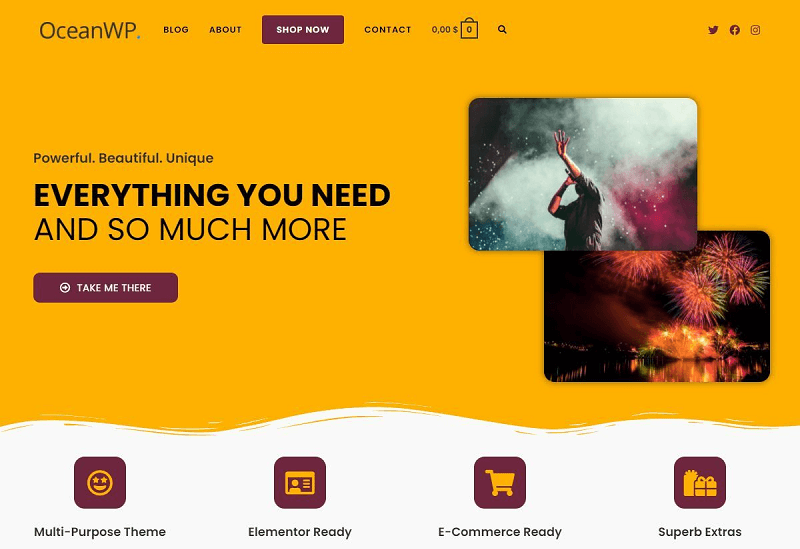 For anyone running an ecommerce website, OceanWP is an excellent free theme and lightweight choice since they specialize in business and ecommerce sites. It can work for other websites that don't have a shop as well, but they emphasize their compatibility with ecommerce sites.
You can get fully built websites and use their demos immediately. Plus, you can get a starter guide to make the most out of using OceanWP if you want to install it. However, you can always forgo installing the guide if you don't like it.
Conclusion:
These WordPress themes are lightweight and free to install, but they also all offer excellent functionality, so you can't go wrong with any of your choices here. Therefore, if you're searching for a WordPress theme that won't make your website perform poorly, you should choose from the ones in this list.