A website is not something you can build overnight it requires time as well as serious effort if you are aiming for a long shot. That is where a Coming Soon WordPress Themes come in handy. They provide a perfect placeholder to welcome your site's visitors while you are still developing your site.
Also, coming soon themes are some of the most popular themes among developers. They look amazing and include some unique functionality to help make a pre-launch buzz to boost your chances of a booming site launch. Whether you want to make a landing page or plan your site, these WordPress themes are a perfect fit.
List Of Best Free Coming Soon WordPress Themes
1. SKT Coming Soon
2. Coming Soon Lite
3. Coming Soon Block
4. Coming Soon Event
5. Launching Soon Lite
6. OwlPress
7. Opening Shortly Lite
Also, Read:
Best Free Coffee Shop WordPress Themes
Best Free Wedding Photography WordPress Themes
1. SKT Coming Soon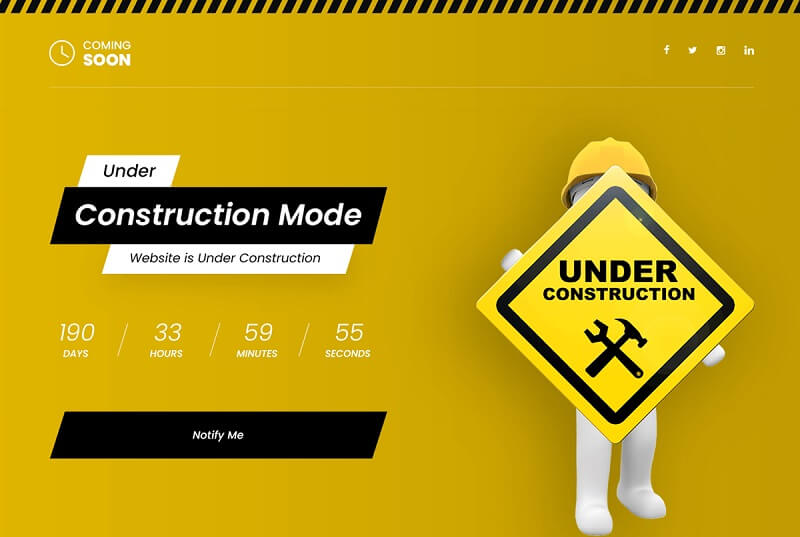 In the SKT Coming Soon theme, you will get access to many useful features and page template designs. You can use this theme for Website Maintenance, Coming Soon, Landing Page, Countdown, Launching page, 404 Page, Maintenance Mode, etc. Sites that are preparing for launch product pages can also use this theme. Furthermore, this coming soon theme delivers appealing and inviting 150+ template designs to help you create various types of sites besides coming soon sites. The theme is also SEO-friendly and helps your site load fast. In addition, it is flexible to use, translation-ready, and supported by a professional support team.
2. Coming Soon Lite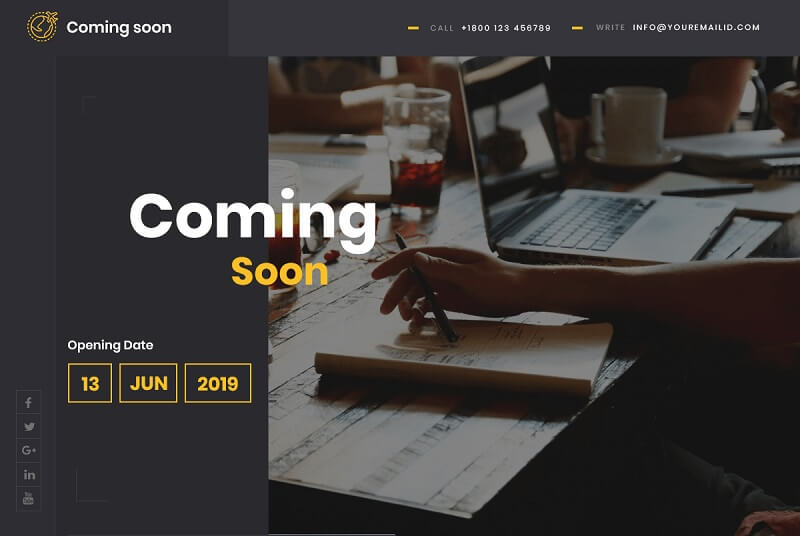 The Coming Soon Lite theme is an under-construction theme that is perfect for businesses looking to promote their online presence through attractive landing pages, single pages, promotions, coming soon, or under-construction pages. Packed with features such as its responsive and multipurpose design, retina-ready display, Bootstrap framework, and CTA, this theme also includes a progress bar or countdown timer to keep track of progress. It's not only professional-looking but also highly customizable, incorporating clean code and fast page load times. The Coming Soon Lite WP theme is mobile and SEO-ready, ensuring that the site stands out even before it is officially launched. It even comes with subscription and contact forms, as well as social media icons, allowing you to keep visitors informed and up-to-date on your latest projects.
3. Coming Soon Block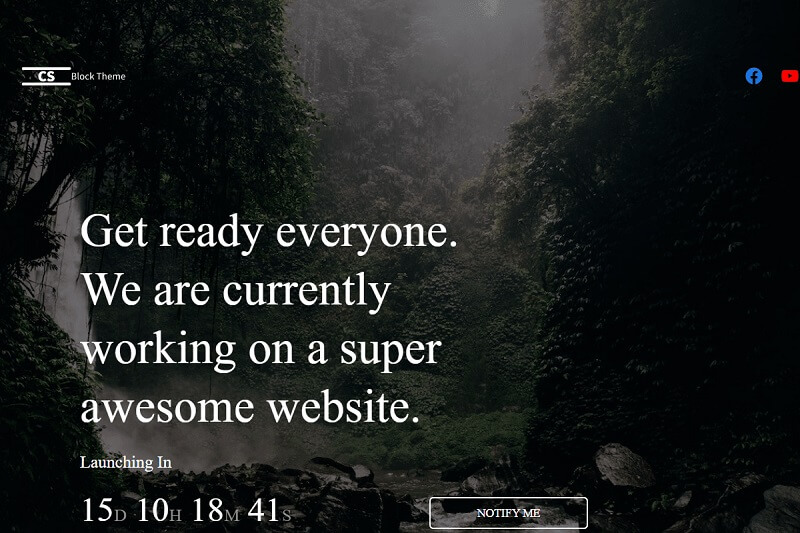 The Coming Soon Block theme is the following theme on this collection of Best Free Coming Soon WordPress Themes. It is a multipurpose full-site editing block WP theme made for various landing and other types of pages. The Coming Soon Block theme gives easy-to-use drag-and-drop edit functionalities and customizable block patterns. Besides this, the theme is super easy to set up and use. The theme features FSE options to ensure its high customizability for various users. Also, the Coming Soon Block theme is compatible with Yoast SEO, Elementor, and other plugins. Furthermore, this theme has a countdown timer, making it perfect for coming soon, under construction, maintenance mode, product launching, and similar websites.
4. Coming Soon Event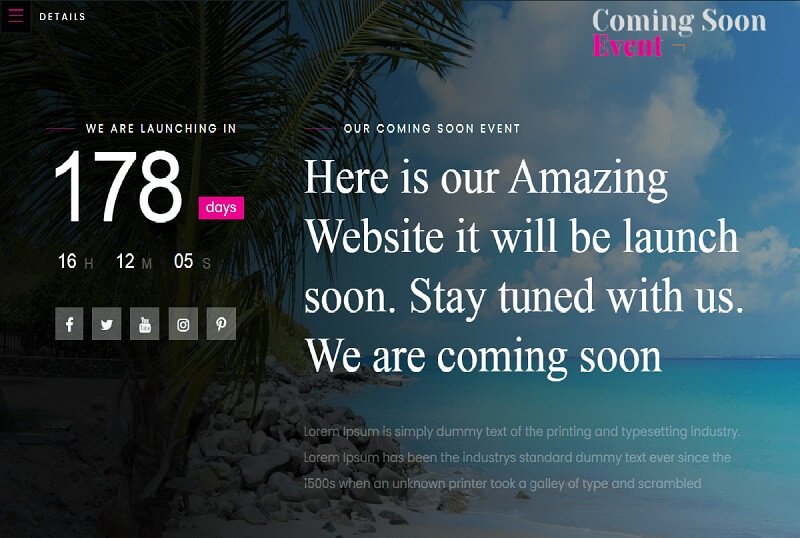 You can also use the Coming Soon Event theme to design landing, Coming Soon Event, or under-construction pages. It is well-designed for boosting business growth and taking it to a higher level. Furthermore, the Coming Soon Event theme is free yet offers incredible features to put your new launching site on hold through tempting Coming Soon Event or under-construction pages. The pages will show this site is currently under progress, and it will be fantastic after it is finished. Besides this, the theme pages are so well-presented, making them look stunning and easy to follow. You can also add details to these pages with animation and customize them accordingly. Also, Coming Soon Event supports Full-width page Templates.
5. Launching Soon Lite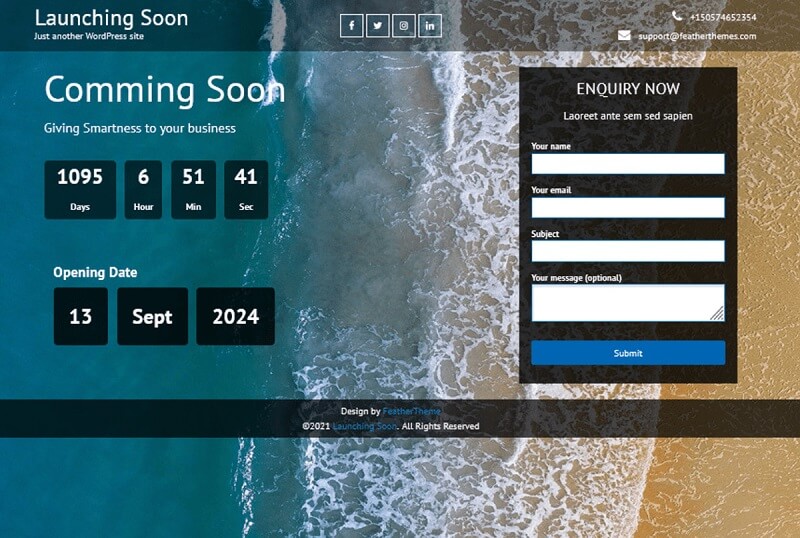 This is a multipurpose template to create all kinds of coming soon, under construction, and other business pages, including Marketing, Finance, Stock Market, etc. The Launching Soon Lite theme gives you a progressive theme panel that enables users to customize the theme without coding skills. This theme is lightweight and compatible with Elementor Page Builder, Slider plugins, WooCommerce, Yoast SEO, and more. Besides this, the Launching Soon Lite theme also has Carousal, Block-Enabled, and Shortcode compatibility. The highlighted features of the Launching Soon Lite theme are Logo Options, Custom Background, Colors, Menus, Featured Images, Full Width Templates, Sticky Posts, Theme Options, Threaded Comments, and more.
6. OwlPress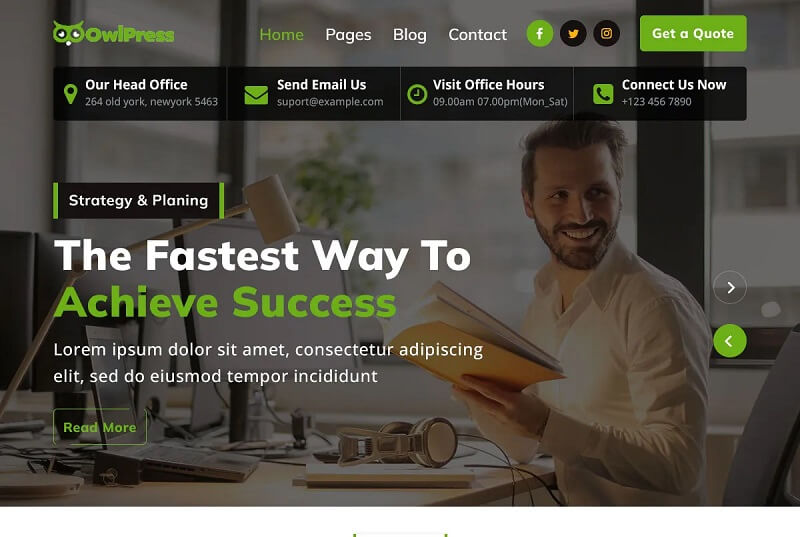 It is another modern, multipurpose theme designed for Agencies, Businesses, Consulting, Construction, Cleaning, Startups, or other sites. thanks to its adaptability, the theme is versatile and ready to use. Furthermore, the theme provides outstanding layouts for Team, About, Gallery, Shop, Pricing, Coming Soon, Careers, and other pages. This theme works amazingly on all current browsers, phones, tablets, and other devices. Besides this, this theme gives you extensive customization options and settings to provide boundless customization capabilities. In the OwlPress theme, you can change and modify almost everything you want to the way you like.
7. Opening Shortly Lite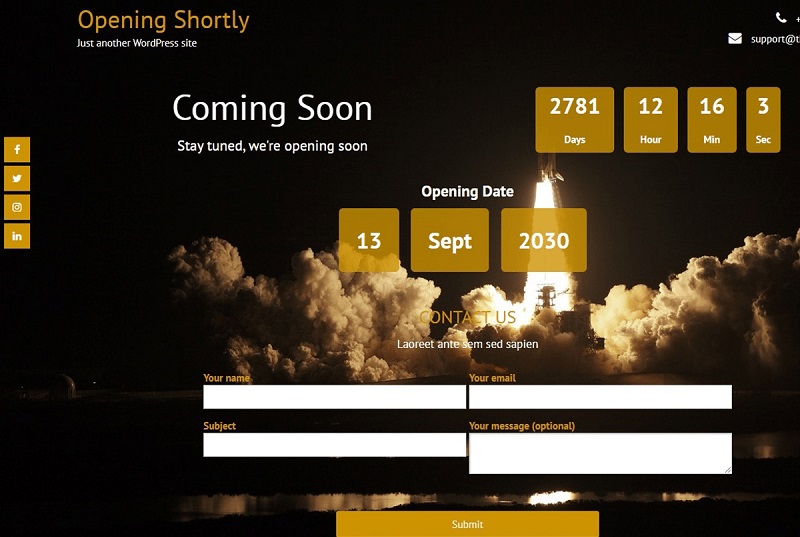 Opening Shortly Lite presents an ideal minimalistic and professional design that is well-suited for businesses and sites that are preparing to launch. It possesses a clean and modern design that features a countdown timer, which allows visitors to be aware of when your site will be ready. Furthermore, the theme gives you a subscription form that enables visitors to sign up and receive notifications when your site goes live. The template is responsive and optimized thoroughly to ensure a seamless surfing experience, regardless of the device and browser used. The Opening Shortly Lite template offers customization options, enabling you to personalize your site. You can change elements such as the color scheme, font, and background image to match your brand and style.
Conclusion:
Coming Soon WordPress Themes are the latest trend among developers. These themes are meant for businesses, real estate agencies, web developers, as well as individual developers who are working on their projects. The main purpose of these WP Coming Soon themes is to deliver a straightforward and professional appearance that brings a positive impression to its users. Also, if you have built a site but do not like the quick-fix feel of other theme solutions on the market, then these Coming Soon themes let you put your site on hold. You can also use them to steal a bit of the limelight away from their competitors. So, try them.