Searching for pocket-friendly Crowdfunding WordPress themes to power your online crowdfunding and charity campaign; here are the 7 Free WordPress Theme you can try!
Crowdfunding is the process of increasing funds through the help of individuals, friends, family, clients, investors, etc. A Decade ago, this was done by knocking door to door and asking people to give donations or funding, but thanks to the internet, now it is done online through a site or social media channels to reach a wider audience.
So, if you also want to run your crowdfunding campaign or want others to add their campaigns to your site, then this collection of WordPress themes is perfect for you. With them, you can build a suitable crowdfunding WordPress website with various Donations, charities, and other practical sections to boost your crowdfunding.
List Of Best Free Crowdfunding WordPress Themes
1. Charity Zone
2. Charity Fundraiser
3. VW Charity NGO
4. Polity Lite
5. Reach
6. NGO Charity Donation
7. Raise Charity
Also Read:
Best Free Hosting WordPress Themes
Best Free Amazon Affiliate WordPress Themes
1. Charity Zone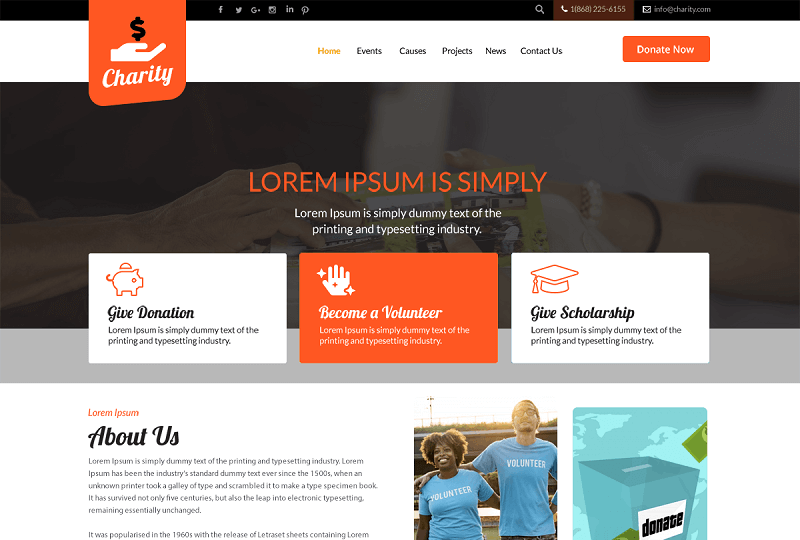 Charity Zone is a fully responsive free crowdfunding WordPress theme best suited for WP sites such as NGOs, Volunteer, Fundraising, Donation, Welfare Activities, Campaigns, Human Rights NGOs, Competitions, Helping Hands, Crowdfunding & Fundraising Organizations, etc. It delivers easy-to-use, user-friendly options and superb design on the front end. With this theme, you can easily make a website for collecting funds and spreading your message to the world. Furthermore, Charity Zone offers dedicated sections for social media, allowing you to increase your Social media followers. Besides this, this intriguing WP theme has a creative design blended with an eye-appealing color scheme. The Charity Zone theme is also SEO optimized and has a Stats counter, Sponsors Section, Custom Header, Donation Section, etc.
2. Charity Fundraiser
It is another free responsive WP crowdfunding theme perfect for an online Church, NGO, Welfare Activities, Social Trust, Community Services, Caretaker, Environment Saving Fund, Crowdfunding, and Social Media Group-related websites. Furthermore, The Charity Fundraiser WP theme has a breathtaking design integrated with modern animation and CSS effects to deliver a premium user experience. In addition to this, this powerful crowdfunding theme offers all the necessary features and functionalities like Theme Customization, Logo upload, Social media Links, Slider Settings, Woo-commerce compatibility, Page Templates, layout, etc. Also, with Charity Fundraiser, you can add custom CSS/JS, Call to Action buttons, and various third-party plugins to extend your site functionality.
3. VW Charity NGO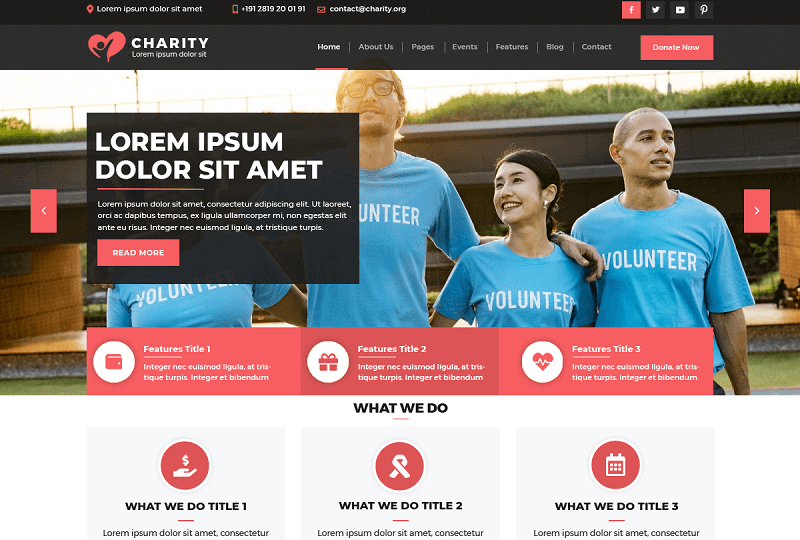 VW Charity NGO is the next theme that lands on our list of the best free crowdfunding WordPress themes. It is a magnificent, fully responsive WP theme that you can use for various types of charities, NGOs, trusts, donation camps, foundations, non-profit, and crowdfunding websites. Also, VW Charity NGO delivers quite the flexibility and options to organize diverse donations and charity work. Besides this, this responsive WP theme lets your content reach a wider audience thanks to its Social media integration. Also, the VW Charity NGO theme is clean, easy to use, and beautifully crafted to show your charity work in the best possible way, and it is translation ready to engage audiences of diverse regions.
4. Polity Lite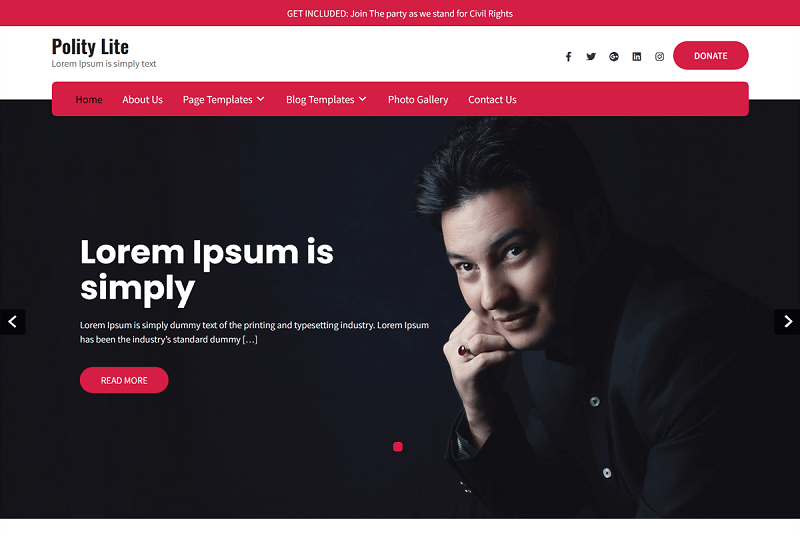 The Polity Lite theme is a professional and sophisticated campaign theme packed with all the latest features to help you grow your political area and reach a much wider audience. These features include Color Changes, Google Fonts, Typography Settings, Slider Settings, Inner Page Header, Contact Us Page, etc. Also, Polity Lite has a Default Photo Gallery with a smooth design and a blog section with a search option. Furthermore, The Polity Lite theme is ideal for all websites related to Social activities, Political parties, Charity, Fundraisers, Crowdfunding, NGOs, Campaigns, Grassroots, etc. You can use the Polity Lite theme to draw people's attention and spread your message among your followers.
5. Reach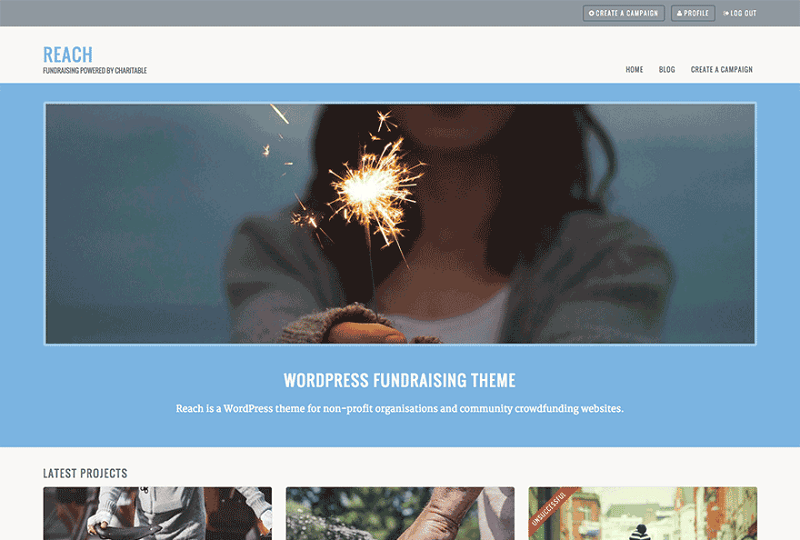 Reach is the upcoming theme in our theme Collection. This WP theme offers many intriguing features such as Custom Sidebar Areas, Layout Controls, Social Media Integration, Breadcrumb Options, Change Colours, Background Images, and Logo. Also, Reach is compatible with the Woocommerce plugin and has built-in support for Easy Digital Downloads, Ninja Forms, and The Events Calendar. So, you can easily extend your crowdfunding site functionality to drive more donations. Besides this, the Reach theme has a modern layout with awesome fonts and stunning visuals. You can use this theme to showcase your work, services, charity events, and achievements to the world.
6. NGO Charity Donation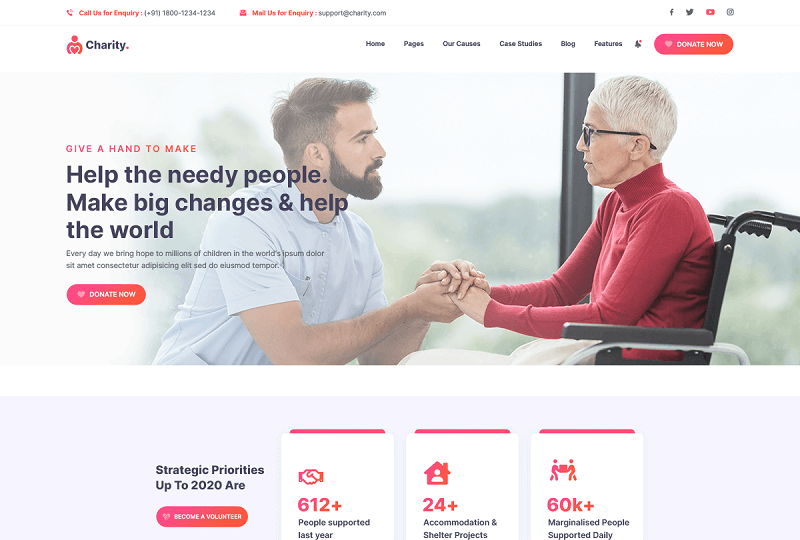 The NGO Charity Donation theme is the best choice for Charity Foundation, NGOs, Crowdfunding, Donation, Fundraising, Welfare Activities, Blood Donation, Campaigns, and other related websites. It is a clean, modern Social WP theme with an eye-catching design layout to make people aware of your cause. Furthermore, the NGO Charity Donation theme offers many powerful features that help you raise your web traffic and followers and spread your message. Besides this, the NGO Charity Donation theme is also SEO optimized and has options for shortcodes and custom CSS/JS to improve the web development experience. Also, the social media option allows you to embed all your social media pages on your site. It is a theme that is worth trying.
7. Raise Charity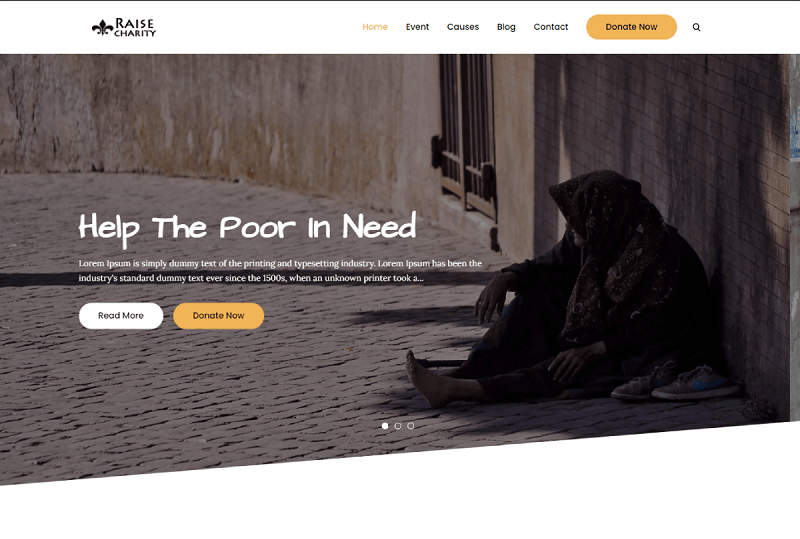 The last theme on our collection of the best free crowdfunding WordPress themes is Raise Charity. It is a trendy WP theme also designed for any website related to Fundraising, Crowdfunding, Charity, Non-Profit, or any other contribution & cause-related Community Website. The Raise Charity theme has an attractive, eye-catching design and dynamic features for increasing your followers and donation. Also, this theme can easily integrate the 3rd party WP plugins allowing you to create awareness, display the events, and attract visitors to partake in and donate to the charity events. Furthermore, the Raise Charity theme lets you modify the layout using drag and drop and offers many useful features, including Widgets, Breadcrumb, Featured Slider, etc.
Conclusion:
I hope you like this theme collection, all of the theme in this collection is responsive and ready to use. So go and create your very own crowdfunding site and run all kinds of fundraising and fund-collecting campaigns.
Also, if you have any queries regarding the post please write us in the comment box below, and don't forget to share this post with your friends and colleagues to keep them updated!