Are you looking for Free FAQ WordPress Themes for your new or existing site, then this post is perfect for you!
These days you can easily find an integrated Frequently asked questions (FAQs) feature or page on most sites. These FAQ features and pages give a better user experience to visitors and allow them to find answers regarding site products, services, and blog content without leaving the site.
Furthermore, FAQs reduce the workload of the customer support team by providing the solution to basic queries and helping increase conversions, traffic, and more. WP users can build FAQ functionality without any WP plugins or coding. All you need is a splendid WP theme with an integrated FAQ page or feature. Whether you want to represent FAQs on a dedicated page or in numerous sections across your site, a FAQ theme can help you build a stunning and serviceable self-service help center with little of the resources needed to build one from scratch.
However, it is hard to find an all-rounder FAQ theme, especially if you are low on budget. So, to help you narrow your search, we have brought you this Amazing collection of the Best Free FAQ WordPress Themes for you! Explore them and find a suitable match for your site.
List Of Best Free FAQ WordPress Themes
1. KnowledgeCenter
2. FAQ
3. VisionWP
4. IKnowledgeBase
5. MyWiki
6. MyKnowledgeBase
Also, Read:
Best Free WordPress Themes with Sliders
Best Free Digital Download WordPress Themes
1. KnowledgeCenter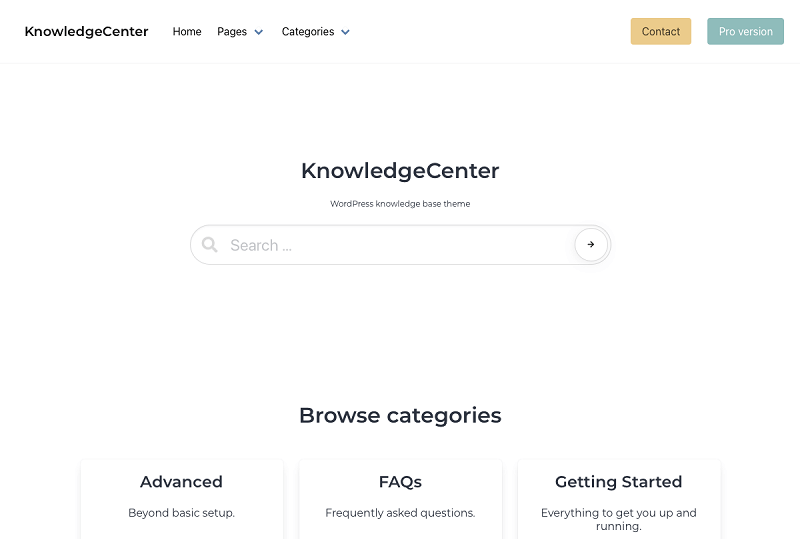 If you want an allrounder solution for websites related to a Support, Wiki, Knowledge base, Help desk, or Frequently Asked Questions (FAQs) through a WP website, the KnowledgeCenter theme is perfect for you. Furthermore, this stunning theme has a minimalistic, responsive, and mobile-friendly design with demos and documentation. Also, its Simple, lightweight layout loads fast and gives you many attractive features. These features include a Responsive, clean design, 3 Menus, 2 Level sub-menus, Navigation in a category and a post, and more. In addition, the KnowledgeCenter theme is ready for translation and has modern HTML5 & CSS3 animation. So, try the KnowledgeCenter theme and answer all the burning questions of your visitors and followers through your FAQ page.
2. FAQ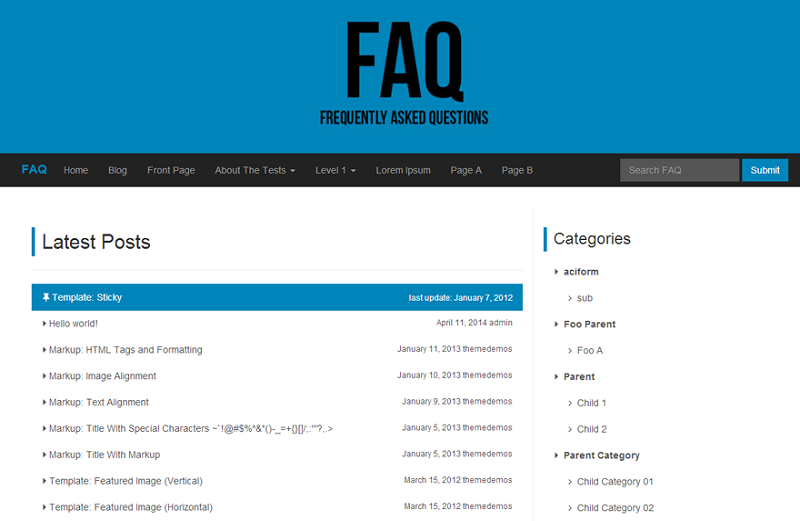 The FAQ theme is a lightweight knowledgebase / frequently asked question site with a FAQ page. Built on the Bootstrap framework, this Amazing frequently asked question theme gives you access to premium features like Font Awesome, Header and Footer Menu Locations, Custom Header, Background Images, Logo Upload, Featured Post Image Support, 3 Footer Widgets, Sidebar Widgets Support, and more. Besides this, the FAQ theme is optimized for page speed and looks great on all devices (mobile-ready). In addition, the theme has a structured category tree in the sidebar for constant navigation and Related posts below the article for further topic research.
3. VisionWP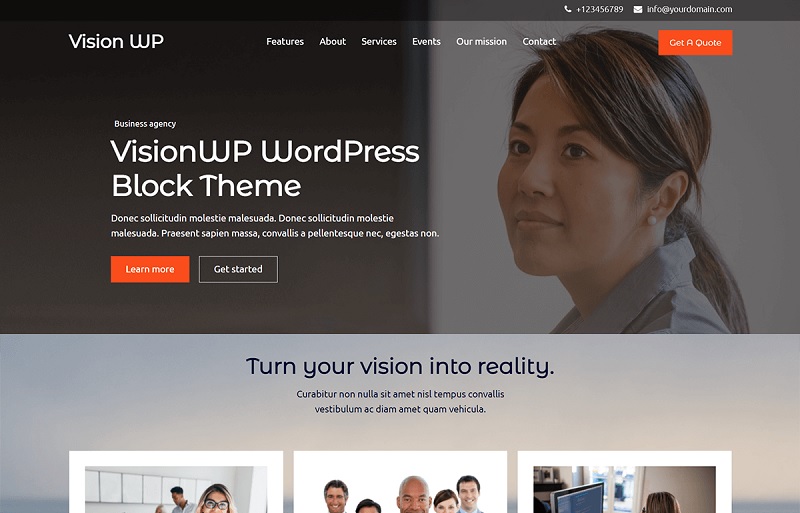 The VisionWP Theme gives you customizable sections like Featured Slider, Banner, About, Services, Counter, Portfolio, Team, Image slider, Testimonials, and more. It is a blocked-based theme to create elegant mobile-friendly websites with the help of Gutenberg and other page builders. Furthermore, the theme lets you create unique and beautiful layouts with zero knowledge of coding. In addition to this, the VisionWP theme gives you flexible Gutenberg blocks like Site Identity, Navigation, Page slider, Carousel Post, Image slider with text, Advanced heading, CTA, Section, Icon Boxes, Social icons, Accordion / Faq, News blocks, etc. Besides FAQ sites, you can use this theme to build websites for Construction, Medical, Creative, Charity, Photography, Consulting, eCommerce, Education, and more.
4. IKnowledgeBase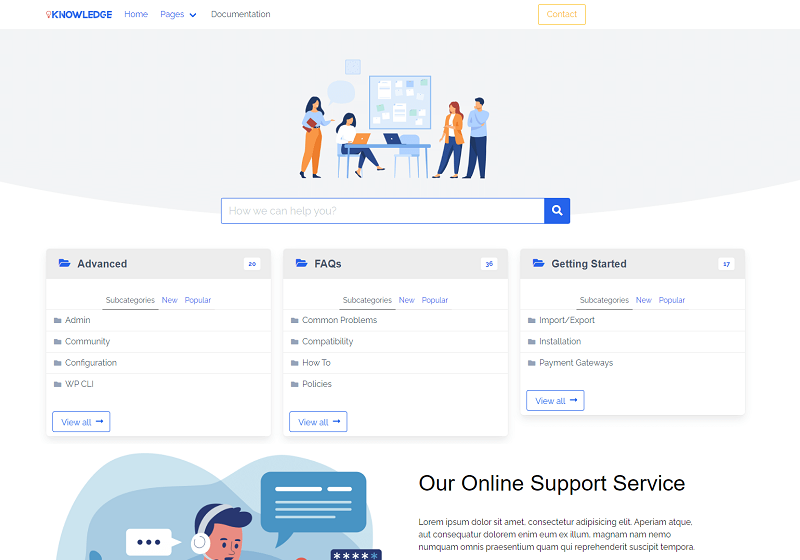 Developed by Wow Company, this FAQ theme is fast, minimalistic, responsive, and designed with a mobile-first approach. You can use the IKnowledgeBase theme to design websites for Knowledge Base, Helpdesk, Wiki, FAQ, and related websites. This stunning FAQ theme also lets you manage the showcase of categories on the main page of the site. In addition to this, the IKnowledgeBase theme has a custom widget that allows you to display the current navigation in a category and a separate post and Breadcrumbs for easy site navigation. Furthermore, the theme is fully responsive and gives your visitors a satisfying customer support experience while you assist them.
5. MyWiki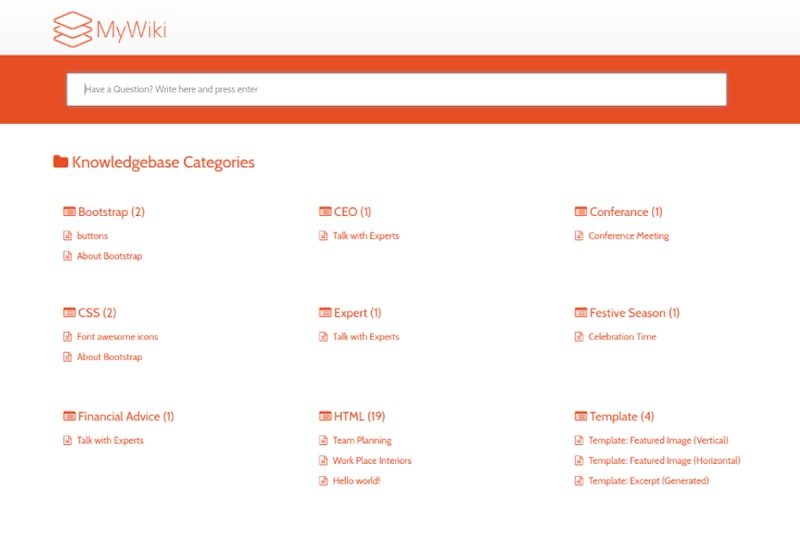 It is a simple, lightweight, and fast-loading WP Theme. This theme is basically a wiki theme for individuals and businesses to handle their wiki or Knowledge-base site. Furthermore, the MyWiki theme offers Amazing features that allow you to create Support or frequently asked question (FAQ) sites. Besides, this splendid FAQ theme is powered by Ajax search and is based on the Twitter Bootstrap Framework. Also, this is a mobile responsive theme with a translation-ready design and LTR language support. The stunning WP theme offers Step-by-step documentation and tutorial for beginner or novice developers to help in their site development.
6. MyKnowledgeBase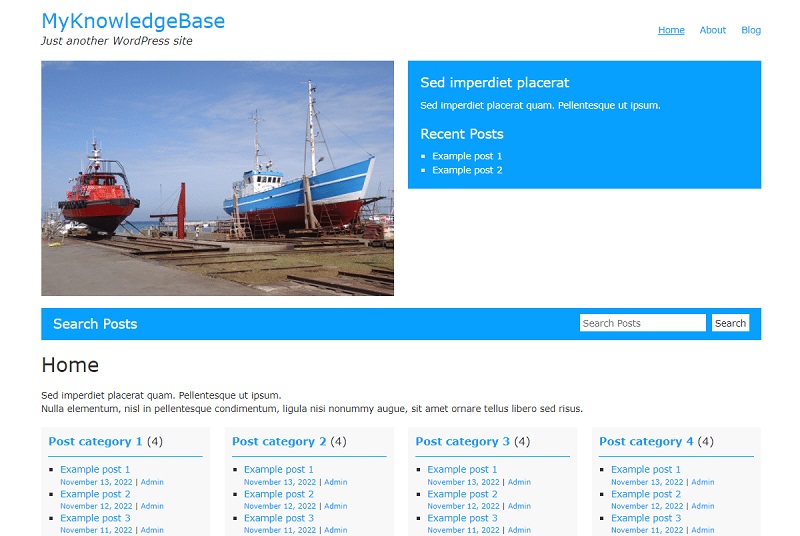 Like the other FAQ theme, the MyKnowledgeBase theme is also a great WP theme for a knowledge base, wiki, frequently asked questions, quora, support, or related websites. This beautiful theme is lightweight and mobile-friendly and gives you options to personalize your website through the Customizer in the WP dashboard. To make your site personalization more satisfying, this theme gives you a custom post or page template. You can convert your Categories and Posts into a knowledge base, FAQ, or wiki with these 2 Custom page templates. Besides this, the MyKnowledgeBase theme has multiple widget areas, Post Formats, Sticky Posts, Right Sidebar, and more. So, try the MyKnowledgeBase theme for your FAQ site and deliver the most satisfying user support possible.
Conclusion:
Now we have reached the end of the post, I hope you enjoyed it. FAQs have become a crucial element of any business or personal site. Site visitors want their queries answered as they come across any issue or make a purchasing opinion. Therefore, FAQs are essential to integrate into your site for providing the information they need, which can help eliminate any conflict on their conversion path. You can try one of these above free theme solutions to build your FAQ-integrated site.