Nowadays, the Fullscreen theme has become so favored and trendy for creating not only eye-catching portfolios and blog websites but also for various businesses. Most of the fullscreen WordPress themes come with a considerable space devoted to background images, slideshows, videos, etc. Also, many companies use paid or free fullscreen WordPress themes to establish their online digital presence over the net and fulfill their business requirements.
Furthermore, it is better to display photographs and videos in a sophisticated and artistic manner to draw more visitors and capture the interest of potential clients. Therefore, you will need a well-designed, good-looking fullscreen WordPress theme that helps you achieve all of these tasks.
Here, we have listed the best selected free fullscreen themes for your WordPress websites that allow you to showcase your images or videos, product promotion, or lets you make stunning websites for your business. These free themes are unique, remarkable, and have a simple yet stylish design, making your graphic content stand out & shine and also draw attention.
List Of Best Free FullScreen WordPress Themes
1. Inspiro
2. Screenr
3. PhotoFocus
4. ScapeShot
5. Catch Fullscreen
6. Catch Revolution
7. Palm Beach
8. WP Sierra
9. Valmiki
10. Fullscreen Agency
Also Read:
9 Best Free Wedding WordPress Themes
10 Best Free eCommerce WordPress Themes
8 Best Free Video WordPress Themes
1. Inspiro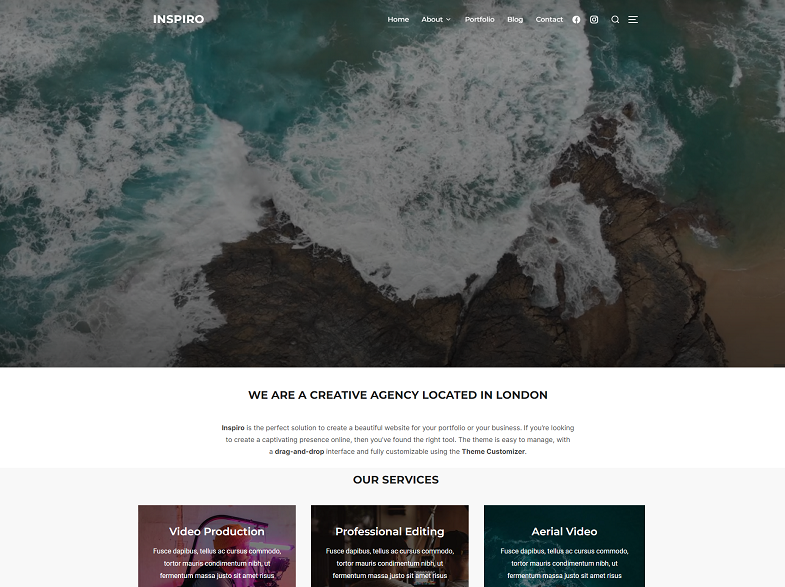 Inspiro is a fully responsive, professional & lightweight free FullScreen WordPress theme. It is a video-focused WordPress theme that delivers a modern and fantastic design optimized for all devices. With the Inspiro theme, you can easily create professional photography showcases and video portfolio websites without writing codes. Besides this, the Inspiro theme has options for Blogs and Shortcodes to let you extend your site functionalities even further.
Furthermore, this enchanting theme has an innovative, modern design blended with eye-appealing color shades to lure visitors to your website and blogs. Based on the Bootstrap framework, this sleek and luxurious fullScreen theme also has compatibility with popular Page Builders, Vimeo, YouTube & self-hosted video background, and WooCommerce.
2. Screenr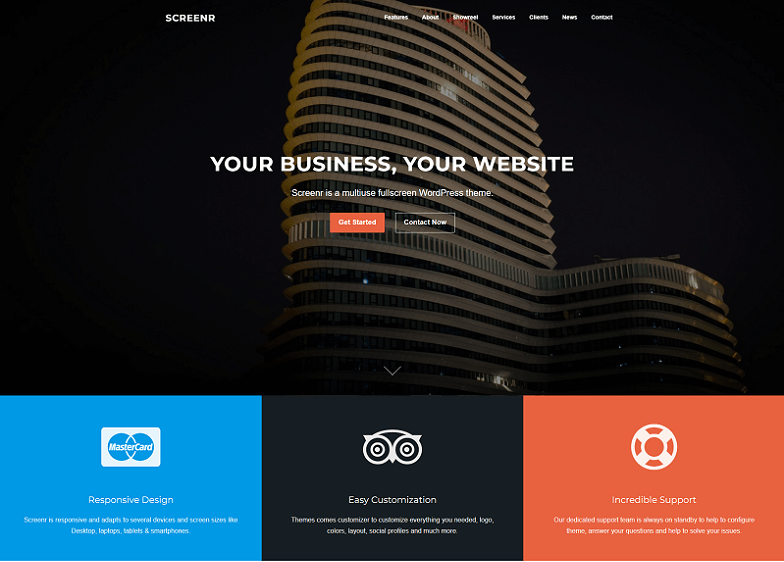 Screenr is another free Big, Bold, and stylish WordPress fullscreen theme excellent for all kinds of WordPress sites. Also, The Screenr WordPress theme has a stunning, flawless design combined with the latest CSS and animation effects. Furthermore, based on Bootstrap 4, this theme has clean, precise code that lets you create highly streamlined websites.
In addition to this, the Screenr theme has all the necessary features, CSS effects, and animations to deliver your visitors the best user experience possible. Also, this powerful theme has the flexibility of the navigation and header. So, you can use it easily for one-page or multiple pages websites. Screenr is so responsive that your site looks perfect across all devices.
3. PhotoFocus
Developed by Catch Themes, this Free fullscreen WordPress Theme is perfect for business websites such as photo bloggers, freelancers, photographers, and other creative photography centric websites. The PhotoFocus theme is highly responsive and has a robust & adaptive design. Besides this, this powerful fullscreen theme has dynamic features and an extremely user-friendly interface with easy navigation suited for expanding business growth and reputation.
Also, this fullscreen theme certainly boosts every aspect of your page and improves your search engine results rankings. PhotoFocus also has the latest browser and WooCommerce compatibility features, fast-loading time, easy-to-use & highly customizable topography features. Furthermore, the PhotoFocus theme is a multipurpose theme packed with advanced features and theme options, allowing you to create an interactive and visually attractive fullscreen site.
4. ScapeShot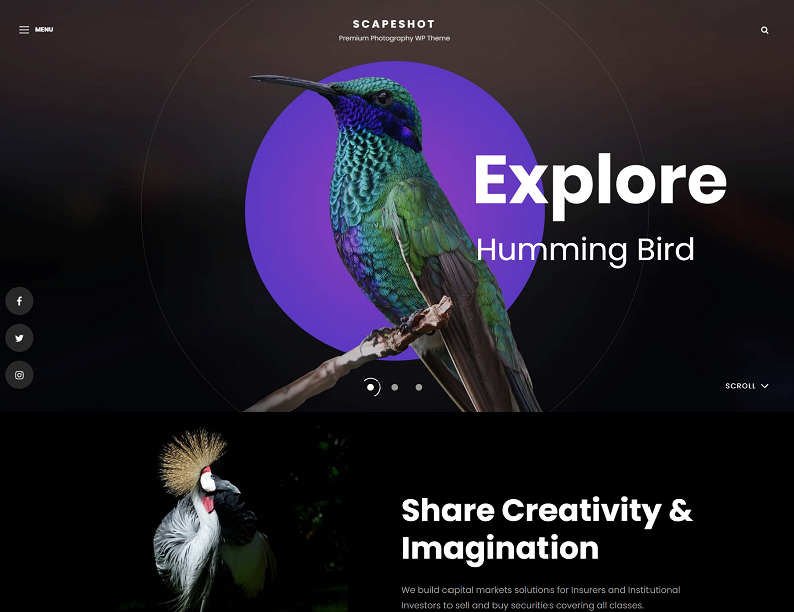 Developed by Catch Themes, this free fullscreen WordPress theme is perfect for blogs, businesses related to the photography field, and other business-related websites. The ScapeShot theme is highly responsive and has a visually aesthetic, eye-appealing design. Besides this, this powerful fullscreen theme has versatile customization capabilities and photography design suited for expanding your photography-related business growth and stature.
Furthermore, no prior coding knowledge is required, and this fullscreen photography theme has SEO-friendly layouts to enhance your Google and other web search engine rankings. ScapeShot also has the latest browser and WooCommerce compatibility features, Hero Content, and translation-ready features. Also, the ScapeShot theme is loaded with theme options and delivers a highly customizable and easy-to-use design, allowing you to create professional, visually attractive, and sophisticated photo-centric websites.
5. Catch Fullscreen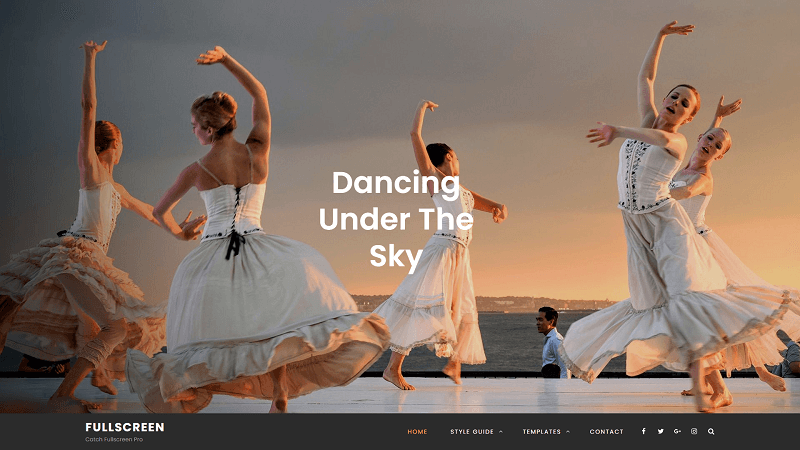 Catch Fullscreen is ideal for all kinds of business and other WordPress websites. This fully responsive, modern fullscreen theme offers incredible features and a captivating design. Besides this, Catch Fullscreen is also a one-page WordPress theme possessing the latest web standards like HTML5 and CSS3 animations and compatibility with bbPress and WooCommerce.
Furthermore, the Catch Fullscreen theme delivers high-end attributes and is extremely easy to customize. Therefore, you do not have to deal with complicated coding stuff. Besides this, this modern fullscreen one-page theme has a creative design layout, featured slider, hero content, header media, featured content, layout options, etc. Also, Catch Fullscreen is entirely responsive and has typography, making it most appropriate for delivering the best UX to your visitors.
6. Catch Revolution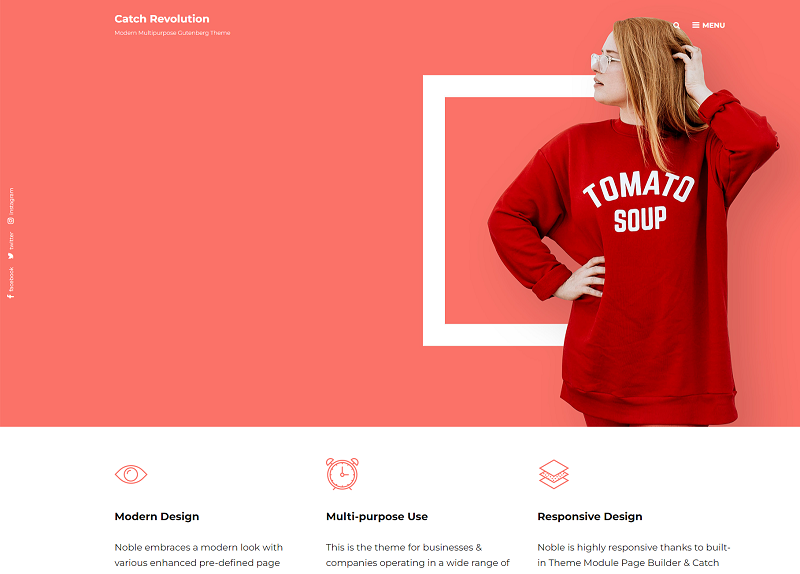 The Catch Revolution fullscreen is a fully responsive fullscreen theme loaded with essential features to help you in boosting web traffic and increase business development. This splendid fullscreen theme is optimized and developed for making stylish and good-looking fullscreen websites. Furthermore, the Catch Revolution theme has flexibility and versatility, making it a dependable multipurpose theme.
Besides this, the Catch Revolution fullscreen theme is ideal for elegant corporates, blogs, portfolios, and professional WordPress websites for those who want subtle colors and great typography, etc. You can use this theme to generate leads, increase the conversion rate, and attract your potential customers. Also, Catch Revolution has a comprehensive range of features, and plugin compatibility, providing a flexible framework for any website.
7. Palm Beach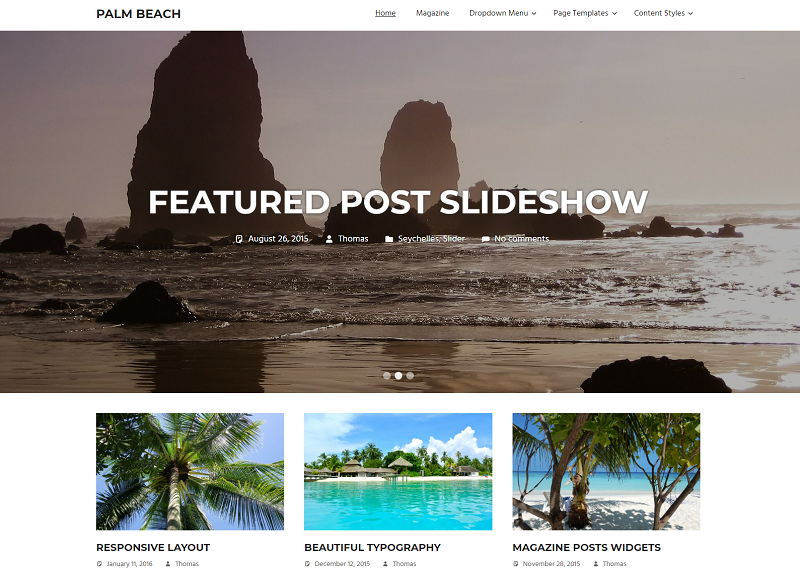 Palm Beach theme is the next theme on our list of the best free fullscreen WordPress themes. This Bootstrap-based fullscreen theme offers lots of stunning features and integrations. Furthermore, Palm Beach has cross-browser and page builder compatibility and beautiful typography. That gives this theme a fresh, clean, and modern look.
In addition to this, the Palm Beach fullscreen theme has a stylish, responsive layout design perfect for travel agencies, marketing, travel magazine, or other travel-related businesses. Also, Palm Beach is fully SEO optimized and has a stunning fullscreen slider, RTL Language Support, and translation-ready features. Also, its responsive layout performs well on tablets, phones, desktops, and other devices.
8. WP Sierra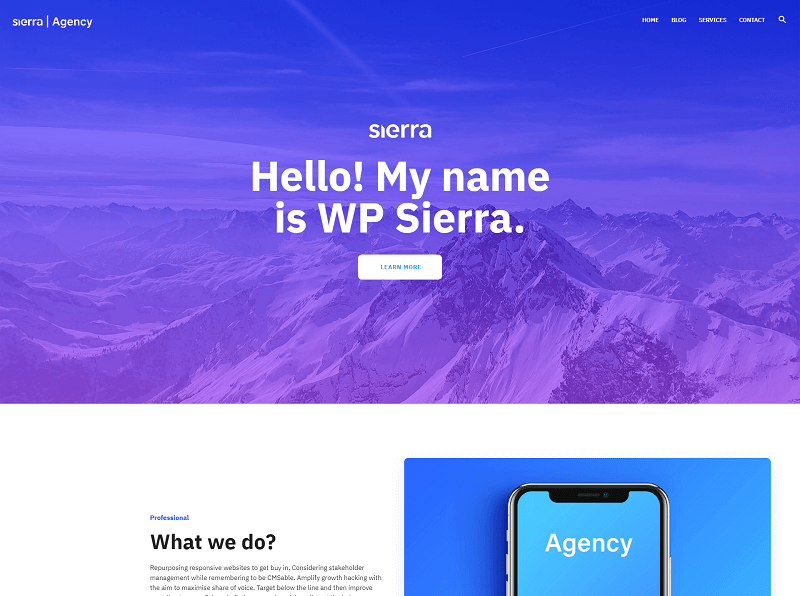 WP Sierra is a multipurpose, SEO-friendly, fullscreen WordPress theme best suited for all kinds of websites and blogs. It is a modern, responsive fullscreen theme with an eye-catching design. Also, WP Sierra has a page builder & cross-browser compatibility, and many advanced options, including Live Customizer. It also has WP Bakery Page Builder (Visual Composer), Google Fonts, 1-click demo import, header overlays, and so much more.
Furthermore, WP Sierra delivers many splendid features that help you boost your website traffic, generate leads, and lets you create an attractive website in mins. Besides this, the WP Sierra theme has a secured and clean code, and it gives your site a distinctive look and makes it extraordinary with its overload features.
9. Valmiki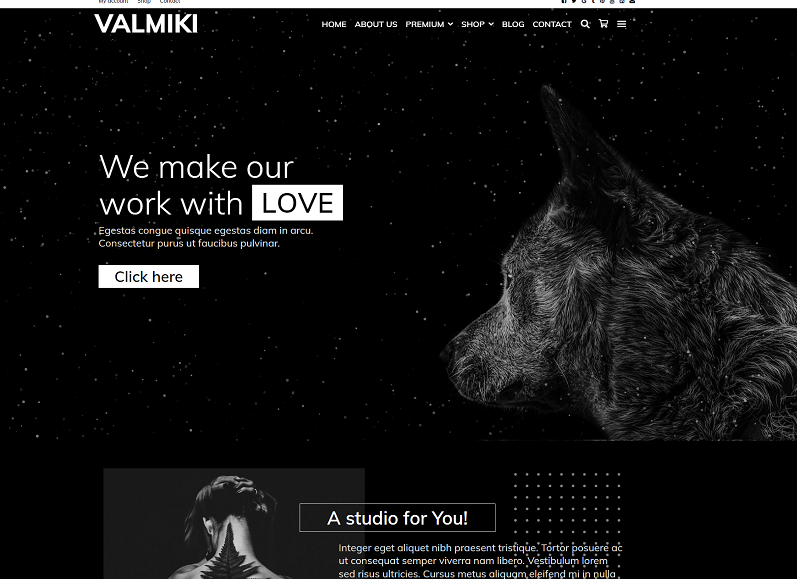 This WPKoi theme under the GPL license is an excellent choice for businesses, blogs, and magazine-related websites. It is a black & white style, modern, and responsive fullscreen theme that works well on all types of portable and desktop devices. Besides this, Valmiki is also a multipurpose theme, so you can easily use it to represent your art, business, an event, show your portfolio, etc.
Furthermore, the Valmiki theme is SEO-friendly and can integrate with popular plugins such as Elementor, WooCommerce, Contact Form 7 plugins, etc. Also, this fascinating fullscreen theme offers lots of valuable features such as multiple header styles, navigation styles, translation-ready, shortcodes, personalization options, etc. Besides this, Valmiki also has an easy-to-use admin panel with many customizer functions, letting you create your dream site without coding knowledge.
10. Fullscreen Agency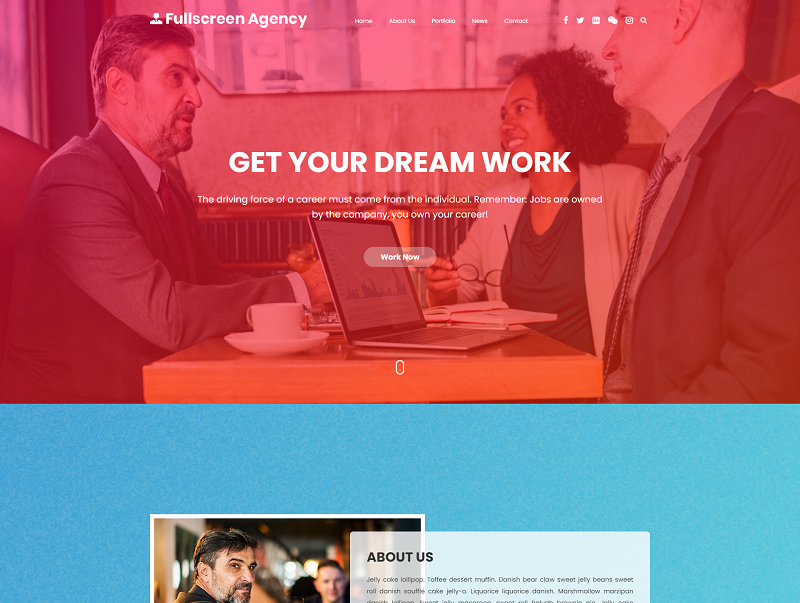 The last fullscreen theme on our list is the Fullscreen Agency theme. The Fullscreen Agency theme is a stylish, fully responsive WordPress fullscreen theme. This enchanting theme is well suited for businesses such as Corporate companies, Interior, Portfolio, Transport, Construction, Marketing, Small Enterprise, Personal Websites, agencies, etc.
Also, This fullscreen has an innovative design and powerful features that allow you to write articles and blog posts with alleviation. The Fullscreen Agency theme has a fully responsive layout that works perfectly on all portable and desktop devices. Furthermore, this beautiful fullscreen theme has Customizer to add your background and is also optimized for fast loading speed to supply an excellent user experience to your visitors.
Conclusion:
Hi guys, thanks for visiting our website Testerwp. With this article, you have got to see the best free fullscreen themes. You can try these themes and create your very own attractive business or blogging website with ease. Also, you can share your experience with these fullscreen themes with us in the comments section below!