Gallery WordPress themes can help you in more than one way besides helping you create a beautiful website. These days, many photographers and other video-related business owners are vigorously trying to establish their digital or online presence over the internet. For this, these business owners use premium paid or free gallery WordPress themes to build a beautiful, attractive website. Also, Gallery WordPress themes can help you consolidate all your work and showcase them to visitors on one platform.
Furthermore, Gallery WordPress themes come in a variety of options, from light to dark, one-page to multi-page design layouts across different design styles. Businesses that offer image or video-related services can get an opportunity to get an edge over other competitors using these gallery WordPress themes. These gallery WordPress themes let business owners focus on showcasing their work and services and getting the visitor to convert into a potential clients.
So, if you want to explore the best free gallery themes, here are the 9 best ones that you can try!
List Of Best Free Gallery WordPress Themes
1. Simple Grid
2. GridHub
3. Clean Gallery
4. GalleryWP
5. GridHot
6. GridMini
7. GridNext
8. ArtGallery
9. Image Gallery
Also Read:
11 Best Free One Page WordPress Themes
9 Best Free Travel WordPress Themes
1. Simple Grid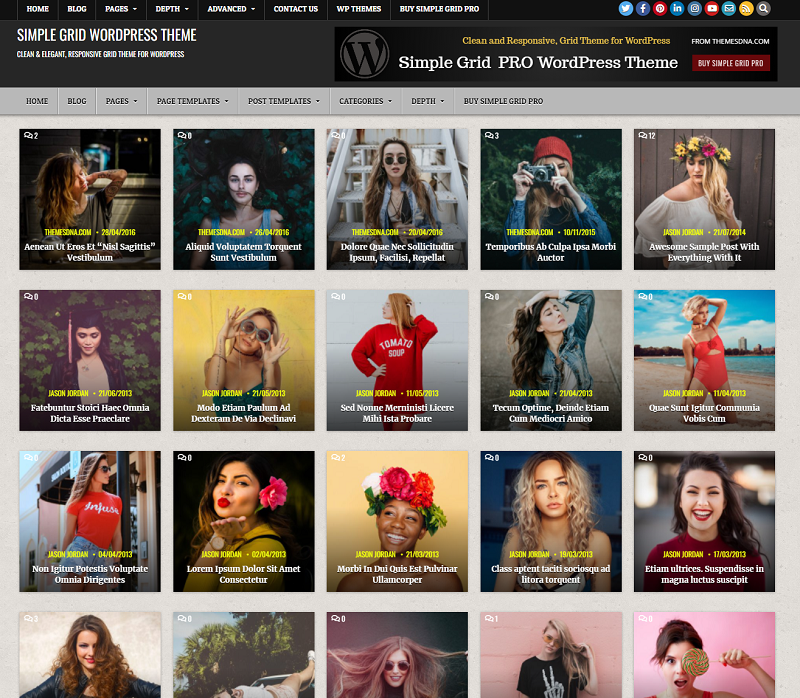 The first theme on our list of the best free gallery WordPress themes is the Simple Grid. It is a modern, fully responsive grid WordPress theme excellent choice for news magazines, photography, portfolio, blog, or art gallery websites. Furthermore, this theme has YouTube embedded code and two grid types- CSS grid and masonry grid.
In addition to this, Simple Grid has sticky sidebars, five columns CSS grid layout, six columns footer, social buttons, etc. Besides this, Simple Grid offers a settings panel for each post/page, built-in infinite scroll, and load more buttons. Also, you can choose from  10+ custom page and post templates and have options for grid and list style featured posts widgets.
2. GridHub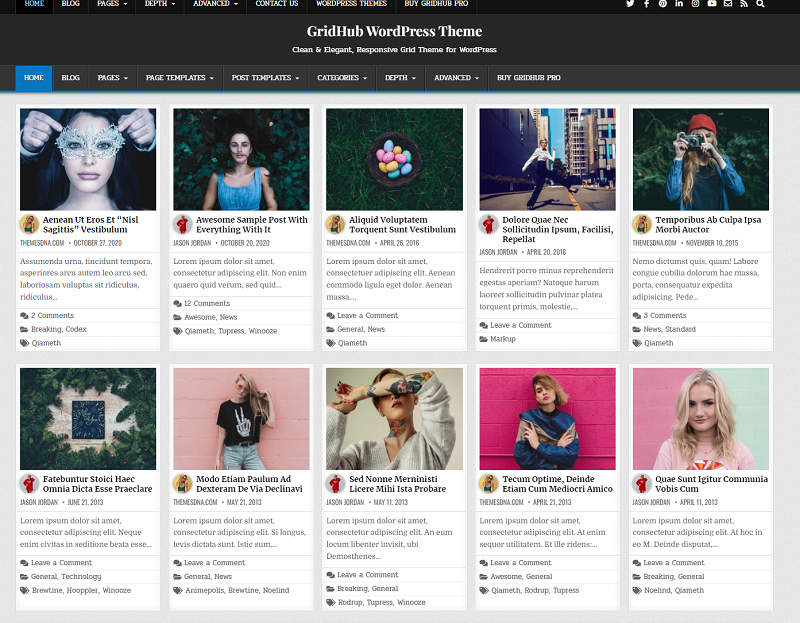 This highly responsive grid theme is well suited for video blogs, photography, video, YouTube, wedding shoots, portfolios, fashion shows, online video stores, fashion magazines, and art gallery websites. GridHub is a modern, clean, luxurious, and highly responsive grid theme that looks nice on all devices.
Furthermore, the GridHub theme has clean, optimized codes and faster load time, providing your visitors with a smooth user experience. Also, this fascinating WordPress theme offers lots of valuable features like RTL language support, author image support, header styles with width options, social buttons, news ticker, right-sidebar, and more. In addition to this, the GridHub theme also allows you to link all your social media pages.
3. Clean Gallery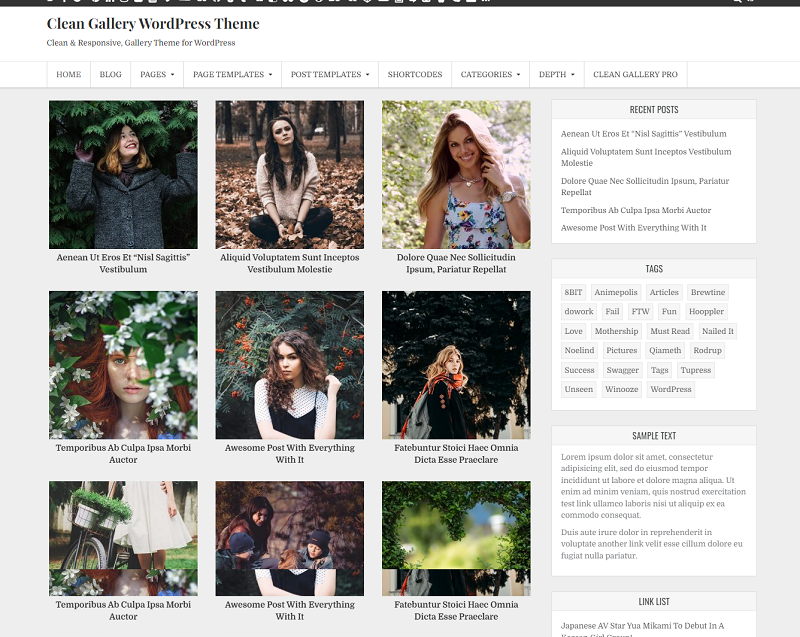 Clean Gallery is the next free gallery WordPress theme on our list. It is an elegant and refreshing, responsive theme design to build eye-catching gallery websites. You can use this gallery theme for photo or video-related websites. Besides this, you can also use it to make a video promoting website.
Also, the Clean Gallery theme allows you to modify and customize it and see previews before applying changes to the live site. Furthermore, This gallery theme offers an accessibility-ready sticky navigation menu and grid post summaries for visitors to easily navigate. For more functionality, you can buy Clean Gallery PRO, which provides you many options in color and font, and tag/recent/category-based featured posts widgets, with the ability to show posts according to dates or comments.
4. GalleryWP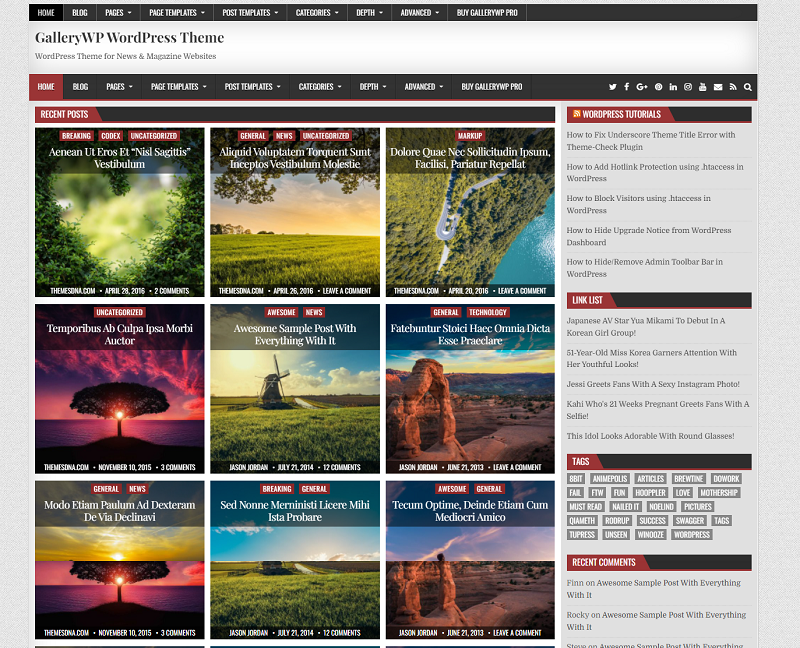 GalleryWP is perfect for all types of business websites related to photography, art gallery, and videography, including portfolio and blog websites. This fully responsive, clean gallery theme also has compatibility with the Lead form builder and many varieties of features, including social buttons, four columns footer, scroll-to-top buttons, and more.
Furthermore, the GalleryWP theme delivers high-end attributes and easy-to-use theme options for customizing its various elements. Besides this, this splendid gallery theme has a decent design layout that you can further customize with its customizer tools. Also, GalleryWP has 2/3/4 columns grid-layouts for posts, vertical/horizontal/square/auto-height thumbnail styles, and featured post widgets with grid-layout options.
5. GridHot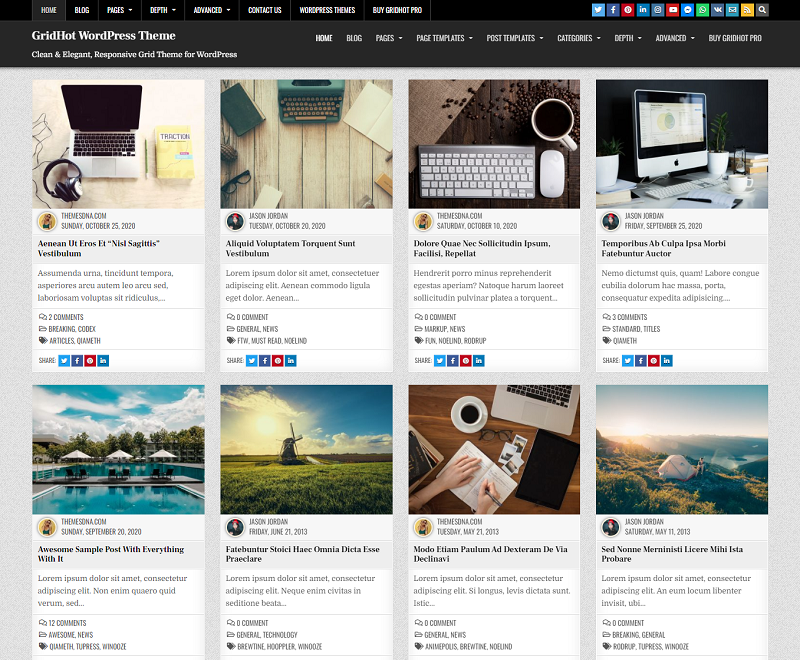 The GridHot gallery theme is a fully responsive, modern theme packed with essential features for improving traffic and conversion rate. This magnificent gallery theme is optimized and designed for creating stunning gallery websites. Furthermore, GridHot has Customizer theme options, four columns grid, a sticky header and sidebar, four columns footer, RTL language support, etc.
Besides this, The GridHot gallery theme is ideal for video blogs, photography, videography, YouTube, portfolios, fashion magazines, and art galleries. You can also use the GridHot gallery theme to draw potential customers, generate leads, and boost the conversion rate. Also, it has a comprehensive range of features, including a tabbed widget, banner widget, social widget, and 25+ share buttons.
6. GridMini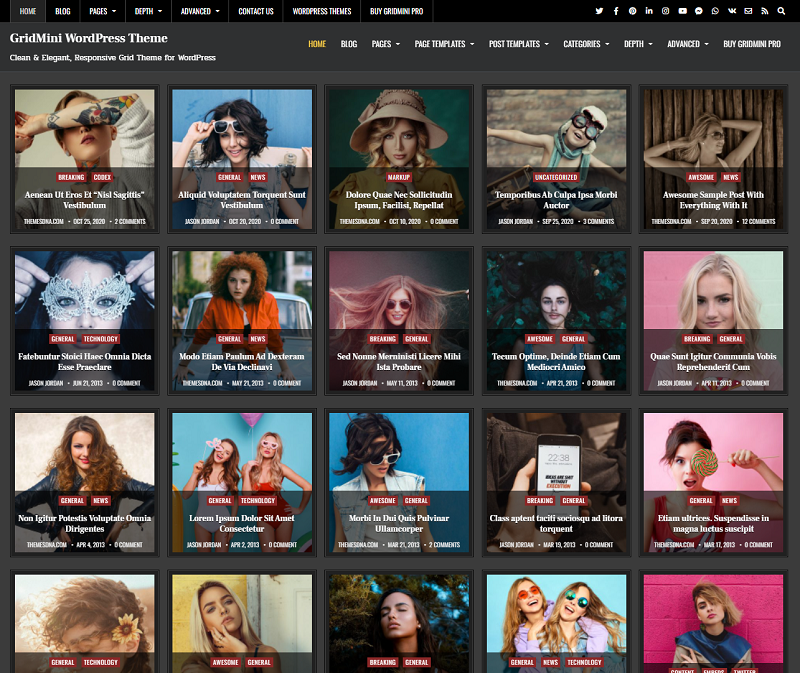 GridMini is a minimal, SEO-friendly, visually appealing gallery theme best suited for an art gallery and video marketing-related websites. It is a clean, responsive grid gallery theme with an elegant design layout. Also, this gallery theme has a1-10 columns grid layout, two navigation menus, and five columns post grids. 
Furthermore, GridMini delivers lots of intriguing features that help you boost site traffic and improve your overall conversion rate. Besides this, the GridMini theme has CSS and masonry grid type options and lets you make a clean, responsive gallery or photographic website. Also, the GridMini gallery theme is created for better user engagement and video promotion. This grid-based gallery WordPress theme lets you easily create minimalistic and attractive sites.
7. GridNext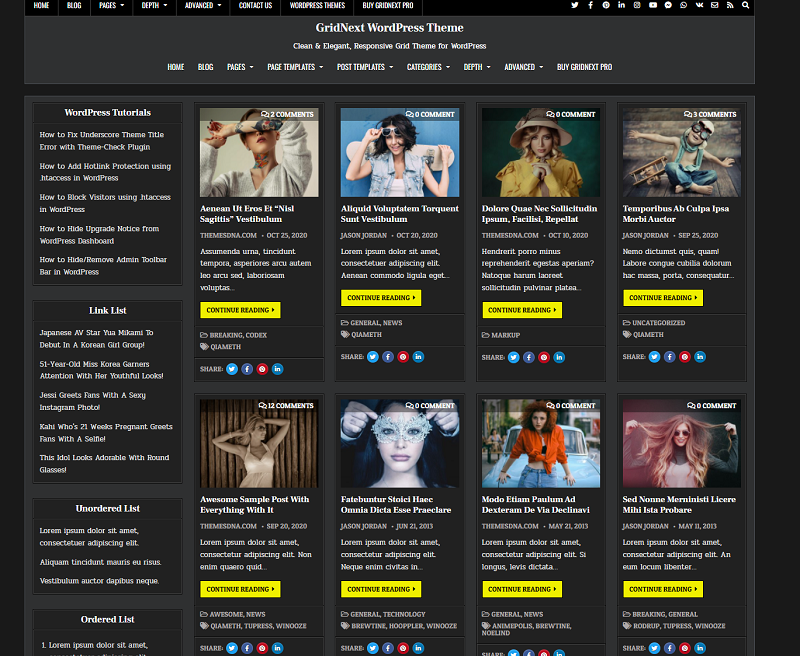 GridNext theme is the next gallery grid theme on our list of the best free gallery WordPress themes. This modern and dark grid theme offers lots of appealing features and integrations. Also, GridNext has a list-featured posts widgets and unique header images for each post/page, and easy-to-use Customizer theme options. That lets you expand and customize GridNext theme functionality even further.
Besides this, the GridNext gallery theme has an attractive, responsive layout design perfect for video agencies, marketing bureaus, photography, portfolio, and art gallery websites. Furthermore, the GridNext has RTL Language Support, 60+ social buttons, clean post summaries, and translation-ready features. This grid theme responsive layout works well on all devices, including tablets and iPads.
8. ArtGallery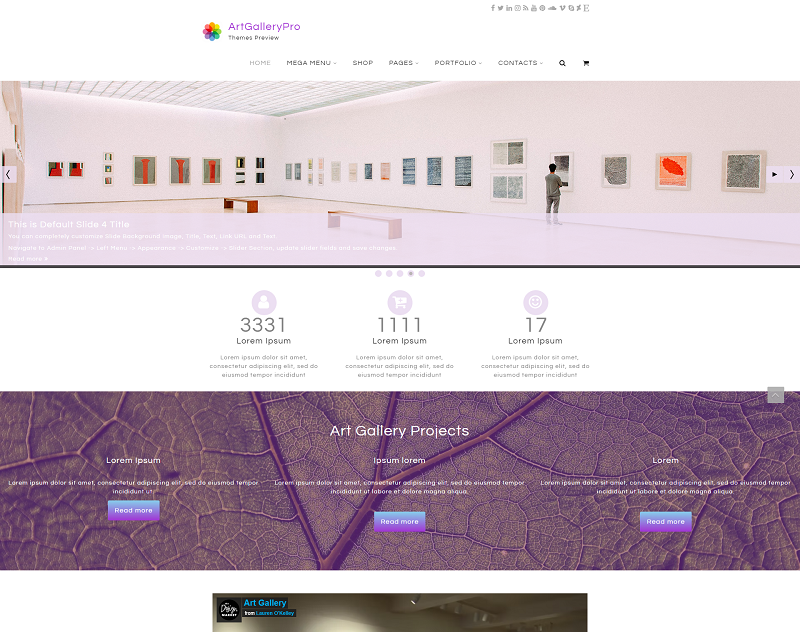 The ArtGallery is a free customizable gallery theme excellent choice for video blogs, galleries, photography, wedding shoots, portfolios, fashion shows, mastery, and artistic websites. It is a modern, luxurious and responsive gallery theme with a beautiful design layout. ArtGallery is so responsive that it works nicely on all types of devices.
Furthermore, the ArtGallery theme is SEO-friendly and has animation-appearing effects with faster page load time, making it stand out. Also, this enchanting gallery theme delivers many advantageous features such as Gutenberg Compatibility, Shortcodes, RTL Support, Footer Copyright Text Customizations, Translation-ready, Customization, and Personalization Options. Besides this, ArtGallery also gives you an option for blogging to write about the latest video, photography, or other entertainment trends.
9. Image Gallery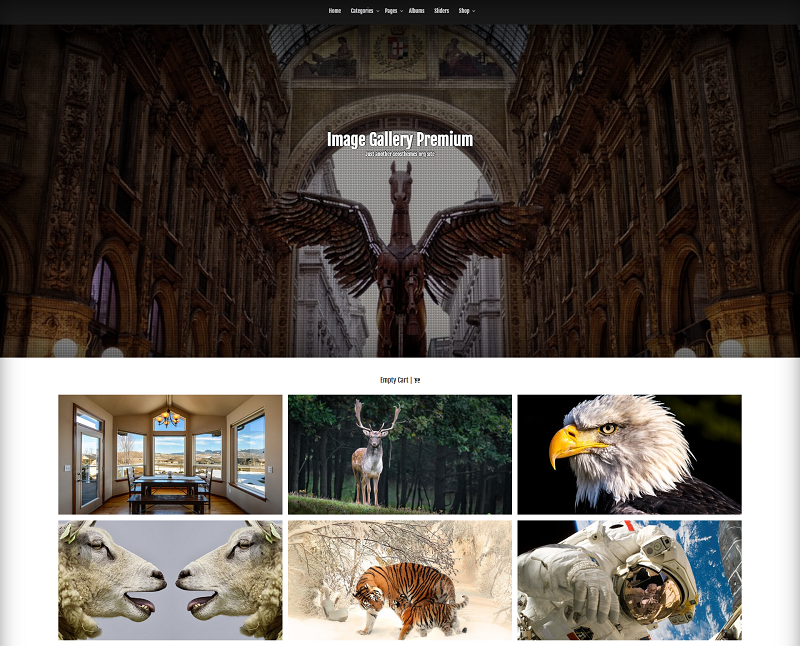 The last gallery theme on our list is the Image Gallery theme. The Image Gallery Theme is a  clean, easy-to-customize, fully responsive WordPress gallery theme. This charming theme is well suited for websites related to Photography, Video Marketing, Newspapers, Art Galleries, Portfolio, Fashion Magazines, etc.
In addition to this, this gallery theme offers a responsive 2-column layout, and its modern HTML5 theme design is crafted with beauty and thoughtfulness. The Image Gallery theme has a multi-purpose, fully responsive layout that works nicely on all devices, including iPads and tablets. Also, this elegant gallery theme is optimized for faster page loading speed to deliver a premium user experience to visitors.
Conclusion:
That brings us to the end of our free gallery WordPress themes compilation. There are lots of WordPress gallery themes out there, and finding one, especially on WordPress, you will discover many free and paid premium gallery themes.
These gallery themes have outstanding, attractive design layouts with similarities in features. Thus, selecting the best free gallery theme for websites is a hard nut to crack. You can try these gallery themes listed in our list. I hope these free WordPress themes may fit your requirements and help you build your one-of-a-kind dream gallery website for your business.