When you are darting for WordPress themes that help make your site eco-friendly and green-energy-focused, there are so many options available. However, it can be overwhelming. Fortunately, if you know where to look, finding the perfect green energy WordPress themes becomes less challenging.
These themes are beautiful, sophisticated, and unique designs that align with your green or renewable energy business sites. I think this comes as no surprise because many people see green energy as a source of clean energy and are looking for a web design to help them achieve their goals. To ease up your search process, we have presented you these 7 Best Free Green Energy WordPress themes that not only help you promote green energy business but also can help you take part in it. So, take your time and explore these themes now.
List Of Best Free Green Energy WordPress Themes
1. Recycling Energy
2. VW Solar Energy
3. SKT Ecology
4. Eco Nature Elementor
5. Shams Solar  
6. Ecology Nature
7. GREEN EYE
Also, Read:
Best Free WordPress Resume Themes
Best Free Makeup Artist WordPress Themes
1. Recycling Energy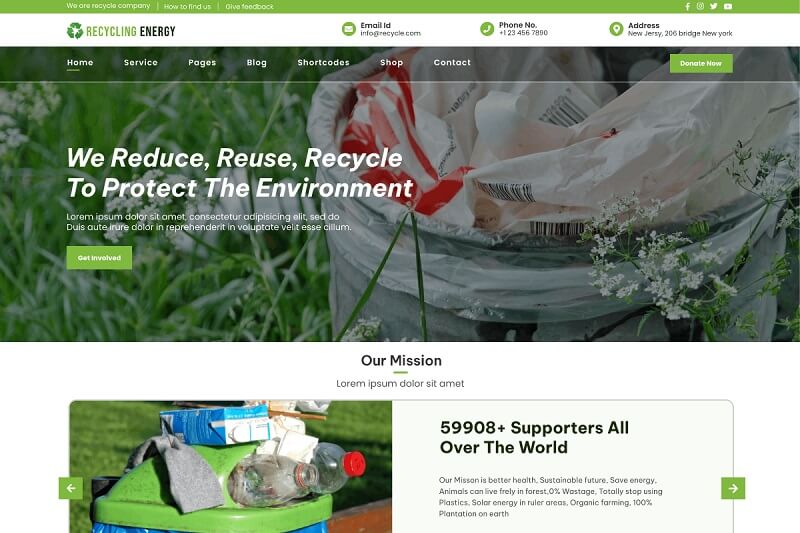 The Recycling energy theme is a responsive, modern theme a brilliant choice for designing ecology-related sites that focus on environmental conservation, eco-recycling, waste management, recycling businesses, alternative energy, garbage pickup, solar energy, and more. This theme is user-friendly, easy to work with, and developed using the Bootstrap framework. Furthermore, the theme lets you add social media pages with widgets to enrich your social presence. Besides, it is cross-browser compatible, which provides smooth loading on all browsers. In addition, its modern and luxurious design is sure to catch visitors' engagement and entice them to explore your site further. In short, this is the perfect theme for those who want to design a stunning and effective site in the green energy niche.
2. VW Solar Energy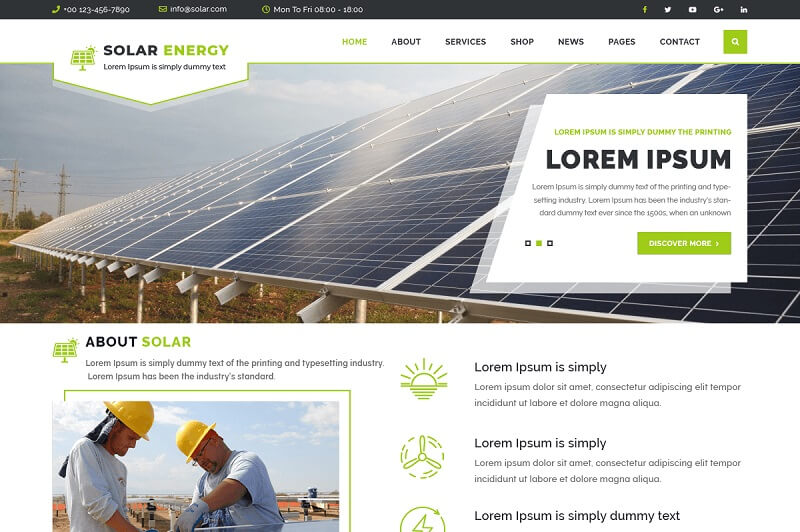 This green energy theme is an ideal choice for businesses interested in Solar panel manufacturing and distribution, Green energy, Recycling, Eco-friendly products, Alternative energy, and more. Besides this, organizations focused on saving the environment, such as non-profits and organic farmers, can also use VW Solar Energy. In addition, VW Solar Energy is developed on the Bootstrap framework, which makes this theme easy to use and gives users full control over their site's look and feels, including the header and footer style, background, logo, and more. Furthermore, VW Solar Energy is perfect for giving a professional green energy-inspired look to your business site.
3. SKT Ecology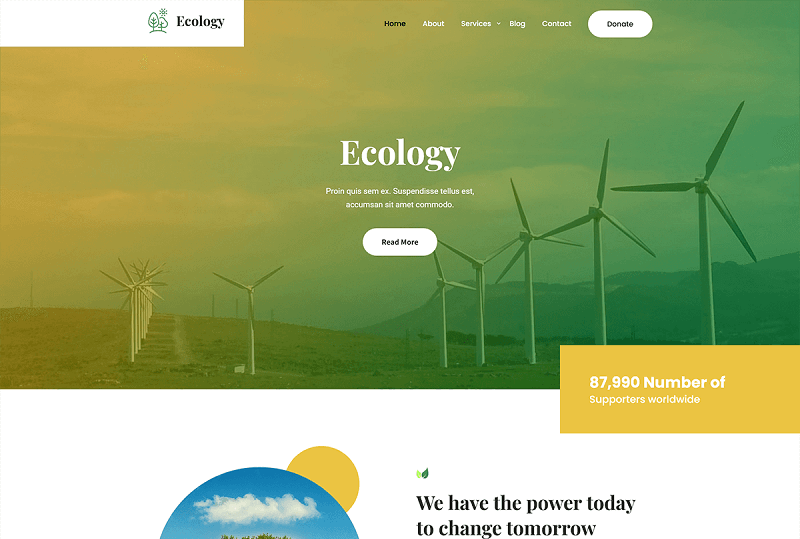 SKT Ecology is a powerful and eye-catching green energy template. This free WP natural energy theme is also best for Agriculture, Ecology, Organic, Conservation, Solar, Green renewable energy, Recycling, Wildlife, NGO, and other relevant websites. Furthermore, the SKT Ecology theme has a beautiful and responsive design with a modern touch and secure codes. And it is tried and tested on all screens and famous browsers. Besides this, this green energy theme offers a variety of options such as Custom Colors, Custom Logos, Footer Widgets, Full Width Template, Sticky Post, Theme Options, etc. Its drag-and-drop options allow users to customize their site in any way they like. Also, SKT Ecology has SEO-optimized codes for better Google ranking.
4. Eco Nature Elementor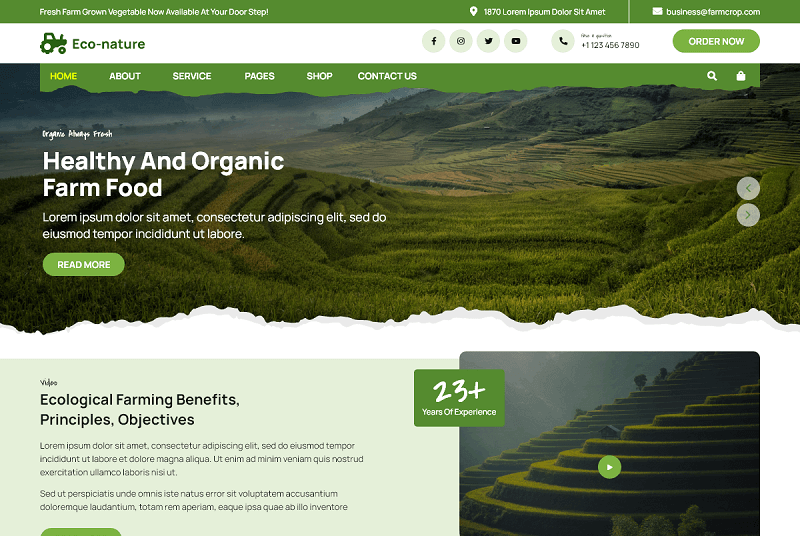 Eco Nature Elementor is a stunningly crafted nature-friendly WP theme that gives you a professional, well-organized look for any kind of environment, human rights, charity, green energy, politics, fundraising, social movements, and similar sites. This theme accommodates a free Custom Mega Menu, Revolution, and Layer Slider plugins and Donations functionality support. Also, this powerful green energy WordPress theme is compatible with many appealing features such as Multiple galleries, Unlimited color schemes, Events, a Timeline, a Team page, WooCommerce options, and more. Furthermore, Eco Nature Elementor also offers a Shortcode Generator and One-Click Demo Install feature that lets you create your green energy site in no time.
5. Shams Solar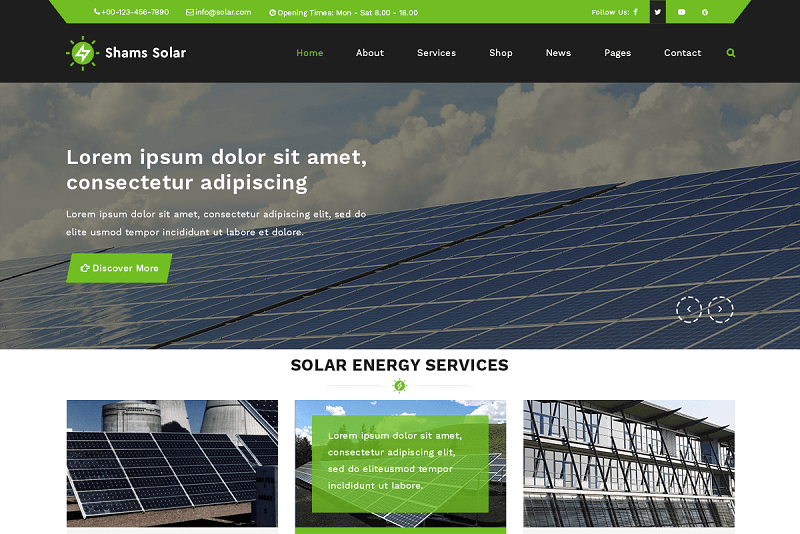 Shams Solar is next to land in our collection. It is also an eco-friendly clean energy theme perfect for various industrial purposes related to conservation. The Shams Solar theme is highly reliable for designing flexible and functional sites for renewable energy, biofuel electricity industries, Selling solar products, Alternative energy, Water harvesting, etc. Furthermore, it provides options such as theme options, sidebar options, customizable colors, fonts, and background options. Shams Solar is ideal if you have established a green energy business or planning to explore this area. Also, this theme lets you translate your site into various popular languages, including Arabic, Chinese, Spanish, etc.
6. Ecology Nature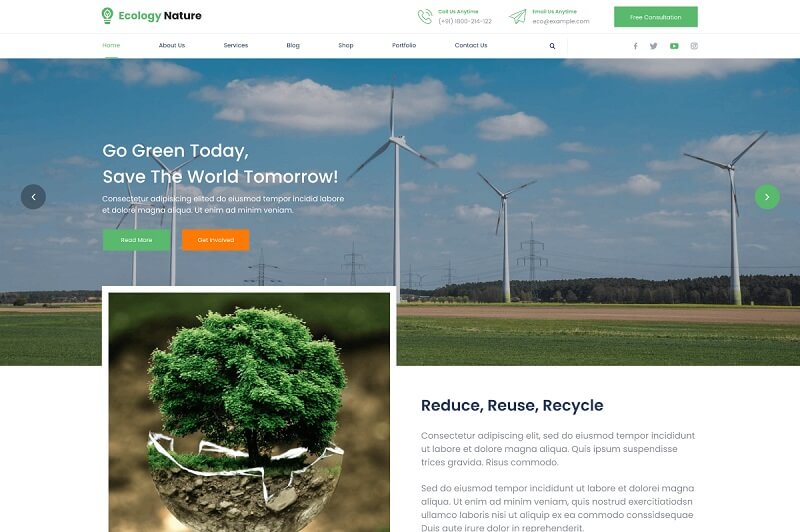 The Ecology Nature theme is another fully responsive theme suitable for building stunning sites for Agriculture, Ecosystems and nature-related sites, Organic farming, NGO, conservation, and such related sites. The Ecology Nature WordPress theme offers a multipurpose, stylish design designed on the Bootstrap framework with a minimalist approach. This robust theme also has many adaptable options, including translation-ready features to draw visitor to your site in their native language. And, its responsiveness and flexibility are so perfect that you can employ it on all display devices and browsers. Besides this, Ecology Nature has optimized SEO codes and Shortcode implication features to increase the functionality of your site without adding any additional coding.
7. GREEN EYE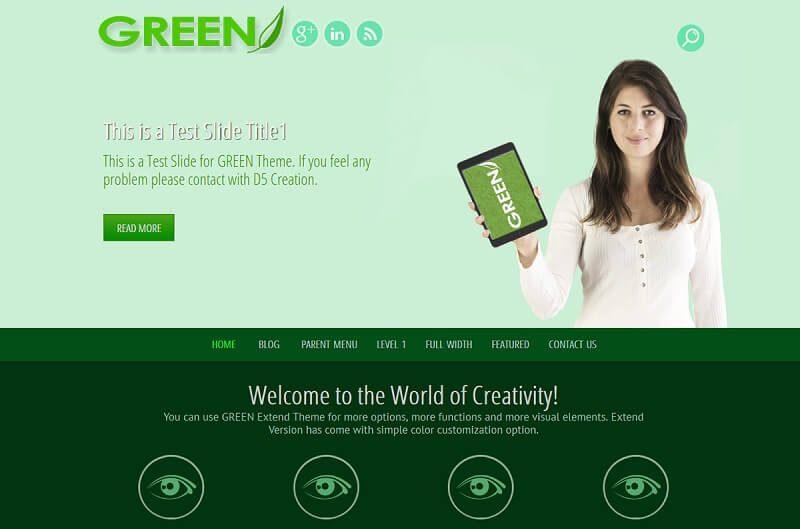 The GREEN EYE theme is a professional green energy WordPress theme Powered by CSS3. It represents simplicity and clearness, making it perfect for showcasing Environment-Friendly Institutions, Conservation movements, or Green Energy-related projects. Furthermore, this magnificent theme delivers a smart design improved for all devices and browsers. With the GREEN EYE theme, you can effortlessly develop professional portfolios for your organization to showcase your work, achievements, messages, and more. Furthermore, this free green energy theme provides you with all the essential features you need, like a Featured Page Slider, Widgets Ready, Banner Image, Customer Quotation Inserter, Front Page Template, etc.
Conclusion:
These are some of the latest themes and designs for green energy websites. They are available in different color palettes, which not only make them look clean and fresh but also help you to find the perfect color scheme for your site. Also, some of these green themes have support for Ajax-powered forms, custom widgets, Ajax-powered menus, and more out-of-the-box. So give them a shot.