WordPress sites can be a great way to establish an online presence, showcase work, and skills, and promote your services. Also, if you have a business like a makeover salon or designer agency that requires continue showcasing of work, skills, and promotion, then a stunning WP site is a must for you to survive in the online market and outrun your competitors. Therefore, if you are searching for the best free makeup artist WordPress themes to create a stylish modern WP site to showcase your skills and promote your services, this collection is for you.
These WP themes allow you to launch a stylish, feature-rich makeup artist website with a booking option in no time. Also, these themes offer engaging home pages, portfolios, and service pages. Furthermore, they are so flexible and have various customization options to add your final touch and branding to your site. So, without further delay, let's explore this theme collection and find a splendid theme for you!
List Of Best Free Makeup Artist WordPress Themes
1. Makeup Lite
2. Beauty Salon Spa
3. Makeup Artist
4. SpaBiz
5. Expert Makeup Artist
6. SKT Skincare
7. CRest Beauty Spa Lite
Also Read:
Best Free Travel WordPress Themes
Best Free WordPress Themes for Freelancers
1. Makeup Lite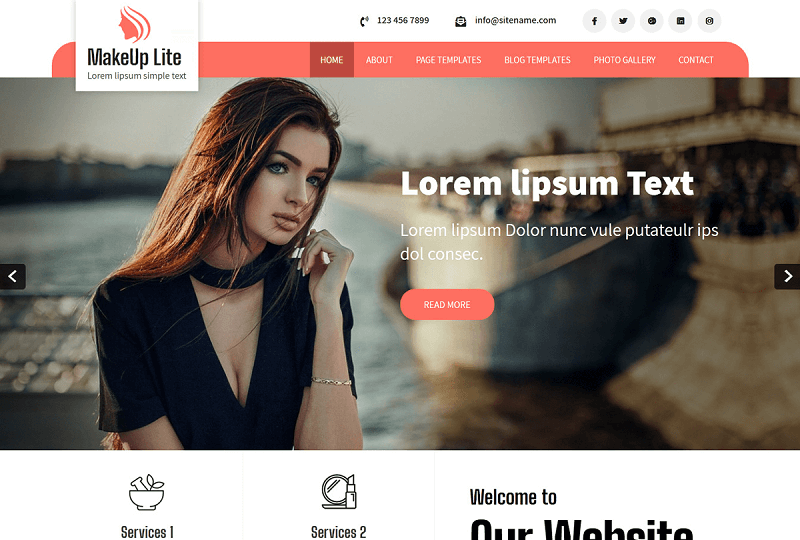 Makeup Lite is a professionally designed, customizable WP theme best suited for Beauty Salon, Makeup, Cosmetic Shop, and other Skincare WP websites. This free makeup theme delivers a superb design optimized for all screens. With Makeup Lite, you can easily make all kinds of professional beauty or cosmetic business sites without coding skills. Based on the Bootstrap framework, this lightweight theme also has compatibility with WooCommerce and page builders and has options for Shortcodes to extend site functionalities. Also, The Makeup Lite theme is SEO optimized to boost website visibility on search engines. And you can also use this theme for beauty and lifestyle blogs.
2. Beauty Salon Spa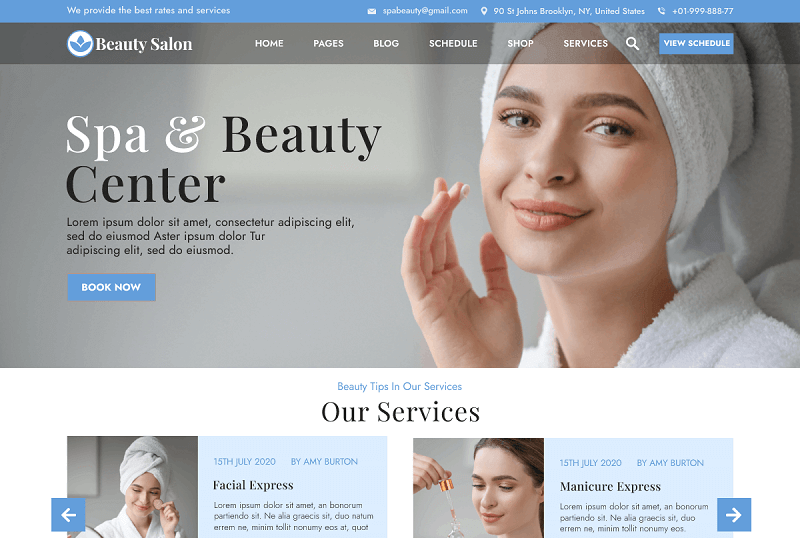 Beauty Salon Spa is another responsive, mobile-friendly WP theme ideal for Salon Spa, Massage Parlours, Makeup Artists, Wellness Centers, Cosmetics, and other related websites. Also, The Beauty Salon Spa theme has a stunning design integrated with awesome CSS. These CSS and animation effects give visitors the most pleasing UX possible. In addition to this, the Beauty Salon Spa theme has support for RTL languages and all the necessary features. Furthermore, the Beauty Salon Spa theme has a highly SEO-optimized code for the best ranks in search engine result pages. Beauty Salon Spa is so responsive that your site runs perfectly across all screens.
3. Makeup Artist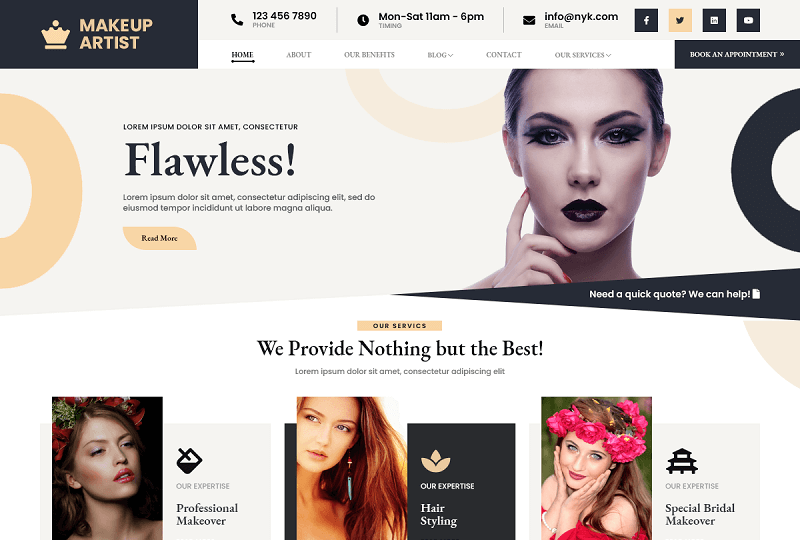 Developed by VW THEMES, this free makeup WP theme is perfect for various types of websites such as Makeover Artists, Stylists, Spa, Hair Salon, Beauty Spa, etc. The Makeup Artist theme is admiringly responsive and has a breathtaking layout. Also, this powerful WP theme has dynamic features and functionalities, including a Call to Action Button, Photo Gallery, and a fantastic banner, along with several sections such as Blog, testimonial section, etc., fitted for improving business growth and stature. Besides this, this makeup theme has SEO-friendly layouts to improve rankings in search engine results. Makeup Artist also has a modern browser & WooCommerce compatibility, Social media icons, and Retina-ready features.
4. SpaBiz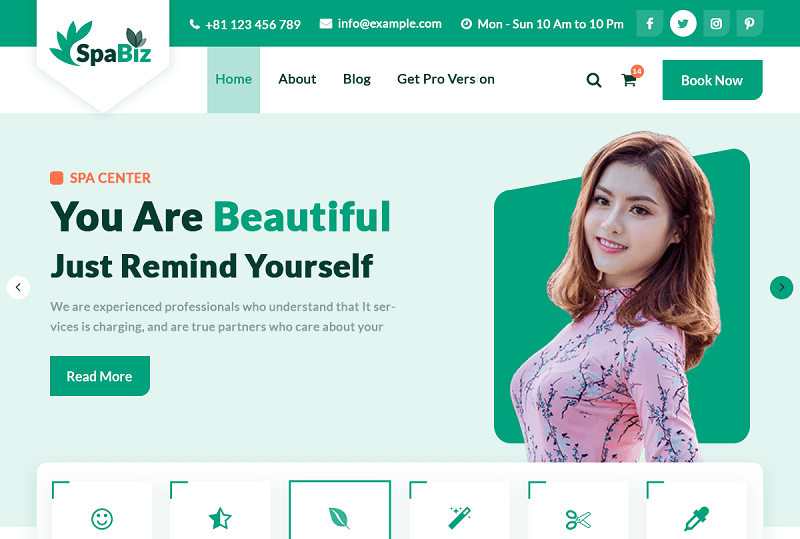 SpaBiz is excellent for all kinds of beauty and other skincare WP websites such as Spa, Beauty Salon, Massage Parlours, Haircare Products, Barbershops, Health & Wellness Centers, Makeup Artists, Healthcare and Cosmetic Shops, etc. It is a fully responsive, lightweight spa theme with WooCommerce, page builders, and cross-browser compatibility that lets you build any responsive design you want. Furthermore, the SpaBiz WP theme offers high-end attributes and WP theme resources and has the latest web standards like HTML5 and awesome CSS3 animations. Also, SpaBiz has fast, clean typography, color options, and a responsive layout, making it most appropriate for delivering the most satisfactory UX to your users.
5. Expert Makeup Artist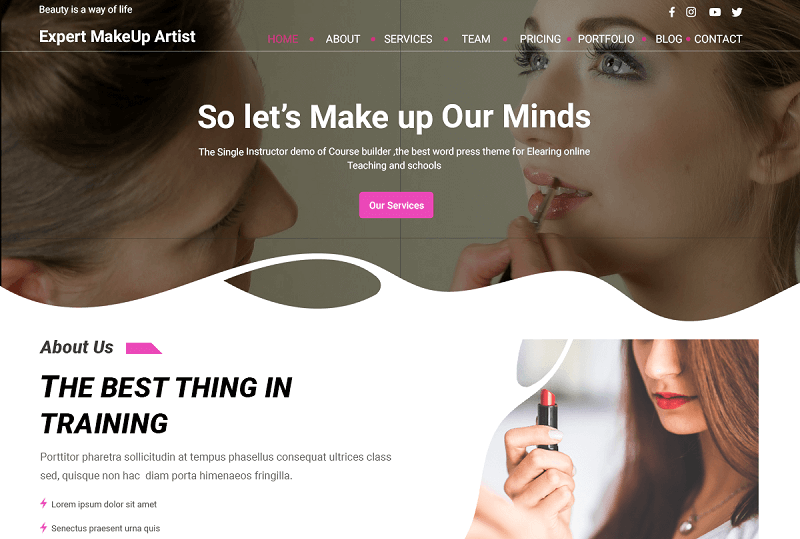 The Expert Makeup Artist theme is the next WP theme to come on our list of the best free makeup artist WordPress themes. This responsive makeover theme is marvelous and versatile, and you can use it for Makeup Studios, Salons, Hairstylist Experts, Personal Stylists, and Fashion and Style Bloggers. Furthermore, the Expert Makeup Artist theme has quite the flexibility and many homepage widgets to add portfolio, testimonials sections, call for action (CTA), etc. In addition, this fully responsive theme has customization options, and it is easy to install and supports all the latest WordPress plugins, such as Jetpack, WooCommerce, Gravity Forms, etc. It has translation options and a user & SEO-friendly, well-optimized structure perfect for any beauty and skincare website.
6. SKT Skincare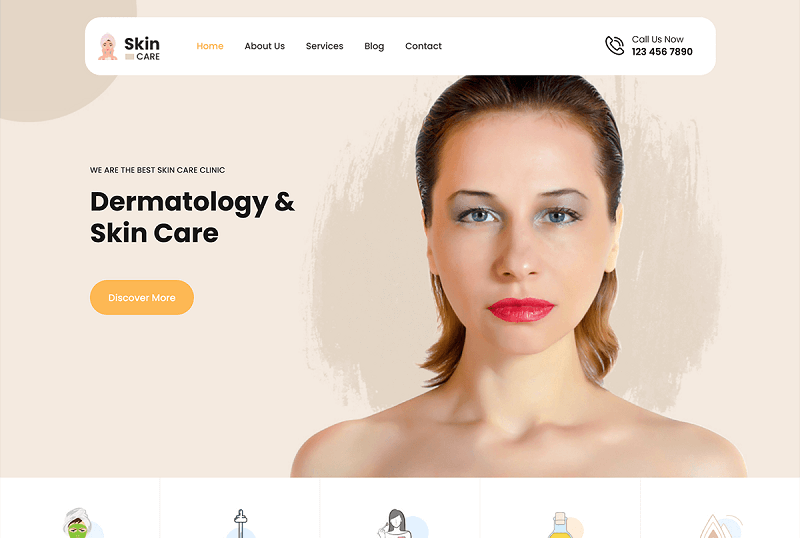 The SKT Skincare theme is a customizable WP theme packed with essential features and Homepage Sections to assist you in making all kinds of sites, such as Cosmetics Shops, Fashion Stores, Salon, Makeup, Skincare, Beauty Spa, Wellness, etc. Also, this splendid modern theme is SEO-optimized and has the option for the Gutenberg block editor. The SKT Skincare theme also has a theme customizer, homepage builder, and a user-friendly drag-and-drop interface. You can use the SKT Skincare theme to draw potential clients, generate leads, boost your conversion rate, and even write simple blogs related to fashion and skincare. Also, it has all-around features, including features for SEO, affiliate marketing, and a pleasant user experience, making it a perfect choice for you.
7. CRest Beauty Spa Lite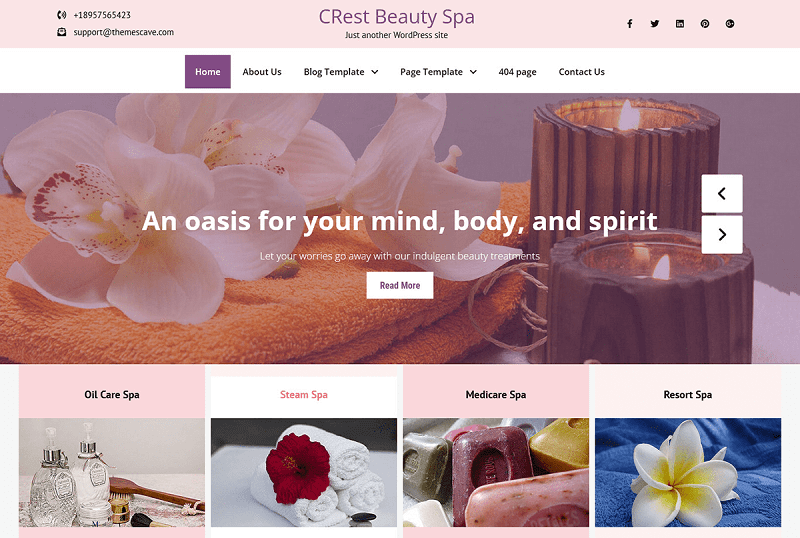 CRest Beauty Spa Lite is a clean and beautiful theme that can be translated into various languages. You can use the CRest Beauty Spa Lite theme to create business and personal sites like Beauty Salon Spa, makeup parlors, beauty centers, luxury spas, etc. Besides this, CRest Beauty Spa Lite is based on a responsive design where every component is precisely configured for flawless work on all screens. Furthermore, the CRest Beauty Spa Lite theme comes with an exhaustive range of options for layout editing, including styling, icons, menus, breadcrumbs, featured sliders, widgets, etc. With CRest Beauty Spa Lite, you will get flexibility and a customizable option suitable for making your ideal makeover site.
Conclusion:
I hope this article helped you in finding the right fitting theme for you. Please lets us know if these themes are worth trying or not. Also, if you have encountered any other theme that fitting for this collection; please tell us in the comment box below.