Instagram is a popular platform for sharing not just your personal stuff only but also professional work, skills, and services that your company provides. Also, it can be a good option to show photos and images from your accounts on your WP site. Thanks to these Instagram WordPress themes, getting that content into your WP site has never been more effortless.
WP themes in this collection let you add your own Instagram section or Instagram links to display your content from your Instagram account to your WP site. Also, some themes are compatible with IG plugins allowing you to insert Instagram photo feeds into your posts and pages or displayed them in the sidebar or footer areas of your site through a widget. So if you want themes with Instagram sections or Instagram plugin compatibility, here are 7 WP themes you can try!
List Of Best Free Instagram WordPress Themes
1. Organic Farm
2. Travelbee
3. CoachPress Lite
4. Construction Hub
5. Petite Stories
6. Mobile Repair Shop
7. Realestate Agent
Also Read:
Best Free Mega Menu WordPress Plugins
Best Free Gaming WordPress Themes
1. Organic Farm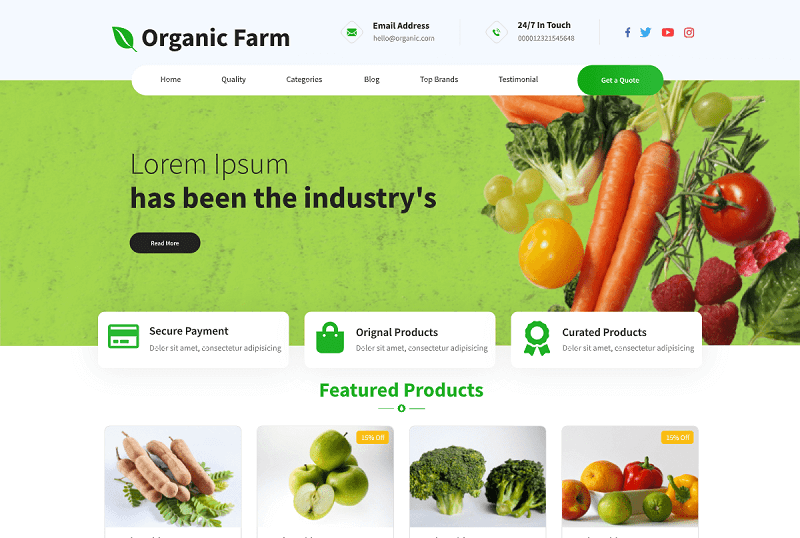 The Organic Farm theme offers a responsive grid-style multipurpose theme design with many editing options. This WP theme is also compatible with page builders and allows you to add social links to share your product and post on social media channels such as Instagram, Facebook, etc. The Organic Farm theme is designed especially for Organic Compounds, Organic Vegetable Farming, Grocery Stores, Organic Health Supplements websites, etc., that require an engaging landing page. Furthermore, the Organic Farm theme has a core and Gutenverse plugin support to mix design elements. Besides this, the Organic Farm theme is built-ready, so you can use it as it is. Also, it makes your experience smoother as it is based on the bootstrap framework for more comfort.
2. Travelbee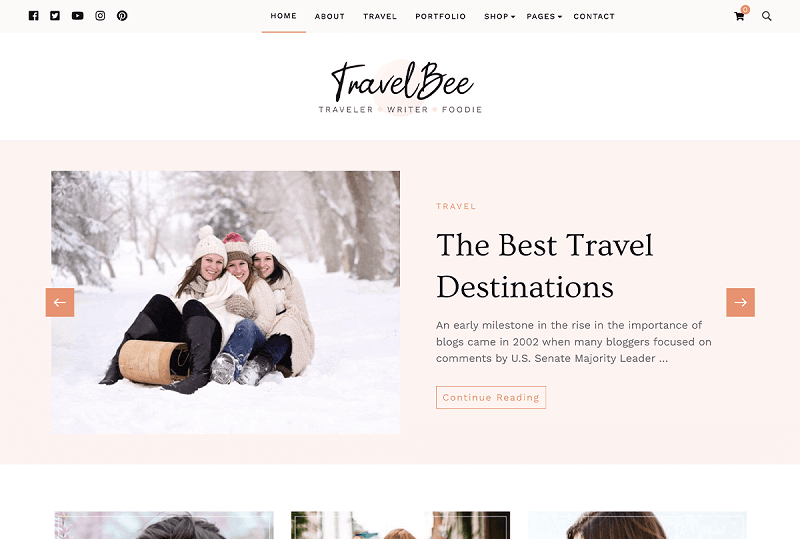 If you want an Instagram-ready free travel blog WP theme, then the Travelbee theme is perfect for you. It is a feature-rich, easy-to-use, built-ready theme perfect for blog-related website owners to share their work on Instagram. Travelbee is WooCommerce and RTL compatible and allows you to add an Instagram section to flaunt your Instagram posts. Besides this, the Travelbee WP theme offers many valuable features like Advance Typography, Unlimited Colors, 1000+ Google Fonts, Schema Friendly, and many more. Also, you customize this theme however you want to create beautiful landing pages, blogs, and other websites for your business.
3. CoachPress Lite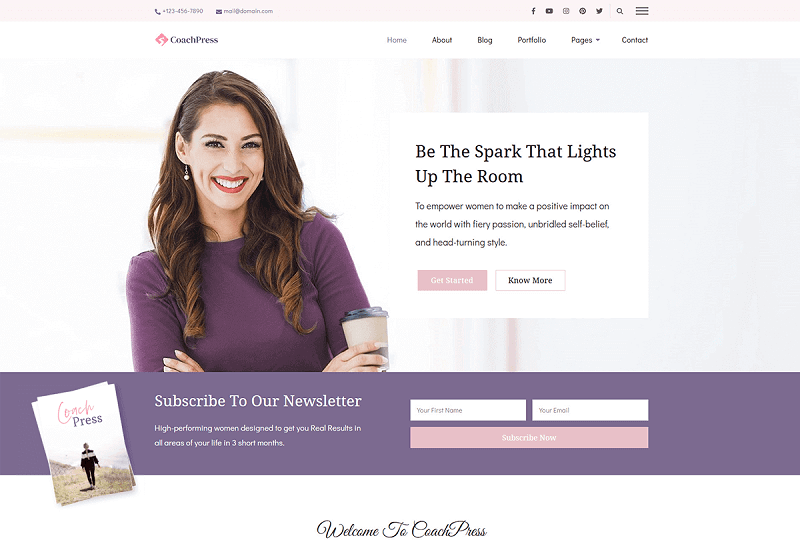 The CoachPress Lite theme is next on our list of the best free Instagram WordPress Themes. It is also an elegant WP theme By Blossom Themes. Furthermore, you can use this WP theme for Coaches, Therapists, Speakers, Entrepreneurs, etc. The CoachPress Lite theme is responsive and has sections like Banner with Call-to-Action, Newsletter, About, Testimonials, and Instagram to display your work and allow you to establish your online presence. The CoachPress Lite theme is also compatible with the Gutenverse plugins. Its highlighted features are Translation-ready, Schema-friendly, SEO-friendly code, RTL script ready, etc. The CoachPress Lite theme is a highly recommended theme on our list, and its drag-and-drop feature lets you build your site without typing any codes.
4. Construction Hub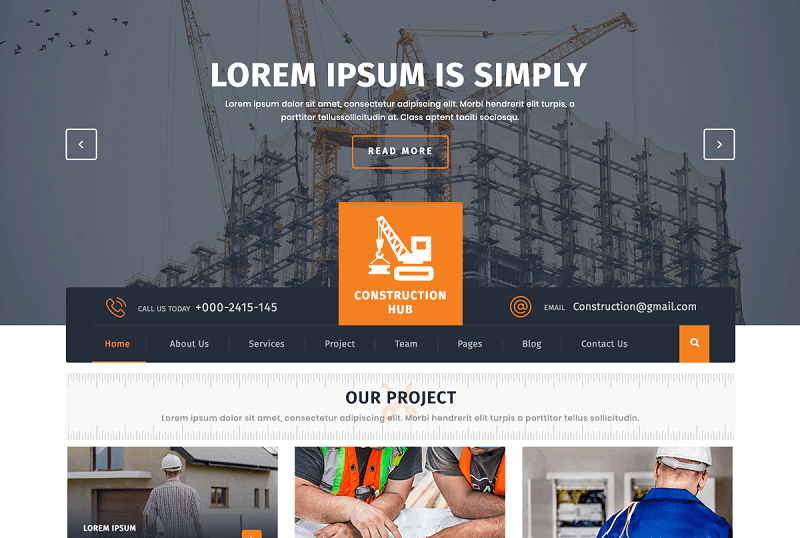 Construction Hub is perfect for developing creative sites with edge-cutting performance and flexibility. This WP theme offers Social Media Integrated, Google Fonts, Unlimited Domains, and many more. Besides this, the Construction Hub theme also has improved theme layouts, and you will get unlimited options in the color palette to paint your site in any color you want. Also, you can use the Construction Hub theme to design super fast and clean Woocommerce shops, Painting and Decorating, Construction services, and other related websites. The amazing thing about this theme is it does not require any coding skills to do these customizations, and everything you get is custom-made to deliver the best performance.
5. Petite Stories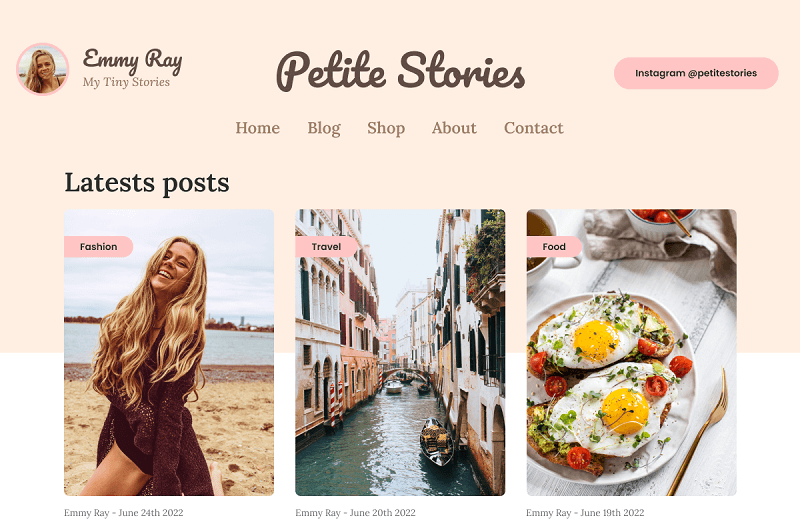 Another classic and responsive blog theme with the Instagram section on our list Petite Stories is a WP blog theme. This minimal theme features 2 Header Layouts, 5 Blog Layouts, and 3 Different Featured Image Modes that are easy to set up and use. Its clean, modern blog design makes it the perfect fit for starting simple lifestyle, fashion, travel, review, and blog sites. Furthermore, the Petite Stories theme is Compliant with GDPR and Translation-ready and provides a Navigation top right button, Detailed Documentation, and Display Placeholder Featured Images. Without many bells and whistles, the Petite Stories theme gives you an easy way to build your blogging site and try out the new Full WP Site Editing experience.
6. Mobile Repair Shop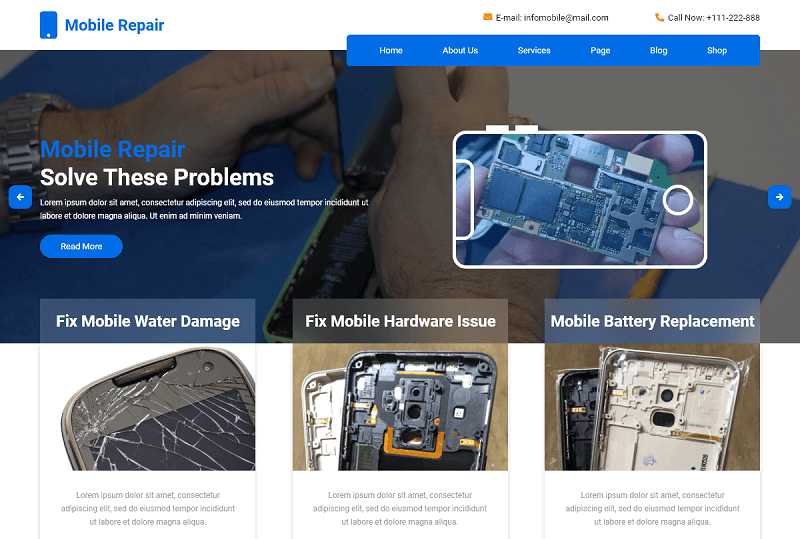 A perfect WordPress theme you can use to create a stunning website for Appliance Repair, Computer Service, IT services, Mobile Phone Repair, Repairs Service, and tech assistance website. The Mobile Repair Shop theme is a grid design-based responsive WP theme that delivers lots of valuable features. Furthermore, it has a page builder with a slider revolution Instagram Feed and Facebook basic grid and a fast way to create content with a drag n drop interface. Also, the Mobile Repair Shop theme includes eCommerce, Editor Style, Featured Images, Flexible Header, Custom Background, Colors, Header, Logo, Menu, etc., to help you build your business site in no time.
7. Realestate Agent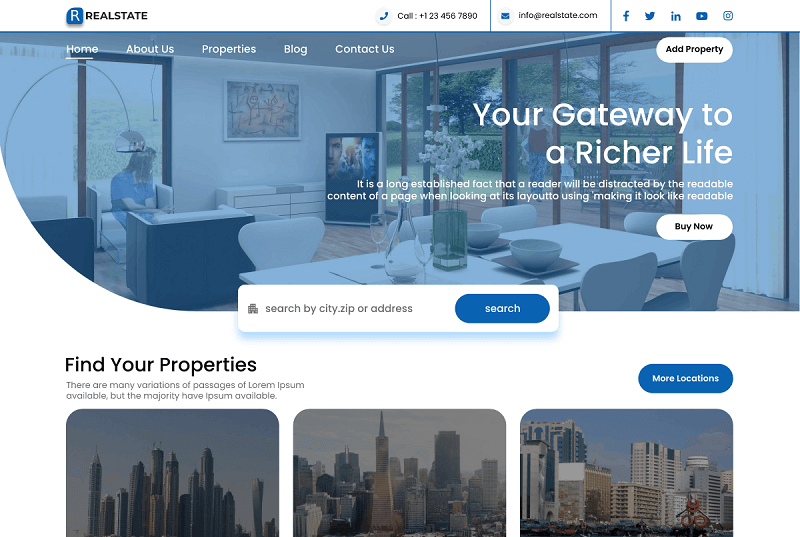 Excellent features of the Realestate Agent theme are Custom Colors, Custom Header, Custom Logo, Custom Menu, Featured Images, Footer Widgets, Left Sidebar, One Column, RTL Language Support, Theme Options, etc. Also, you can use Realestate Agent to build all kinds of real estate related sites, including individual and corporate ones. Besides this, the Realestate Agent theme lets you start making your content with a spontaneous drag-and-drop interface using blocks and lets you do site customization for a unique look. With clean typography and responsive layout, Realestate Agent helps in building your site top-notch and distinct from competitors. So give the Realestate Agent theme a try!
Conclusion:
Instagram is a Major social sharing platform for sharing professional work, skills, images, videos, and services that an individual or company offers. So, try these Instagram WordPress themes from our collection to add an Instagram section or Instagram links to your site to show your content or feeds from your Instagram accounts.