If you are looking for Limousine Service WordPress Themes to build appealing Limousines, Limo Rides, or other cab Service websites, here are a few themes you can try!
These themes help you build a limousine or luxury car providing a platform for various occasions, celebrations, or even special nights out to make beautiful memories. Also, these limo themes offer you a compelling way to showcase your limousine or other luxury car service business on your site and help promote your business on various social channels.
All the themes in this collection are popular on the market and give everything you need to create highly streamlined Limousine service sites. So, sit tight, and let's find you the best-suited limo theme for your business together!
List Of Best Free Limousine Service WordPress Themes
1. Kingcabs
2. VW Car Rental
3. Car Service
4. Taxi Booking
5. Bike Rental Shop
6. Luxury Travel
7. ClubCar
Also, Read:
Best Free WordPress Themes with Sliders
Best Free Magazine WordPress Themes
1. Kingcabs
Kingcabs is a responsive and eye-catching WP Theme. This free WP medical theme is best for Limousines, Limo services, Car hire companies, Taxis, Transport services, and related websites. Furthermore, the Kingcabs theme has a well-designed limo fleet layout, and it is tested on all famous browsers and resolutions.
Besides this, this limousine service theme offers beautiful booking forms and a variety of options such as Feature slideshow,3rd party plugin support, WooCommerce compatibility, etc. Kingcabs allows customers and site visitors to book limos online, and the form will send an email to you. And since it is built on a customizer, you can customize almost every theme setting with a live preview option.
2. VW Car Rental
The VW Car Rental Theme is a resourceful mobile-ready design based on the Bootstrap Framework. This versatile theme has been specially designed for Cab Services, Rental Businesses, Garages, Automobile Showrooms, Car Leasing Services, Outstations Taxi, Limousine Services, etc. Its online space lets you professionally exhibit your limo services to visitors for a long-lasting first impression.
This limousine theme provides Theme options, Cross-browser compatibility, Full Width Template, Theme panel options, Post-meta options, etc. In addition to this, its features are focused on cab services and rental businesses. The theme also lets you customize various theme aspects, including homepage sliders, typography, and a call-to-action (CTA) button in just a few clicks.
3. Car Service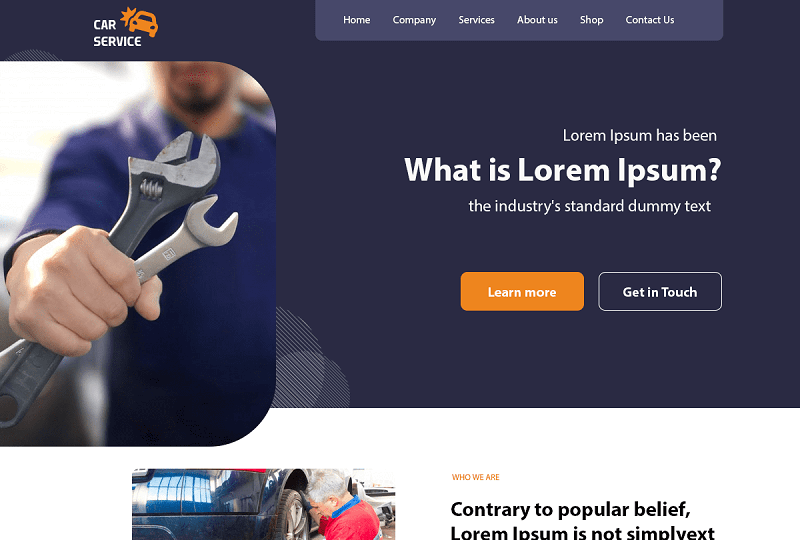 Car Service is a beautifully crafted WordPress theme that gives your site a professional and well-organized touch. This theme can accommodate services related to auto parts, car rental, auto dealers, yacht rental, limousines, etc. The Car Service theme offers a very eye-catching, elegant, and modern layout that your visitors and clients will like.
Also, this powerful limousine WordPress theme is compatible with popular WordPress plugins and has options for adding shortcodes to enhance the functionality of the site. Furthermore, Car Service also offers different pre-build blog design layouts, optimized codes, and social media options to embed all your social pages on your site.
4. Taxi Booking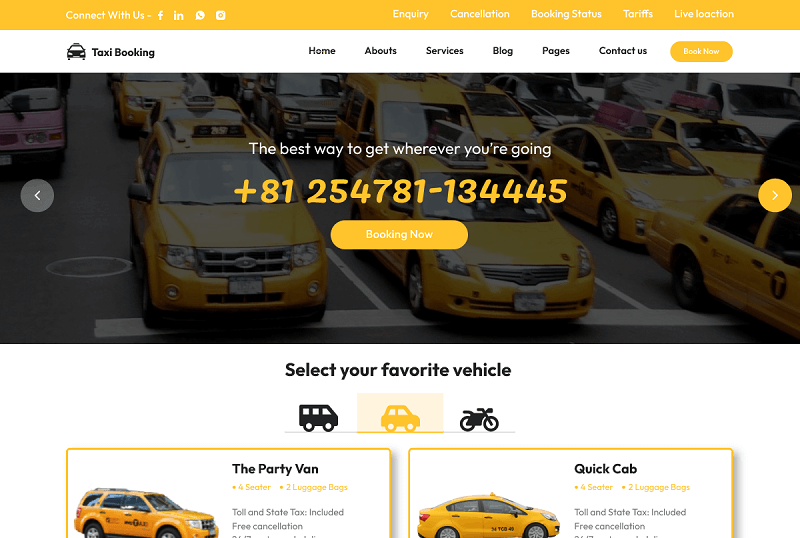 If you want an all-rounder theme for your limousine services or related business, the Taxi Booking theme is excellent for you! It is a Bootstrap-based highly-responsive WP theme. This feature-packed theme gives your site a professional look and effectively displays crucial business information. Furthermore, it is also compatible with WooCommerce, Jetpack, WP Super Cache, etc.
This theme has a retina-ready blog layout to deliver a seamless display of blog posts without cropping your content. Taxi Booking features several sections such as the Slider Section, Call to Action Section, Services Section, etc. In addition, Taxi Booking also has SEO-optimized code and comes with Social media icons in the design to provide you with more options for promotion.
5. Bike Rental Shop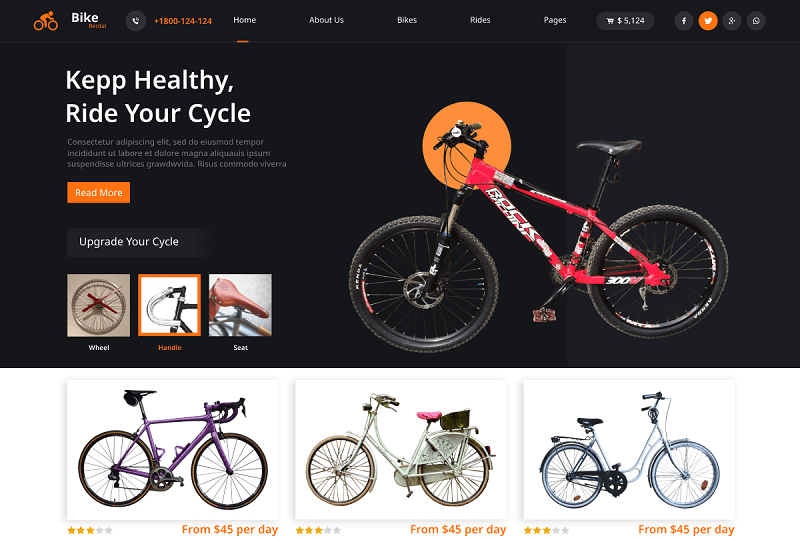 Bike Rental Shop is the next following limousine service theme on our list. It is a Bootstrap-based highly customizable theme that you can set up in a few minutes using demo content. Furthermore, this captivating limousine theme also has cross-browser compatibility, a CTA Banner, appealing typography, shortcode compatibility, and many more features, enabling you to expand the site functionality.
Besides this, the Bike Rental Shop theme has a responsive layout optimized for bike shops, limousine services, auto vehicles, riding clothes & accessories, and other businesses related to these fields. Bike Rental Shop is also helpful if you want a theme that helps you grow site functionalities and showcase your services to the world.
6. Luxury Travel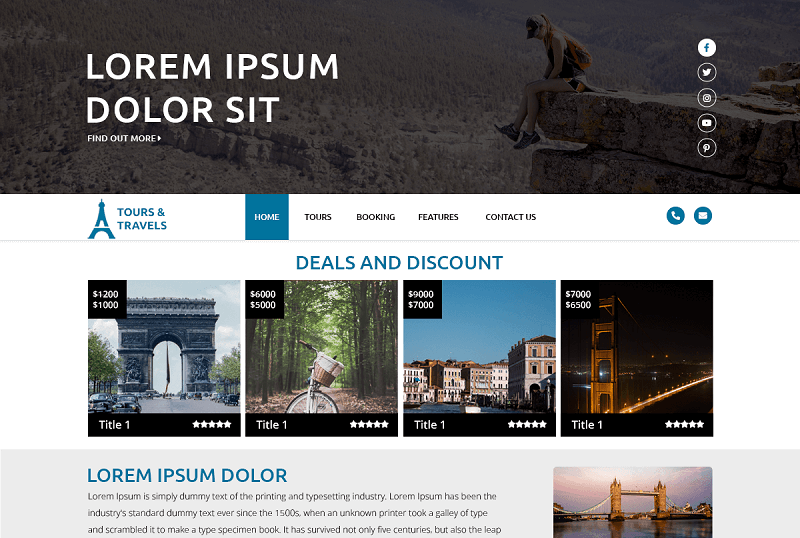 Luxury Travel is a classy, SEO-friendly WP theme developed by Themes Glance for versatile businesses such as Tour operators, Video bloggers, Adventure traveling, Travel companies, Limousine businesses, etc. Also, it has an interactive UI and minimalist design with many wonderful animated elements. The Luxury Travel theme also utilizes clean, optimized codes and a Call to action button to redirect visitors to take action.
Furthermore, Luxury Travel offers an eye-catching design and lots of marvelous features, including a one-click demo import for the home section. Besides this, the Luxury Travel theme is developed with a lightweight approach which helps in giving faster page load time. The Luxury Travel theme also has WooCommerce features for eCommerce sites and shopping stores.
7. ClubCar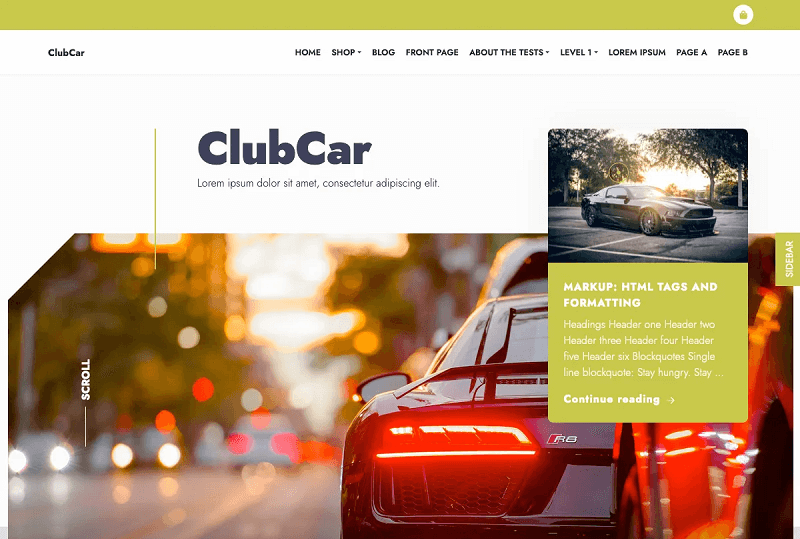 ClubCar is perfect for Writers, Webshop, Blogs, Magazines, and Personal sites related to cars and the automobile sector. Besides this, this modern, minimal WooCommerce WP theme has many flexible personalization options, Modern web standards, and Homepage Sections. Also, you can use this splendid theme for a portfolio or business website.
In addition to this, the ClubCar theme supplies quality theme resources and innovative design. Also, Its remarkable design is excellent for building an organized web existence. Besides this, the ClubCar theme has the option to add your social media links and theme features, making it engaging at the same time.
Conclusion:
Limousine Service WordPress Themes is the ultimate database of limousines and drivers for hire. They are business assets for limousine services, taxis, car rentals, and related businesses worldwide! You can also use these themes as portfolio themes for your limo business. So, install and try them all!