Compelling logistics management is crucial for the success of any online ordering business, regardless of its scale. Also, it is crucial to establish a reliable logistics management system to guarantee seamless and timely deliveries. Thanks to these Logistics WordPress themes, you can easily control your supply chain, maintain your suppliers accountable, and render detailed reports on orders and shipments.
By utilizing these themes, you'll be able to gain key insights into the utilization of supplies, identify areas for improvement, and avoid costly losses resulting from weather-related delays or customer dissatisfaction. In the world of eCommerce, WordPress Logistics themes are the most popular type of theme. If you're in search of such themes, we've compiled a list of the 7 Best free options for you to try.
List Of Best Free Logistics WordPress Themes
1. Logistic Transport
2. Moving Company Lite
3. Movers and Packers
4. Logistic Cargo Trucking
5. Warehouse Cargo
6. VW Transport Cargo
7. Wheelify
Also, Read:
Best Free WordPress Dating Themes
Best Free WordPress Marketplace Themes
1. Logistic Transport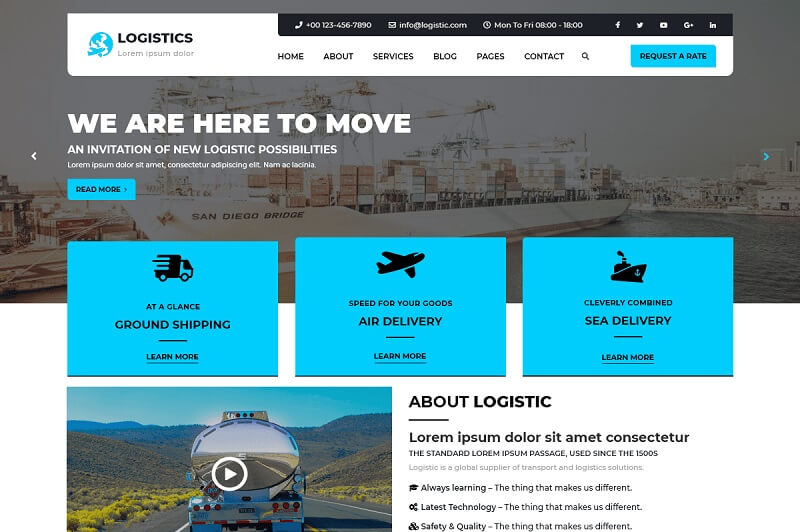 Logistics Transport is a free, reliable theme solution for all your logistics business needs. It is a robust, beautiful transport and logistics WP theme with a professional and interactive design for all kinds of transport and logistics-related websites. You can build sites for Transportation Companies, Packers and Movers, Logistic Services, Courier Services, and more with the Logistics Transport theme.
Furthermore, the Logistics Transport theme gives you performance and a range of options to design your logistics business site. These options include sticky-post, personalization options, footer widgets, full-width templates, social media options, and many more. In addition, the theme lets you translate your site pages into different languages, such as Arabic, German, Spanish, Russian, Chinese, and more.
2. Moving Company Lite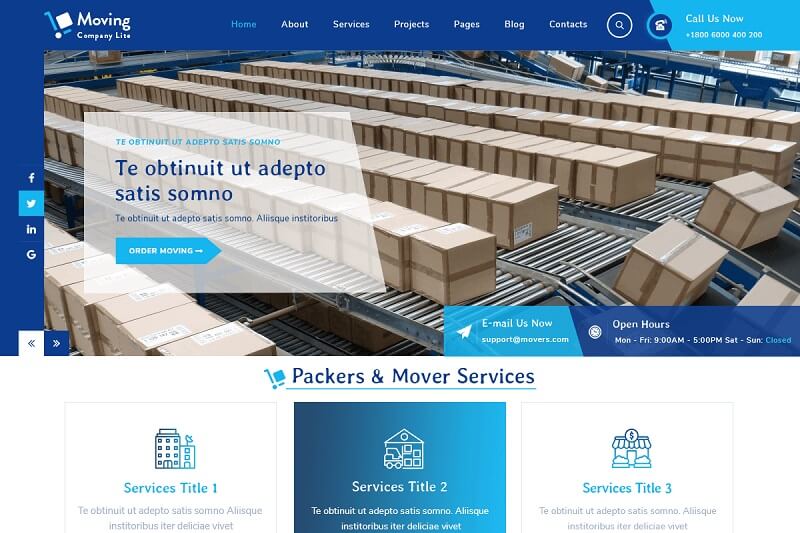 The Moving Company Lite theme is a business-oriented WP theme for logistics-related businesses. It is ideal for movers and packers-related businesses, including Packaging Business, House Mover, Logistics booking, Goods Carrier and Tracking Services, and websites related to logistics businesses. Furthermore, the theme is interactive and has animation and shortcodes, making it a good option for building modern-day logistics websites.
Besides this, this beautifully crafted theme is packed with exclusive features like CTA Buttons, Custom Backgrounds, Post Formats, Footer Widgets, Grid Layout, Social Media Icons, Clean Codes, Customization Options, and much more. In addition, the Moving Company Lite theme is Translation and Retina-ready to deliver visitors a splendid user experience in their native languages.
3. Movers and Packers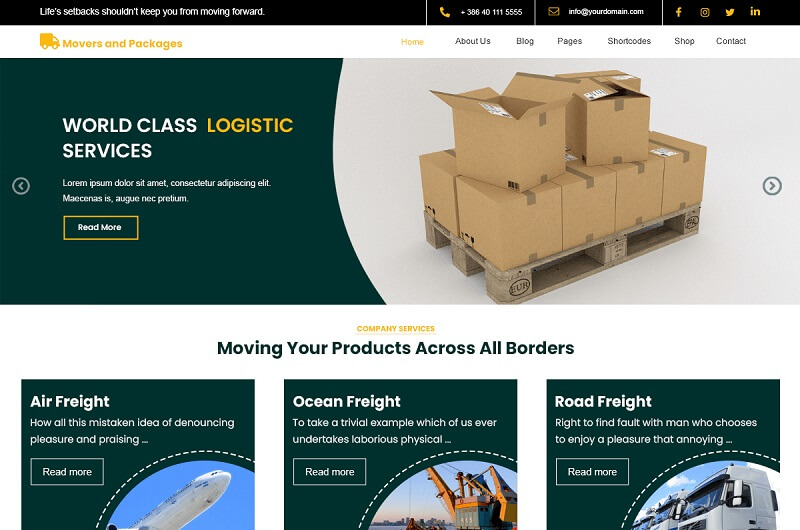 This splendid logistic theme is designed with a minimal style and has an elegant look to make your site looks captivating. The Movers and Packers is a modern-day theme with a user-friendly UI and clean and retina-ready design to show the various aspects of the business. With the Movers and Packers theme, you can create sites without the need for coding skills. Also, this stunning WP theme is responsive, making your site fit perfectly on all screens and devices regardless of screen resolution.
In addition, the Movers and Packers theme gives you a professional design with many personalization options. And it has a beautiful Banner, Team & Testimonial sections, and more. Besides this, this theme has many translation options and support for RTL languages.
4. Logistic Cargo Trucking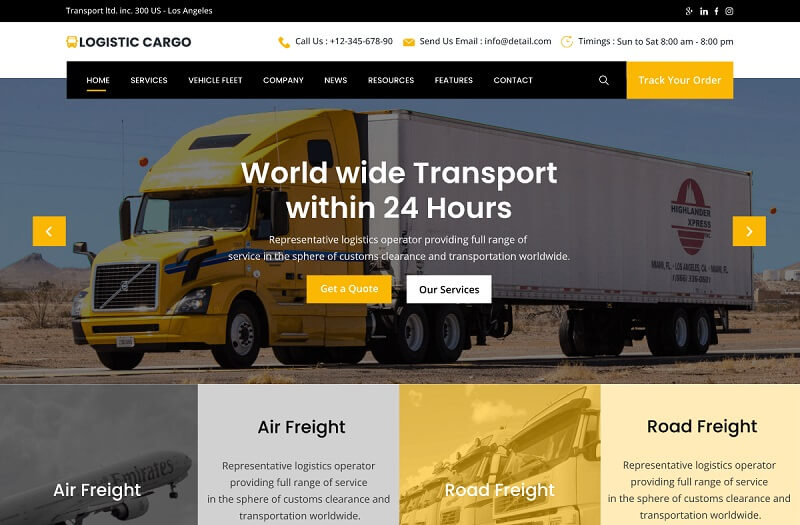 Developed by Misbah WP, the logistic Cargo Trucking theme gives you all essential Theme and WooCommerce features. It is SEO-friendly with a drag-and-drop page builder, which is fully customizable. You can use this logistics theme for sites that deal in business, such as Transportation, Delivery, Logistics, or any shipping company.
Also, the logistic Cargo Trucking theme has several personalization options that let you change the Background Image, Color, and more. Furthermore, this beautiful logistics theme has various popular plugins such as Woocommerce, Contact Form 7, etc. In addition, this theme gives you an advanced admin panel and different sections. You can engage traffic on your site and promote your work with this responsive, customizable theme.
5. Warehouse Cargo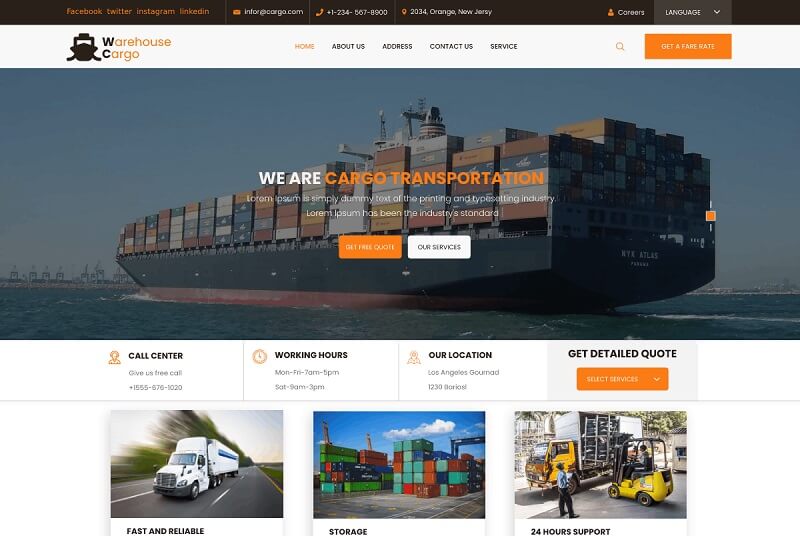 You can use the Warehouse Cargo theme to create sites for shipping companies, transportation, global logistics, trucking and packaging services, logistics warehouse, and more. Also, this theme supports RTL languages and lets users translate your site and inner pages into any language. The footing of this theme is on the bootstrap framework, making it user-friendly and robust.
Furthermore, you will get a professional and modern design that helps to advertise your logistics services to potential clients. Besides this, It provides appealing home page options, clean codes, and faster page load times. And with shortcodes, you can add more functionality to your site. So, try the Warehouse Cargo theme for your logistics-related business site.
6. VW Transport Cargo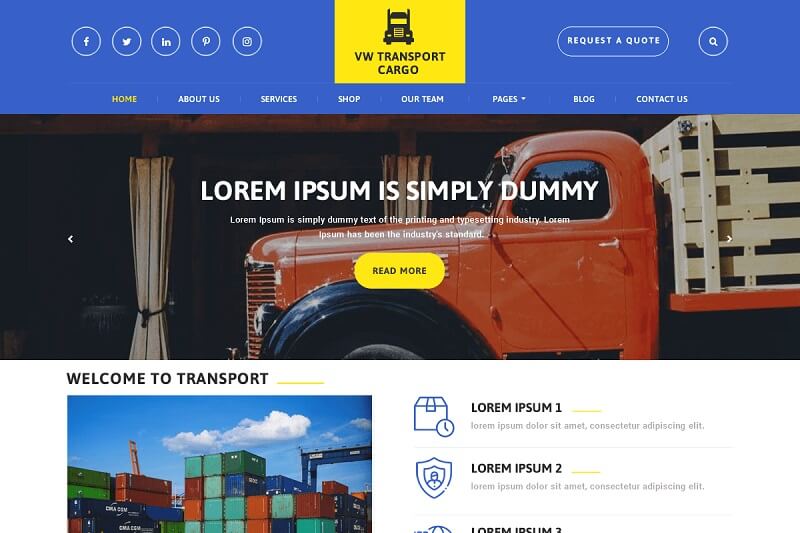 The VW Transport Cargo theme is a feature-rich, elegant, and flexible transportation WP theme. Its unique layout vividly and most convincingly displays the services of a logistics business. This stunning WP is excellent for Transport companies, Cab Services, Logistics Companies, Shipping Companies, Warehouses, and all businesses related to transportation and logistics.
Besides this, you will get 3 Types of layout designs, all-browser compatible, Featured Images, multilingual, Editor Style, CTA Buttons, Theme Options, Retina ready, and more. The VW Transport Cargo theme focuses on giving optimized rank in search engine results and has embedded social media icons to advertise your logistic services.
7. Wheelify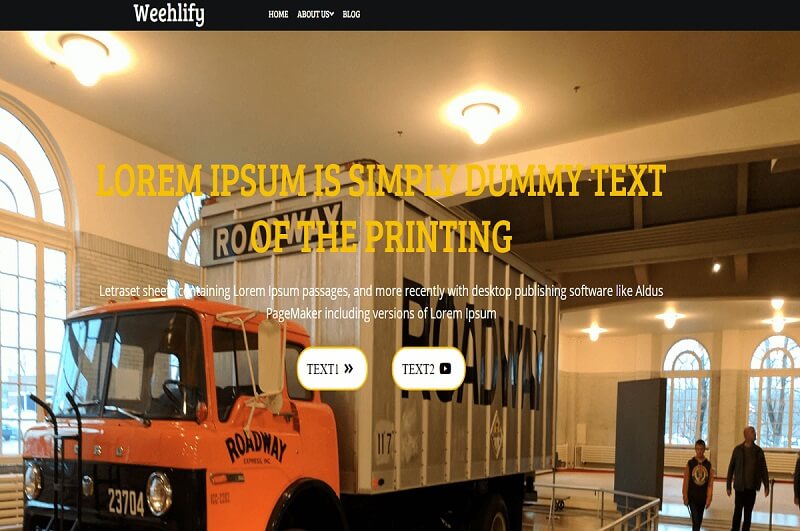 The last theme we have added to our list is the Wheelify theme. It is a flexible, robust WP theme designed for businesses specializing in Transportation and Logistics. The Wheelify theme is a user-friendly, easy-to-use free transport theme with compatibility with the latest version of WordPress and popular plugins.
You can use the Wheelify theme to create stunning websites for businesses related to transport, shipping, movers, packers, logistics, warehousing, etc. Furthermore, the Wheelify WP theme gives you many features, including Custom Background, Logo, Menu, Featured Images, Threaded Comments, and Compatibility with WooCommerce.
Conclusion:
Logistics WordPress themes are vital in providing your business with the skills it needs to manage logistics. A good WordPress theme will make it easier for you to keep track of all tasks and customers, which allows you to save time. Also, these WordPress themes are designed to help you create professional-looking and functional websites to form an important part as a component of supply chain management.