Are you looking for a WordPress theme that exactly or almost closely imitates the design of Pinterest? If yes, here are the 7 Best Free Pinterest WordPress Themes you can try!
Pinterest has become one of the most popular image-sharing social media networks nowadays. General users and marketers both love this platform. Also, this platform uses a distinctive pinboard design that looks appealing and is very user-friendly. With the help of Pinterest WordPress themes, you can also make your site look just like Pinterest through their beautiful designs without needing any coding knowledge.
However, many Pinterest WordPress Themes are available online that let you add a Masonry grid style to your website. But finding the right one can be very confusing sometimes. You can try this Pinterest collection of themes to build your very own unique Pinterest-style websites.
List Of Best Free Pinterest WordPress Themes
1. Catch Box
2. Blossom Pin
3. Garfunkel
4. Elegant Pink
5. SuevaFree
6. Masonry Blog
7. Sampression Lite
Also Read:
Best Free Mobile-friendly WordPress Themes
Best Free Digital Download WordPress Themes
1. Catch Box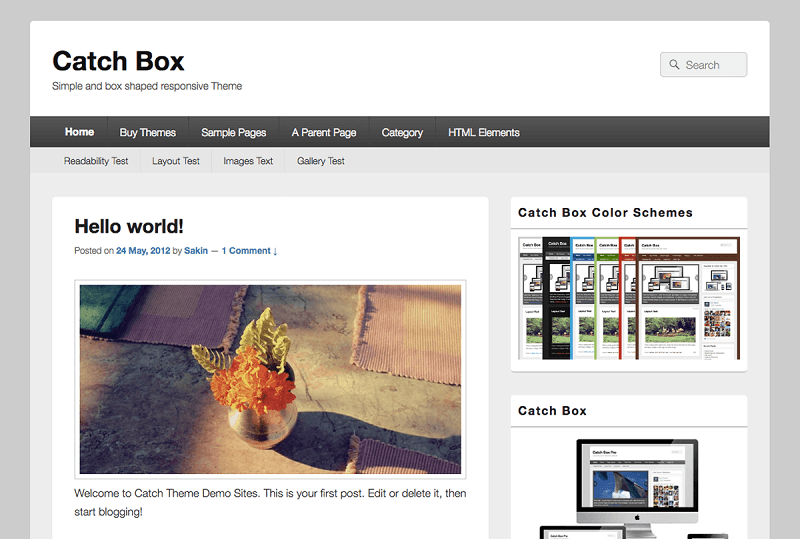 Catch Box is a lightweight, box-shaped, and adaptable WP theme that lets you build attractive Pinterest-related personal and professional sites. It is designed and developed for bloggers. This feature-packed blog theme is based on HTML5, CSS3, and Responsive Web Design and SEO to ensure the best ranks on search engines. Furthermore, Catch Box offers intriguing and powerful features such as Custom Menus (Primary, Secondary, and Footer menus), Theme Options, Featured Sliders, WooCommerce Settings, Webmaster Tools, Header Background Color/Image, Translation Ready, etc. The Catch Box gives you options to add Social Links to Facebook, Twitter, RSS, Linkedin, Pinterest, etc., to share your posts with your social media followers.
2. Blossom Pin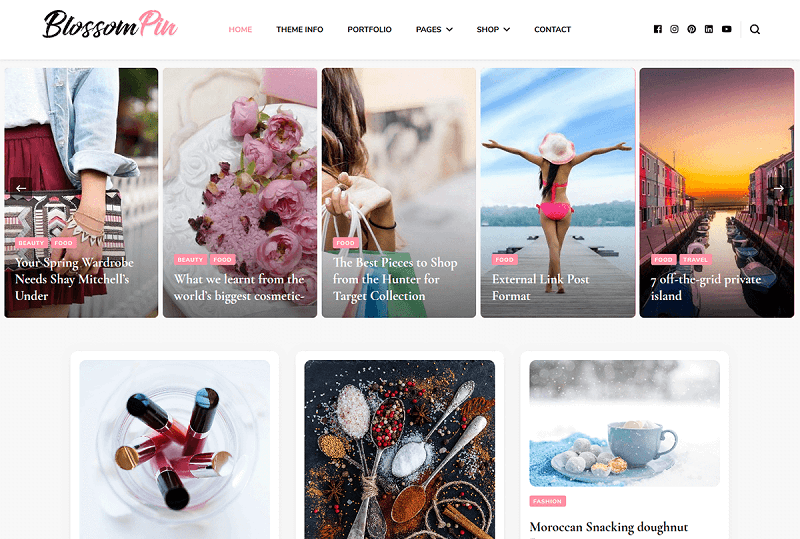 Blossom Pin is another Pinterest-style free feminine, customizable WP theme. This Pinterest theme is suitable for Beauty, Fashion, Lifestyle, Fitness, Travel, Dating/relationships, etc. You can use the Blossom Pin theme for eCommerce-related websites since its has WooCommerce compatibility. The Blossom Pin theme has an appealing look and a wide range of options that let you change its layout to a certain extent. In addition, Blossom Pin provides features such as Site Logo, Cross Browser Compatibility, Theme Color, Translation ready, Footer Settings, and much more. Also, it has Pinterest Pin it button on images. So, try Blossom Pin, and you will love it!
3. Garfunkel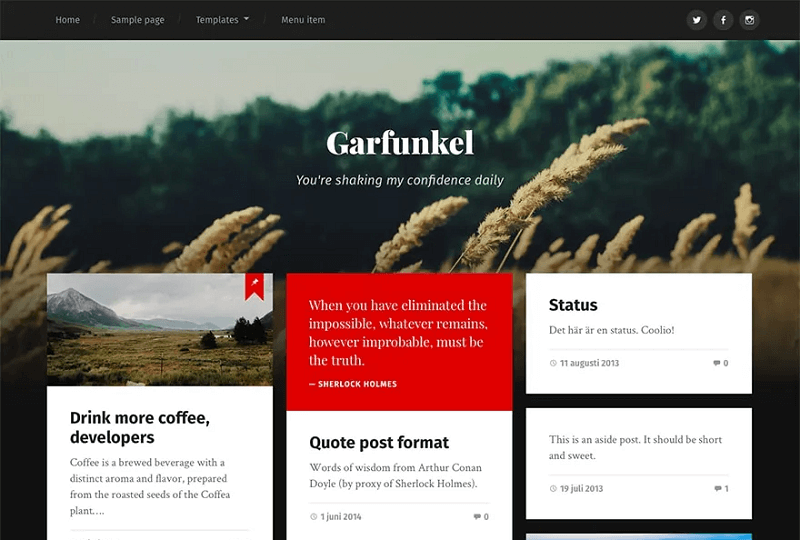 This Bootstrap framework-based theme gives your WP sites a modern, stylish, and Pinterest-style look. Garfunkel is best for all types of blog and magazine-related sites. With Garfunkel, you can design and develop your Pinterest site with a Masonry layout. And you can further customize it with the Block Editor and custom widgets in any way you like to showcase your distinctive style. Garfunkel also has a retina-ready design and support for six post formats. Also, Garfunkel is SEO-optimized and lets your visitors add and see recent comments with thumbnails and avatars. Moreover, this splendid Pinterest-style WP theme offers intriguing features like an archive page template, a full-width Page template, Jetpack Infinite Scroll support, editor styles, Background Color Options, etc.
4. Elegant Pink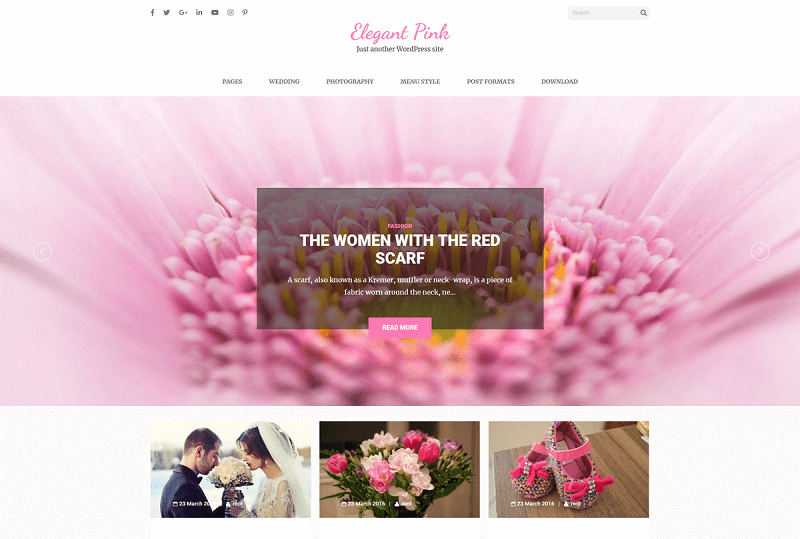 Elegant Pink is a versatile masonry-based, Elegant, WP theme. It is a highly customizable theme that lets you change the different aspects of it with a live preview option. The Elegant Pink WP theme offers a beautiful Pinterest-style layout, making it ideal for blogs, portfolios, magazines, and other creative sites. This splendid WP theme has several custom sections and Infinite Scroll to give your layout a stylish and modern look. Furthermore, Elegant Pink offers features such as Site Logo, Custom CSS, Footer Widget Area, Social Links, and many more. Although this theme focuses on blog niches, you can also use this WP theme for businesses and personal sites.
5. SuevaFree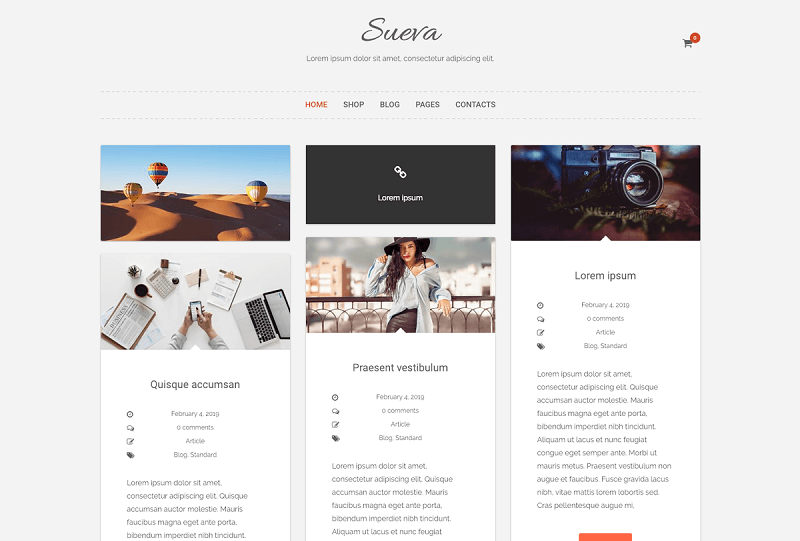 The Next emerging theme in our list of best free Pinterest WordPress themes is SuevaFree. It is a feature-packed, minimal WordPress blog theme that gives your site a clean, minimal layout and one-page section, perfect for managing your blogs for personal, lifestyle, travel, food, and fashion. SuevaFree lets you customize and manage many Sections from the WordPress Theme Customizer. This theme also gives you access to features like colors and typography settings, Pinterest integration, translation-ready, Logos, Cross-Browser Compatibility, Gutenberg Editor Compatibility, Full-Width Template, Retina-Ready, and RTL writing style support. SuevaFree also lets you manage your site through 5 Different header layouts, 2 Different layouts for the sidebar, the footer section, and much more.
6. Masonry Blog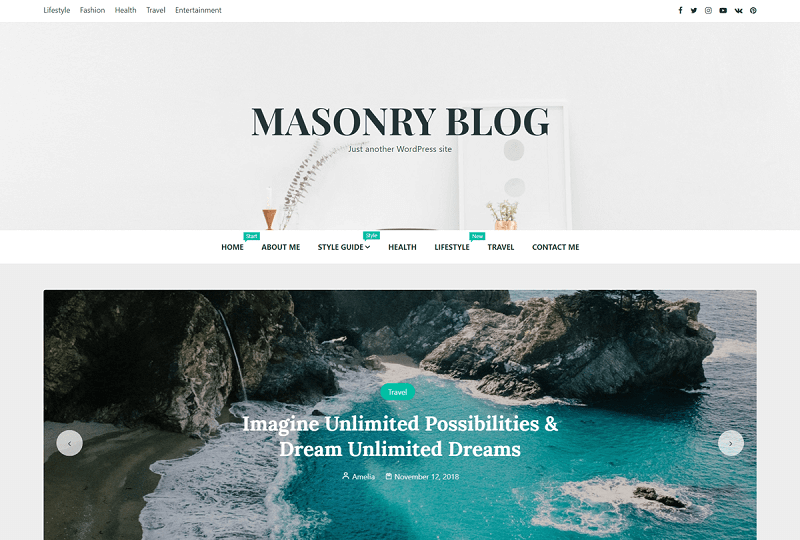 This minimalist Pinterest-style WP theme is best for all kinds of blogs, portfolios, Magazines, and publishing sites. Masonry Blog is designed for websites such as Pinterest, Unsplash, Tumblr, etc., especially. Bootstrap framework-based, this Pinterest-style theme offers plenty of features, user-friendly design, and customization options. Besides this, Masonry Blog includes features like Image lazy load, infinite scroll loading, custom widgets, Social Media Sharing options, and Translation-ready. Masonry Blog also features Intriguing layouts for showcasing your work, services, and achievements. The Masonry Blog WP theme is very easy to use, SEO-friendly, and well-suited for new bloggers and writers.
7. Sampression Lite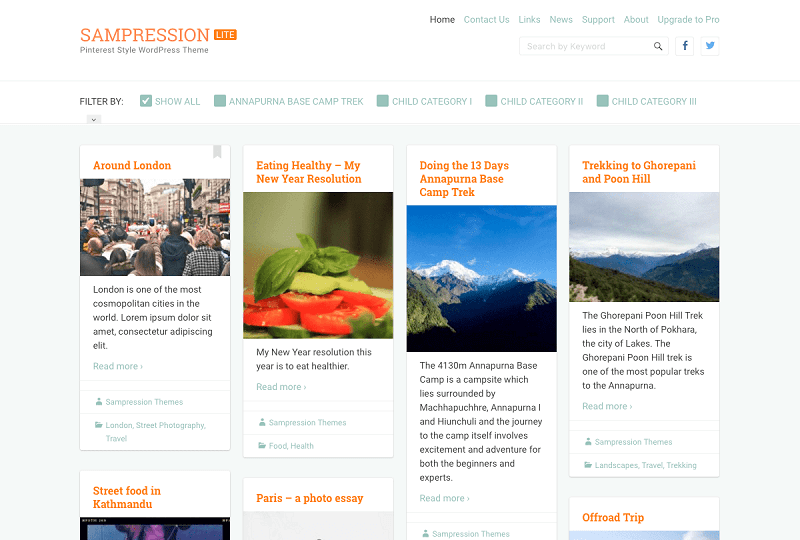 We are closing our list of the best free Pinterest WordPress themes with the Sampression Lite theme with an attractive masonry blog layout. It is a Pinterest-inspired lightweight WP theme. Furthermore, the Sampression Lite theme offers a wide range of options for doing all kinds of customization, including customizing to blog's header, menus, widgets, background color, and images. It speed-optimized WP blog theme with translation-ready features which allow you the freedom of expressing your thoughts in your native language. In addition, Sampression Lite provides Post Meta Options and Inbuilt Social Share. Also, developers of the Sampression Lite theme made all its pages SEO-friendly to boost your search engine rankings.
Conclusion:
All the themes in this collection are hand-picked by experts. They not just offer a beautiful Pinterest-style design but also help you arrange your content in a beautiful card style easily and make your site look just like Pinterest. And the Best thing about them, you still get access to all the powerful features of WordPress! Isn't that great? So, why are you still hitting your head; just pick one of these themes and start creating your Pinterest-style project!