Thinking about travel booking WordPress themes? There are a ton of travel booking WP themes out there, but the best one for you depends on your goals and who you're targeting. I know how overwhelming the process can be; if you're searching for the best one, it could take a while.
That's why we have put together this splendid travel booking theme collection that has great-looking and easy-to-use themes. Also, they let you improve your website for future bookings. Whether you want a booking site that caters to small or mid-size businesses or a pack of diverse travel booking themes to fit your requirements and budget, we have got you covered. Here are the top 7 high-quality Travel Booking WordPress Themes for you to try.
List Of Best Free Travel Booking WordPress Themes
1. Travel Tour
2. The Travel Booking
3. Travel Master
4. Tafri Travel
5. Blossom Travel
6. Travel Agency
7. Travel Booking Expert
Also, Read:
Best Free WordPress Themes For Programmers
Best Free Food Blog WordPress Themes
1. Travel Tour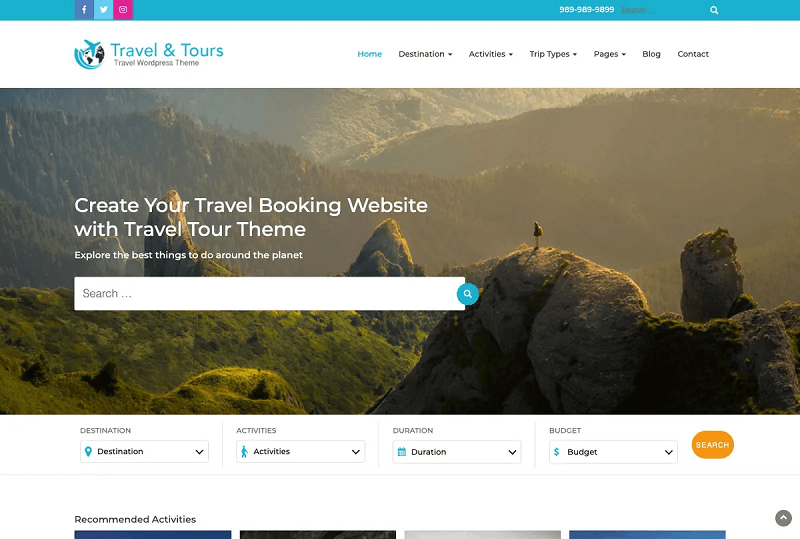 Travel Tour is a free WordPress Theme that caters specifically to travel and tour operators. Its foundation is the WP Travel WordPress Plugin, and it boasts a user-friendly interface, lightweight design, and the ability to be customized to your preferences. This theme is perfect for a wide range of travel-related purposes, including travel blogging, trekking, agency work, booking, hotel reservation, and more. It is well-suited for organizations of various sizes, from small businesses to large corporations. Additionally, the theme has a search engine optimized and Retina-ready design, ensuring that your website is displayed perfectly on every platform.
2. The Travel Booking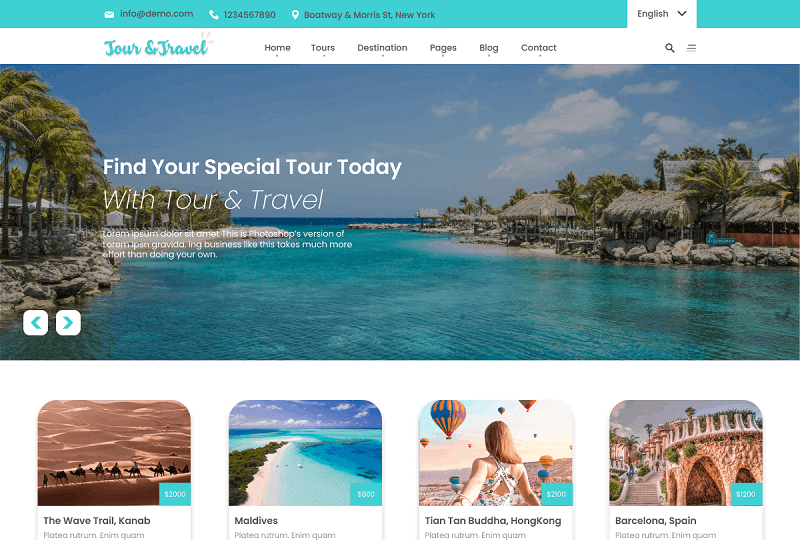 The Travel Booking theme is a versatile and creative theme that is perfect for travel agencies, resorts, and holiday businesses. With compatibility with several WordPress plugins like WooCommerce and Contact Form 7, the theme is well-written, optimized, and secure, making it an SEO-friendly option that helps your website rank faster on major search engines. Additionally, The Travel Booking theme features a responsive layout that's mobile-friendly and fits well on any device, and it is also translation-ready and offers numerous personalization options. And its professional and luxurious design certainly grabs the attention of visitors and sets your site apart from the competitors.
3. Travel Master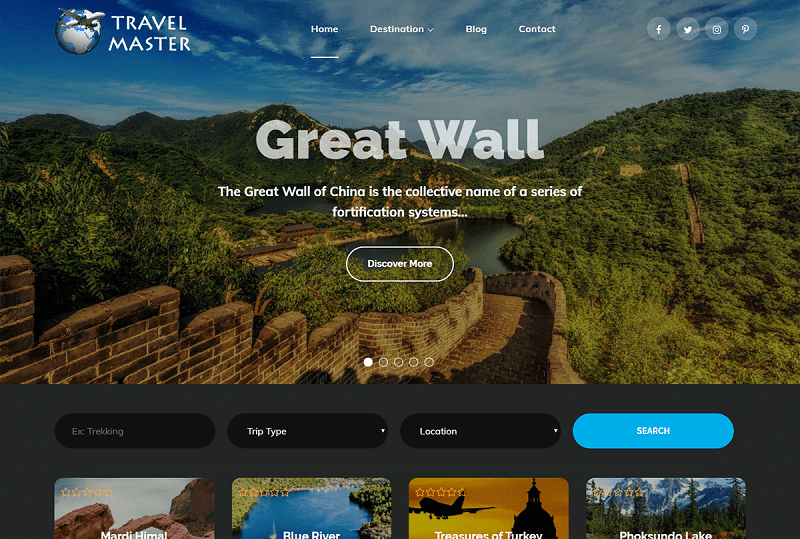 Travel Master is an exceptional WordPress theme created explicitly for travel agencies and tour operators, regardless of their size. This theme is also well-suited for travel agents and tour operators who focus on various types of tours, including day tours, tour packages, vacations, hiking and camping, city tours, cruise packages, and more. The theme comes with a robust admin panel, making it one of the most capable and resourceful WordPress themes available. With the help of customizer tools, you can easily modify the site to your liking. Whether you want to add or remove anything, change styles or logos, you can accomplish it with very little or no coding knowledge required.
4. Tafri Travel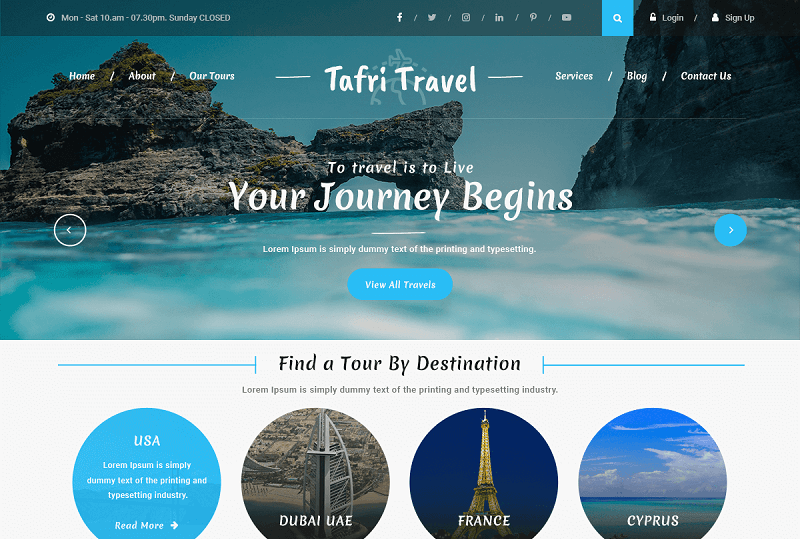 This free WordPress travel theme can be a valuable asset in designing a stunning, contemporary, and pristine website. Its features include a responsive layout, SEO-friendliness, Block Editor Styles, Custom Menu, and many more, which make it an outstanding choice. One of the best things about this theme is that you don't have to be a professional coder to use it effectively. It is user-friendly for both experienced coders and WordPress beginners. Additionally, it can be translated into Arabic, Chinese, French, German, and Spanish languages, making it more accessible to a more diverse audience.
5. Blossom Travel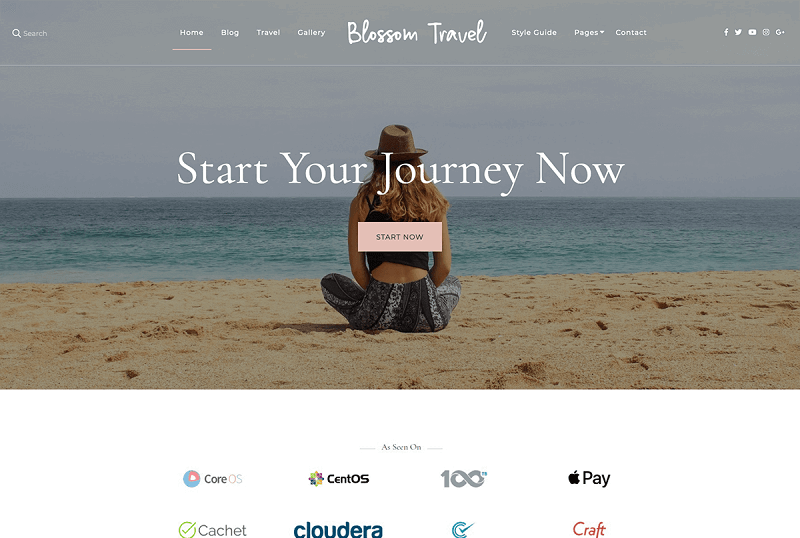 Blossom Travel is a free WordPress theme that enables you to create an array of blogs, including travel blogs, personal blogs, fashion blogs, beauty blogs, and more. It is fully responsive, meaning that your content will be accurately displayed on all devices. This theme features a creative design with an eye-catching color scheme that will entice your customers to return to your site. With multiple customization options, you can easily personalize your website according to your preferences. Blossom Travel also offers devoted sections for IG and Email Subscription to help you increase your followers and email list.
6. Travel Agency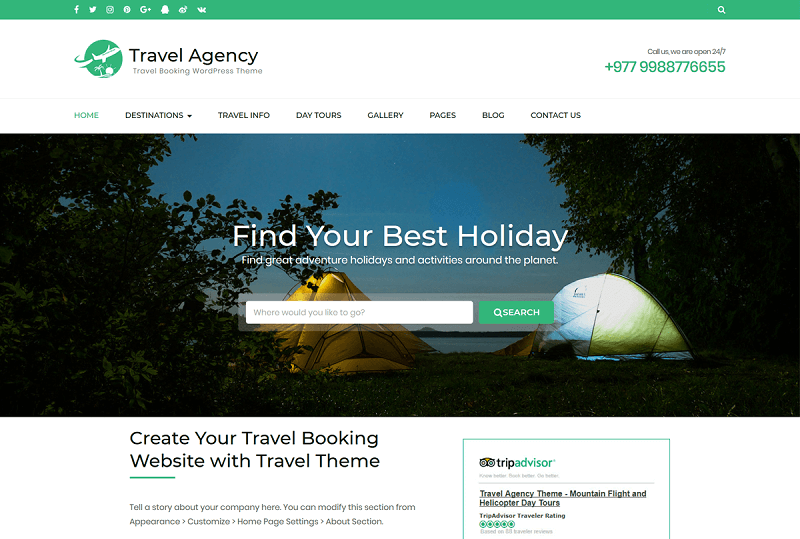 This next emerging theme enables you to create an online booking website for travel and tour operators, as well as companies. You can feature various travel activities, add trips, destinations, and trip types, highlight your specialties, and allow visitors to book trips easily. The theme's remarkable design, combined with modern CSS effects and animations, will transport your visitors on an exciting virtual trip. Travel Agency WP theme is improved for speed, translation-ready, SEO, and mobile-friendly. Not only for travel booking companies, but this theme is also suitable for various other purposes such as travel blogging, hotel, spa, bed and breakfast, luxury resorts, reservations, tour operators, tourism, transport, and car booking.
7. Travel Booking Expert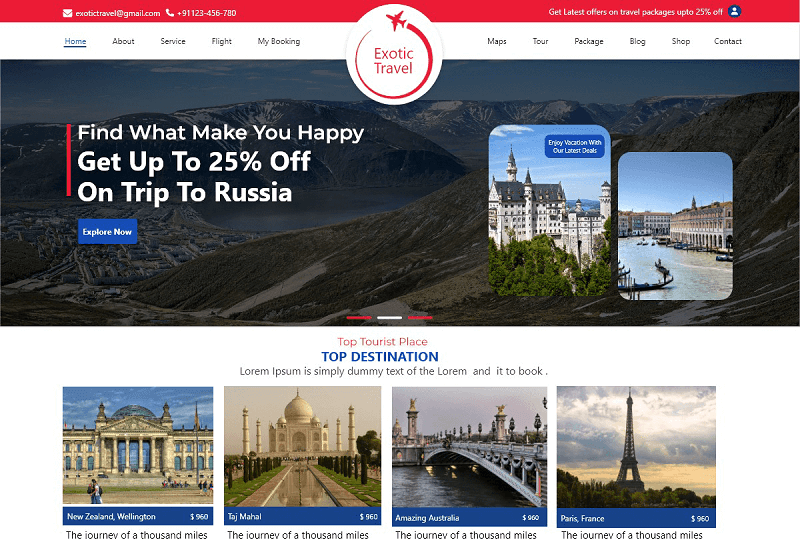 This specialized theme is designed specifically for travel and tour websites, as well as honeymoon package booking and adventure traveling. It is both fully responsive and customizable, making it easy to create a professional-looking website that accurately reflects your brand. Among its many features, the theme boasts integration with popular plugins such as WooCommerce and Contact Form 7, customizable booking and inquiry forms, and support for multimedia content like images and videos. In addition, the theme is optimized for SEO, ultimately increasing its visibility to potential customers. With the Travel Booking Expert WordPress theme, you'll have all the tools you need to stand out in a crowded travel market and attract new customers.
Conclusion:
If you run a site, you may already know that WordPress is a very useful tool for making your site look professional and easier to share your content with the world. That's why you will want to be sure that you are choosing a WordPress theme that has all the features you want or need. Our theme collection offers the best free booking themes with excellent features and functionalities for your travel business. So, try them, and I hope they will serve you the best!