A Splendid collection of the Best Free vCard WordPress themes for you to help create your online portfolio, resume, or digital business card website to find a new job or impress your potential employers.
A vCard theme is an excellent solution that helps you build your desired portfolio or resume website through its clean, nice design, bloat-free code, and responsive UI. These themes allow you to share information on your website with potential clients directly and efficiently and also help you convert your visitors into customers.
So, check them and compare their features to find your best match.
List Of Best Free vCard WordPress Themes
1. Vcard CV Resume
2. PortfolioX Dark
3. My Resume
4. Resumee
5. Creative One Page
6. Multipurpose Portfolio
7. Cvee
Also, Read:
Best Free NFT WordPress Themes
Best Free Amazon Affiliate WordPress Plugins
1. Vcard CV Resume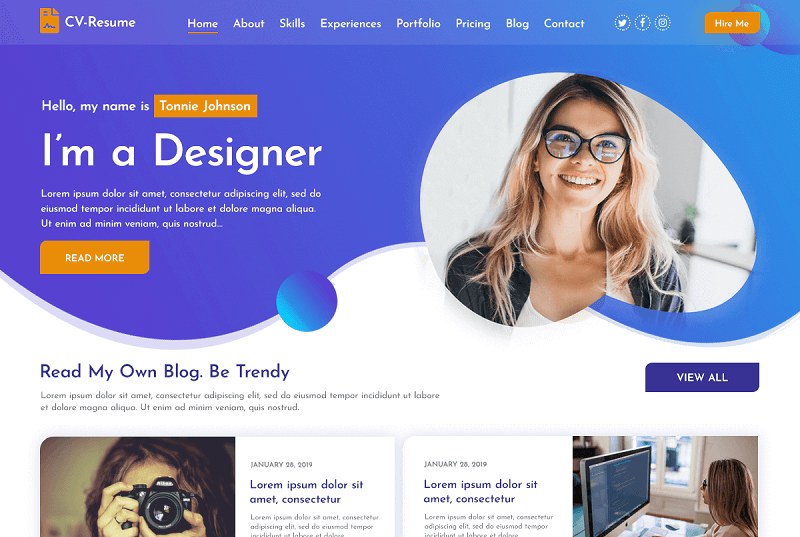 If you want to create a personal portfolio, showcase your skills, or build a professional resume or CV online, then Vcard CV Resume is all you need. It is a versatile and multifunctional theme that is perfect for anyone in any niche domain. Developed by VW Themes, this theme is both elegant and professional, with a minimalistic design that will make your site stand out. It is also user-friendly, with easy personalization options, and features interactive elements such as Call To Action Buttons that help make your site more engaging. Plus, with a Bootstrap-based design that loads quickly and clean, secure codes, you can be sure that your site will function smoothly under any circumstances. So why wait? Try the Vcard CV Resume theme and take your online portfolio to the next level!
2. PortfolioX Dark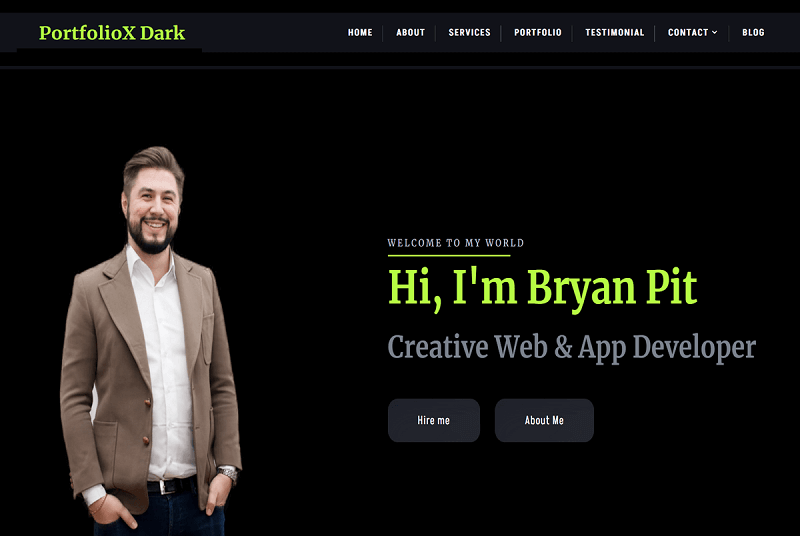 It is another splendid WordPress vCard theme that can effectively boost your site's traffic and contribute to business growth. This theme boasts a clean and flexible layout optimized for SEO, making it easier for conceivable clients to find your site and get you in touch. Additionally, it's powered by Elementor Page Builder, a highly intuitive tool that allows you to customize your website's layout and is fully widgetized, enabling you to showcase your services' pixel-perfect images and properties. PortfolioX Dark is an excellent choice for those who are just starting with a new website, as it offers plenty of free resources that you can take advantage of.
3. My Resume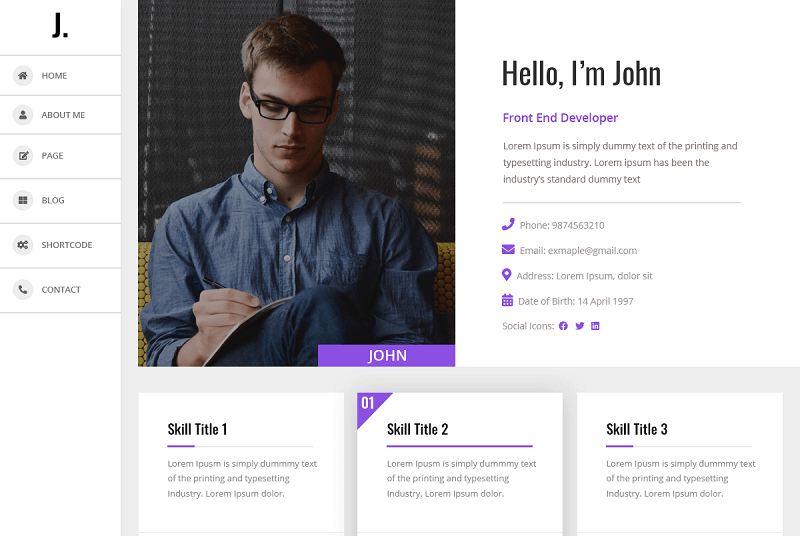 The Online CV Resume is a highly versatile theme that enables you to build a personalized site showcasing your professional history, skills, accomplishments, and experiences. Its sleek and modern design encloses a variety of customization options, ensuring that your website is uniquely tailored to your needs. Additionally, this theme is search engine optimized, multilingual, and features a responsive layout to ensure that your site looks great on any device. The clean coding and mobile-friendly design make for a seamless user experience, and the Call To Action button helps generate faster response times. Also, this theme is excellent for professionals in a wide range of fields, including trainers, photographers, developers, designers, writers, and more.
4. Resumee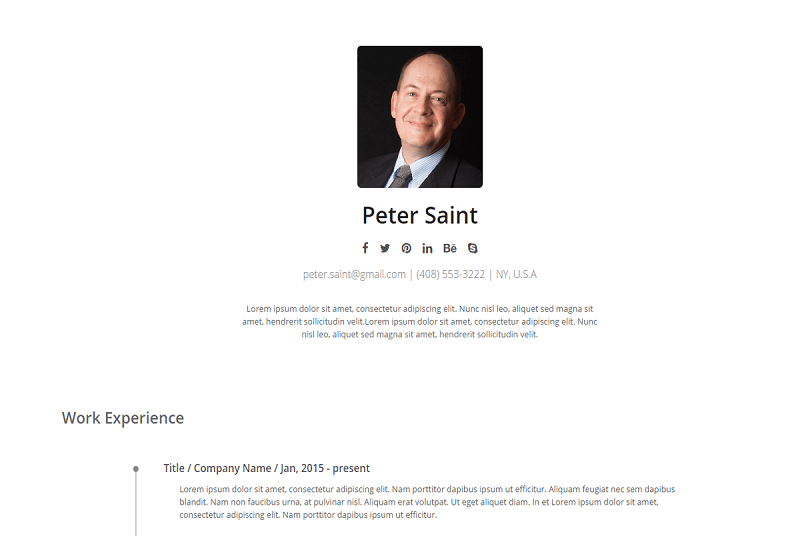 Resumee is an exceptional multipurpose vCard WordPress theme that is ideal for websites and businesses that require a CV, vCard, resume, or portfolio. The theme delivers a professional design that is enhanced with captivating colors and animation effects, which gives your site a modern and stylish look. One of the significant benefits of Resumee is that it allows you to integrate your site with various social media channels, which is essential for building brand awareness. Additionally, the theme enables you to showcase your work and services to your visitors, which can help you attract more customers and clients. This theme is also Gutenberg and WooCommerce ready, making it easy for users to manage their site's content and sell their products or services online.
5. Creative One Page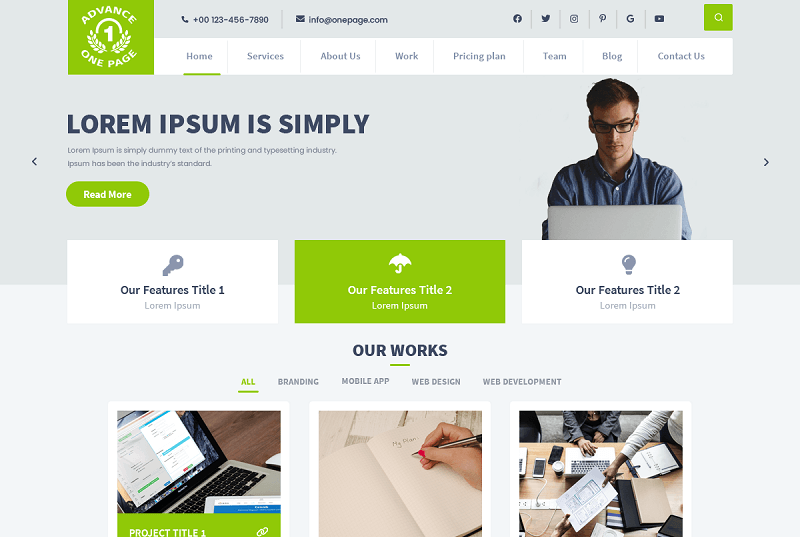 The Creative One Page WordPress theme is a highly versatile and dynamic platform built on the reliable Bootstrap framework. This impressive theme is perfect for a wide range of sites, from businesses and blogs to portfolios and online stores. Whether you're a freelancer, developer, artist, or marketing expert, this theme has got you covered. Also, you can enjoy faster page load times, while the responsive design and optimized codes ensure seamless performance on any device. Plus, the theme offers customizable options for colors, typography, logos, tagline, etc. You'll also benefit from a Call To Action Button (CTA) to help boost conversion rates. Overall, Creative One Page is a top-tier vCard WordPress theme that delivers exceptional value and performance for all your online needs.
6. Multipurpose Portfolio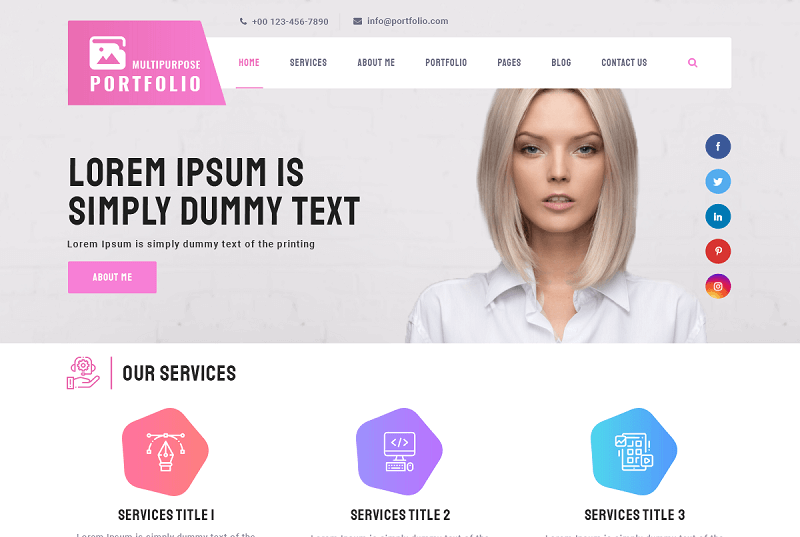 This adaptable portfolio theme is perfect for a range of individuals and businesses, including digital agencies, creative portfolios, content creators, vCards, freelancers, photographers, and design studios. Furthermore, Multipurpose Portfolio offers a professional and organized way to showcase your work, with stylish and modern looks, a variety of layout options, customization options, featured content, typography choices, a full-width template, breadcrumbs, and more. It also boasts crucial features like clean code, styling options, and a call to action button, making it SEO-friendly and perfect for anyone looking to deliver their work in the best possible light.
7. Cvee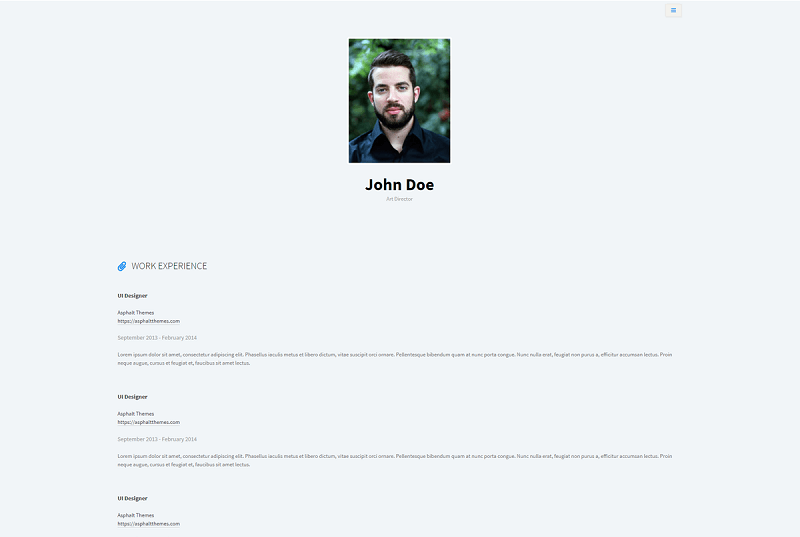 Cvee is a versatile WordPress theme that is well-suited for a variety of online professional needs, including CVs, business cards, portfolios, and vCards. This modern and stylish theme features an eye-catching layout and an interactive interface that makes it easy for visitors to navigate your site. In addition, Cvee comes with social media icons and CTA buttons that can help drive clicks and generate leads. The theme boasts a full-width layout and easy logo upload, ensuring that your site's design is both seamless and attractive. Furthermore, it has been thoroughly tested to meet WordPress coding standards and is Gutenberg-ready, boasting clean and bloat-free code.
Conclusion:
vCard WordPress Themes is created for businesses, personal websites, and others. They are the best multipurpose vCard themes with a beautiful design and easy-to-use admin panel, as well as retina-ready support. Also, they have many features that help you build your own resume site faster without any budget limits or constraints.