If you are running an online Wellness center, you should know how a WP site can impact your online business significantly. Whether you are preparing to get your wellness site or have an existing online wellness center website, you can make or customize it much quicker and effectively with the help of ready-made Wellness WordPress Themes.
Also, an attractive site will help you promote your health & beauty product, wellness center, or services on the internet. With that in mind, we have brought you this collection of the Best Free Wellness WordPress Themes for achieving the desired outcomes and getting your job done quickly and effortlessly. So, explore and try them for your wellness center.
List Of Best Free Wellness WordPress Themes
1. Wellness
2. Hantus
3. Namaha
4. Wellness Coach Lite
5. SpaBiz
6. Weight Loss
7. Waterlava
Also, Read:
Best Free WordPress Themes with Sliders
Best Free Bootstrap WordPress Themes
1. Wellness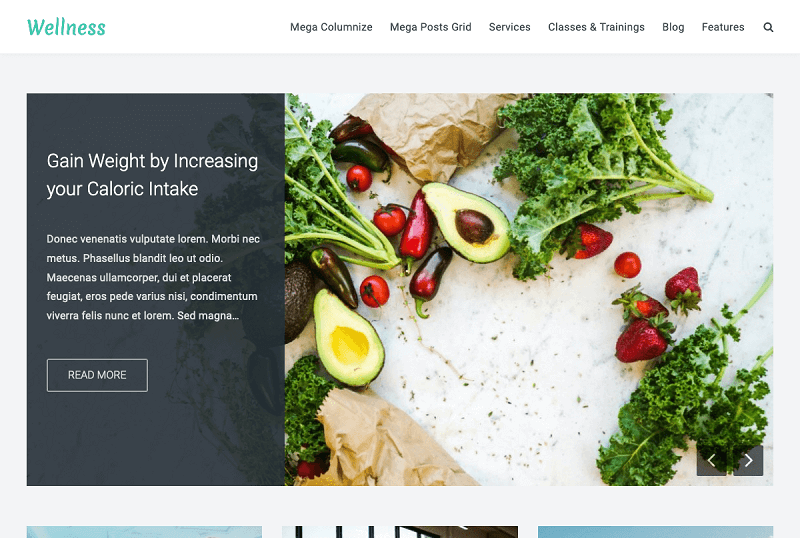 It is a multipurpose WordPress wellness theme with dynamic features to quickly and easily design a Health, Fitness, and Wellness website. The Wellness theme is entirely page builder and customizer-based, so you can easily personalize almost every element, update, and view changes in real-time. Furthermore, the Wellness theme is fully widgetized and has a Built-in Color Scheme, Header manager, and Featured Post sliders so that you can set up your site. The Theme design is also suitable for creating photography, business, corporate, blogging, and personal websites. Besides this, the Wellness theme has 6 Built-in widgets such as Classes & Training listings, Recent Posts, Services Listings, Social Icons, etc.
2. Hantus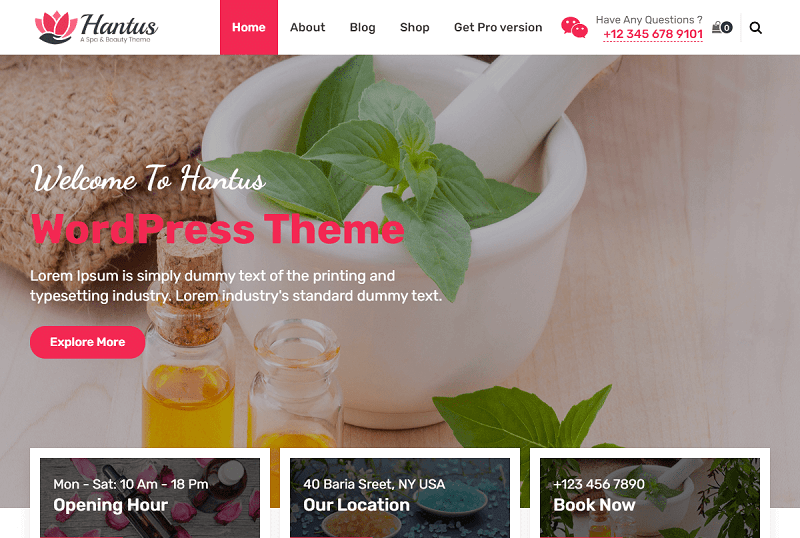 If you want an elegant and modern WordPress theme for more than just a wellness site, then the Hantus WP theme is excellent. Hantus is an innovative, spa and wellness center-focused WordPress theme you can use for other businesses like Hairdressing, Ayurvedic, Manicures, Makeup, Detox, etc., with little customization. Furthermore, the Hantus theme is Bootstrap framework and Elementor based, so you can easily add or subtract design elements in the site using drag and drop. In addition, the theme gives you options like a Header Image, Sidebar Page Layout, Blog Page, Custom Background, Custom Colors, Custom Menu, Editor Style, Footer Widgets, Full Width Template, Grid Layout, Sticky Post, Threaded Comments, and more.
3. Namaha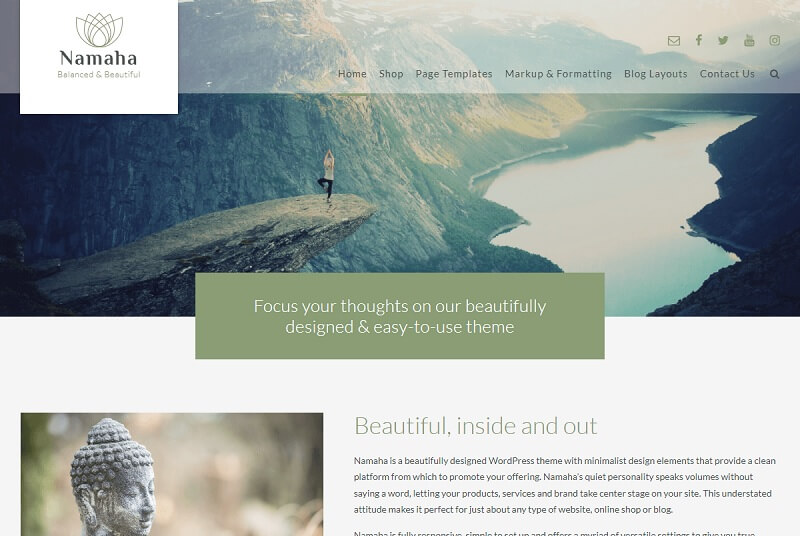 Namaha is a Balanced and Beautifully developed WordPress theme that features a clean, responsive, resourceful design. Also, the Namaha theme provides users with an accessible, clean interface and platform to promote your service and offering. This captivating wellness theme also has beautiful typography and a spacious white layout that speaks volumes without saying a word. In addition to this, you will also get detailed theme documentation and demos. You can also use the Namaha theme as an online shopping or blogging site, particularly in the yoga, health, nutritionist, and wellness sites. The Namaha theme also lets you take your products, services, and brand to center stage on your site.
4. Wellness Coach Lite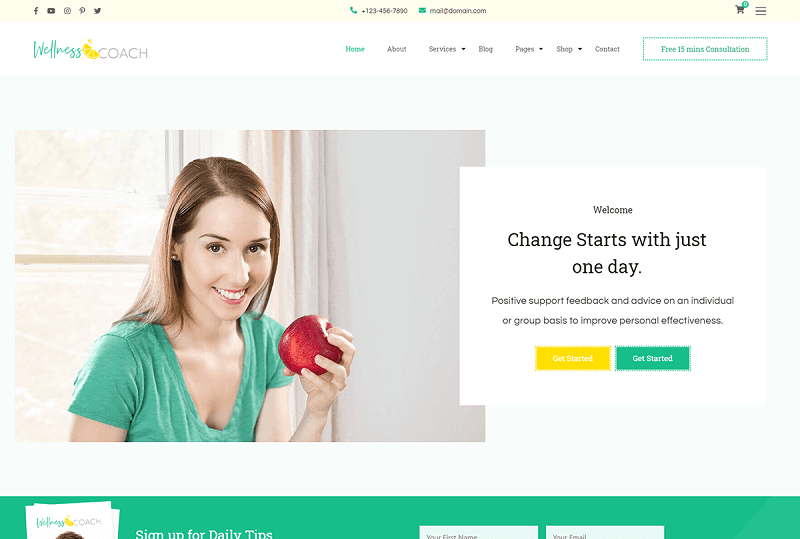 Wellness Coach Lite is a clean and powerful WordPress lead-generating theme that offers many valuable options for health coaching, wellness, startup, mentor sites, etc. These options include 22 Customizable Widgets, Footer Menu, Custom Site Logo with Size Control, Typography Control, Customizable Banner Options, and many more. You will also get exclusive sections such as Banner with Call-to-Action, Newsletter, About, Services, Testimonials, and Instagram to showcase your work and services and get more leads. Besides this, the Wellness Coach Lite theme is retina-ready, translation-ready, Schema-friendly, and RTL script-ready and has a responsive design. And this theme layout and features make the Wellness Coach Lite theme a powerful WordPress theme. It also works flawlessly with LMS plugins such as LearnDash and TutorLMS.
5. SpaBiz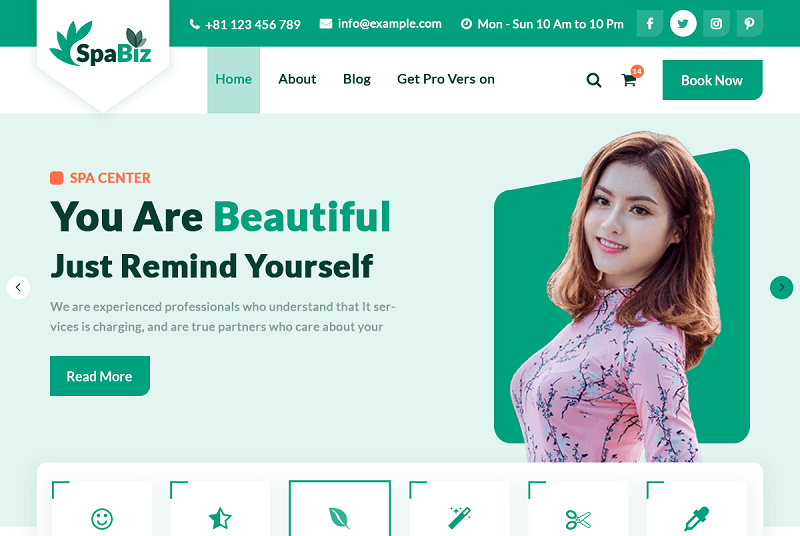 The SpaBiz is an excellent solution for all Beauty Salon & Massage Parlours, Wellness spas, and cosmetic shop sites. It is developed by Burger Software and has a modern, responsive design with theme options to customize the theme. Furthermore, you can easily make customization the Background, Colors, Header, Menu, Left Sidebar, Right Sidebar, etc. Besides this, the theme has notable features like Featured Image Header, Featured Images, Flexible Header, Footer Widgets, One Column, Theme Options, Threaded Comments, Translation Ready, Two Columns, and many more. In addition to this, you will also get social media options and posts with thumbnails. It is a great wellness theme to work with, so try it.
6. Weight Loss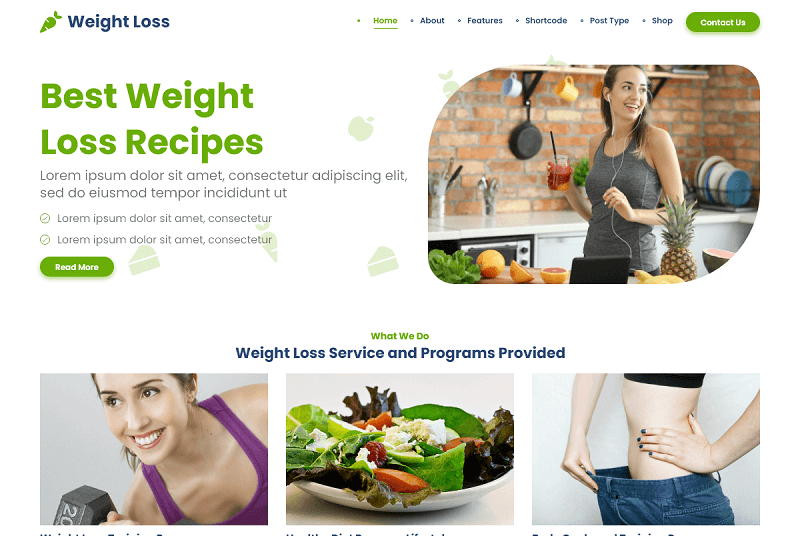 The next theme we added to our collection of the best free wellness WordPress themes is the Weight Loss WP theme. It is a stunning, elegant, modern, and free WordPress theme with WooCommerce plugin compatibility. With the Weight Loss theme, you can deliver a user-friendly interface and faster page load time. Also, the Weight Loss theme is fully widgetized; and you can use this theme to create websites for weight loss centers, health and nutrition experts, lifestyle websites, wellness, yoga centers, and all the relevant businesses. Besides this, it is a translation and RTL script-ready theme, so you can run your wellness center across the globe and get foreign subscribers.
7. Waterlava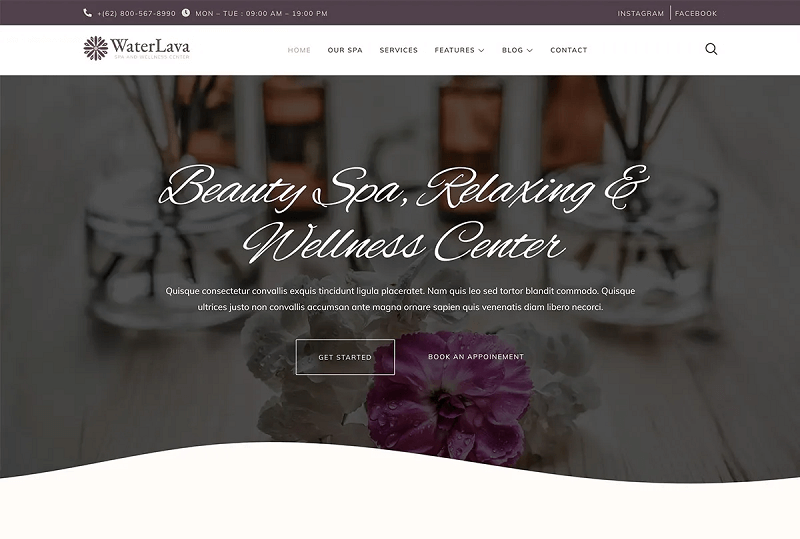 In the Waterlava theme, you will get a refreshed, elegantly styled theme template with vast options to represent Spa and Wellness Centers, Fashion, Beauty Salons, and all similar businesses. And the theme comes with FSE features and is fully compatible with the Gutenverse plugin. Also, it includes features like Theme Options, a Featured Slider, Page Templates, Threaded Comments, Background Options, and more. Furthermore, this spa wellness theme can integrate with social media channels, which lets you promote your services and help you build a professional portfolio on social media. You can add social links to the Footer or Header to put your spa or wellness center in the limelight.
Conclusion:
Many WP themes can fit wellness or other healthcare centers. However, choosing the right theme for them is not that simple as these themes come in a variety of shapes with almost similar features. We tried our best to find you the Best Themes for your wellness-related sites. They are ready to use feature-rich themes with appealing designs to help you build trust among your visitors and get more potential customers. So try these free wellness WordPress Themes for your business site and share your experience with us in the comment section below.