Looking for WordPress block themes to join the latest trend of having a block theme with full site editing options on your website? If yes, here are the 10 best free ones you can try!
WordPress block themes have grabbed the attention of many WP users due to their full-site editing capabilities. Block themes are different than the classic WP themes because they are designed to work with the FSE and the Gutenberg block editor especially. Block themes are a growing WP field. Thus, it will take time for developers to approach the immense quantity of block themes.
Here are some best tested and verified block WordPress themes you can try! All of these themes are responsive, Glutenberg block editor compatible, and have full site editing capabilities.
So without wasting any time further, let's begin our list-
List Of Best Free WordPress Block Themes
1. Zeever
2. Startupzy
3. Intrace
4. Blockpress
5. Blockbase
6. Charta
7. Bricksy
8. Tove
9. Ona
10. Catch FSE
Also Read:
9 Best Free Wedding WordPress Themes
10 Best Free Portfolio WordPress Themes
1. Zeever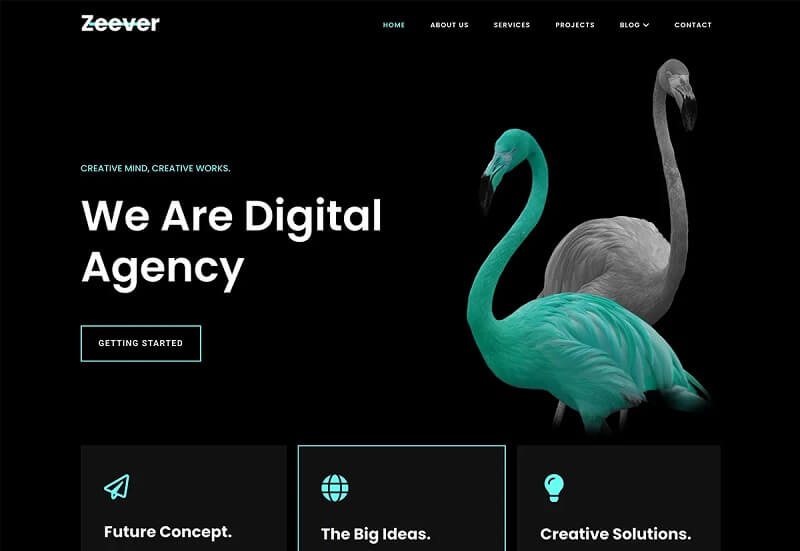 Zeever offers a responsive dark-style theme design with highly customizing and editing features. This WordPress block theme is also compatible with the latest page builder and the Gutenverse plugin. The Zeever theme is designed specially for Digital agencies, Web agencies, Online portfolios, Developers, Designers, Freelancer websites, etc., that require an engaging landing page for their business.
Furthermore, the Zeever theme also has core and Gutenverse block patterns ready for mixing and matching your design elements as you want. Besides this, it is a built-ready theme, so you can use it as it is. Also, it makes your experience smoother as it uses WordPress site editor for more comfort.
2. Startupzy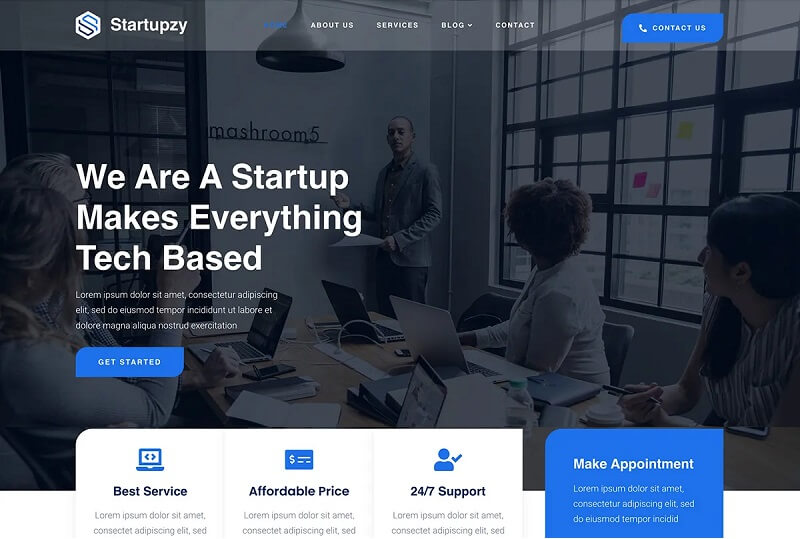 If you want a readymade free block WordPress theme, then the Startupzy theme is perfect for you. It is a responsive, elegant built-ready theme that any Tech businesses, startups, or Entrepreneurs can use for their existing or upcoming business. The Startupzy theme is fully compatible with the Gutenberg block and Gutenverse plugin and allows you to do full site editing for a more personalized theme look.
Besides this, the Startupzy theme offers many valuable features like Advance Typography, Multi-Device Options, Animation Effects, Advance Form Builder, Advance Shape Divider, and many more. Also, you use this theme as it is or do customization to create a beautiful landing page for your business
3. Intrace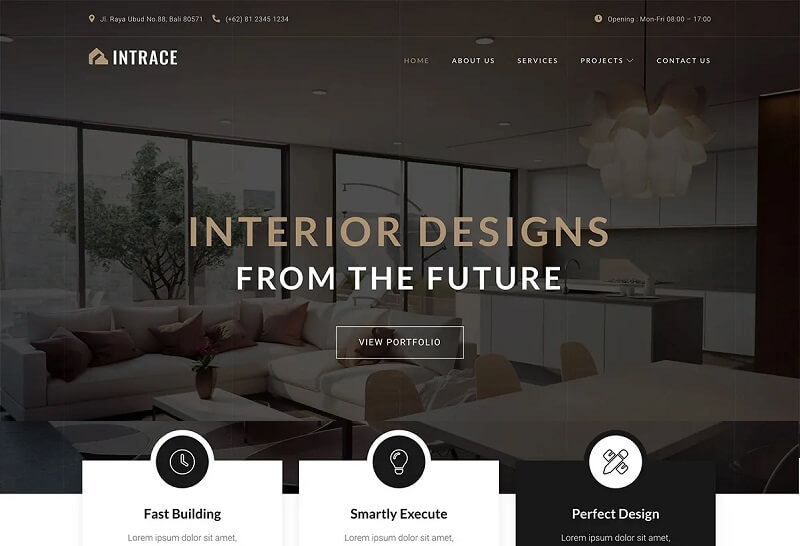 The Intrace theme is next on our list. It is another simple, elegant block WordPress theme By Jegstudio. You can use this WP block theme for Interior design, Architecture, Real Estate, Furniture, and Home decor websites. The Intrace theme is 100% responsive and has a unique & easy-to-customize layout perfect to fit your needs.
The Intrace theme is also compatible with the Gutenverse and Gutenberg plugins. Its highlighted features are Easy To Customize design, Gutenverse block patterns ready, Advance Typography, Animation Effects, Advance Form Builder, etc. Also, its drag-and-drop feature allows you to create pages without typing any codes.
4. Blockpress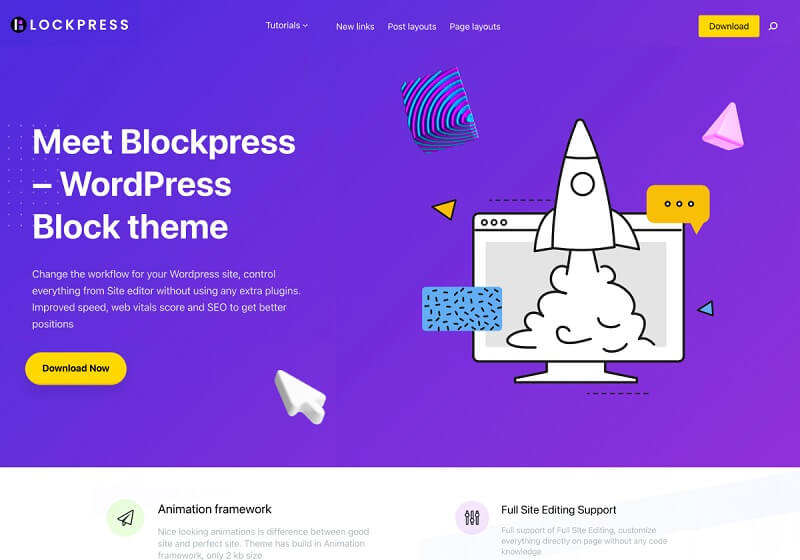 Blockpress is perfect for designing innovative sites with top-notch performance and flexibility. This unique theme offers 12+ query loop templates, predefined Post and Page layouts, a style switcher, header and footer patterns, a dark color scheme, and many more. Besides this, the Blockpress theme also has improved theme layouts and style loading for Woocommerce blocks,
You can use the Blockpress theme to design super fast and clean Woocommerce shops, webstores, and websites. The amazing fact about this theme is it does not utilize jquery dependencies and any styling library; everything you get is custom-made to provide the best performance.
5. Blockbase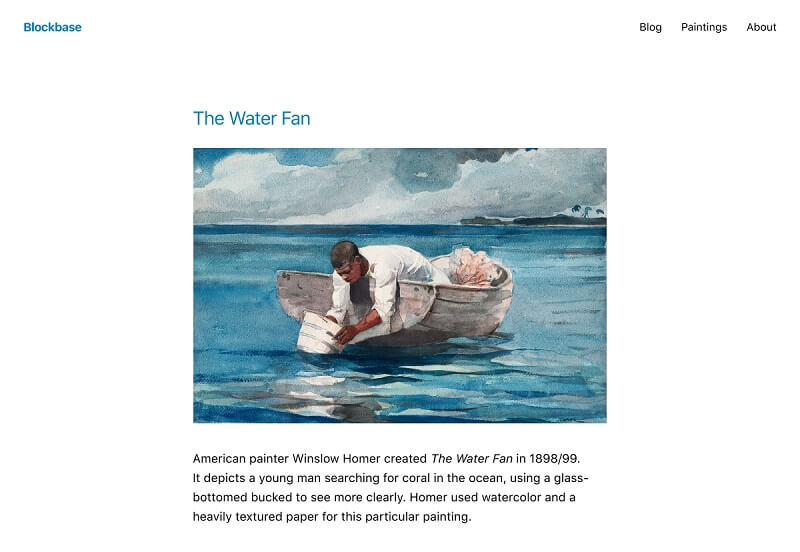 Blockbase is a Universal Theme free Block theme for WordPress with a simple and minimal design. The Blockbase also supports full-site editing allowing you to manipulate your design through Global Styles. Also, the Blockbase theme lets you choose from preset palettes that work well with this theme or pick your unique custom palette.
This block may have a simple and minimal design, but it offers many powerful and practical features such as Custom Colors, RTL Language Support, Sticky Post, Featured Images, Accessibility Ready, Auto Loading Homepage, Full Site Editing, One Column, etc.
6. Charta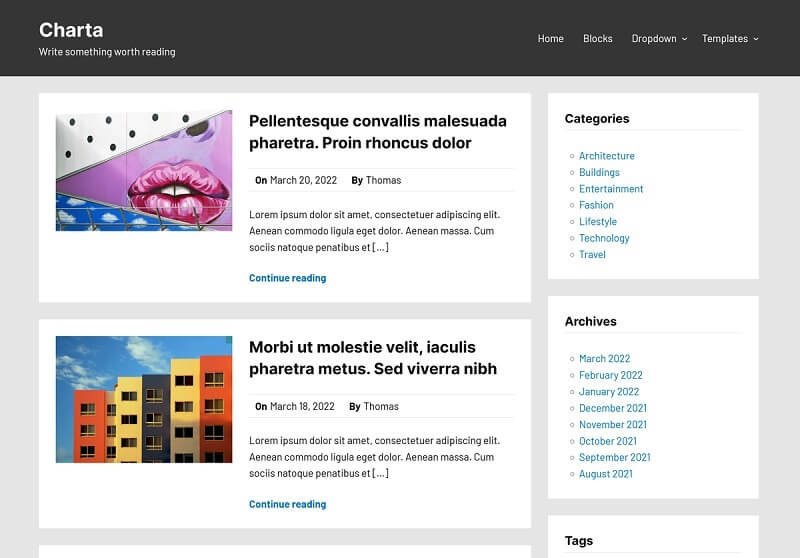 Another classic and simple block theme on our list Charta is an experimental block theme. This minimal theme features a classic two-column layout with a right sidebar that is easy to set up and use. Its clean, modern magazine design makes it the perfect fit for starting a simple blog, news, or magazine site.
Furthermore, the Charta theme provides Fast loading times, Compliant with GDPR, Detailed Documentation, Translation-ready, and RTL support. Also, the Charta theme has an SEO-optimized responsive design. Without many bells and whistles, the Charte theme provides an easy way to try out the new Full WordPress Site Editing experience.
7. Bricksy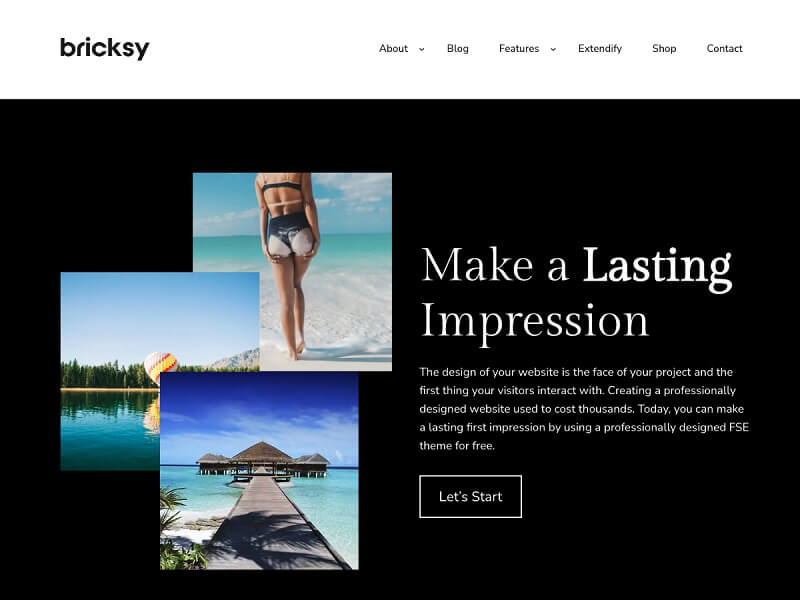 In the Bricksy theme, you will get superb features such as WooCommerce Support, Block Editor & FSE Optimized, Block Pages and Patterns, Responsive, beginner & Mobile-Friendly Design, etc. Also, the Bricksy theme is an excellent WP theme that you can use for making all kinds WooCommerce compatible websites.
Besides this, the Bricksy theme is also compatible with the Gutenberg and Glutenverse plugin, which lets you create beautiful Block sites through its custom blocks. Also, this stunning theme is loaded with ready-to-use block patterns, making it perfect for creating pages from scratch through its easy-to-use drag-and-drop features. So, try it Now!
8. Tove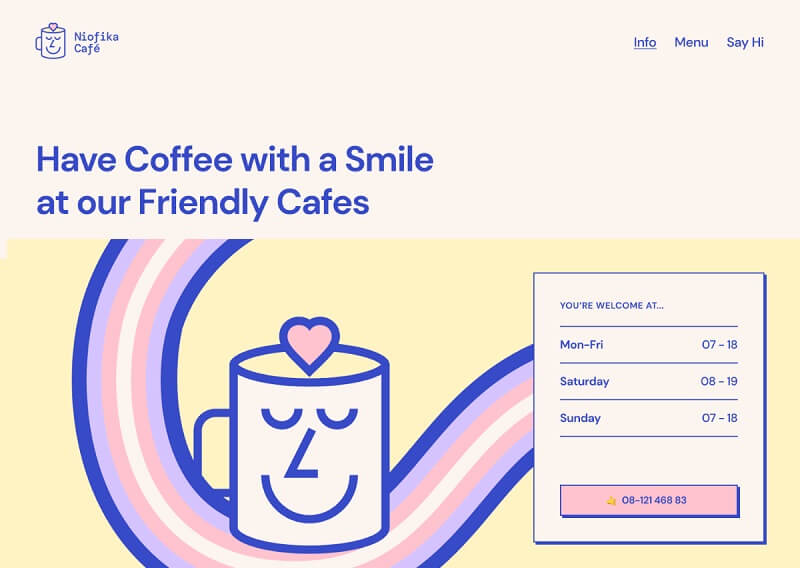 It is another WordPress block-based theme made specifically for cafe and restaurant owners who enjoy sharing their passion, work, and services. The Tove theme is lightweight as well as responsive, so it fits all display sizes perfectly. Also, its minimalistic and SEO-friendly design is perfect for showcasing appetizing food and service-related photos to customers.
Furthermore, Tove offers 40+ Block Patterns, including 6 different header and 7 different footer designs to get you started. It also has fast-loading codes and a Full Site Editing option, making it a good perfect for modifying the layout, color scheme, and typography of sites in the new Site Editor.
9. Ona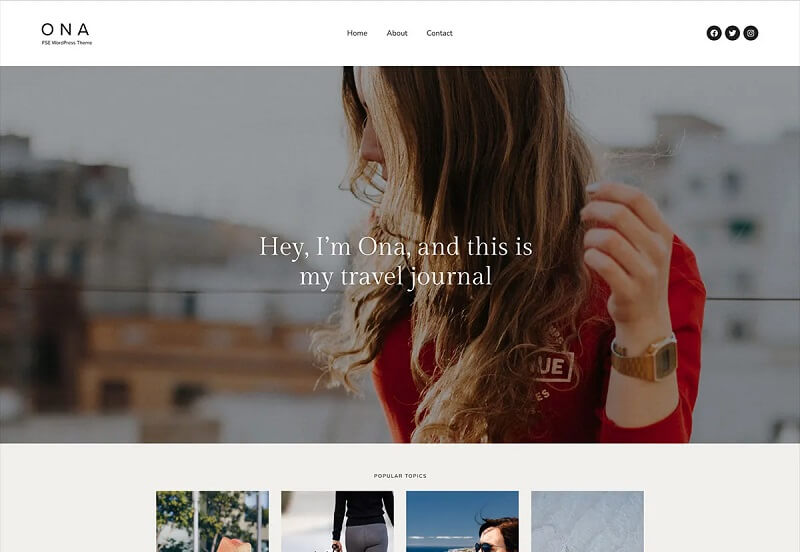 A perfect WordPress theme you can use for creating minimal, travel, coffee shop, health, recipe, online store, and other websites. The Ona theme is a minimal design-based responsive block WP theme that delivers many valuable features. It also has a Block Editor that provides an easy and fast way to create content with an intuitive drag n drop interface.
Also, the Ona theme included patterns and pages to help you create your elegant site in no time. Besides this, the Ona theme comes with many pre-defined block patterns, which are lightweight and optimized.
10. Catch FSE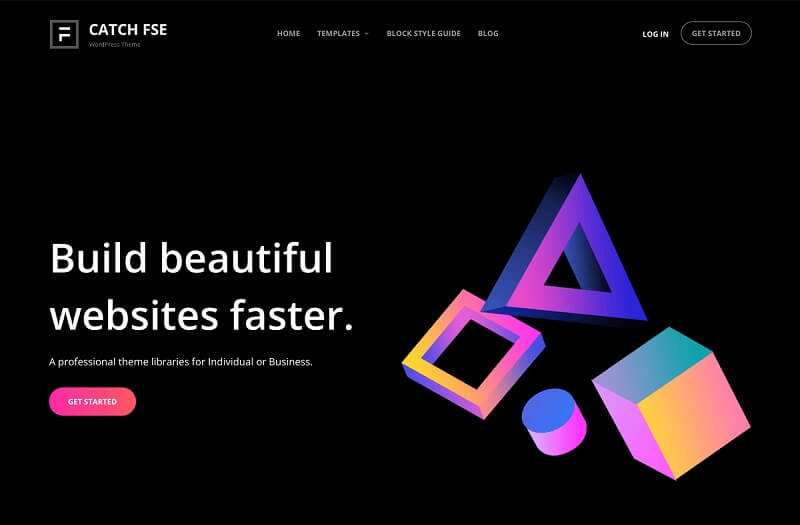 Amazing features of the Catch FSE theme are Color Options, Threaded Comments, Dropdown Menu, Gravatar Ready, Custom Header / Logo, Custom Favicon, Custom Menu, Custom Background, Custom Layout, Custom Fonts, Featured Content, Site Editor, etc. Also, you can use this theme to build all kinds of sites, including personal and corporate ones.
Besides this, the Catch FSE theme lets you easily start creating your content with the reflexive drag-and-drop interface using block patterns and allows you to do full Site Editing for personalization. With clean typography and simple design, the Catch FSE theme helps in creating your site unique from your competitors. So give the Catch FSE theme a try!
Conclusion:
The popularity of WordPress block themes is growing day by day as they have a perfect adhesive with the Wp block editor. Also, these themes provide full site editing options as well.
Besides this, the latest trend for WordPress site design is block themes because of the increasing popularity of the Gutenberg block editor. So, it is essential to have a block theme on your WordPress site if you want to join the trend.