Running a toy store can be a fun and thriving business. Therefore, it is a very competitive business even in the online marketplace. You can easily find lots of toy stores running up on the Internet. So, if you want to run a business under this roof, you will need a super attractive and engaging site for your toy store. To help you with this, we compiled the best free WordPress Toy Store Themes collection that you use to build your gorgeous toy store business site.
These themes are more than appealing; they also offer a wide range of applicable features for online toy store sites. So, just take a good look at them, and you will find your perfect match.
List Of Best Free WordPress Toy Store Themes
1. Kid Toys Store
2. VW Kids
3. Kidspress
4. Kids Online Store
5. WPCkid
6. Kids Fashion
7. LZ Toy Store
Also, Read:
Best Free Printing Company WordPress Themes
Best Free Security Service WordPress Themes
1. Kid Toys Store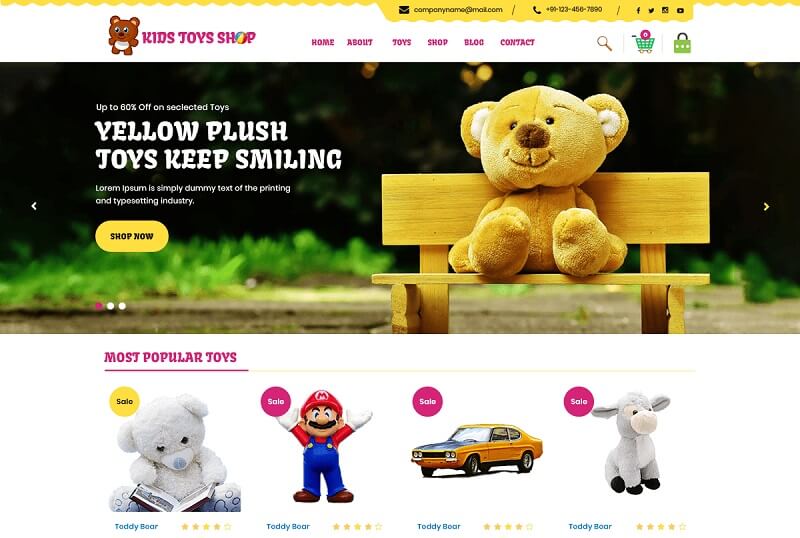 Kid Toys Store is developed by Themescaliber. It is a modern, lively WordPress toy store theme to build sites related to Preschools, Childcare centers, Kids' shops, Kindergartens, Learning activity kits, Academic tutors, Babysitters, Kids camps, etc. The Kid Toys Store theme has a smooth, eye-appealing design that can easily blend the WP plugins, making your online toy store top-notch.
Furthermore, the Kid Toys Store theme has a bright color scheme with multiple page templates to design suitable Kids' websites. Besides this, this toy store theme has cross-browser compatibility and a threaded comments option to ensure excellent user engagement. The theme features include multiple sections, a banner, a CTA button, background and logo options, an unlimited color scheme, etc.
2. VW Kids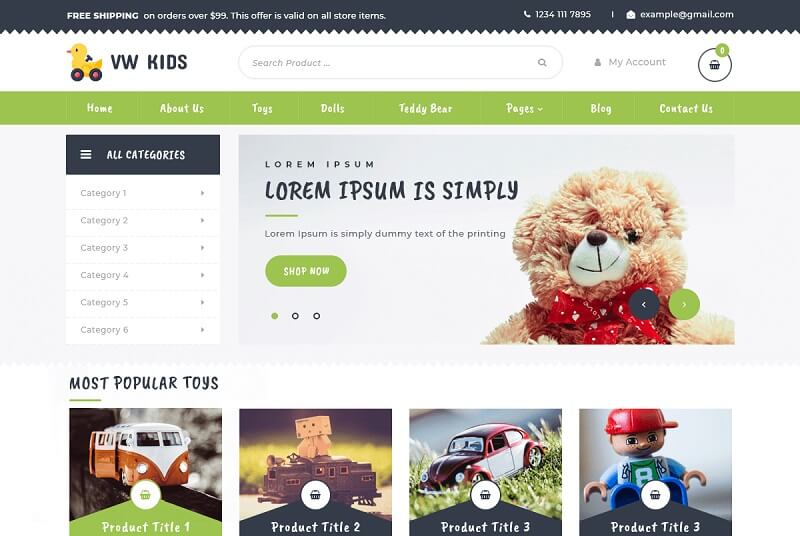 This toy store theme offers many fascinating features and options such as Extensive Typography Options, Multilingual, Featured Images, Retina Ready, Multiple Header and Footer Styles, Customizable Sidebar Layout, Breadcrumb Options, and more. Also, VW Kids supports the Woocommerce plugin and its addons to easily extend your theme functionality for making an appealing online store.
Besides this, the VW Kids theme has colorful, fresh graphics and smart placement of the CTA button and other components throughout the theme and comment section to make your site engaging and user-friendly. You can also have bloat-free advanced features and social media icons to promote your services.
3. Kidspress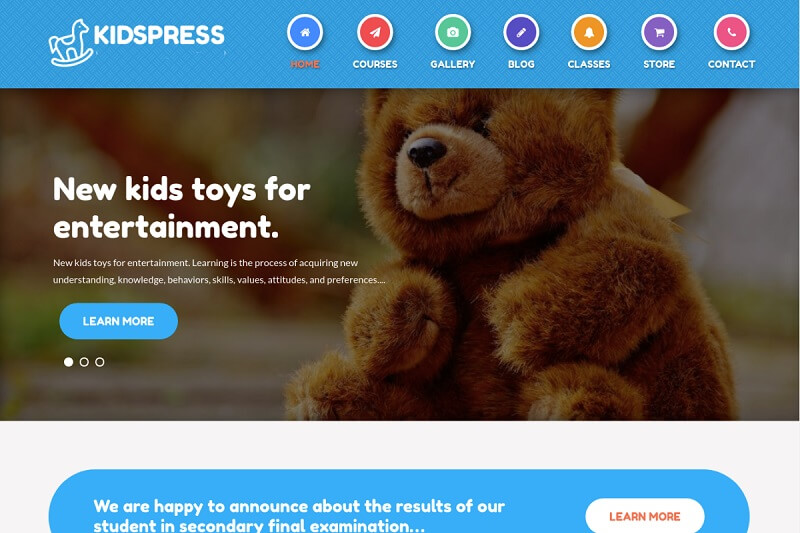 The KidsPress theme is ideal for WordPress websites such as Preschools, Childcare centers, Kindergartens, Toy shops, and relevant children's websites. This highly responsive free toy store theme comes with a step-by-step documented guide, playful icons, an unlimited color scheme, and gallery features to build a remarkable online presence. Also, KidsPress offers high-end features to customize your online store without any prior coding knowledge.
Besides this, this fascinating theme has inventive design elements that can be resized to fit the theme on any device. Furthermore, KidsPress lets you add or deduct any element and modify the site design to fit your store needs. In addition, KidsPress is faster speed and SEO optimized, offering visitors a premium walkthrough while browsing the site.
4. Kids Online Store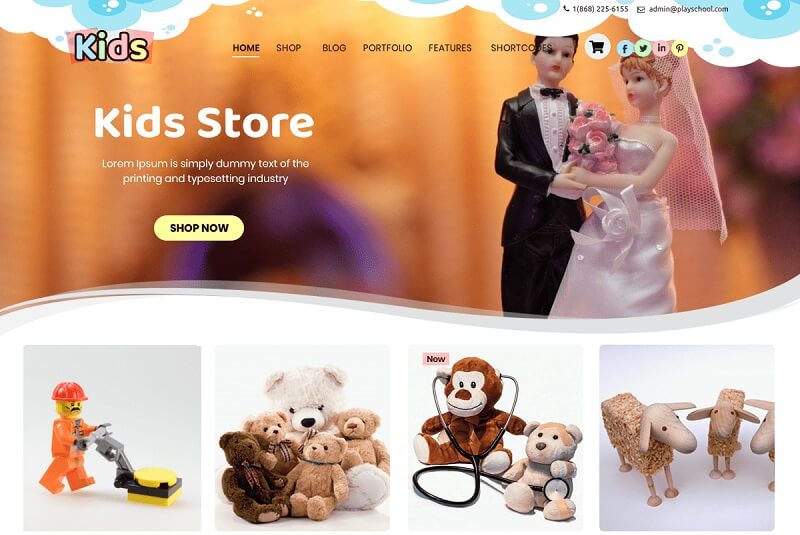 The Kids Online Store theme is another trendy, elegant toy store WP theme giving you features like Custom Colors, Featured Content, Featured Slider, Header Media, Services, Custom Background, and more! Besides this, this toy store theme also gives Social Media Options and translation-ready features to grow your followers and popularity worldwide through social channels.
Furthermore, the Kids Online Store is specifically designed to fit any children-oriented website such as Childcare, Kindergarten, Baby store, Toy shop, Storybooks, Sweet shop, etc. The Kids Online Store theme also comes with WooCommerce integration and presents many options to increase your conversion rate. So, if you want a colorful and fun site to grow the bar of your online toy store business, the Kids Online Store theme is perfect for you!
5. WPCkid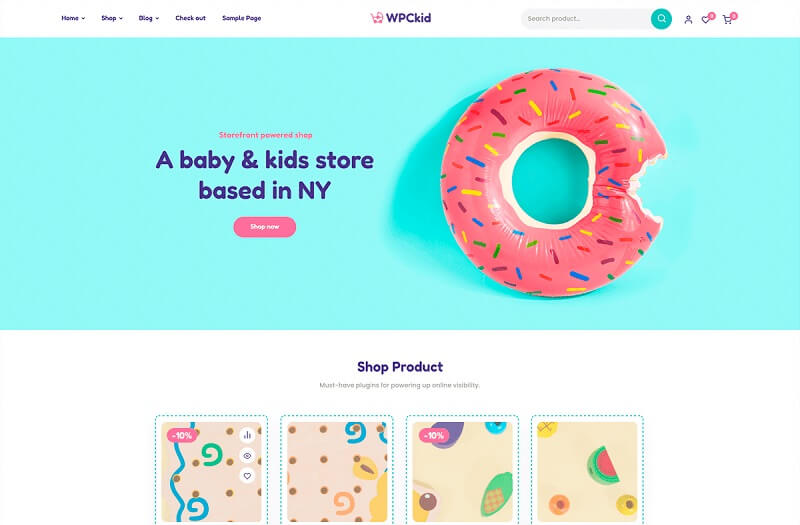 WPCkid is developed by WP Clever specifically for sites related to clothing shops, toy stores, accessory shops, etc. Furthermore, this toy store theme lets you personalize its design through various customization options for color, fonts, background, etc. The WPCkid theme is a dedicated and affectionate theme designed to represent your toy store and products appealingly.
In addition to this, the WPCkid theme gives you the WPC Smart plugin features like Smart Quick View, Compare, and Wishlist floating buttons to help you run your toy store smoothly. Besides this, WPCkid gives you a user-friendly UI, an attractive banner, a Blog section, a Checkout page, and an excellently designed Homepage.
6. Kids Fashion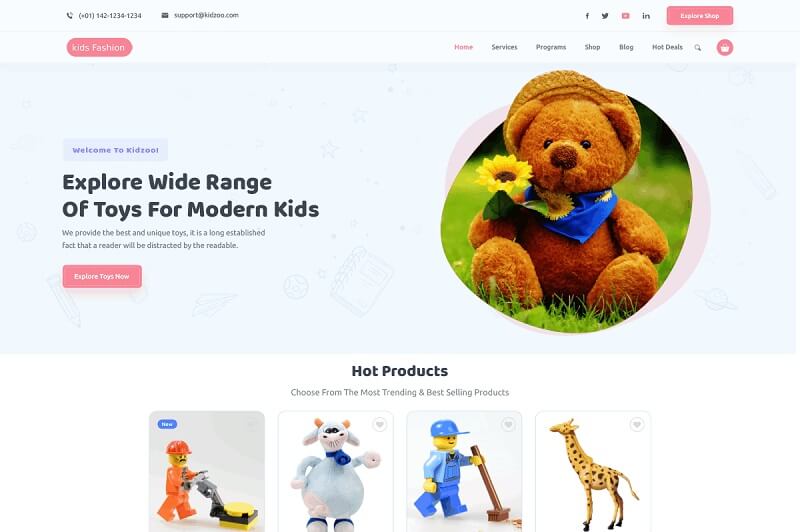 The Kids Fashion theme can also be used for a kid's toy store and kids' fashion-related websites. It is a kids-related business-oriented theme suitable for Daycare, Elementary schools, Toy stores, Kindergartens, Kids stores, etc. Furthermore, the Kids Fashion theme is optimized for speed and delivers user-friendly options such as Threaded Comments, Custome Logo Options, a Featured Slider, Page Templates, and well-built testimonial and blog sections.
The theme is multilingual-ready and supports RTL scripts. You will also get Theme Options, Clean Codes, CTA Buttons, Custom CSS/JS, Shortcodes, and more. The Kids Fashion theme is a minimalistic, appealing theme that works perfectly on every browser and screen.
7. LZ Toy Store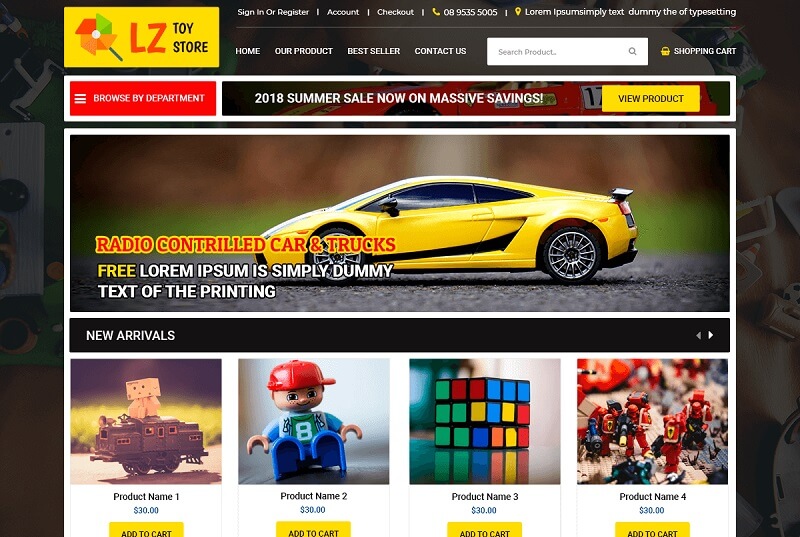 The last toy store theme on our list of the best top store WordPress Themes is LZ Toy Store. The LZ Toy Store theme is WooCommerce-ready and has a fluid layout with translation-ready web pages. It is a minimal, mobile-first theme with smooth navigation to deliver a great site-using experience, making it the perfect choice for WP users who want to launch their WooCommerce store.
Furthermore, this free toy shop theme is clean and engraved by professionals. It also provides optimized codes and many attractive features to get maximum traffic. The LZ Toy Store theme is a bold, SEO-ready WP theme for websites like Toy stores, Baby shops, Kindergartens, and other kids' product shops.
Conclusion:
Most of these themes are powered by WooCommerce, which means you not only get a fantastic design but also reliable functionalities of the WooCommerce platform, allowing you to build all sorts of shopping and product-selling sites, including toy stores. Also, these toy shop WordPress themes will help you get new customers to your site. Just take a word from us and use these themes for your toy store site.