Many businesses need a WordPress site but lack the time or expertise to set one up, and such a business is a Printing Company. Printing is a widely used popular business niche. Therefore, developing a site for a printing press or company can significantly help you grow your business. However, doing so is easier to say than done. And this is where Printing Company WordPress themes come in handy.
They are designed with ease of use and customization in mind, making them easier for both small and large businesses looking for an effective way to showcase their business. Also, these themes offer a wide assortment of top-quality print-ready WordPress templates that integrate seamlessly with all major plugins, like WooCommerce and bbPress. They are designed to support the workflow of your printing company, allowing you to concentrate on making quality prints, not managing the site or theme.
So, thoroughly check out this theme collection to find a suitable match for the printing business.
List Of Best Free Printing Company WordPress Themes
1. CoPrint
2. VW Newspaper
3. Ultra Print
4. Print Shop
5. Florence IT
6. Printing Press
Also, Read:
Best Free Bookstore WordPress Themes
Best Free Quick Loans WordPress Themes
1. CoPrint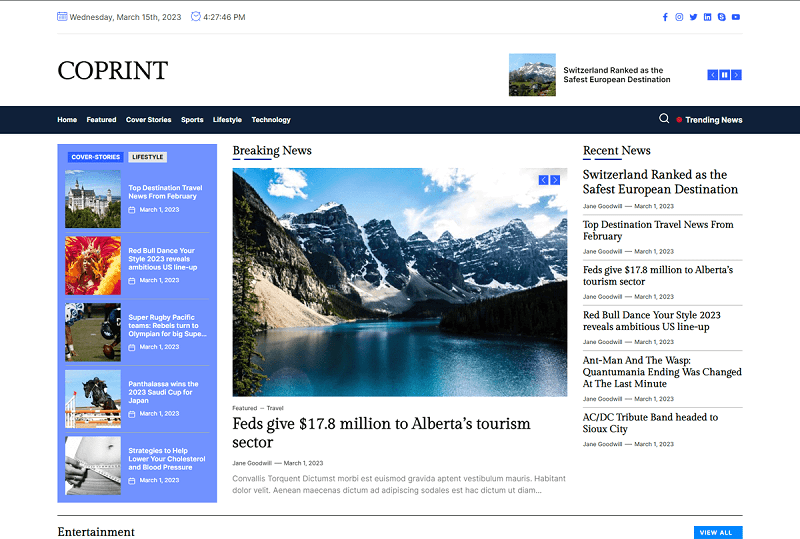 The Coprint WordPress theme offers an excellent solution for all kinds of news, publishing, printing, and magazine sites seeking a modern and sophisticated design. This theme gives you a fully responsive layout that is optimized for SEO and can be customized to create a unique and engaging site for online printing companies. Furthermore, this theme delivers a variety of features, including multiple homepage and archive templates, as well as a robust and intuitive customizer API and custom widgets. Whether you are a small niche printing shop or a large printing press outlet, the Coprint WordPress theme provides the functionality, features, and flexibility necessary to mold a thriving online presence.
2. VW Newspaper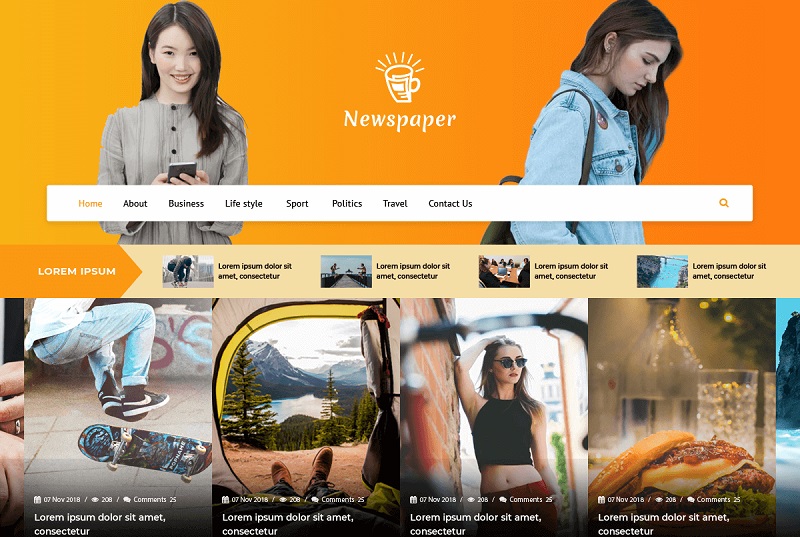 The VW Newspaper theme is a WordPress theme that is perfect for websites that have a lot of content and an excellent choice for newspapers, magazines, editorials, print media, publishing, review sites, and many other purposes. You can also use VW Newspaper as a personal portfolio or a regular blog site. It is fully responsive and compatible with all browsers, making it look beautiful on any device. Besides this, the theme's design is attractive and appealing, featuring banners and sliders where you can post breaking news, current affairs, or other printable articles and images. It has many useful features, including AdSense-friendly, Custom Color Scheme, Multiple Widget Areas, and more. Its gallery is flexible enough to display images of the latest editorial staff, events, etc.
3. Ultra Print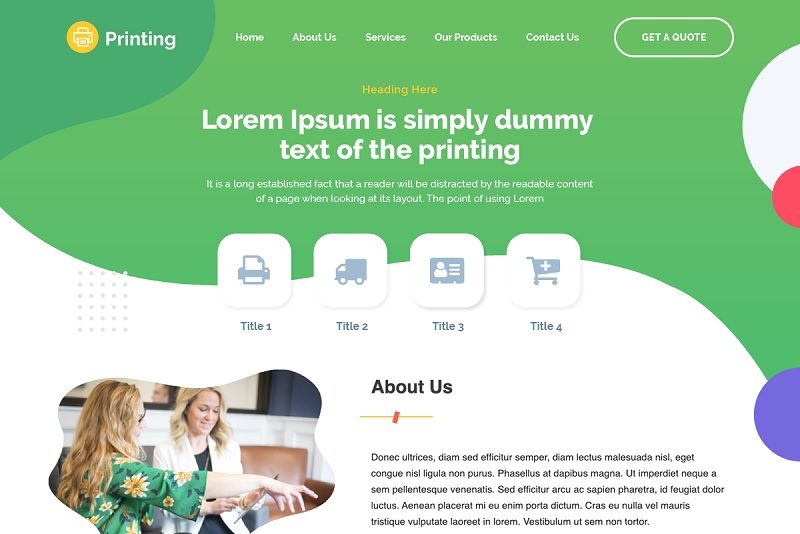 Ultra Print is a top-tier free WP theme specifically designed for the printing press and related business sites seeking to establish a unique place in this field. The Ultra Print theme lets you easily make banners, posters, gift cards, billboards, and other marketing materials through its sleek and professional design. Customization features let you make layout adjustments without changing codes, ensuring a hassle-free experience. Besides this, Ultra Print is ideal for Printing, Postcards, Flyers, and Copying services, providing various impressive features. Also, you can add as many templates as you desire and quickly sort information to fulfill your requirements. Ultra Print is a reliable printing company theme that provides a seamless and successful website experience for your printing business.
4. Print Shop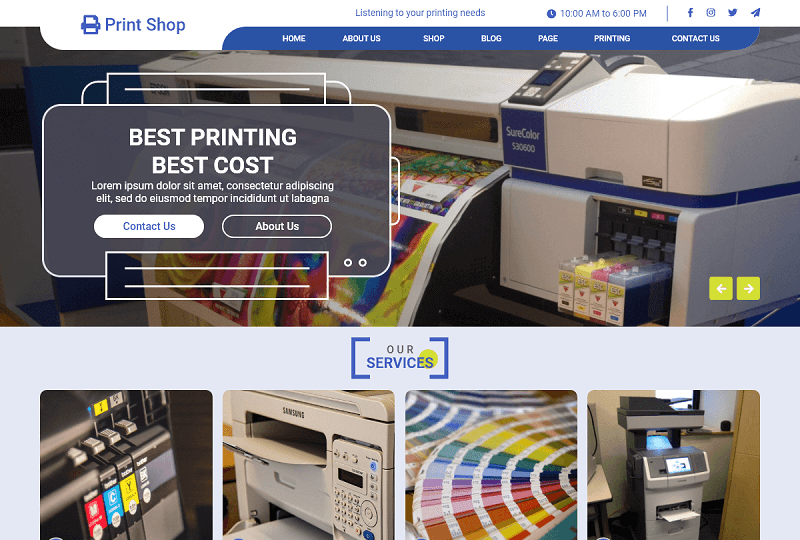 The Print Shop theme has a Minimal, mobile-friendly design, providing printing services to businesses and individuals. This responsive theme has a user-friendly UI and dynamic features, including WooCommerce support to engage your visitors to your printing site. Developed by Logical Themes, this printing company theme is perfect for services related to business cards, brochures, flyers, etc. Also, Print Shop allows you to offer web-to-print services and boosts every aspect of your site. Print Shop also has a Fullscreen Slider, Header Image Options, Social Sharing Features, and many more. Furthermore, the Print Shop theme is a Clean and Stylish theme packed with progressive features to successfully run an online printing service or business site that offers a variety of print products and services.
5. Florence IT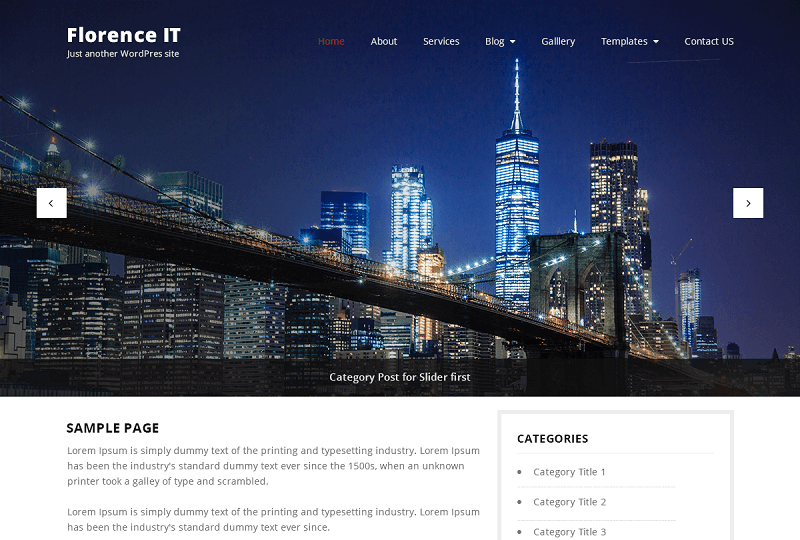 Florence IT is another SEO-friendly printing company WordPress theme best suited for printing businesses, corporations, agencies, designers, WooCommerce shops, and any other creative sites. It is a Bootstrap Framework-based simple, customizable theme with an eye-catching design that works smoothly on all platforms. Also, Florence IT has breadcrumbs that adjust automatically when users add new posts. This way, all the added posts look beautiful without editing or adding new template files. Furthermore, Florence IT delivers many outstanding features that let you build an inviting printing press site and help you increase your lead generation and followers. Besides this, the Florence IT theme offers your site a distinctive look and makes it unique thanks to its minimal layout.
6. Printing Press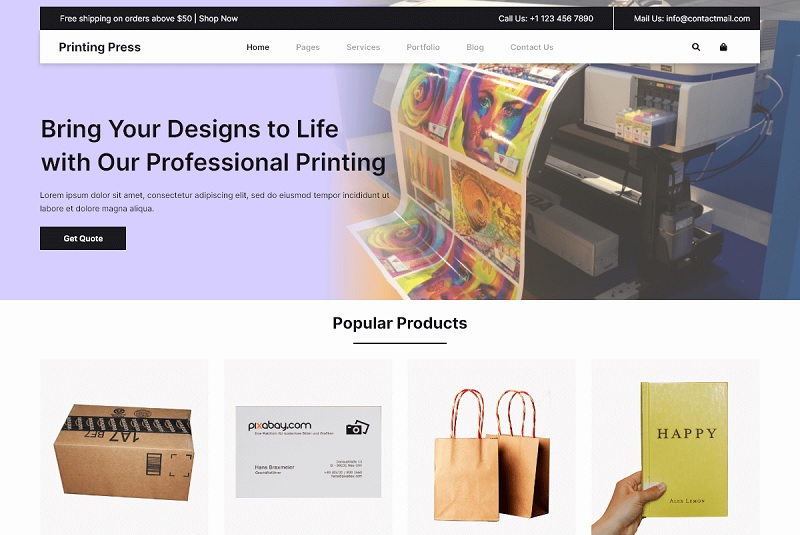 Printing Press is the perfect solution tailor-made for the printing industry and publishing house. This feature-rich theme offers pre-designed templates and progressive customization features, adding a touch of professionalism to your printing site. It gives unparalleled functionality and features dedicated sections that highlight your printing services, showcase past projects, provide pricing details, show customer feedback, and demonstrate your track record of satisfied clients. Additionally, the theme includes a section where clients can leave testimonials and built-in SEO optimization to help boost your online visibility. With the Printing Press WordPress Theme, you can easily create a professional website that stands out from the competition.
Conclusion:
When you search for Printing Company WordPress Themes, you will discover lots of free as well as paid premium themes for WordPress sites. All these Printing Company themes will offer you unique, stunning designs with resemblances in features (in free ones). Therefore, choosing the best free Printing Company theme for your business site or landing pages can be hard. You can try these Printing Company themes listed in our collection. These themes are likely to serve your needs and help you build that one-of-a-kind Printing Company site that will help you grab more potential customers.