Are you looking for the best free yoga WordPress themes that can help you promote your yoga studio and showcase your yoga classes, programs, and events professionally? Here are the best 7 Ones you can try!
Yoga is one of the oldest and most effective fitness activities preferred by many people worldwide. Its health benefits are limitless. Also, many yoga practitioners say, they feel rejuvenated and more flexible after the session. Besides daily exercise, some turn their yoga passion into their profession.
However, to run a thriving yoga studio in this competitive world, you will need a website to represent your yoga business, studio, and classes online. You can try this yoga WordPress theme collection that is designed specifically with yoga studios and instructors in mind. They can serve as a beautiful face for your yoga studio and help you increase your business reputation. So, explore these yoga WordPress themes and find your flexible match!
List Of Best Free Yoga WordPress Themes
1. Yoga
2. Yoga Studio
3. VW Yoga Fitness
4. Pranayama Yoga
5. Meditate
6. Yogaclub Lite
7. Yogasana Lite
Also Read:
Best Free Digital Download WordPress Themes
Best Free Textile WordPress Themes
1. Yoga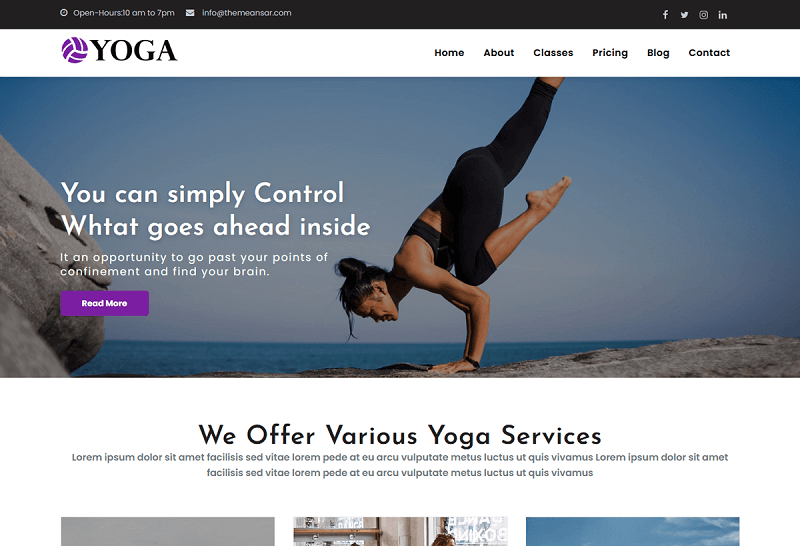 As the name suggests, the Yoga theme is a free WP theme specially designed for yoga studios, yoga blogs, and magazine-related website websites. Besides this, you can also use this theme for websites such as Rehabilitation, physiotherapists, Medical clinics, private Hospital, Massage therapists, etc. It is a modern, responsive yoga theme with an engaging layout and features. Furthermore, the Yoga theme is SEO-friendly and has a CTA Button on the banner, making it stand out. Also, this beautiful yoga theme delivers many valuable features such as a Banner section, Left sidebar, About section, Social media options, RTL Support, Translation-ready, Custom background, etc. The Yoga theme gives a professional, elegant look to your online site. So, try it!
2. Yoga Studio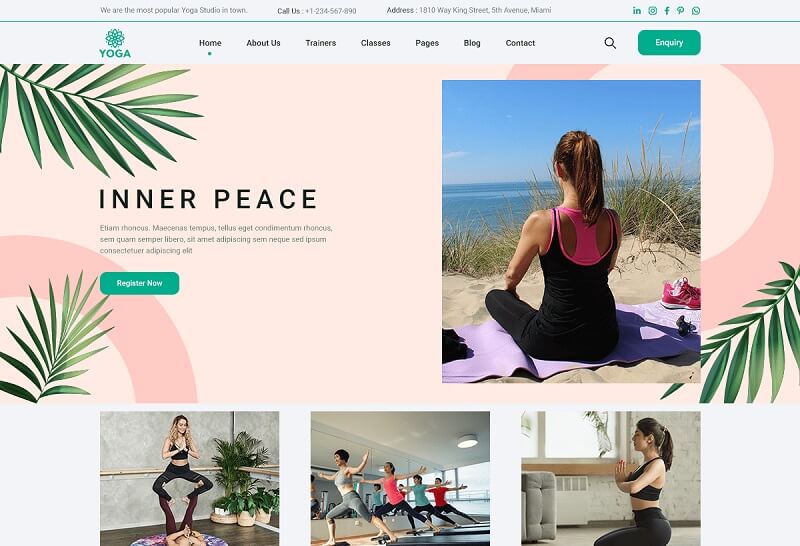 The Yoga Studio theme is perfect for yoga and fitness clubs such as gym, meditation, aerobics, Zumba dance class, ayurveda training, spiritual class, Rehabilitation, or other relevant services sites. Also, personal trainers and diet planners can use this theme to show and advertise their skills and services. Besides this, the Yoga Studio theme also improves your SERP rankings with its SEO-optimized codes. Its mobile-friendly, elegant, and sophisticated design is optimized for speed, making your site look pixel-perfect on all screens. Besides this, the Yoga Studio theme is based on bootstrap and has many customization features and options for shortcodes to play with the theme design. And you can add a Call To Action and link all your social media pages to give credibility to your work and services.
3. VW Yoga Fitness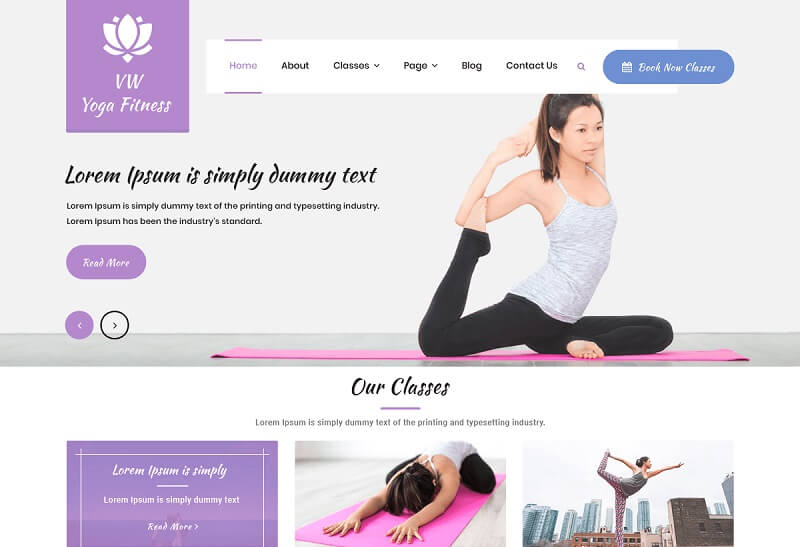 Because of its splendid features and visually appealing design, the VW Yoga Fitness theme has taken a spot on our list. It gives you many options for customization; you can change its logo, color scheme, Sticky Post, fonts, menu style, slider settings, background, and many other elements. , and many more. Furthermore, the VW Yoga Fitness theme is SEO optimized, cross-browser compatible, and supports RTL writing style. You can use this theme easily for yoga classes, fitness centers, gyms, health clubs, aerobics classes, cardio trainers, Promoting healthy living, physiotherapy, weight loss centers, personal trainers, lifestyle coach, workout studios, meditation classes, etc.
4. Pranayama Yoga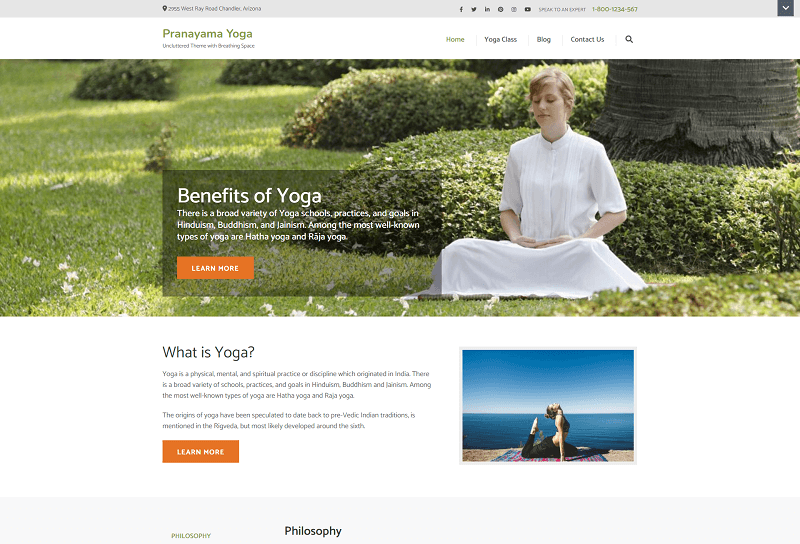 Pranayama Yoga is another versatile yoga WordPress theme with a responsive, adaptable layout. The Pranayama Yoga theme comes with SEO-friendly codes and optimized page loading speed to increase your yoga site visibility on Major search engines. Besides this, the Pranayama Yoga theme also delivers many beneficial features such as a Custom Background, Banner Section, Testimonial Section, Custom Menu, Banner with Call to Action Button, About section, Social Media Options, and many more to build engaging and appealing sites. Its customization ability and multipurpose design break its limit to yoga and fitness sites. Furthermore, Pranayama Yoga has 4 Footer Areas, Custom Widgets, Right Sidebar, and it is built on Customizer, Making it easier for users to customize sites with a live preview option.
5. Meditate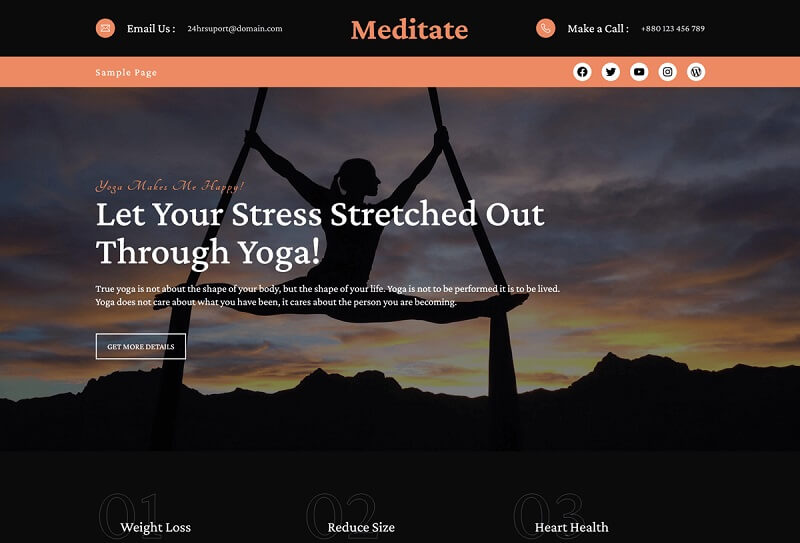 The following yoga theme on the list is the Meditate WordPress theme. It is a fully responsive and modern yoga WP theme excellent for building a yoga studio, gym, fitness coach, fitness studio, and other health business-relevant sites. Besides this, the Meditate theme has many block patterns, and you can easily change the theme content or settings to build your beautiful yoga website hassle-free. Its responsive design works nicely with all screen resolutions. Furthermore, the Meditate theme build with the latest WordPress standards and SEO in mind. Also, this splendid theme comes with extensive documentation and is compatible with popular plugins like woocommerce, jetpack, contact form 7, etc.
6. Yogaclub Lite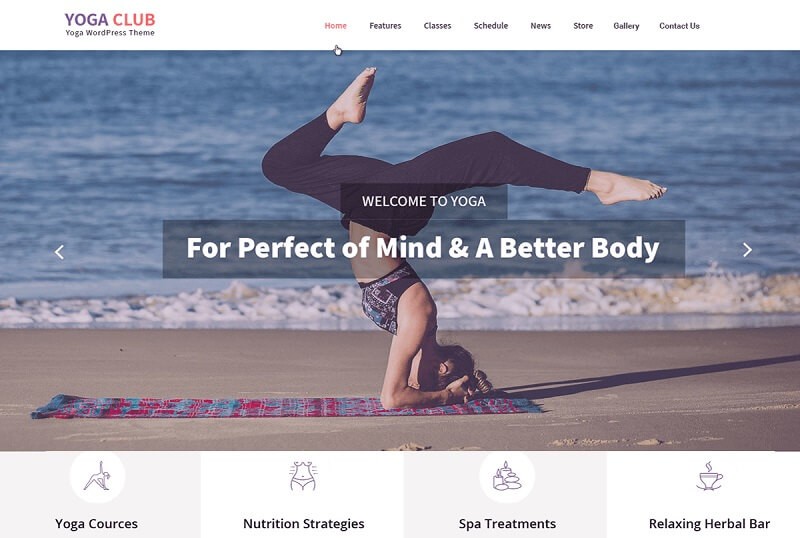 Developed by Grace Themes, the Yogaclub Lite theme is ideal for creating lightweight and engaging sites like Yoga, Massage Spas, Fitness, Gym, Weight Loss, Health Care, physiotherapy, or other fitness club websites. Like the Yoga Studio theme, you can use the Yogaclub Lite theme for fitness blogs, magazines, and all other yoga-related websites. Furthermore, this modern, flexible, and multipurpose theme offers a dynamic and colorful design with high customization features for creating unique professional yoga clubs and studio sites. It is easy to set up, and expert and beginner WP users can use this theme. So you should try this theme!
7. Yogasana Lite
Yogasana Lite is a modern, simple, and easy-to-use WordPress yoga theme. It is a versatile fitness club theme that you can use for yoga trainers, fitness, health, gym, and other fitness-related websites. Furthermore, the Yogasana Lite theme delivers a clean and easy interface to design streamlined, professional yoga and fitness club sites. Besides this, the Yogasana Lite theme is full of attractive features, and you will get adaptable elements like images, text, etc., that you can easily change. In addition, the Yogasana Lite is a highly customizable theme and compatible with the latest version of WordPress and plugins such as WoCommerce, Contact Forms, etc.
Conclusion:
Yoga has a strong following worldwide and is one of the most popular fitness activities. Therefore, it is a booming industry to run a business in. You can try this specifically designed theme collection for your website to serve as a beautiful face for your yoga studio and help you increase your business reputation. Also, these yoga WordPress themes come with everything you need to run your yoga studio. So, try them and if you run into any trouble or have any doubts, reach us in the comment section below.