By definition, marketing automation is a strategy that uses technological advantages to streamline, automate, and analyze all kinds of marketing tasks and workflows in running a business. Its primary goal is to optimize operational efficiency and help organizations increase revenues and reach their business goals and, for that, it uses the latest innovation in software to do so..
When talking about it, it is impossible not to ask about the pros and cons of automation. This is perfectly acceptable, especially because one gets skeptical upon hearing about all the good things that automation does.
Just to name a few marketing automation advantages, it saves time, effort, and other resources. It also helps personalize the marketing efforts according to prospects and existing customers. Moreover, automation has tools to improve communications, create proper segmentation, and manage campaigns more effectively. It is almost impossible to think that there are both pros and cons in automation since it seems that all it does is make marketing efforts more impactful and engaging.
Nonetheless, it is also encouraged to see the advantages and disadvantages of marketing automation to give you an overview of what to expect when using it.
Automation Pros
The impact of marketing automation goes beyond reducing or eliminating repetitive tasks. It can help entrepreneurs focus on the business's important aspects while still being able to nurture client relationships. In the end, it supports overall business growth and increases customer satisfaction.
Still not convinced? Here are some of the most notable marketing automation advantages you must be aware of:
1. Reduced Employee Costs.
According to a customer survey, one of the greatest challenges of small businesses is finding the time and resources needed to do marketing. With automation, the tasks that usually take 50 employees can be performed using the software. This eliminates the need to pay for several employees, thus allowing you to focus both time and resources on lead generation and marketing campaigns.
2. Additional Revenues.
By reducing the workload, you can establish better strategies that will save you time and earn additional revenues. How, if you may ask? By automating business processes, you bring down salaries and admin hours expenditures. It can also help with lead management and prioritization. This means more chances of having successful campaigns that can increase ROI from sales activities.
3. Smarter Business Decision-Making.
You can get better data from automation compared to manually gathering sales information. It is more efficient to collect relevant marketing and sales data by using software because it gives you up to the tiniest details and even gives sound recommendations. It can even facilitate A/B testing and other similar activities to gauge the effectiveness of your marketing campaigns. You can also get an overview of what to expect from your stats based on customer attitude forecasts. Because of its ability to facilitate better collection and understanding of data, you reduce the chance of making harsh decisions that can severely affect business growth.
4. Refined Marketing Processes.
An effective way to improve customer satisfaction is by mapping out the customer journey. Automation allows you to build business processes based on the customer. Centering on the customer experience will make it easier to process targets and understand what they need. It will allow you to respond fast to any problems that would stunt the customer journey.
5. Generate Sales.
The ultimate goal of every marketer is to increase sales. And when discussing the pros and cons of automation, you should realize that generating sales is the most valuable of all marketing automation advantages. What results in good sales stems from successful lead nurturing. Automation helps increase engagement, encouraging relationships that can spread brand awareness, thereby increasing reach and potential sales. It also enables better sales analysis so you can focus on pressing matters rather than blindly running the business. Again, it results in increased customer satisfaction and more sales.
Automation Cons
It can be overwhelming to learn how automation can benefit a business. It does improve marketing activities and sales, but to be fair, you also need to be aware that there are some disadvantages to using it. They may be minor, but it is worth knowing to avoid unmet expectations.
1. You'll Need To Allot Budget For Subscription Costs.
You have to expect that there will be certain costs involved when implementing marketing automation. You need to pay for premium software features. Many businesses, especially those that are just starting out, struggle with their budgets for marketing. However, looking at the advantages of automation should help you decide that the benefits outweigh the costs of automating processes. It is also great that most automation software offers free trials so you get to test them out first before deciding which one is within your budget and fits best with your organization's needs.
2. Can Go Overboard With Messaging.
Automation means never having to create emails or reach out to customers manually. The system does it automatically after a few prompts from the customers. While it is convenient, it can also risk annoying the customers and leads to too much communication. Some may view the strategy as spam and end up blocking your emails, posts, and other marketing attempts. Good thing that some marketing automation technologies are powered with Artificial Intelligence. They send strategically-timed messages to avoid smothering prospects or getting blocked by spam filters.
3. Can Alienate Your Target Clientele.
Because everything is automated, there is a risk to depersonalize your brand and alienate your prospects if you do not implement marketing automation properly. It is critical to always stay relevant by having content that appeals to your target market. Do not forget to check on personalization features to ensure that you launch campaigns that can cater to your customer base.
4. Can Make You Look Generic.
The main problem with using automation software is that it can remove the human touch appeal from your brand. Most brands succeed because they build relationships with their customers. While automation can make you robotic, there are also ways to reduce the risk by personalizing your marketing and avoiding generic-looking content.
Initially, you may find yourself asking: "is automation good or bad? As you may have observed, these disadvantages that make automation look bad can be avoided. Usually, the problem starts when you start to think that automation can do it all for you. It can, yes, but only when you can do your part in choosing software that can address your current needs. The best approach to avoid meeting these drawbacks is to find the best automation tools that will let you focus on creative tasks and refine all business processes.
Digital Marketing Automation Tools
1. Socialbee: Social Media Marketing Automation Tool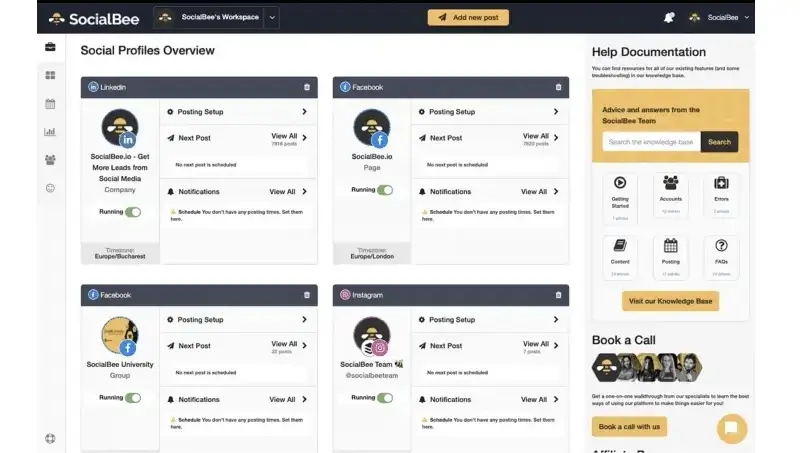 Digital marketing involves a lot of social media work. You need to manage several social media accounts to keep your brand relevant, grow your online presence, and keep the customers engaged. These activities can take a while and may risk exhausting time, effort, money, and other resources. SocialBee is a neat tool that allows you to save time by creating, scheduling, publishing, and analyzing your post.
Not only is it effective at managing your social media profiles, but SocialBee is also great at producing high-quality posts with its Canva integration feature. You do not have to fret when your hands are full of other tasks. SocialBee can schedule posts ahead of time so the customers are reminded of your presence even when you can't log in for a while. It is also easier to share your content on different social media platforms and get insightful data about their performance.
2. Renderforest: Design and Website Creation Automation Tool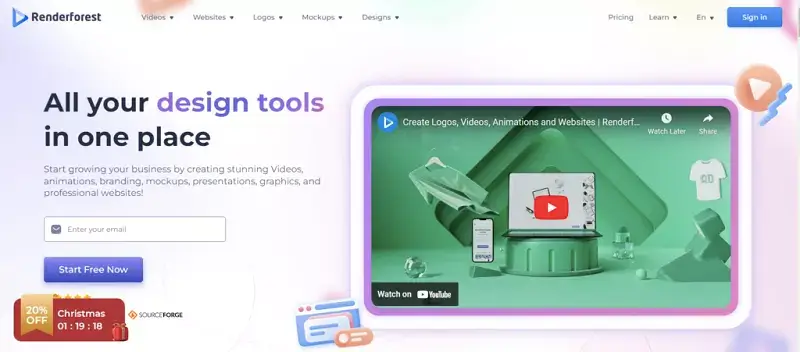 You will need a design tool to improve your marketing activities by enhancing your presence and boosting awareness at the same time. Renderforest is one good tool to do that because it is powered by easy-to-use features to create impressive videos, animations, mockups, and websites. You can easily produce stunning graphics, saving you plenty of time to do important marketing tasks. You do not need to hire professionals to create awesome content that will impress viewers.
One of the best features of Renderforest is its website design tool. You can create and design any website that you want and use SEO tools to enhance traffic, grow leads, and increase ROI.
3. Vloggi.com: User-generated Video Automation Tool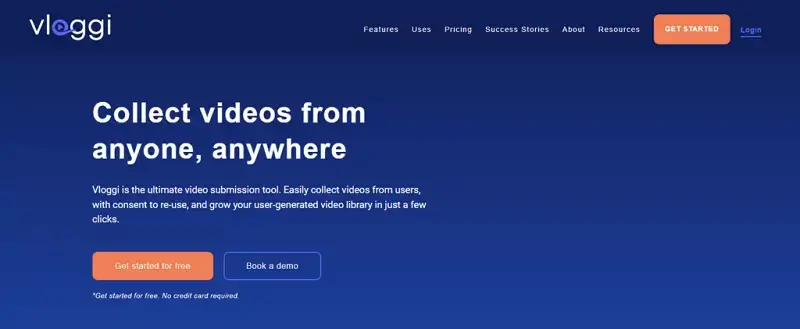 Vloggi is a user-generated video platform. It is a useful tool to crowdsource video messages, product videos, customer review videos, and other types of video submissions to do market research, make advertisements, or share on social channels.
This simple tool allows you to request video clips from your customers and ask them permission to re-use upon upload. It instantly collects consent and creates a consent report so that you can use all videos across marketing channels without any trouble.
4. DesignStripe: Custom Illustration and Mockup Automation Tool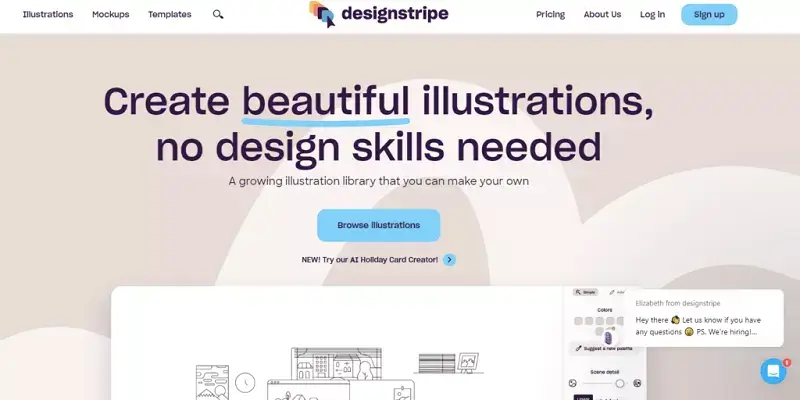 If you need to create illustrations for marketing but do not have the talent or design skills for it, DesignStripe is the way to go. It has plenty of templates to create illustrations and mockups instantly using templates. Because the design templates can be personalized, you can create amazing branded illustrations that will elevate the quality of your marketing designs. The tool is so easy to use that you can do the illustrations or have one of your marketing team members do it. This allows you to save money that would otherwise be spent paying a professional to do the designs.
5. Missinglettr.com: Social Media Management and Scheduling Automation Tool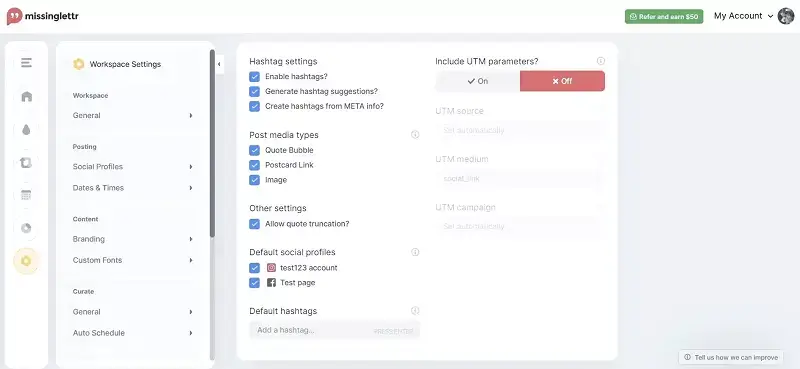 Missinglettr is the perfect way to simplify social media management and increase engagement with your audiences. It provides a powerful suite of tools for discovering content that your followers will love, scheduling posts at the best times for maximum reach, and tracking performance metrics to measure success. The intuitive calendar view makes it easy to organize all of your social media posts in one place. You can easily drag and drop posts to quickly reschedule them, or you can use the auto-schedule feature to find optimal times for engagement.
Missinglettr also offers powerful AI algorithms that make it easy to find content related to your brand that will resonate with your audience. With deep insights into your followers' interests, you can make sure that every post you share is relevant and meaningful – leading to more engagement and increased reach.
6. Kittl.com: Design Templates & Branding Automation Tool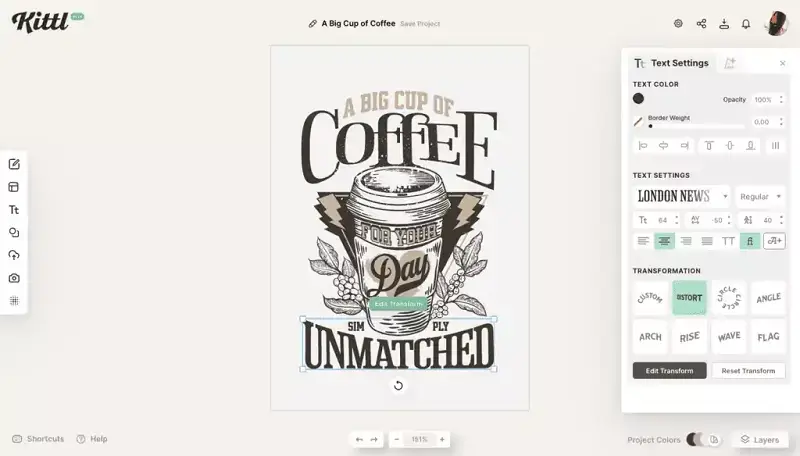 Having the perfect design is possible using Kittl. This tool has stunning designs that can be personalized for your next project. The designs can be used to create logos, labels, posters, cards, and social media posts. With Kittle, you can create designs that are seemingly done by professionals. It is a cheaper and quicker alternative than paying a designer or hiring another person in the creative department.
7. Image To Text: Automated Data Extraction Tool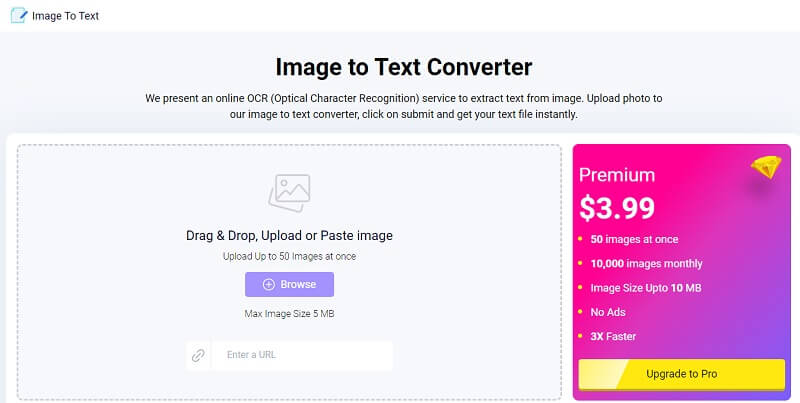 Image To Text is an OCR-based AI-powered tool that will help you to automate the text extraction process of marketing content. It can be used to extract editable text from images, documents, receipts, invoices, and many more. The tool performs the extraction process in no time with 100% accuracy. One of the best features of this online image to text converter is that it allows you to submit up to 50 images at once for text extraction. Not only this, the Image To Text tool supports images in multiple formats including JPG, JPEG, PNG, BMP, etc.
Moreover, this online tool is available in 20 different languages. This means, your marketing team can easily extract text from images or scanned documents in foreign languages. Overall, Image to Text is an excellent tool that has streamlined the time-consuming process of manual data extraction process.
8. Flexitive: Graphic Design Automation Tool for Bulk Production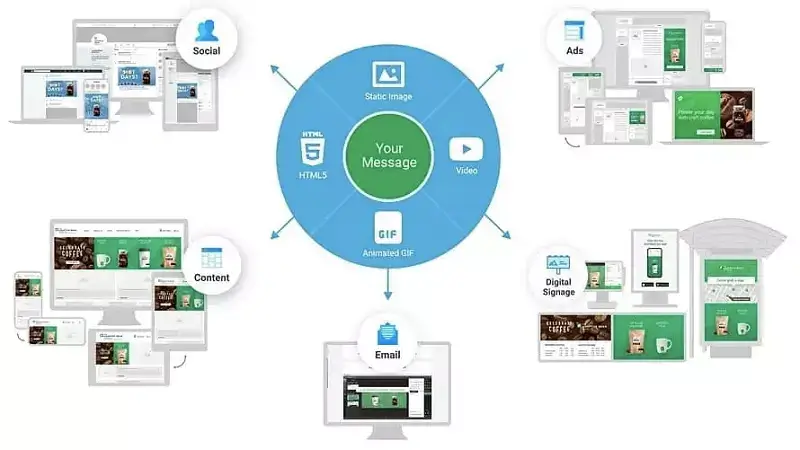 Content creation is only half of the work needed in marketing. You also need to mind the distribution of content across different channels. The problem is that different platforms call for different content formats. Especially on social media, what may be perfect for Instagram may not be accepted as a Facebook post. Hence, a tool to help you manage omnichannel design and production, like Flexitive.
This tool allows you to automate the creation of design variations with its Dynamic Design Production (DDP) capabilities. It is great with mass-producing design variations with its advanced responsive design technology but it can also be used to create one-off campaigns. Because of its flexibility, you can use it to centralize design production without worrying if your designs can work with different ad server specifications.
9. Removal.AI: Image Background Removal Automation Tool
One of the most repetitive design tasks when creating marketing materials is background removal. It can take plenty of hours and will easily tire out even the most seasoned graphic designer. With Removal.AI, you can easily prepare photos before using them for marketing. It uses revolutionary AI technology to instantly remove backgrounds. Aside from removing backgrounds, Removal.AI is also useful for doing simple photo editing tasks, like adjusting the contrast and brightness, cropping, and resizing with its built-in photo editor.
10. Dreamdata.io: Revenue Analytics & Attribution Tool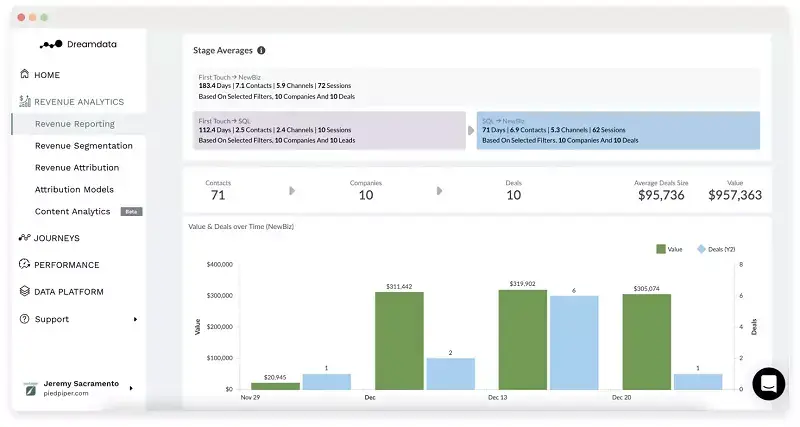 Attribution is one of the most challenging parts of digital marketing. You have to deal with a lot of data to determine whether your strategies work. The process of collecting and analyzing data is also long and tedious if you are doing it manually. Dreamdata.io is a great tool to assist you in gathering and analyzation of data. You can use it to get insights about the customer journey and other business-critical attribution insights. It is what you need if you find it difficult to make marketing-related decisions, especially when it concerns revenue-generating performance activities.
11. AI-Writer.com: Content Writing Automation Tool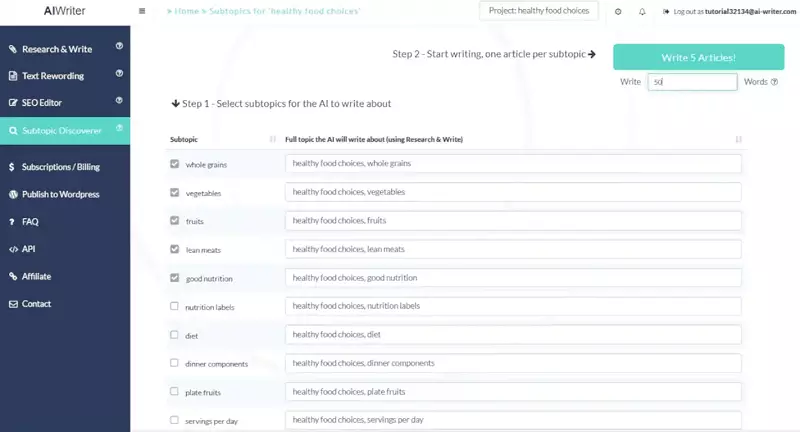 Content generation is an essential part of marketing. Using state-of-the-art technology, AI Writer helps you generate unique and high-quality content in minutes, instead of hours or days. You only need to put in a headline, which magically creates content you can upload as your own. With a way to generate content fast, your team can increase efficiency and profits with so little time and effort.
12. Blaze.today: Emails & Snippets Typing Automation Tool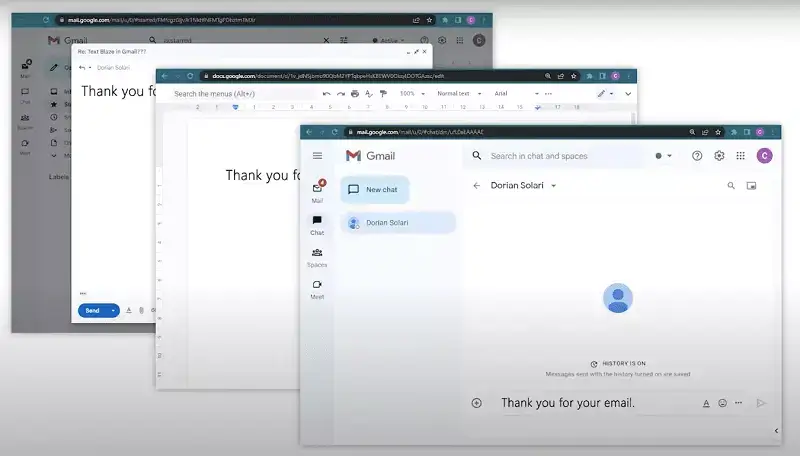 Blaze.today is an incredibly useful online tool that helps to save time, effort, and energy when writing on the web. With its innovative shortcut feature, users can easily "snippet" text and store it as a template in Text Blaze. This way, they just have to type the shortcut and their snippet text will be immediately substituted for it wherever they are in the Chrome browser.
Additionally, with its sharing and collaboration features, Blaze.today makes it simpler for users to work together and create more dynamic templates. This way, no matter what kind of project you're working on, Text Blaze allows you to quickly import text from other templates and customize them as needed.
13. Bigmailer.io: Email Marketing Automation Tool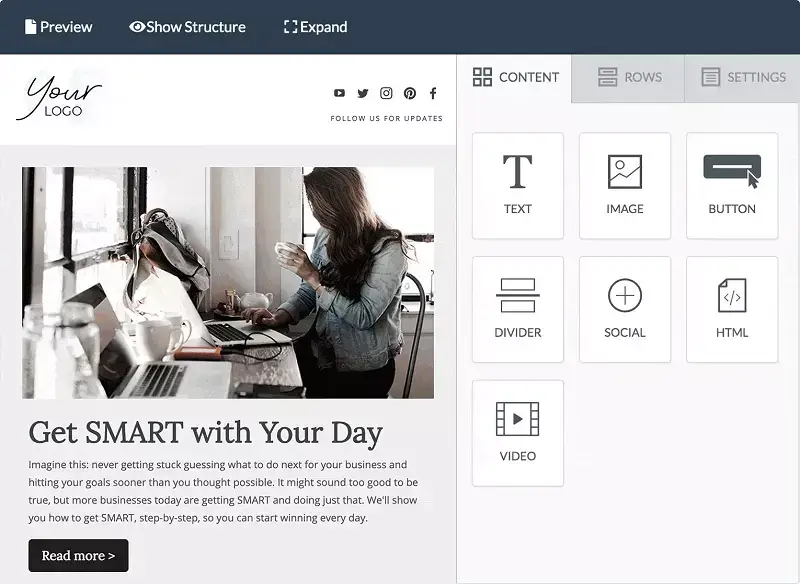 With BigMailer, businesses can create personalized and automated email marketing campaigns for their brands. Through this powerful tool, users have access to features such as drag-and-drop email builders, A/B testing capabilities, and segmentation options. These features allow businesses to easily tailor emails based on customer data and design standards.
The tool also simplifies the delivery of emails to customers with its intelligent email automation. Users can create drip sequences and RSS-to-email campaigns that are triggered based on customer actions, such as clicking a link or signing up for a service. This helps businesses stay in touch with their customers and better understand their needs.
Know What Tool Best Works for Your Business
It can be time-consuming and a bit overwhelming to create an effective marketing strategy. Marketing automation is one of the biggest factors why modern businesses succeed and improve their revenues. Its advantages may sound too good to be true but they are usually great when you do it right. It has its disadvantages but, take note that they can easily be remedied by choosing marketing automation tools that work with you. Knowing about automation's different pros and cons should help you broaden your perspective on using this technology to streamline your marketing efforts.
Author's Bio:
Jenn Pereira has helped many businesses achieve their goals, whether it be increasing website visits or driving more sign-ups and conversions. Her expertise in search engine optimization (SEO) and content marketing is second to none and she is always looking for new ways to push the boundaries of success. Her passion for SaaS growth marketing drives her every day.