Where do your adverts on social media and Google link to? What about your campaigns for marketing through email? If the answer is always the homepage of your website or even a product description; it's time to cut it out and start learning about the potential of landing pages instead. In this article, we will discuss the 6 best WordPress landing page plugins that will help you. So keep reading.
These particular kinds of web pages are designed to simplify standard websites by clearing away unnecessary content and greatly increasing the number of conversions. They are able to achieve this due to the fact that they have a highly focused message throughout the entirety of the sales pipeline, from the content of the advertisement all the way down to the information that is displayed on the page.
If you are using a WordPress plugin that has been designed to a high standard, creating a high-quality one does not require a significant amount of time or money. In addition to this, WordPress provides you with a plethora of wonderful options from which to select.
Why Is It Necessary To Use A WordPress Plugin For A Landing Page?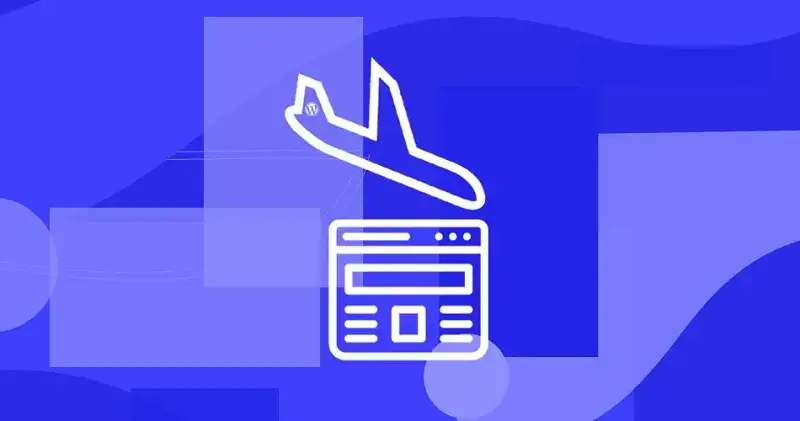 Let's take a look at some of the reasons that you may want or require a landing page plugin before we get into the specifics of all the available solutions.
1. To Raise The Percentage of Successful Conversions
The purpose of landing pages is to provide visitors with content specific to the page; which increases the likelihood that the visitor will convert. Conversions can take many forms, such as making a purchase, enrolling in a webinar, or registering for a presentation, but they all start with the user providing their contact information. In any event, the use of these kinds of plugins can be beneficial to your CRO.
2. So That It Is Consistent With The Messages In The Advertisements
Landing pages typically get referred to from online adverts. The rationale for this is that if a customer links directly to the homepage of your website, they are presented with very little information about where they should go from there. Yet, a landing page will correctly represent the exact message that you produced in the advertisement, so reducing the likelihood of the user being confused.
3. To Get More Prospective Customers
Emails, social networking sites, and search traffic are all examples of channels that can be used to create leads. When someone is directed directly to your website; you can expect that you will lose a significant proportion of these leads. As a result, the links ought to be changed so that they direct visitors to a homepage. Also, you can check this article on 5 Powerful Tips To Build Your Social Media Community.
4. Improve Your SEO
Landing pages can be broken down into a few distinct categories. PPC could be the only aim of some of them, while others could have been designed specifically with SEO in mind (or sometimes even both). Your landing pages should be able to assist with your SEO efforts provided that they are optimized for certain keywords, user-friendly, responsive, and quick. And besides, the much more landing pages you create; the greater the likelihood that Google will rank your website among the results on the first page of the search engine's results page. You will then be able to make use of the landing page that has a high conversion rate on organic traffic.
5. So That Information Regarding Prospective Consumers Can Be Collected
The purpose of a landing page is to attract potential customers and turn them into paying customers (conversions). One of the benefits of improving your conversion rate is that more of your clients will volunteer their information. You find out information such as the websites that people visit; whether they are using a mobile device or a desktop computer, and much more. You will be able to re-target clients in the future with improved advertisements, emails, and pages if you do it this way.
Be wary of the General Data Protection Regulation (GDPR), to give an example. Always be sure you get the user's permission before collecting any information or pixel data about them; regardless of what kind of information or data it is.
6. To Make Marketing Offering Appealing Through Clever Presentation
When marketing offers are interspersed with other material on a website; the effectiveness of the marketing offers as a whole is diminished. Landing pages tend to concentrate on one or two items and eliminate any unnecessary clutter by concentrating solely on those products. When combined with a promotional offer, this is an excellent strategy to encourage customers to make a purchase.
Top WordPress Landing Page Plugins In 2023
We have investigated, evaluated, and dissected every credible landing page plugin in order to highlight the qualities that set each one apart from the others; as well as the elements that might sway you to choose one over another. Now is the time to throw yourself in!
1. Elementor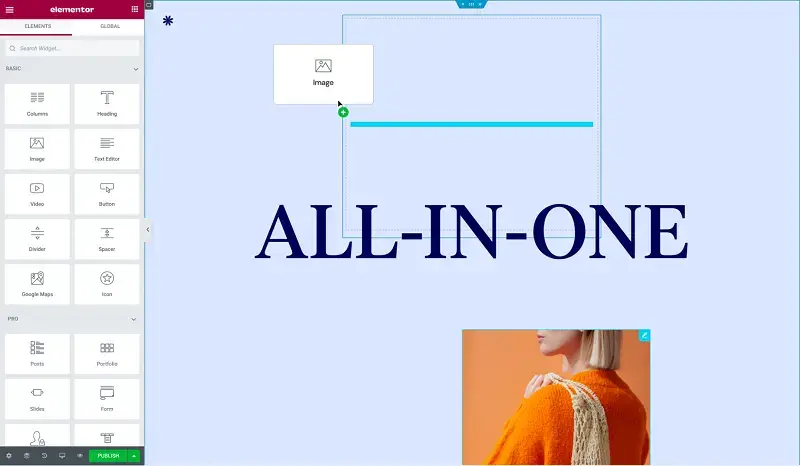 Elementor sets itself apart from competitors in the market for products that create landing pages by offering a free download of its basic plugin. You may be thinking that the other solutions that we discuss also feature free downloads; however, Elementor is a little bit different in this regard. In point of fact, the primary drag-and-drop editor does not suffer from any form of dilution. This plugin has received a five-star rating from the WordPress community and has more than one million active installations.
You can start building landing pages without having to work with any coding at all by just downloading the Elementor builder and getting started. It is compatible with the vast majority of plugins and themes, and the free edition of Elementor comes with a number of different templates that have already been designed for use with the plugin.
Elementor is, all things considered, one of the most efficient tools for getting your landing pages up and running. The drag-and-drop editor is possibly even superior to that of Beaver Builder, and a diverse variety of companies will be pleased with the features that are included in the free plugin download that is available. In addition to this, the premium pricing structure begins at just $49 for a single site; increases to $99 for three sites, and tops out at $199 for an infinite number of sites.
Elementor is a better choice than Beaver Builder if you only have one website and are interested in minimizing your financial outlays. However, Beaver Builder charges $99 once and supports an unlimited number of sites; hence, it may be more suitable for businesses and programmers.
2. Beaver Builder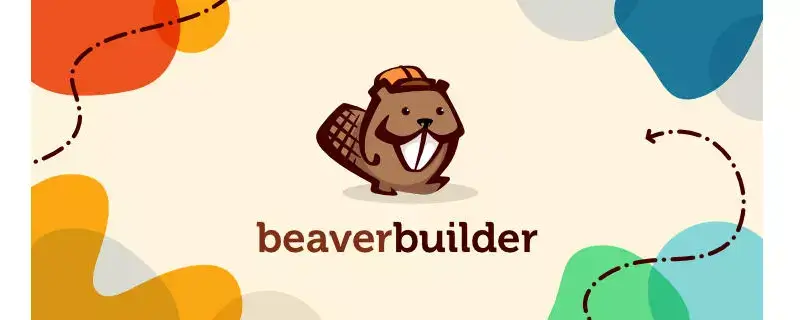 Not only for landing pages but also for entire websites; many people use Beaver Builder as their go-to page builder plugin. Its versatility makes it an ideal choice. It is possible to develop gorgeous designs and sales funnels that load quickly and do not require a lot of configuration time. There is a free version of Beaver Builder that includes various content modules; many of which are adaptable for use as landing page components.
The following formats are available within these content modules: video, sound, text editor, picture, side, and HTML. You also have the ability to design the highly desirable full-width landing pages that are of such practical utility. The free version of Beaver Builder should be sufficient for the needs of many smaller businesses in terms of creating landing pages; nevertheless, the paid Beaver Builder module is appealing.
The price starts at $99 for a license that can be used on an infinite number of websites for a period of one year. Because it protects every website on your network; the vast majority of businesses won't ever need to update beyond this point.
The $99 pricing level includes not only customer assistance but also a page builder plugin in addition to premium landing page components and templates. This package excludes the multisite feature and the Beaver Builder site theme. You would be required to pay a one-time fee of $199 for those capabilities, or $399 annually if you wanted total white for an agency.
3. Divi Builder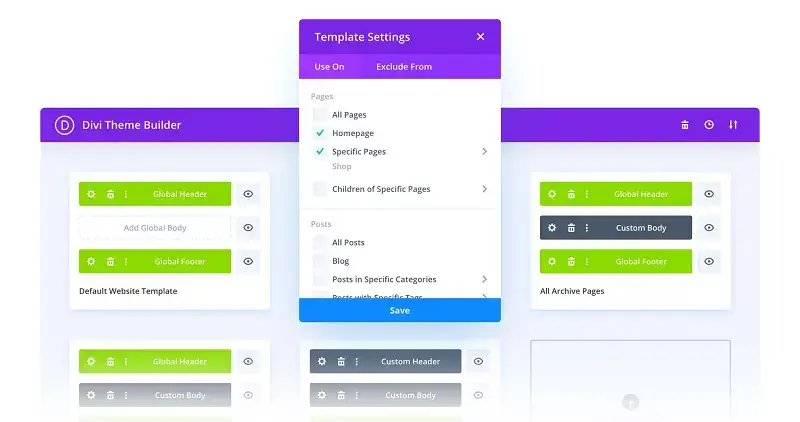 The Divi Builder is compatible with the majority of WordPress layouts, which is well-known. It is a complete website builder in addition to being an exceptional landing page plugin for WordPress. Since Elegant Themes is the company that offers the Divi Builder if you want access to it you are forced to sign up for a membership with Elegant Themes. This subscription is the best option for developers that are looking for more than just a landing page plugin. The membership, which costs $89 per year, grants access to Elegant Themes' whole collection of themes and plugins. You won't find more aesthetically pleasing themes anywhere else, and the plugins cover everything from social network sharing to mail options.
One of the benefits of being a member of Elegant Themes (and using the Divi Builder) is that you are granted permission to use the builder; along with all of Elegant Themes' other themes and plugins; on an infinite number of websites. The subscription, which costs $89 per year, is an excellent deal, particularly for individuals who manage numerous websites or clients. But, keep in mind that the Divi Builder does not include a free plugin of any kind.
When you investigate the features of the landing page, you will discover the sophisticated and effective drag-and-drop builder. In addition, Divi offers around 46 different content modules; which range from audio players and calls to action to social media buttons and pricing tables. In addition to that, you receive the contact forms as well as the email campaign forms; which are really valuable in the landing page business.
4. Qards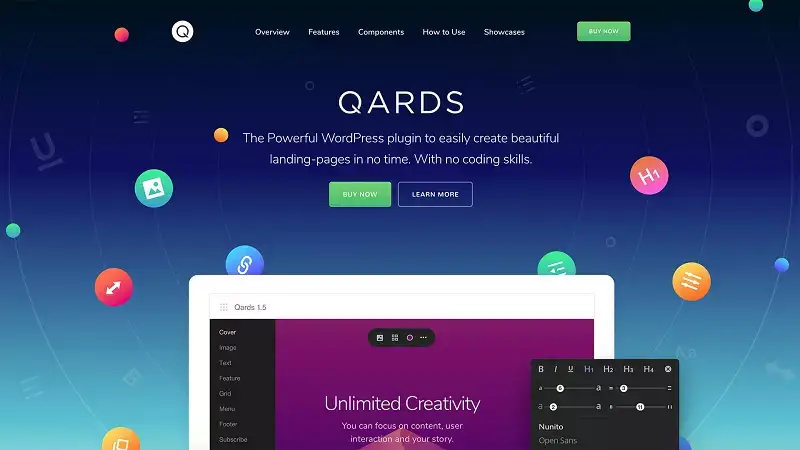 Qards is one of the less well-known plugins for WordPress landing pages; yet, it enables users to create attractive landing pages without requiring them to have any knowledge of coding.
With Qards, webmasters can quickly and easily generate landing sites without encountering any technical difficulties. The software operates a graphical user interface that allows users to move cards above or below other cards in the stack. The design team has made every design completely responsive, and they have redesigned a good number of cards with simplicity and adaptability in mind. You can connect your MailChimp account to bring in leads and drop them directly into your email database.
One of the primary reasons we have such a high regard for Qards is the fact that it provides support for seamless media. You may embed movies from YouTube both inline and in the background, and you can position images and audio files anywhere you choose. Grid style is useful when you're trying to organize material without using any code; while the customized CSS and HTML regions are fantastic for more experienced designers.
5. Instapage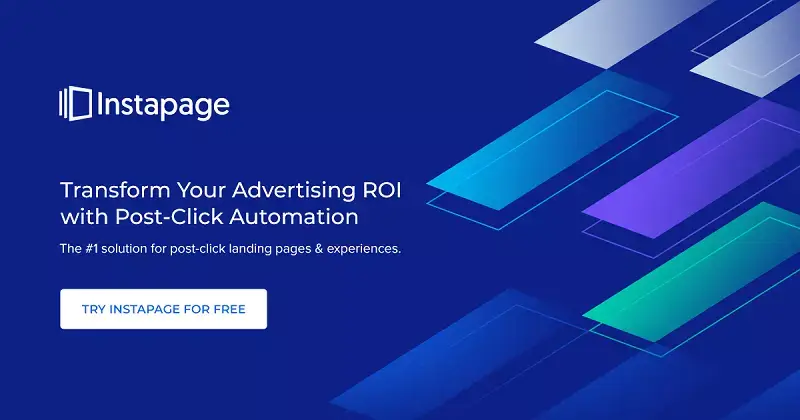 The goal of increasing conversions from advertising spend is the primary emphasis of Instapage's efforts. The creation of landing pages is its primary function, but it also includes a full collaboration tool, page builder, and SEO engine among its many features.
You might have noticed that the listing of earlier WordPress landing page plugins includes little A/B testing functionality. If this is what you're searching for, then Instapage is the option that will best meet your needs.
Instapage provides a comprehensive set of tools that includes superb A/B testing to determine which page components are most successful. In addition, you will obtain heat maps that will show you where visitors click; as well as dynamic text replacement that will change depending on who is navigating your website.
The page builder allows users to simply drag and drop widgets to add various elements to their pages; such as call-to-action buttons, videos, and more. The tools for collaboration are fantastic for offering instant feedback on ideas and making real-time adjustments that other people in your organization can view. You can have a conversation with other users while you are modifying the things on the landing page, and all of the networking modules are entirely safe to use. Arguably, Instapage has the most outstanding set of capabilities; however, using this service will cost you.
The Core plan of Instapage has a starting price of $69 per month, and for that price; you receive everything, including real-time collaboration and 20 integrations. The Optimizer plan includes A/B tests and heatmaps; which costs $99 per month and give you access to those features. If you need agency or enterprise plans, Instapage also sells those to its customers.
6. OptimizePress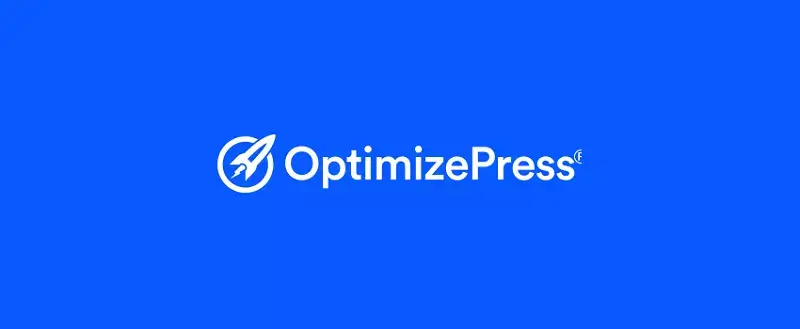 OptimizePress is another landing page package on the market, and its functionality is comparable to that of Instapage. You can easily use this landing page builder for marketers who want a lot more than a simple one. In point of fact; it is possible for you to construct landing pages, marketing content, subscription portals, launching funnels, and authoritative blog sites. You can skip any of this that you do not require.
Despite this, the one-time cost of $97 is well worth investigating further.
The number of features that were crammed into OptimizePress for that price was first hard for me to believe, but the company does a superb job of providing alternatives for generating a limitless number of pages at an affordable price. If you are more interested in utilizing A/B split testing and obtaining access to video backdrop and sophisticated design features; then the pricing point of $197 is more in line with what you are looking for.
OptimizePress differentiates itself from the competition for a number of reasons; one of which is that the WordPress landing page plugins do not stop functioning after each renewal period (one year). Support and updates are the only features that need annual payment, but you do have the option to purchase them.
Conclusion: WordPress Landing Page Plugins
When compared with a few other WordPress landing page plugins; OptimizePress is the one I recommend to people who have a requirement for A/B testing but don't want to pay the hefty fee that Instapage demands. Moreover, they said that the support team is really pleasant, so you can look forward to another perk.