Inspiring Nature WordPress Themes are the perfect solution to bring in nature-inspired theme design into your site. They look great, work well, and will help you achieve the look and feel you want quickly. You will also find that they are easy to customize as much as you want. There are lots of choices when it comes to themes, Inspiring Nature WordPress Themes are good options.
Furthermore, these themes are perfect for setting up your WordPress nature blog sites. These inspiring nature themes are not only beautiful but also make it easy for your visitors to complete signup forms. Take a good look at this collection and find your perfect inspiring Nature theme.
List Of Best Free Inspiring Nature WordPress Themes
1. Nature Bliss
2. VW Eco Nature
3. Econature Lite
4. Eco Nature Elementor
5. SKT Wildlife
6. Clove 
7. Ecology Nature
Also, Read:
Best Free Popular WordPress Themes
Best Free Crowdfunding WordPress Themes
1. Nature Bliss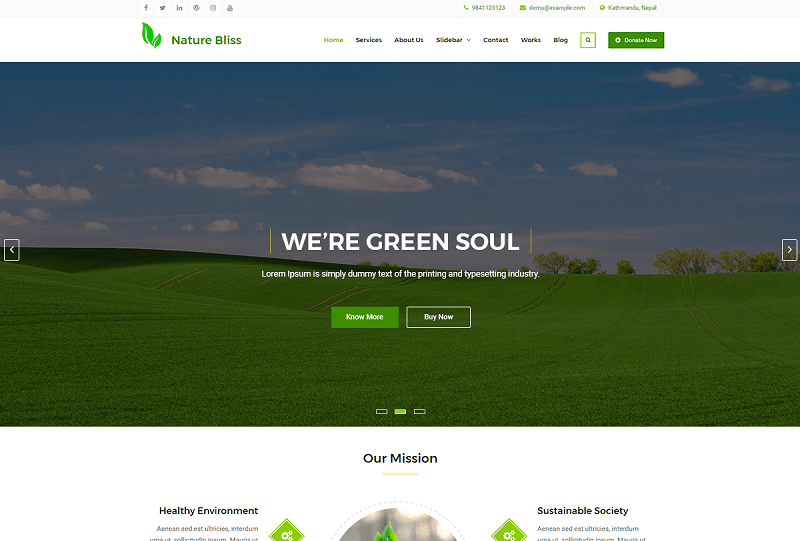 Nature Bliss is a clean, nature-inspired theme ideal for nature-oriented businesses, non-profit organizations, and NGO sites with resourceful features and design. Its fresh, earthy design makes it stand out. This theme lets you build compelling pages for Wildlife preservation, Organic life projects, Nature care, or other related organizations. Also, the Nature Bliss theme is a new-generation business blog theme that offers visitors an immersive product browsing and reading experience. Furthermore, this splendid nature-inspired theme includes robust features like Featured Images, Full Width Template, Left Sidebar, One Column, Theme Options, Threaded Comments, Translation Ready Options, and many more. Besides this, the Nature Bliss theme is also perfect for developing eco-friendly websites.
2. VW Eco Nature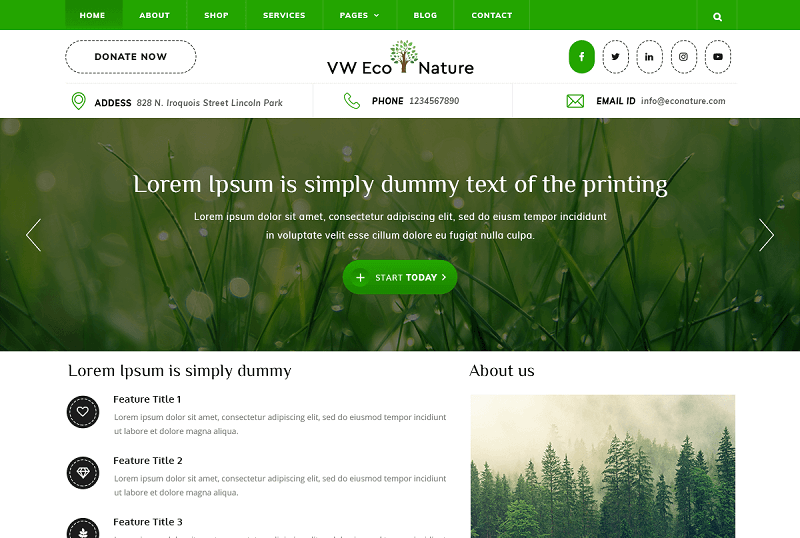 VW Eco Nature is a freemium, eco-friendly theme that caters to the needs of businesses focused on nature, conservation, and eco-friendliness. This theme is not only responsive and customizable but also SEO friendly with optimized codes, making it perfect for a wide range of blog and business websites. Furthermore, this theme is animated and has custom color options, threaded comments, and a bootstrap feature, making it an excellent choice for nature photographers and nature-oriented businesses. The modern looks, customization options, and luxurious touch of this theme will draw more leads and conversions. Besides this, it is loaded with genuine features like translation readiness, RTL support, feature slider, clean code, and more.
3. Econature Lite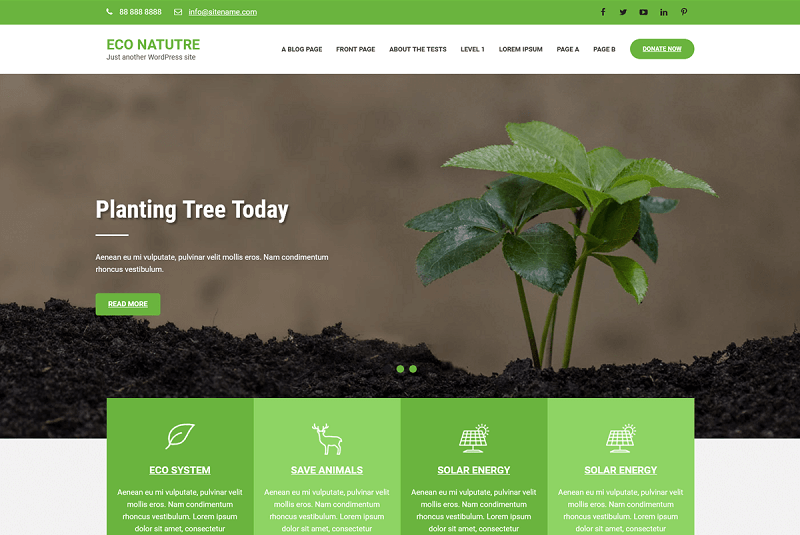 You can use this inspiring nature theme for Environmental, Green, Nature, Natural, NGO, Recycling, Energy Conservation, and similar business sites. It is a free business blog theme with easy-to-implement functions and responsive design. The theme also has a fast loading time and optimal performance for creating convincing pages for nature protection, conservation developments, Wildlife preservation, or other related organizations. Furthermore, you can showcase the aesthetic features of nature and present your work or content cleanly and effectively with Econature Lite. Econature Lite is very flexible and gives you a gritty plan that is heartfelt yet proficient in the meantime. Also, you can easily customize it with Widgets, banners, and customing features.
4. Eco Nature Elementor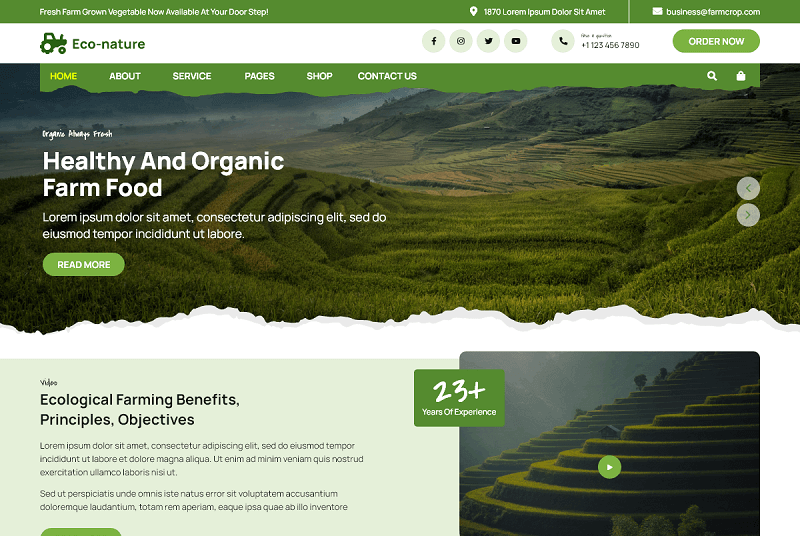 Eco Nature Elementor is a customizable nature-inspired WP theme that you can use for various sites such as environmental protection, charity, and politics. It comes with a free Mega Menu, Revolution and Layer Slider, and other essential plugins. Besides this, the theme is multilingual, RTL-ready, and can be integrated with Paypal for accepting donations. It also has features like multiple galleries, unlimited color schemes, events, a timeline, a revolution slider, a team page, and more. Additionally, it has Advanced Typography and Blog Options, a Portfolio/Gallery Settings Screen, a Shortcode Generator, a One-Click Demo Install, Custom Widgets, and so much more to give your imagination reality.
5. SKT Wildlife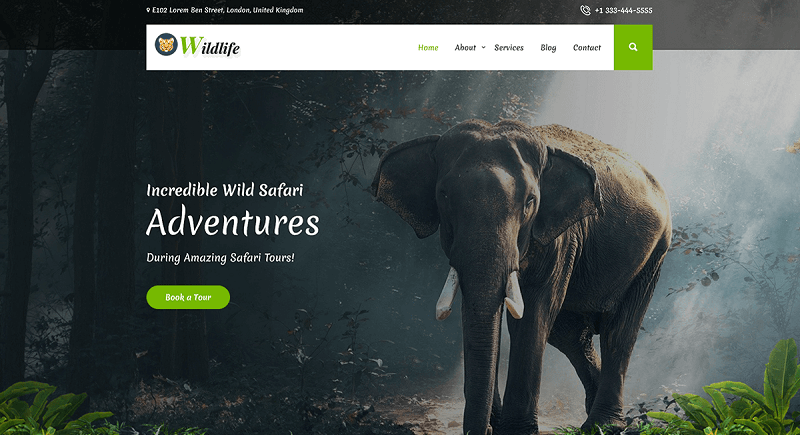 The following WP theme on our list of free Inspiring Nature WordPress themes is SKT Wildlife. It is a modern-day, easy-to-use nature theme developed by Sonalsinha21. With this nature theme, you can easily make a Sanctuary, jungle safari, nature conservation, zoo, and wildlife photography websites. Also, the SKT Wildlife theme is highly responsive and adaptable and works nicely on all screen sizes. In addition to this, the theme provides features like Custom Colors, Google Fonts, Typography Settings, Custom Page Templates, RTL Support, and more. Besides this, you will also get compatibility with 3rd party plugins, such as Yoast SEO, Gravity Forms, WooCommerce, Jetpack, etc.
6. Clove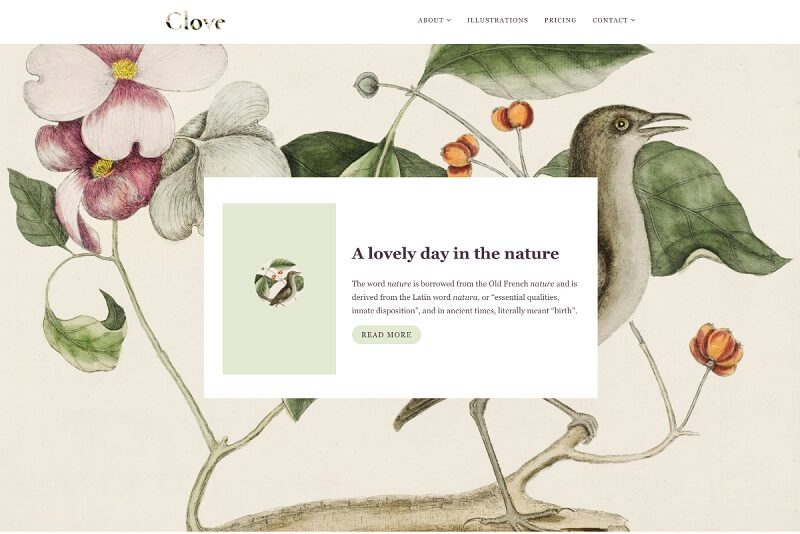 This free nature theme is developed by Anariel Design. The theme is inspired by nature, retro illustrations, artists, and similar niches. The Clove has FSE, SEO-optimized designs, and Schema codes to increase your site's search page rankings. Moreover, this nature theme is fully responsive and comes with a set of layouts and template settings that you can change via Global Styles. Besides this, Clove has dynamic features and delivers Content Presentation features, Font Settings, Basic Shortcodes, Justified Gallery, etc. In addition, you will get multiple browser compatibility, social media support, and widgets. Also, the Clove theme gives you customization tools for designing a user-friendly, nature-inspiring site for your business or nature blogs.
7. Ecology Nature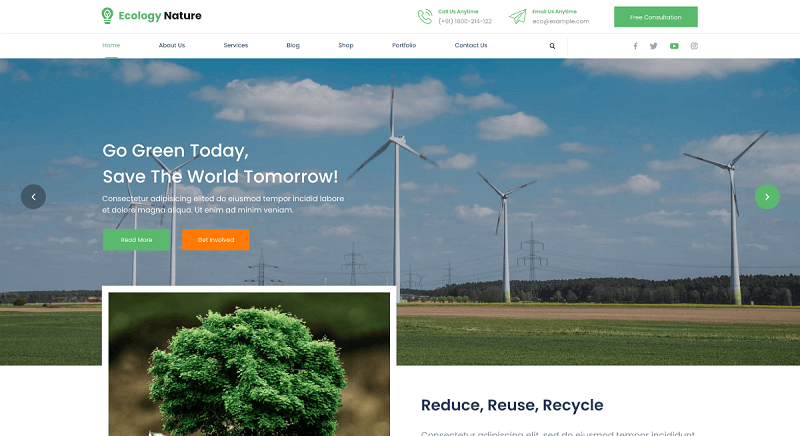 The Ecology Nature theme is ideal for building sites related to Ecology, Ecosystems, Energy Conservation, and nature-related projects. It also caters to donations, non-profit foundations, pharmacies, organic farming, food packaging businesses, and similar sites. Ecology Nature is a Bootstrap framework-based theme that features a translation-ready interface. This interface enables users to translate it into any language they prefer. Additionally, it supports RTL layout and is SEO-friendly, ensuring that your website ranks higher on major search engines. The theme boasts a clean, minimalistic design and is responsive across all devices, making it look professional and stunning. And with coding skills, users can add shortcodes to improve the functionality of your site.
Conclusion:
Nature not only inspires people on a personal level but has also helped them get through some tough times in their lives. Whether you want to build a simple nature blog site or a full-fledged organization and business site, these Inspiring Nature WordPress Themes are excellent for you! So, check them and see if they fit your site needs or not!