Are you looking for a WordPress theme that can help you promote your upcoming mobile app project and showcase all the details? If yes, this post is for you! This post contains a splendid theme collection of 7 Best Free Mobile App WordPress Themes.
You can also consider app development with a DIY tool. Platforms like AppMySite make it easy to design and launch apps, especially if you have an existing WordPress website.
These WP themes are great for promoting your new mobile app, reviewing existing apps, and displaying app content effectively. So, without any delay, let's check out this collection-
List Of Best Free Mobile App WordPress Themes
1. Multi Mobile App
2. VW Mobile App
3. BB Mobile Application
4. Blogrid
5. App Landing Page
6. Advance IT Company
7. VW Landing Page
Also Read:
Best Free Social Media WordPress Themes
Best Free WordPress Themes for Graphic designers
1. Multi Mobile App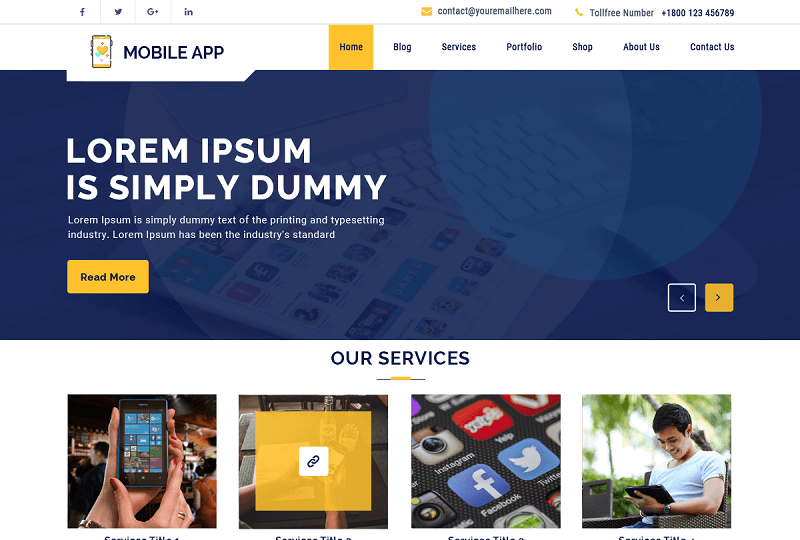 An excellent WordPress theme that you can use to build a gorgeous website for business, Mobile App shop, iOS, android, iPad, tablet, and other sites that showcase the mobile app. The Multi Mobile App theme is a grid layout-based eCommerce WP theme, which gives you many valuable features. Furthermore, it has a multipurpose design with a slider revolution, social media options, and a custom menu. And it gives you a fast way to showcase app details on the internet in a modern fashion. Also, the Multi Mobile App theme includes Editor Style, Featured Images, Flexible Header, Custom Background, Colors, Header, and Logo, and it can fit different screen shapes and sizes.
2. VW Mobile App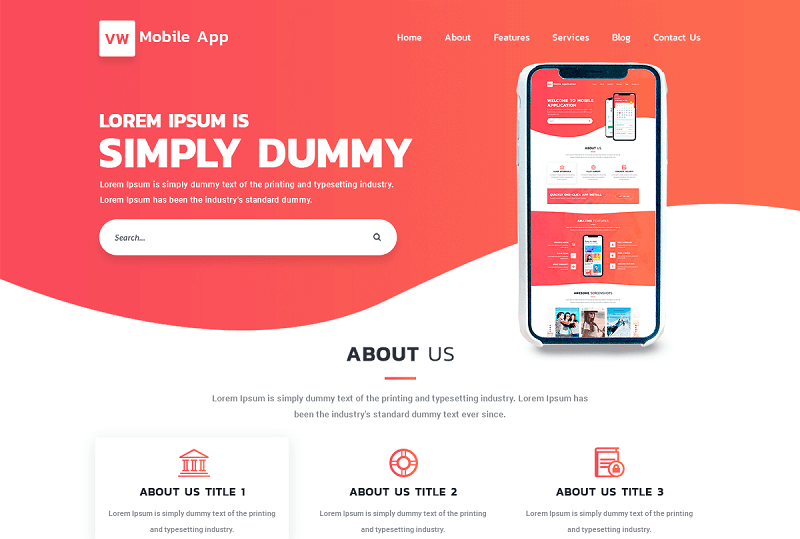 VW Mobile App is ideal for creating versatile sites with Top-notch performance and flexibility. The VW Mobile App theme offers Social Media Integration, Google Fonts, Theme Options, Post Formats, and many more. Besides this, the VW Mobile App theme also has improved robust theme layouts, and you will get eye-catching styles for the header and dedicated support forum. Also, you can use the VW Mobile App theme to design super fast and clean sites to promote and showcase mobile apps, app pages, landing pages, actual app showcase, introducing and showcasing app details, etc. The good thing about this free theme is it does not demand any coding skills to do these customizations and create unique designs and performance-focused websites to deliver the best user experience.
3. BB Mobile Application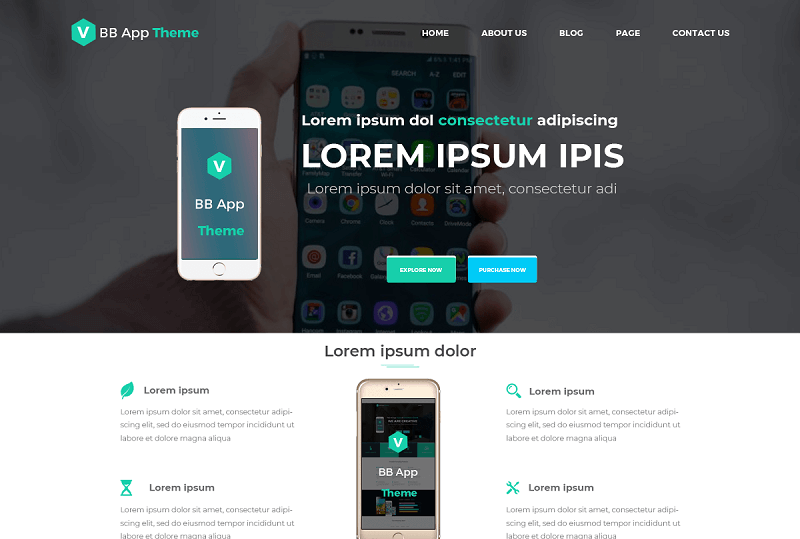 Another modern and responsive Mobile app theme with many flexible options. This stunning theme solution features Header Layouts, Blog Layouts, Sliders, Custom backgrounds, Service, and a Footer that you customize to easy to set up your unique site. Its user-friendly design makes it perfect for reviews of upcoming products like mobile apps, gadgets, Safety Apps, Parent Controlling Apps, etc. Furthermore, the BB Mobile Application theme is Compliant with GDPR and WooComerce-ready; and gives you secure and clean codes, Detailed Documentation, and personalization options making it effortless to customize your theme. Without many bells and whistles, the BB Mobile Application theme gives you everything to create your app showcasing site.
4. Blogrid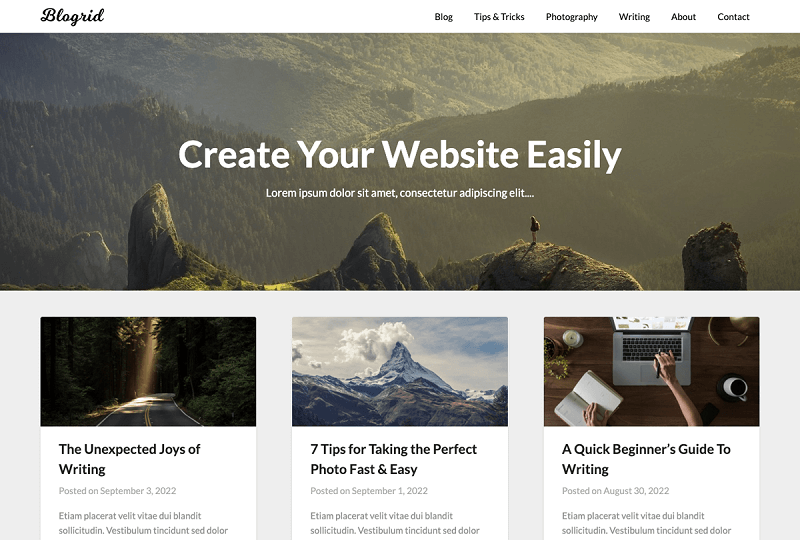 Excellent features of the Blogrid theme are Theme Customization, Logo upload, Social media Links, Slider Settings, Custom Colors, Custom Header, Featured Images, Footer Widgets, etc. Furthermore, you can use Blogrid to build all kinds of newspaper or magazine-related sites that include niches like food, entertainment, gaming, lifestyle, etc. Besides this, the Blogrid theme is full width by default; allowing you to create a landing page or one page easily to visualize your businesses with a drag-and-drop interface. Blogrid helps in building your site top-notch and special from competitors with clean typography, AdSense, and other Ad programs. This theme is also speed optimized and has a fast page loading speed, so when your visitors load your site, they will have a great experience!
5. App Landing Page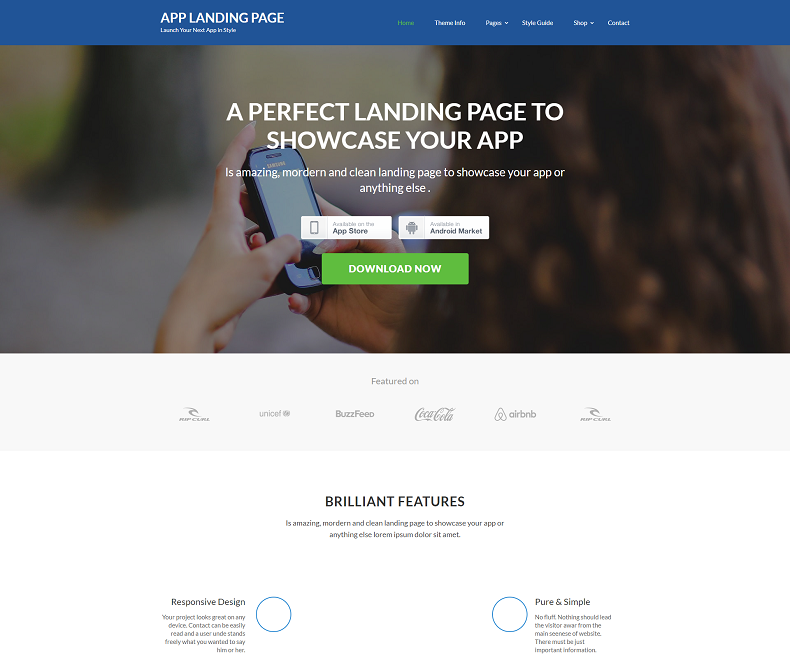 The App Landing Page theme is next on our list of the best free mobile app WordPress Themes. It is also an engaging landing page WP theme By Rara Theme. Furthermore, you can use the App Landing Page theme to showcase your latest app creatively and appealingly. The App Landing Page theme is mobile responsive and has sections like Banner with Call-to-Action, Newsletter, and Testimonials, and delight your visitors with app snapshots, video demos, and links to download the app from Apple Store and Google Store. The App Landing Page theme is also translation ready. Its highlighted features are Schema-friendly, Custom Menu, RTL script ready, Footer Widgets, etc. The App Landing Page theme is a great solution you can go for to promote your upcoming mobile app.
6. Advance IT Company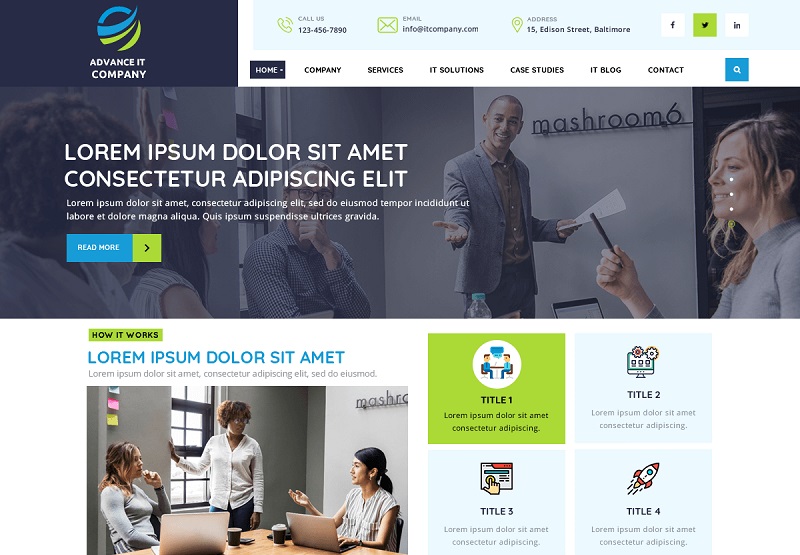 If you want an all-rounder theme solution to advertise your mobile app or software, then the Advance IT Company theme is perfect for you. It is a feature-rich, highly applicable theme crafted by the experts at Themeshopy for software, startup, Web Development Companies, app theme, mobile app companies, etc. Advance IT Company is WooCommerce and RTL compatible and allows you to translate the web page into various languages. Besides this, the Advance IT Company WP theme offers many valuable features like Theme Customization, Logo Upload, Social Media Links, Templates pages, Home Pages Templates, Contact us Page, Full Documentation, Woo-commerce, and Supports 3rd Party Plugins. In addition, you customize the Advance IT Company theme however you want to build stunning landing pages for your business.
7. VW Landing Page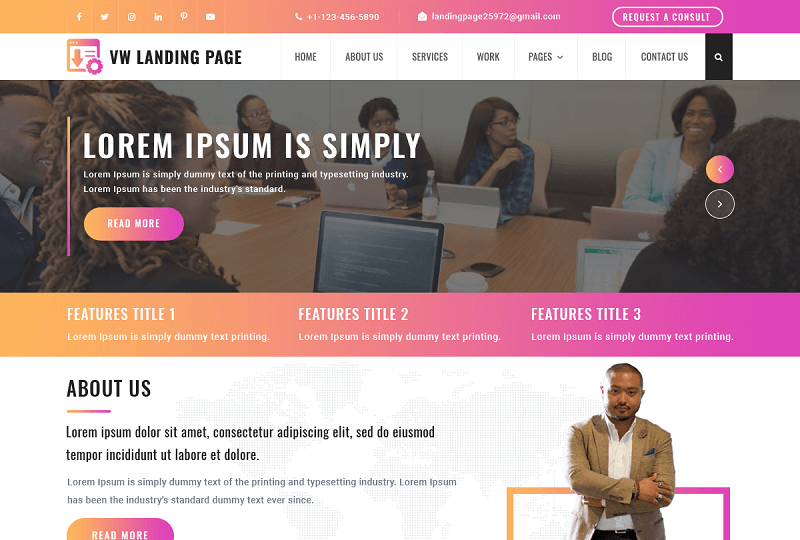 The VW Landing Page theme offers a clutter-free, modern WP theme design with many customization options for every element. This free WP theme is thoughtfully designed and compatible with page builders and allows you to add social links through widgets to share and promote your App and other products. The VW Landing Page theme is designed especially for digital products, mobile apps, digital businesses, advertising firms, startups, etc., that need an engaging landing page. Besides this, the VW Landing Page theme comes with fully explained documentation to make it easy for beginners to set up their site. Also, this bootstrap framework-based WP theme makes your experience smoother and more comfortable.
Conclusion:
With the Right WP theme, you can focus on the Important aspects of your App or Software project while still ensuring it looks good on all devices and screen sizes. The themes in this collection are optimized for Google Search and come with features like Mobile App Support, Google Map Integration, etc. And their custom-made designs, powerful features, and wide range of options will allow you to create an experience that matches the needs of your users.
So, try these themes and put all your important app information in one place and make your visitors and followers' experience enjoyable.