If you run an online business, you know how important it is to promote your business on various social media channels. Also, the trend for social media platforms is on the next level almost everyone uses one or more social channels to share their post or get information about new trends and other events. So now, you can imagine how much promoting your business or content on these channels can impact your business growth, and most business owners understand this. Therefore, they use paid or free optimized social media WordPress themes.
Besides this, social media is an online space that connects people. Therefore, a social media-integrated site can be a great medium for getting new followers or potential clients. With that in mind, Testerwp brings you the 7 Best free social media WordPress themes for your blog and business websites.
List Of Best Free Social Media WordPress Themes
1. Social Media Expert
2. Portfolio View
3. Digital Marketing Elementor
4. Aqeeq Agency
5. Fashion Designer Studio
6. VW Dark
7. Feminine Style Lite
Also Read:
Best Free Automotive WordPress Themes
Best Free Makeup Artist WordPress Themes
1. Social Media Expert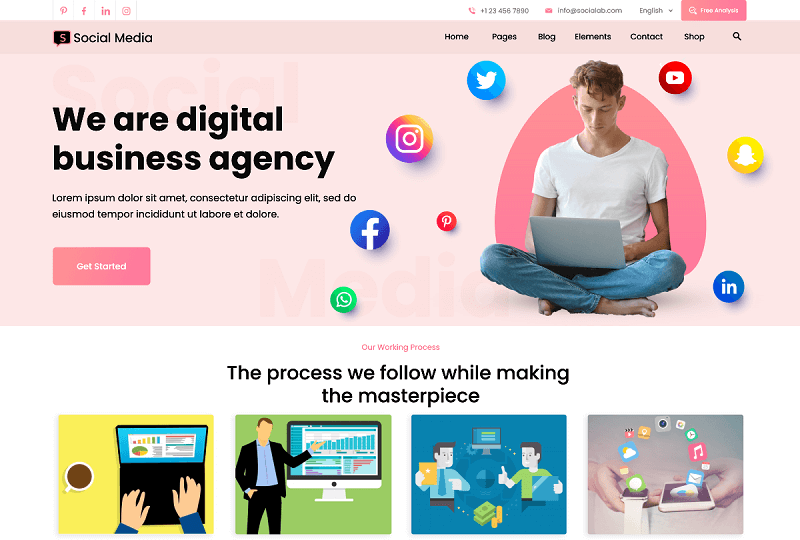 An excellent WordPress theme you can use to build a stunning site for digital marketing, online marketing company, social media marketing agency, mobile app marketing, pay-per-click, WordPress development agency, and related websites. Also, it is a multipurpose theme that delivers valuable features to help you promote your services on social media networks. Furthermore, it has a page builder with a slider revolution that allows you to display your services with premium images and unique content. Also, the Social Media Expert theme includes features like Custom Background, Custom Colors, Custom Logo, Custom Menu, Editor Style, Featured Images, Flexible Header, Footer Widgets, Left Sidebar, One Column, Sticky Post, Theme Options, Two Columns, Wide Blocks, etc.
2. Portfolio View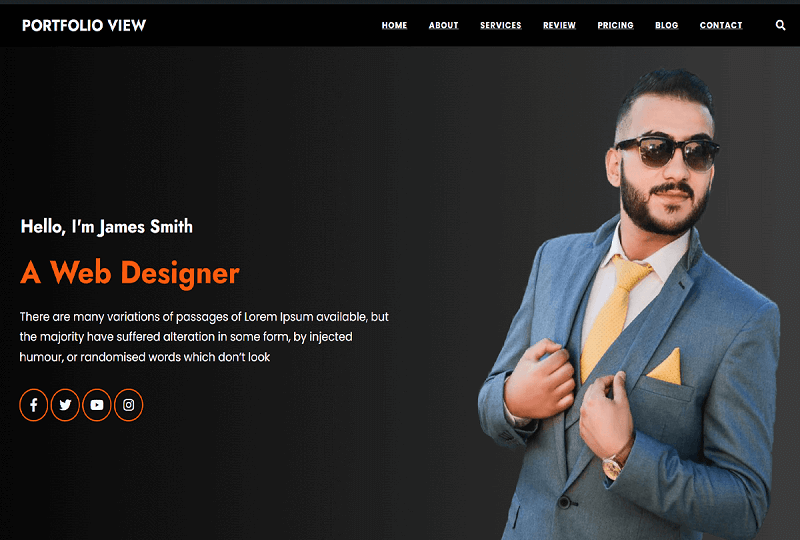 The Portfolio View theme offers a responsive dark bold theme design with many customization options. This WordPress theme is ideal for any artist, developer, or designer who wants a good-looking, professional portfolio site. And it allows you to add social links to showcase your work and product on social media channels, including Instagram, Facebook, and Twitter. The Portfolio View theme is easy to use and allows you to show off your work in a professionally organized manner. Furthermore, the Portfolio View theme has an intuitive, interactive eye-catching design with a modern and clean look. Besides this, it makes your experience refined since it is based on the bootstrap framework.
3. Digital Marketing Elementor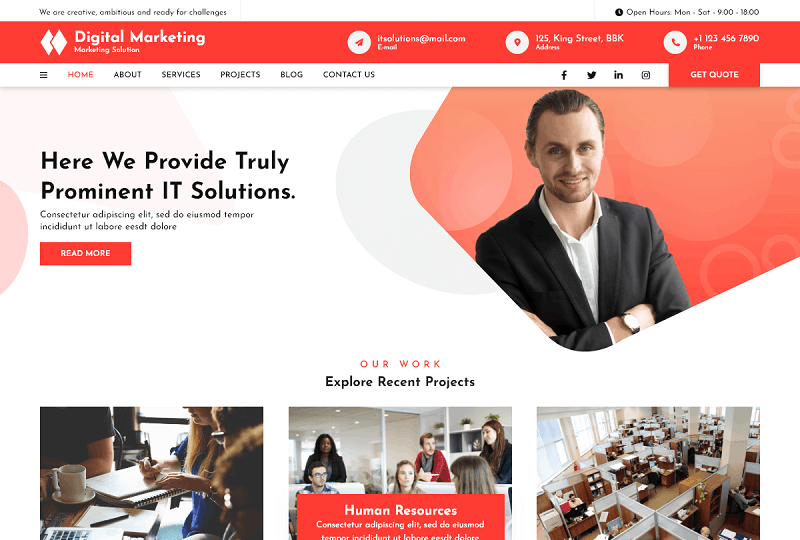 Another powerful and responsive theme with social media options on our list is the Digital Marketing Elementor theme. This minimal theme offers a drag-and-drop page builder, and you can build beautiful pages using a visual editor. Also, its clean, modern blog design makes it the perfect fit for businesses such as digital marketing, email marketing, tech support, online marketing, SEO marketing, and social media marketing. The Digital Marketing Elementor theme helps you connect with your audience more professionally and engagingly and tracks your site performance and results. Without many bells and whistles, the Digital Marketing Elementor theme gives you an easy-to-use interface for customizing your site according to your brand's image and vision.
4. Aqeeq Agency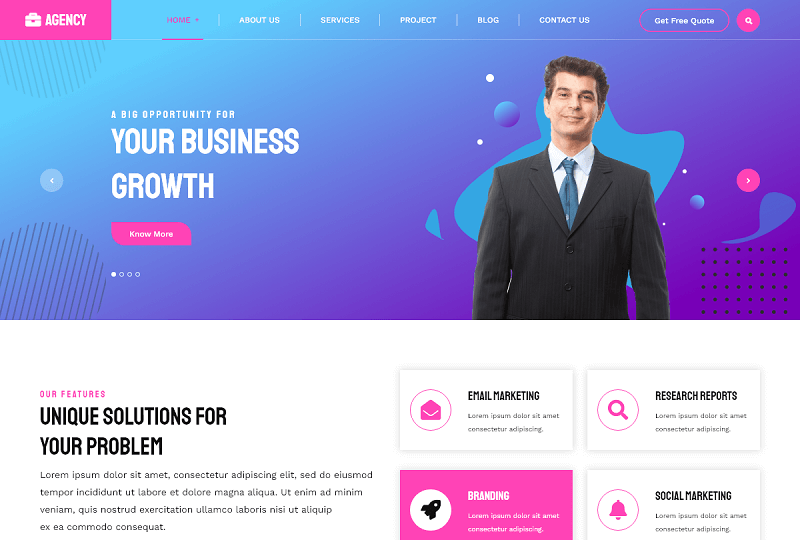 Aqeeq Agency is perfect for creating portfolios, blogs, designing agencies, businesses, marketing agencies, and other websites with edge-cutting performance and flexibility. This WordPress theme offers stunning imagery, translation-ready features; and Social Media Integration to quickly grab the audience's attention and spread your brand name to the broader audience. Besides this, the Aqeeq Agency theme also has improved theme layouts, custom backgrounds, and unlimited options in the color palette to color your site the way you want. Also, you can use the Aqeeq Agency theme to design unique responsive Woocommerce shops, Construction services, Photography, and other related websites. The best thing about this theme is it does not require any coding knowledge to do any changes, and everything you get is professionally coded to deliver the best performance.
5. Fashion Designer Studio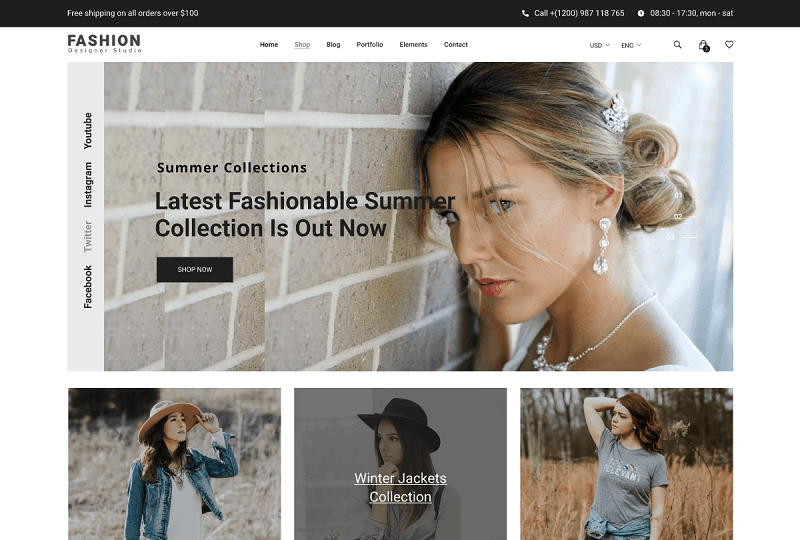 If you want a WordPress theme to promote your fashion designer Studio on social media channels, then the Fashion Designer Studio theme is perfect for you. It is a feature-rich, easy-to-use, readymade design that is ideal for representing fashion and cosmetic stores, beauty salons, professional fashion designers, hairstylists, and relevant professions and businesses. Fashion Designer Studio is WooCommerce and RTL compatible; and allows you to add social links to flaunt your social media posts. Besides this, the Fashion Designer Studio WP theme offers valuable features like Typography, Color Options, SEO codes, CTA, and many more for better conversion rates.
6. VW Dark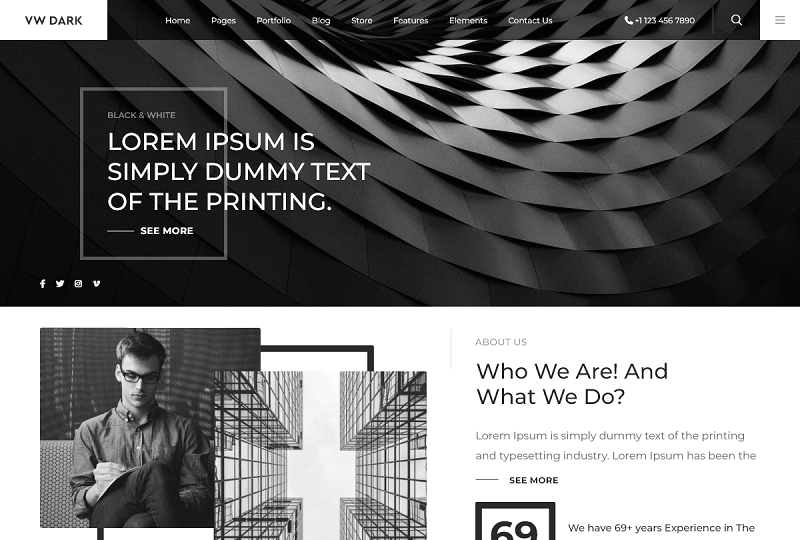 The VW Dark theme is next on our list of the best free social media WordPress Themes. It is also an elegant WordPress theme By VW Themes. You can use this splendid theme for multiple business types and professions, such as media agencies, marketing experts, creative designers, entrepreneurs, etc. Besides this, the VW Dark theme is minimal in style with sections like Banner with CTA, Newsletter, About, Testimonials, and Widget area with Social links to establish your online presence. The VW Dark theme is also WPML and RTL compatible; and its highlighted features are Translation-ready, Flexible Header, Four Columns, Post Formats, Theme Options, and Secure HTML Codes.
7. Feminine Style Lite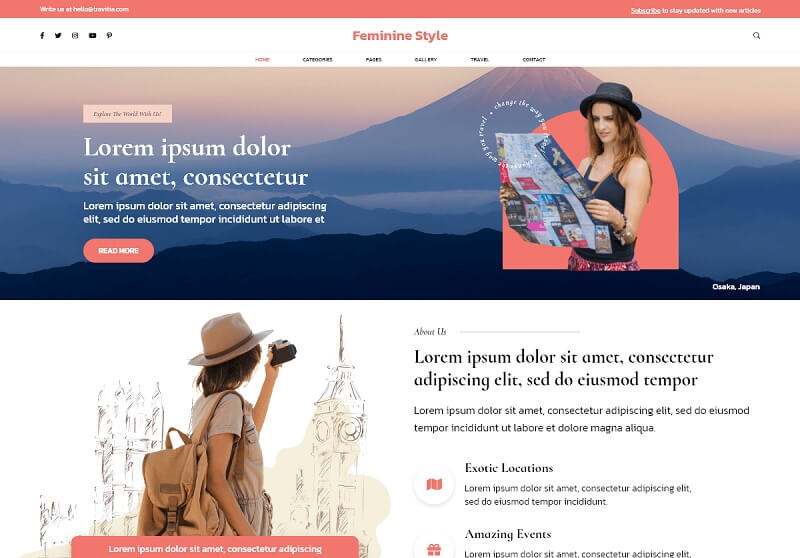 Remarkable features of the Feminine Style Lite theme are Custom Colors, Social Media options, Custom Header, RTL Language Support, Custom Logo, Custom Menu, Featured Images, Footer Widgets, Theme Options, etc. Furthermore, you can use Feminine Style Lite to build all kinds of stylish, clean, and professional blog sites. Besides this, the Feminine Style Lite theme lets you promote your content and posts on different social media platforms. And its clean typography and responsive design let you build a top-notch distinct site for your blogs. So give the Feminine Style Lite theme a try and impresses your visitors with a stunning layout and features!
Conclusion:
Social media-integrated sites are a must for every online business nowadays. It is an important space for businesses to promote their content, reach new customers, and generate leads. And we think that a social media-integrated business website will help your business grow even more. So, build your social media-integrated sites with these free themes and grow your business and reputation. And if you have any questions regarding themes or posts, feel free to ask in the comment box below.