A Fantastic Collection of Best Free Sweet Shop WordPress Themes to Try for Your Online Sweet Stores, Bakeries, Restaurants, or Candy Shops.
Sweets, Candies, and other sugary products are popular among kids. They will always be in the market, and this demand gives opportunity to many small sweet shops or relevant businesses to draw customers of all ages. Since people prefer to shop online rather than going to an offline store, it is crucial to have a persuasive online store to flourish your business.
You can use these Sweet Shop WordPress Themes to build your very own online store site. They are fun and easy-to-use WordPress themes. Just take a look at them, and you will surely find a good match for your online sweet shop site.
List Of Best Free Sweet Shop WordPress Themes
1. Christmas Sweets
2. VW Bakery Blocks
3. Creamery Lite
4. Panadero Bakery
5. Bakery Pastry Lite
6. Kids Online Store
7. Sweetsi Lite
Also, Read:
Best Free Gallery WordPress Themes
Best Free One Page WordPress Themes
1. Christmas Sweets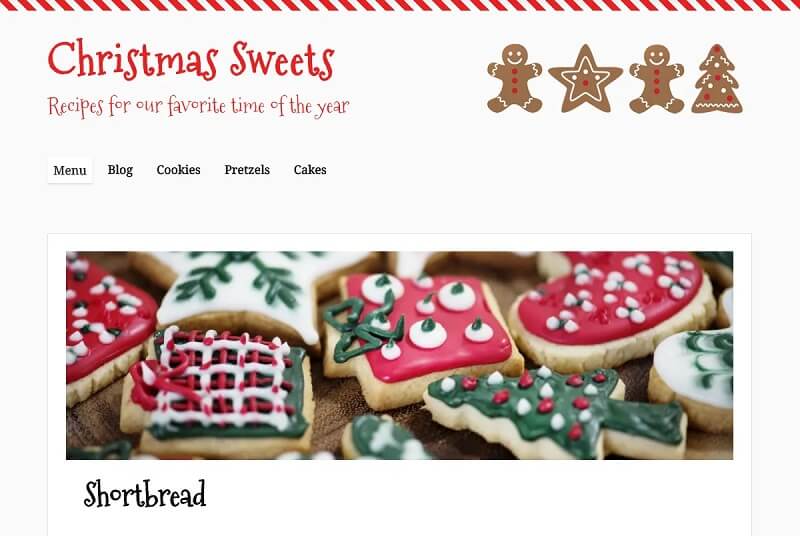 This theme is a cute WordPress blog theme with elegant looks and a grid layout that focuses on your latest posts, sweet products, and other parts of your sweet store. Christmas Sweets is a multipurpose theme that can be used for various businesses and blog sites. The Christmas Sweets theme also presents many prospects to maximize your sales and conversion rate. It has qualities like Retina Ready, Translation and RTL Support, CTA, Custom Colors, SEO-Friendly, and many more! In addition to this, the theme gives you a Footer widget area for all the widgets, Custom Recent Posts, and Comments widgets. Besides this, you will also get support for the header image and logo to lure customers and spread your brand name.
2. VW Bakery Blocks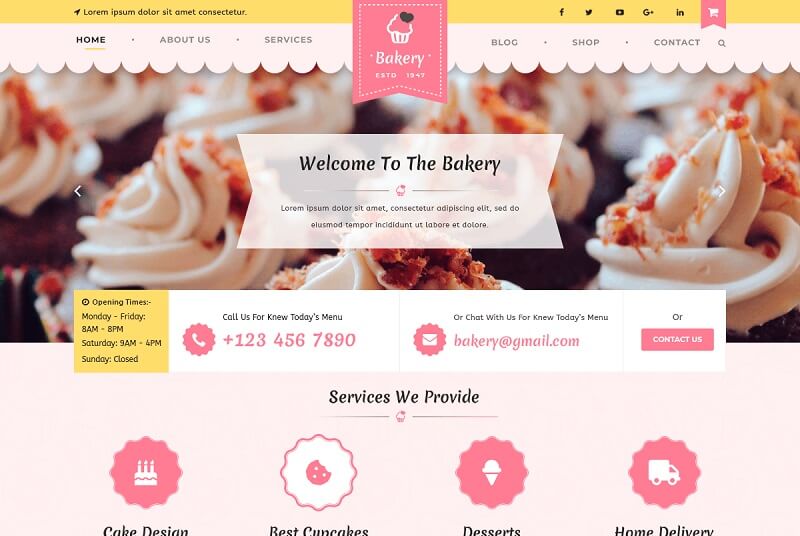 VW Bakery Blocks is a fantastic WordPress theme to run sweet stores, bakery businesses, food blog sites, or online eCommerce stores. This theme offers a minimal design with many options and features to easily customize your sweet shop to match your taste. VW Bakery Blocks is backed by retina-ready design and interactive elements such as beautiful testimonials and comments section. Furthermore, this sweet store WP theme is Bootstrap framework-based, which makes it responsive and looks fantastic on all devices. The theme also gives social media options and other advertisement features for effective promotion of your brand and sweet products. VW Bakery Blocks is perfect for all you sweet lovers who want to sell their sweets and baking products online.
3. Creamery Lite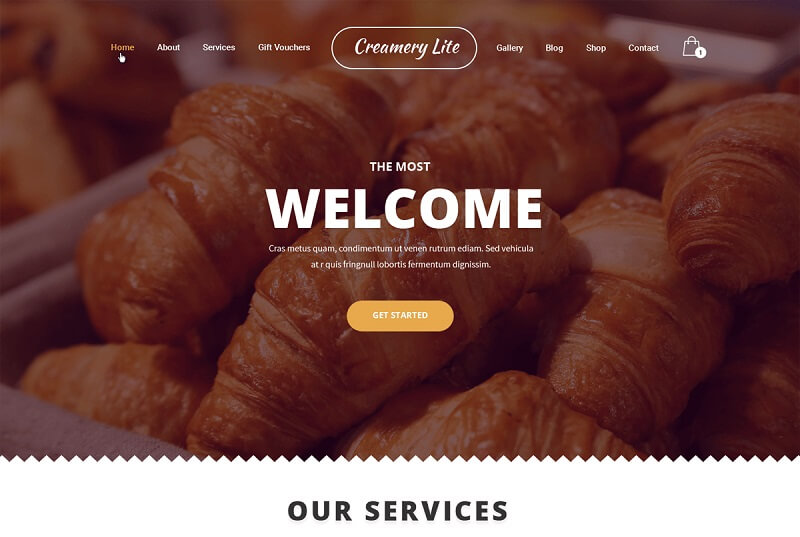 The Creamery Lite store theme has various eCommerce or design features like Logo upload, WooCommerce Support, Social media Links, Slider Options, Homepage Sections, Blog Page, and many more. It also has a clear and minimalistic design with multiple widget regions, a two-column layout, and speed-optimized codes to run your sweet store. You can use this fantastic theme for making business and store sites for cake shops, ice cream parlous, sweets shops, bakeries, cafes, gift shops, coffee shops, etc. The Creamery Lite store theme lets you show off your sweet and other baked products in its flat-style beautiful homepage sections.
4. Panadero Bakery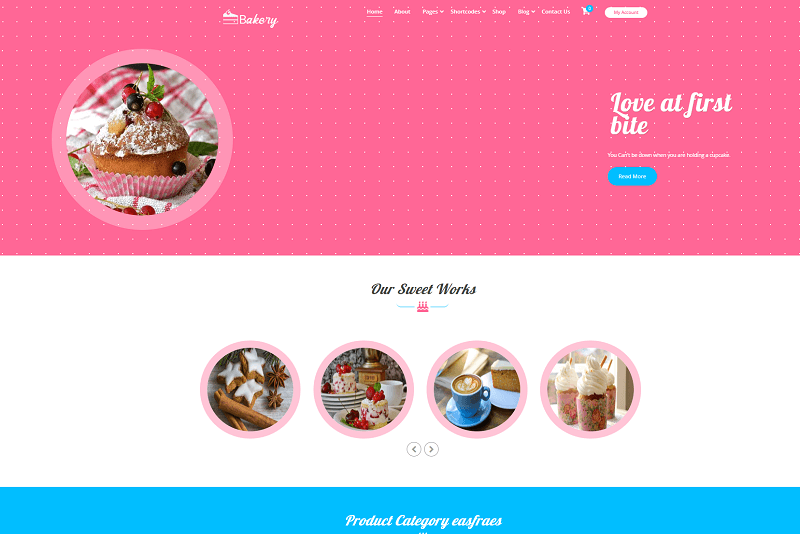 Panadero Bakery is another robust sweet store and bakery theme For WordPress. This lavish theme gives you a well-structured, feature-rich design with features like Custom CSS, Social Media Integration, Home Page Section, Retina-ready, and more to design visually appealing and engaging bakeries, cakes, and sweet store sites. Besides these features, the Panadero Bakery theme also gives you WooCommerce plugin support to add attractive product pages and meet your other online sweet store requirements. Furthermore, you can use the Panadero Bakery theme for online sweet stores, juice shops, cafes, ice cream corners, dairy farms, restaurants, and other relevant business sites.
5. Bakery Pastry Lite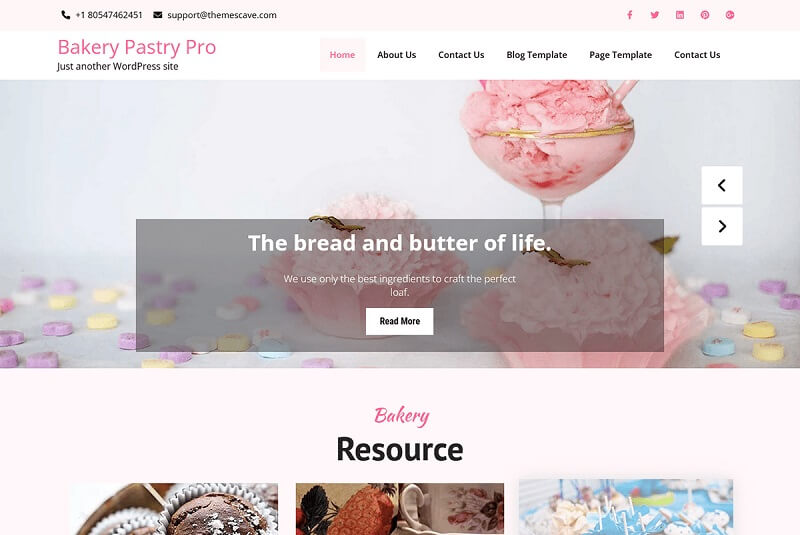 It is another splendid theme on our collection of best free sweet shop WordPress themes is the Bakery Pastry Lite theme. It is the perfect suit for making a bakery, coffee shop, restaurant, sweet shop, cafe, ice cream parlors, donuts and muffins shop, biscuit factory, and other relevant store site. Furthermore, the Bakery Pastry Lite is a modern, explicit, tempting WordPress eCommerce theme. The Bakery Pastry Lite theme also includes compatibility with the WooCommerce plugin for secure payments. The theme has multiple layout features to set up your fully functional online stores within minutes. This attractive bakery theme will supply features like threaded comments, multilingual support, banners, sliders, etc.
6. Kids Online Store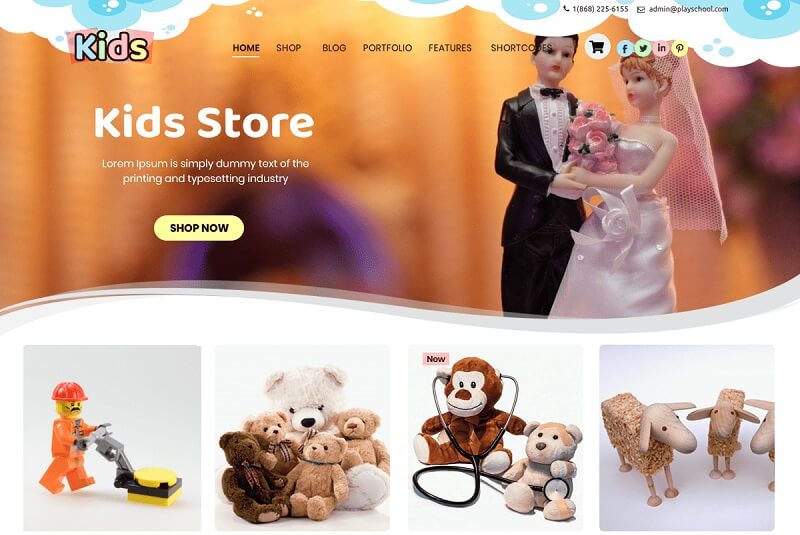 Kids Online Store is a splendid Online product-selling theme also perfect for creating responsive sites for Toy Stores, Childcare, Primary Schools, Baby Stores, Departmental Stores, Baby-Proofing Accessories, etc. Furthermore, the Kids Online Store theme offers colorful design and engaging features, including threaded comments and multilingual support. Besides this, the Kids Online Store theme has plenty of ad space to run ad programs such as AdSense to monetize your online toy store. Also, you can customize the Kids Online Store theme's layout with customizing options. Furthermore, you will also get stunning graphics and web standards like HTML5, animations, etc.
7. Sweetsi Lite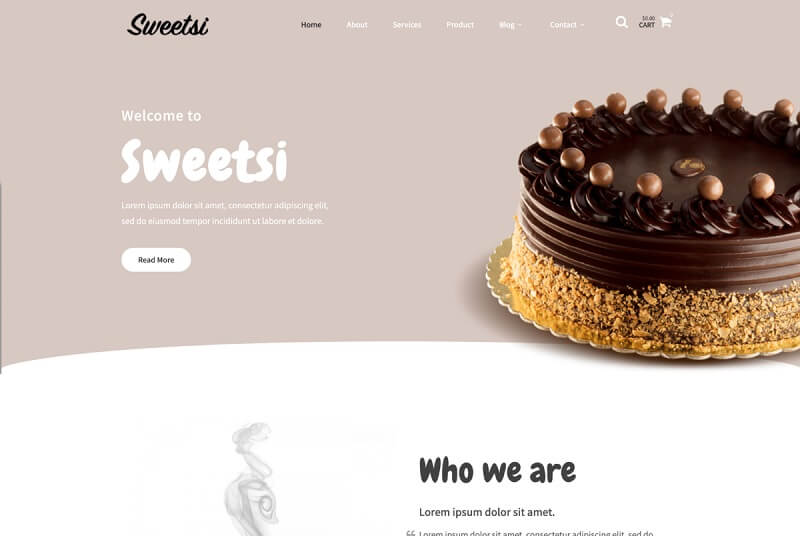 The Sweetsi theme is perfect for selling all ilks of products, such as Electronics, Appeal, Toys, Books, and more. Furthermore, this store theme gives you multiple payment integration and WooCommerce support. The theme is bundled with Elementor and has plenty of ad slots in its layout. It has an amazing admin interface that lets you manage several ads together for easy site monetization. Besides this, the Sweetsi theme gives a Featured Slider, Popular Posts, Services, Blog, and other sections for building a professional-looking store site. Also, with the Sweetsi theme, you can make stunning, speed-optimized eCommerce and shop-related websites.
Conclusion:
Now, it goes without saying that having a site has become compulsory when running a business. It is irrelevant whether your business is small or large or whether you sell high-end products or day-to-day things; you will need an appealing site for the success of your business. These Sweet Shop WordPress Themes come with in-built or premade templates to make such a website. So, why not try them?