The custom of tea has been followed since ancient times. Millions of people prefer tea over other beverages. Therefore, it is a booming industry if you are planning to run an online tea-serving site or tea shop that sells any tea-related products. But first, you will need a website, and Tea Shop WordPress Themes are best to build it.
Tea shop themes are excellent for tea stores, cafes, tea companies, and related websites. They bring out the character of your tea shop and help you build a site that looks like an actual tea shop in just a few easy steps. So, do not explore this theme collection; I am sure you will enjoy it!
List Of Best Free Tea Shop WordPress Themes
1. Tea Cafe
2. Classic Coffee Shop
3. Chamiers Lite
4. Featuredlite
5. Coffee Shop Corner
6. Herbal Ayurveda
7. Barista Coffee Shop
Also, Read:
Best Free Influencer WordPress Themes
Best Free Classified Ads WordPress Themes
1. Tea Cafe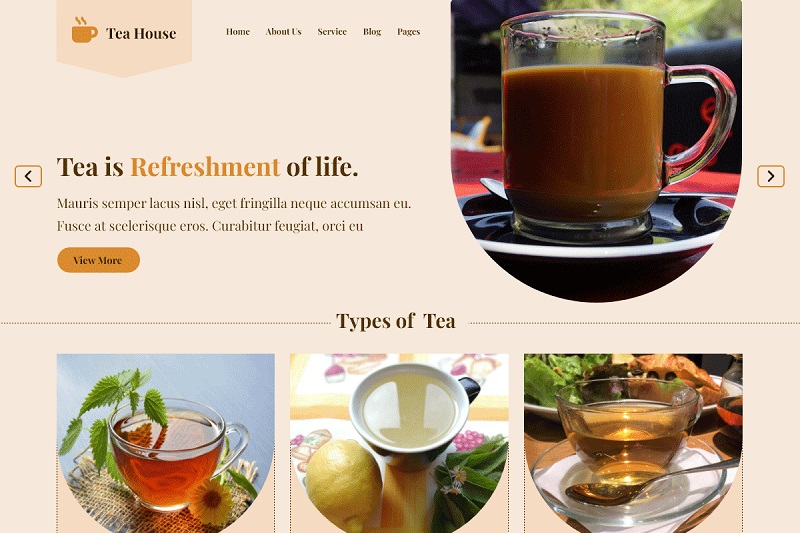 Tea Cafe is a responsive tea shop theme designed to elegantly display your tea shop, cafe, or related business. It is created and developed for business owners looking to make an inviting online presence for their tea and coffee-related business and draw potential customers who treasure the taste of their offerings and fall in love with the atmosphere. This feature-packed tea shop theme is both fast and SEO and has attention to detail to provide an immersive user experience to tea lovers. Furthermore, Tea Cafe offers intriguing and powerful features such as Widgets, a Custom menu, WooCommerce Settings, Customize Logo, Translation Ready, and more to empower your site to rank higher on SERP, driving more organic traffic to your tea shop.
2. Classic Coffee Shop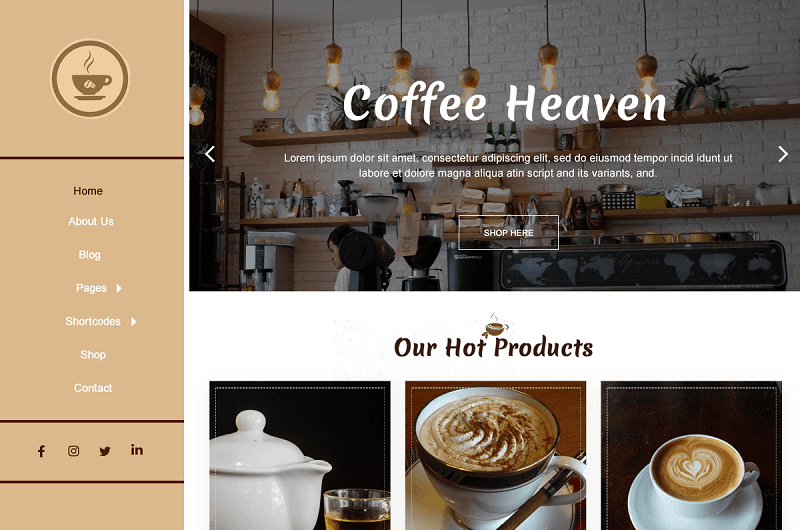 This customizer-based tea and coffee shop theme provides your online store with a cool, modern, and professional look. Classic Coffee Shop is best for all types of sites, including cafeterias, coffee shops, bakeries, tea shops, food restaurants, pizza shops, food recipes, ice-cream parlors, catering businesses, etc. With the Classic Coffee Shop theme, you can design your persuasive tea shop site with the desired functionalities, and you can further modify it to showcase your unique style. Classic Coffee Shop also carries powerful functionality like support for WooCommerce, WPML, and Events Calendar plugins. Moreover, the Classic Coffee Shop theme offers fascinating features like Pre-built Demo Templates, Layout Options, Typography, Color palettes, Column Width, Header and footer Options, and more.
3. Chamiers Lite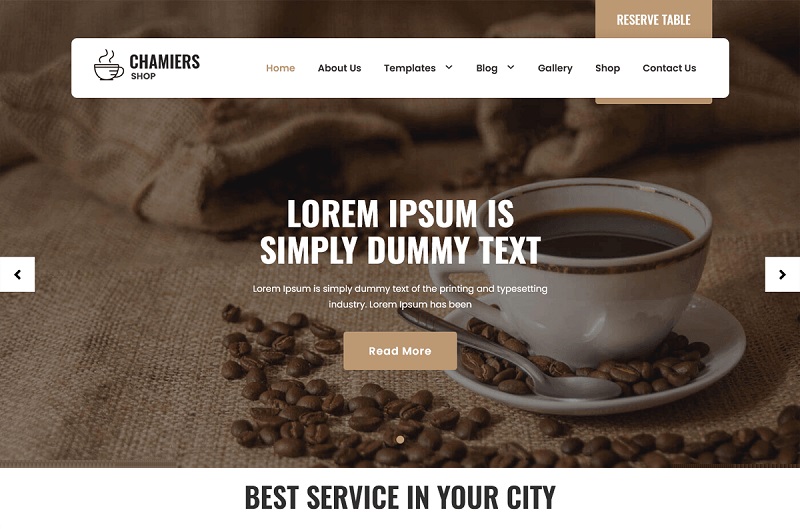 Chamiers Lite is one of the pocket-friendly, customizable WordPress tea shop themes. This stunning theme is suitable for coffee or tea service providers, beverage delivery sites, restaurants, cafes, bakeries, and relevant business sites. You can use the Chamiers Lite Lite theme for online product-selling sites as well. Also, the theme offers a wide range of options, an elegant appearance, and a unique design to have a robust online presence. In addition to this, Chamiers Lite provides features such as Custom Widgets, Header Layouts, Color Options, Sidebar Layout Options, Page Templates, and much more. So, try Chamiers Lite, and your site customers will love it!
4. Featuredlite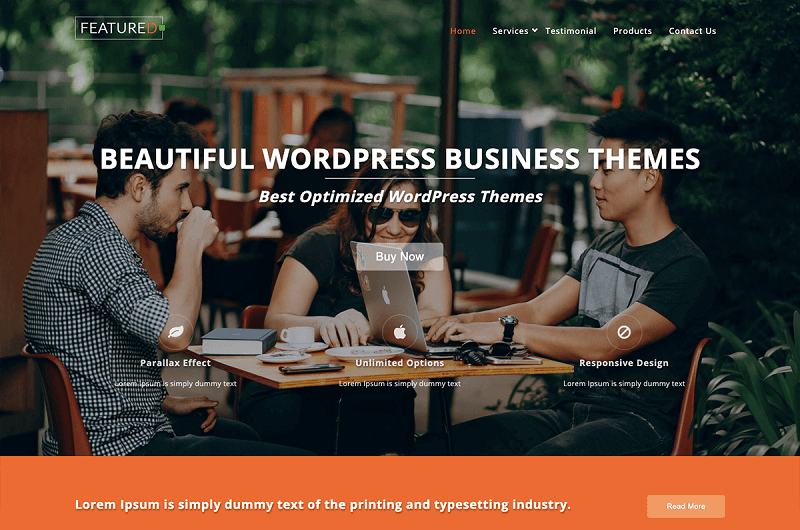 Featuredlite is a Clean, Elegant WP theme specially designed for corporate and business sites, including tea shops. It is a user-friendly theme Customizer settings, and its instant setup approach lets you build your professional tea shop website effortlessly. The Featuredlite theme is suitable for Business Agencies, Interior Designers, Florists, Transport Businesses, Tea Shops, eCommerce Sites, Photography, Blogs, etc. This splendid WordPress theme offers a Full body background slider, Background image option, Header layouts, Widgets, Testimonials, Latest News, Contact Us (With Call to, Mail to, Address, and Map), Advanced section styling, and more to design an outstanding tea and coffee shop site.
5. Coffee Shop Corner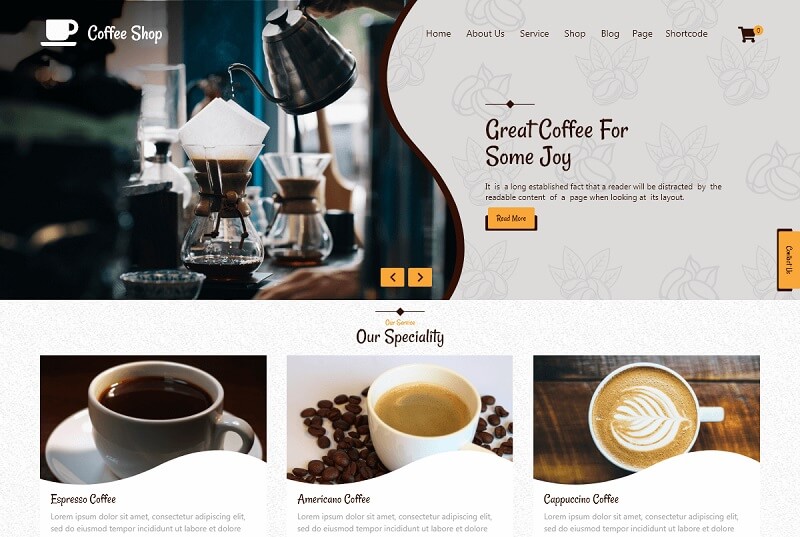 This beautiful and elegant WordPress coffee and tea shop theme is best for showcasing your menu items, products, and services. Coffee Shop Corner is designed for beverage shop sites such as coffee bars, tea shops, wine bars, milk houses, bakeries, and restaurants. It is a Bootstrap framework-based tea shop theme that offers plenty of features, user-friendly UI, and secure code. Besides this, it includes features like Menu Options, Breadcrumbs, a Theme Options Panel, Social Sharing Options, Shortcodes, Translation Features and more. Coffee Shop Corner features a fascinating layout for selling products, showcasing services, and posting blogs. It is a very lightweight, easy-to-use, WooCommerce-compatible theme well-suited for both personal and business niches.
6. Herbal Ayurveda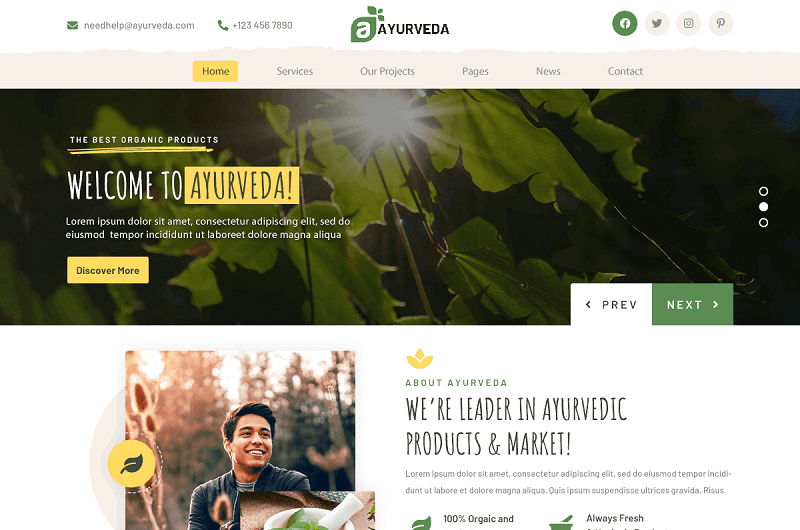 Next to emerge in our list is Herbal Ayurveda. It is a feature-packed, multipurpose theme you can use for herbal and green tea shop sites. This theme gives your site a pleasing, minimal look. This theme also offers you access to features like typography settings, color-changing options, Instagram integration, personalized fonts, header and footer options, etc. Besides these features, Herbal Ayurveda also gives you Gutenberg Editor Compatibility and a fantastic testimonial section to add the reviews of satisfied customers. The Herbal Ayurveda theme is ideal for all kinds of websites, including herbal tea shops, social movements, NGOs, crowd-funding campaigns, Healing, Yoga, etc.
7. Barista Coffee Shop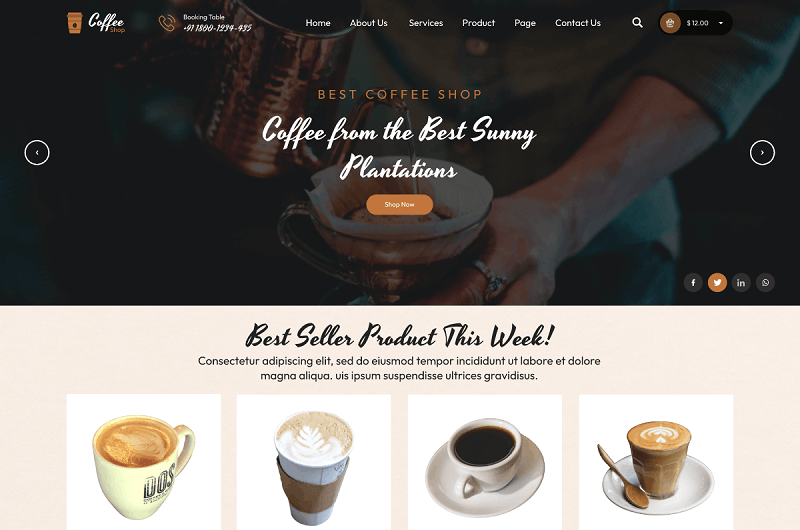 We are shutting our list with the Barista Coffee Shop theme. It is a Bootstrap framework-based lightweight theme built for representing coffee houses, tea shops, Barista, cafe bars, restaurants, etc. It is a speed-optimized WP tea shop theme with a content-focused design. In addition, Barista Coffee Shop provides features such as a Fullwidth Banner, Featured Posts Slider, Breadcrumb, Post Meta Options, Social Share, and much more. Also, the Barista Coffee Shop theme lets you impress your visitors by sharing the clients' testimonials and team information on a fantastic banner, Teams, and Testimonial sections. The layout is retina-ready for bringing a refined design with secure and clean code at its core.
Conclusion:
Building a site devoted to tea, one of the most favored drinks in the world, with a fully custom-designed layout to display your tea concepts. Online Tea shop sites have become a popular destination for many people, as they provide all the necessary information one needs to decide on the place to go and try the different kinds of tea. With these Tea Shop WordPress Themes, you can easily create such sites.