Many painting businesses or individual painters have been using WordPress for their blogs, but they are often in need of good themes that are friendly to their needs. WordPress Themes for Painters helps busy painters work more efficiently with their tools and processes. Whether they are an expert or a beginner, these WordPress themes can simplify their website development process and make them productive both online and offline.
Also, these themes offer a modern and attractive design for attracting new clients, writing blogs, or showcasing portfolios online. So, if you are a painter and looking for a theme, check out this collection of themes once!
List Of Best Free WordPress Themes for Painters
1. VW Painter
2. Formula
3. Daily Construction
4. Flixita
5. VW Maintenance Services
6. Home Decor Shop
7. SKT Handyman
Also, Read:
Best Free Yoga WordPress Themes
Best Free Video Background WordPress Themes
1. VW Painter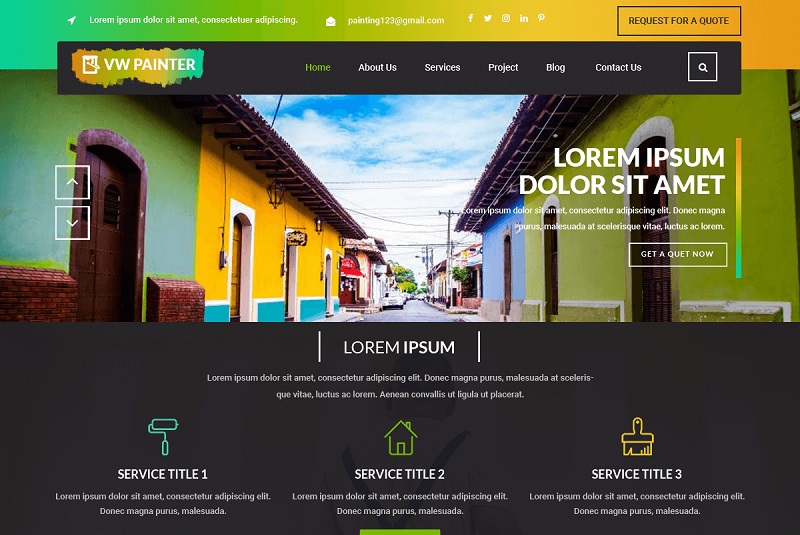 VW Painter is a stylish, attention-grabbing, dynamic painter WP painter theme with excellent features. The VW Painter theme loads comfortably on any browser and supports WooCommerce, letting you build a fully functional paint shop site. It is good for businesses such as Panting Companies, Individual Painters, Construction Companies, Carpenter Workshops, Architecture, Handyman, Home Remodeling, Art Galleries, Handicrafts Shops, and other relevant business sites. Also, VW Painter lets you select from preset color palettes and has banners and sliders to make your site appealing. This splendid theme is designed with a mobile-first approach, making it responsive and beautiful on all devices. VW Painter has many features, including custom colors, a Custom Logo, Social media options, a full-width template, threaded comments, etc.
2. Formula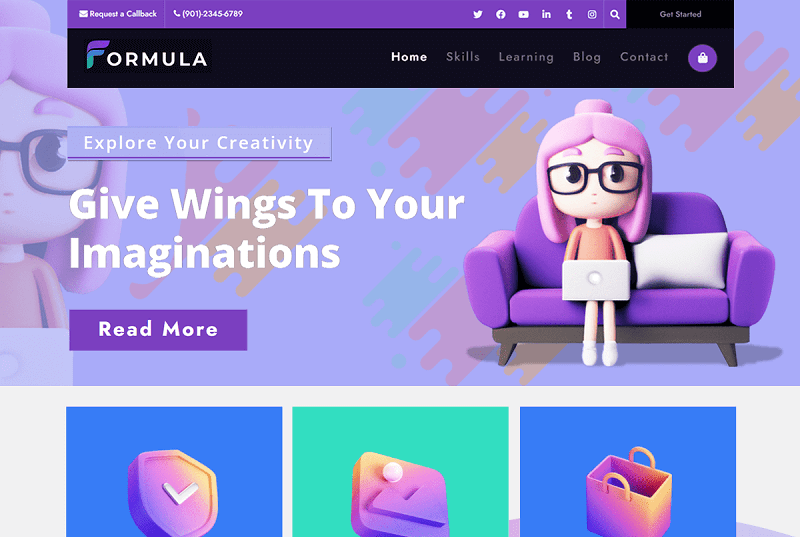 It is another Fantastic WP theme for painters. Formula is also great for Newspapers, Magazines, Pet care, Animal wildlife, Painting estate, Interior design, Construction, Beauty & spa salons, Fitness, Startups, and Travel agencies, besides painting. The Formula theme is lightweight and speed-optimized, so it loads on all screens in no time. Furthermore, its advanced admin panel lets you customize this theme hassle-free and appealingly showcase your painting and other works and services to visitors. Also, Formula has shortcode compatibility, a Masonry layout option, and WooCommerce compatibility, which enable you to build almost any type of site.
3. Daily Construction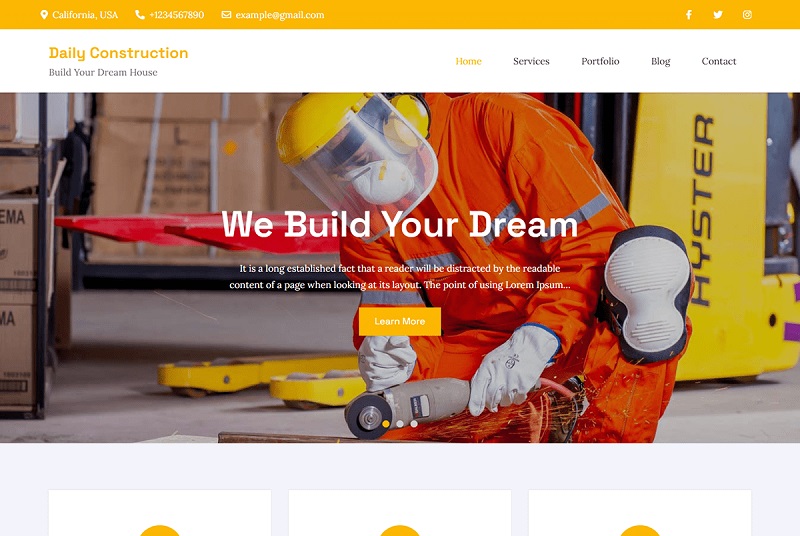 Gorgeous features of the Daily Construction theme are Custom Color Options, Topbar Contact Info, Topbar Social Icons, Logo, Site icon, Header Image, Enable Header Image in Static Frontpage, Background Image, Menus, Widgets, and more. Furthermore, you can use this multipurpose theme to build all kinds of sites, including plumbers, construction, electricians, carpenters, painters, and similar business websites. Besides this, the Daily Construction theme lets you access Global Typography, Sidebar Layouts, Custom page templates, and the Latest Posts Section. With global typography and straightforward design, the Daily Construction theme can help you make your distinctive business site backed by professionals of Creativ themes. So why not give the Daily Construction theme a try!
4. Flixita
Flixita is perfect for developing performance-focused, flexible sites for Architecture, Plumbing Contractors, Painters, Interior Designers, Multiple Agencies, Photography, Gym, NGO, Consulting, etc. This painter theme offers an advanced admin panel through which you can modify your paint shop site to meet your business goals. Besides this, the Flixita theme has enhanced retina-ready designs molded for all kinds of screens, from high-resolution desktops to mobile screens. You can use this WordPress themes for painters to create fast, accessible eCommerce shops and blogging sites. You know, what is the best thing about the Flixita theme? It does not use jQuery dependencies or any styling library, making it the perfect option for you if you want to add your custom codes.
5. VW Maintenance Services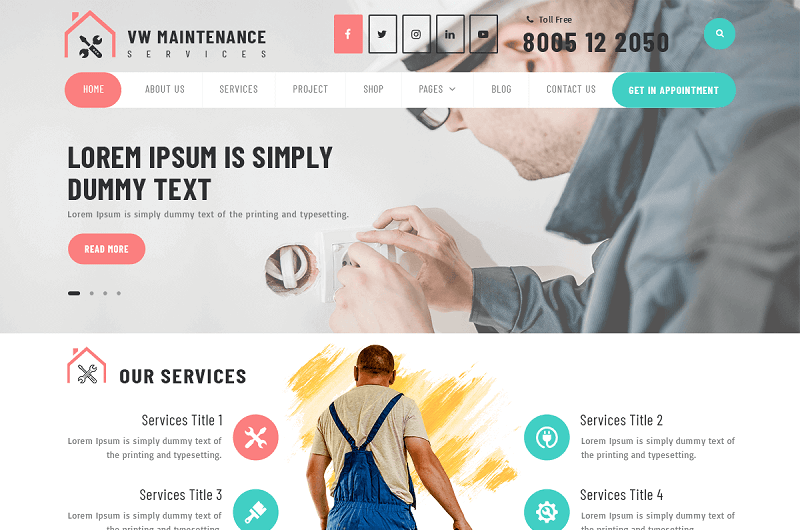 In the VW Maintenance Services theme, you will get outstanding features such as Custom Logo, Editor Style, Theme Options, Threaded Comments, Post Formats, Translation Ready, and more. Again, the VW Maintenance Services theme is a flawless multipurpose theme that you can use for making various types of sites, including Carpenters, Painters, Plumbers, etc. Besides this, the VW Maintenance Services theme supports Gutenberg and the latest Form Builder Plugins. Also, this lovely painter theme has a clean design accompanied by personalization options and social media tools suitable for creating a strong, persuasive online presence for your painting business.
6. Home Decor Shop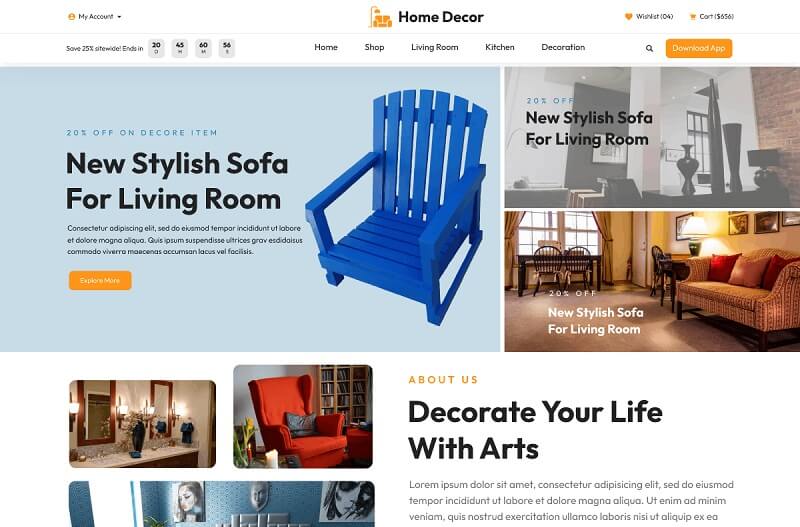 An excellent WP theme, you can try to build websites for Home decor stores, Interior design, Painting, and related businesses. The Home Decor Shop theme is a versatile design-based modern WP theme with Contact Forms, CTA buttons, and Social media support to build an impressive online presence that aligns with your brand essence. It also has an attractive banner and appealing design to showcase your products and painting works. Furthermore, the Home Decor Shop theme includes beautiful typography, translation-ready features, and WooCommerce shop support to make product catalogs, organize inventory, set pricing, and add multiple secure payment gateways.
7. SKT Handyman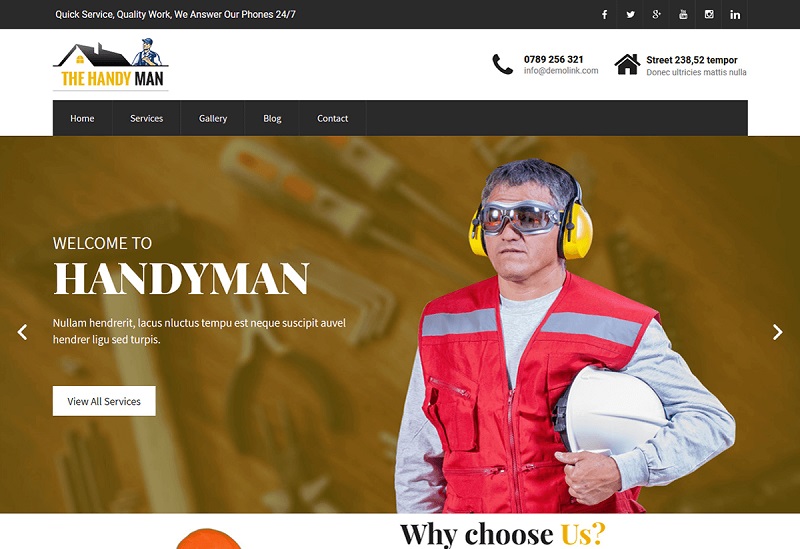 Another free painter WordPress theme in our collection is SKT Handyman. This multipurpose theme features Typography Options, Icon Options, Header Layouts, and more. Its modern design makes it an ideal choice for Electrician, Carpenter, Workshop, Painter, Maid service, Construction, Architecture, Interior work, etc. Furthermore, SKT Handyman delivers Fast loading times, RTL support, and 4 Different layouts for the header and footer sections. Also, the SKT Handyman theme has header options with Social media icons that allow your visitor to see all your posts and share them. Without many bells and whistles, the SKT Handyman theme has inbuilt shortcodes with diverse functionality to build easy and effective eCommerce business sites.
Conclusion:
WordPress themes are a good choice for painters. WordPress offers an easy way to create a website while also being dead easy to use. Also, we live in the age of the Internet, and most Painters want guaranteed success for their businesses through their WP website. These free WordPress themes are perfect for painters as they include everything they need to connect with their potential clients and make money online, including product recommendations tailored to their specific style of art.