Lifestyle is one of the popular niches among bloggers for writing various enthusiastic, vibrant blogs and articles. It can be a perfect stepping stone for those who want to start their journey as a blogger. Also, a good-looking website that features lifestyle-related blogs is the best way to engage the audience. If you are also looking for lifestyle WordPress themes to create these kinds of sites, WP theme on collections is worth trying!
Furthermore, lifestyle-related posts come with vibrant and engaging designs, and you must ensure that your site is up to the mark with them. Fortunately, these WordPress themes get the job done perfectly. Besides this, these Lifestyle WP themes offer features to give you an edge over your competitors and grab more attention from your audience.
These best lifestyle WP themes come with many unique features to help you stand out. So, let's start finding a WP theme in our collection that fits you and your blogs perfectly!
List Of Best Free Lifestyle WordPress Themes
1. LifestylePress
2. Lifestyle Blog Lite
3. Lifestyle Magazine
4. Shopexcel
5. Chic Lifestyle
6. Dusky Blog
7. Blog Up
Also Read:
Best Free WordPress Block Themes
Best Free WordPress Themes for Freelancers
1. LifestylePress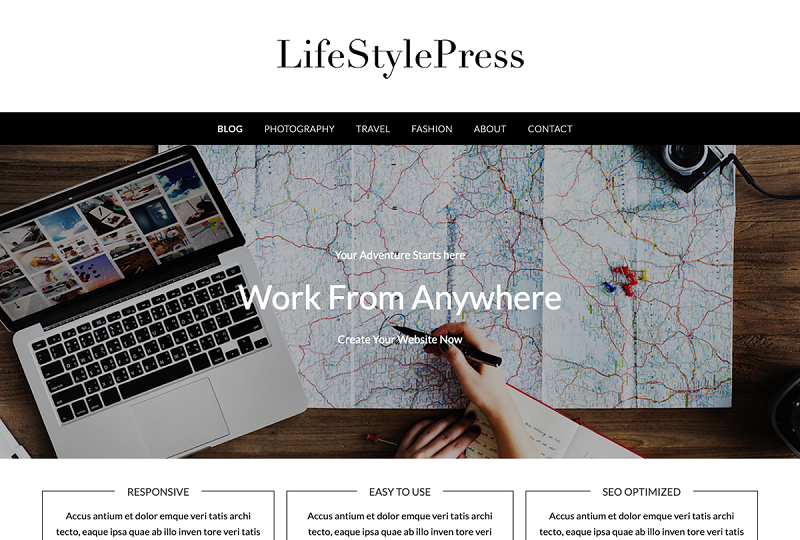 LifestylePress is a responsive WP theme that lets you create attractive lifestyle-related personal and professional websites. It is designed and developed for lifestyle blogs, including journalists, food, fashion, movies, clothing, products, reviews, newspaper, and other related blogs. This feature-packed blog theme is both fast and search engine optimized to ensure the best ranks on search engines. Furthermore, LifestylePress offers intriguing and powerful features such as Widgets, a Custom menu, Favicon, WooCommerce Settings, Customize Logo & Title/Tagline, Header Background Color/Image, Translation Ready, etc. The LifestylePress gives you a well-organized and sophisticated look with a modern touch with all the necessary elements to design responsive lifestyle sites.
2. Lifestyle Blog Lite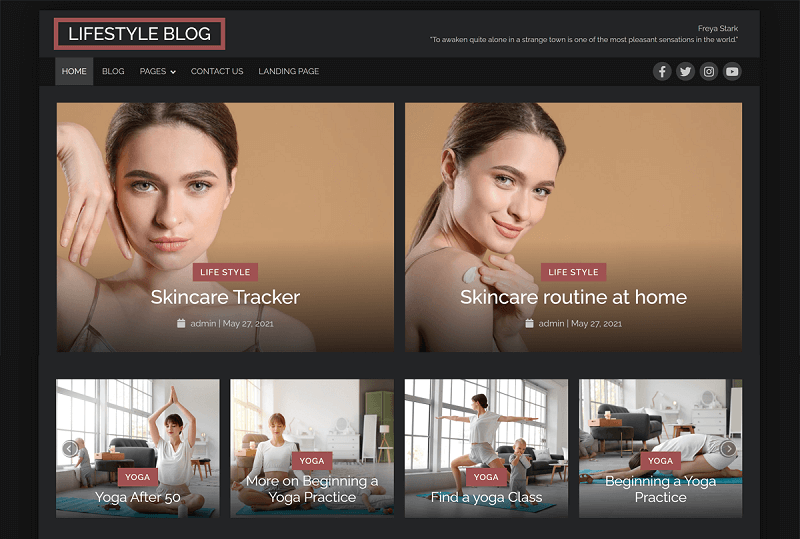 Lifestyle Blog Lite is one of the highly responsive, customizable WP themes. This lifestyle theme is suitable for blogs such as Personal blogs, Travel blogs, Wedding blogs, Portfolios, Business blogs, Fashion blogs, etc. You can use the Lifestyle Blog Lite theme for eCommerce-related websites as well. This powerful WP theme offers a wide range of options that let you do modifications to a certain extent. In addition to this, Lifestyle Blog Lite provides features such as Custom Widgets, Custom Product Search, Header Layouts, Full Menu Color Customization, Color Options, Sidebar Layout Options, Show/hide post elements, Translation ready, Footer Settings, and much more. So, try Lifestyle Blog Lite, and you will love it!
3. Lifestyle Magazine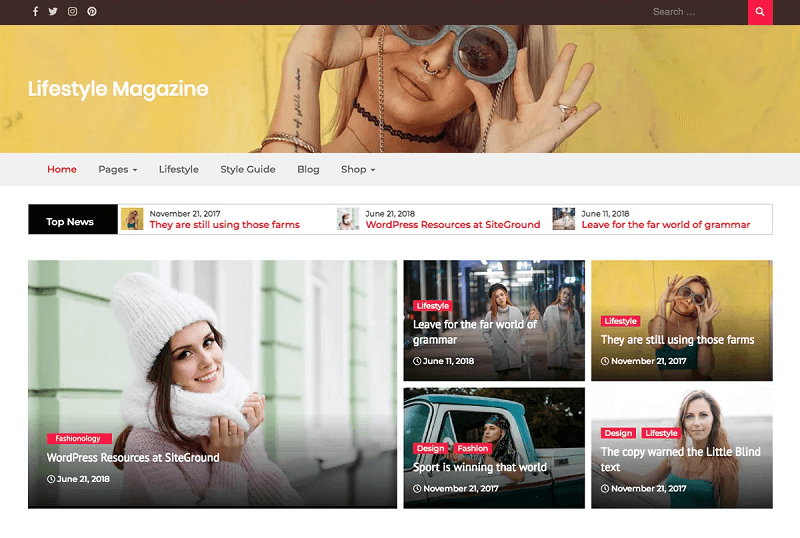 Lifestyle Magazine is a Clean, Elegant, free WP theme. It is a highly customizable theme with a live preview option based on Customizer settings. The Lifestyle Magazine theme is suited for lifestyle bloggers, style guides, personal bloggers, feminists, travelers, journalists, photographers, etc. This splendid lifestyle WP theme has several custom sections to give your layout a stylish and innovative look. Furthermore, Lifestyle Magazine also offers features, such as Google Fonts Option, Breadcrumbs, Cross Browser Compatibility, Powerful Option Panel, Social Media OPtion, and many more. Although this theme focused on magazine fields, it can be used in businesses and personal sites.
4. Shopexcel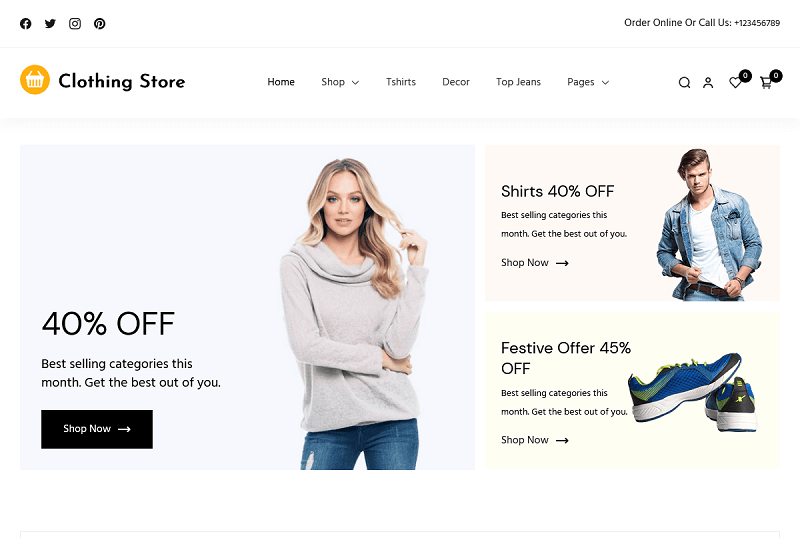 Next to emerge in our list of best free lifestyle WordPress themes is Shopexcel. It is a feature-packed, Robust WooCommerce theme that gives your site a modern, trendy look. Shopexcel has a minimalistic, responsive design. This theme also gives you access to features like colors and typography settings, Instagram integration, translation ready, RTL scripts ready, Logos, etc. Besides these features, Shopexcel also gives you Cross-Browser Compatibility, Gutenberg Editor Compatibility, Full-Width Template, Retina-Ready, Translation-Ready, and RTL writing style support. Shopexcel theme is ideal for all kinds of business and online store websites, such as Fashion, Cosmetics, Jewelry, Furniture, Lifestyle, Decoration, Automobiles, etc. It is one of the recommended fully responsive WP themes in our Collection.
5. Chic Lifestyle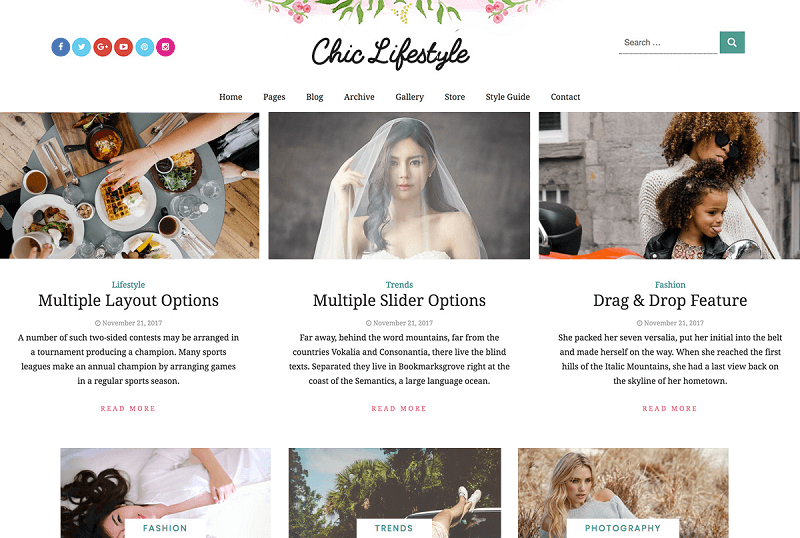 This beautiful and minimalist theme is best for Feminine blogs, Magazines, Photographers, Travel bloggers, Colleges, Universities, Corporates, Weddings, Lifestyles, Churches, Salons, Shopping, Creative freelancers, etc. Chic Lifestyle is designed for feminine bloggers especially. Bootstrap framework-based, this WP lifestyle theme offers plenty of features, user-friendly personalization, and customization options with live preview. Besides this, it includes features like Google Fonts Option, Breadcrumbs, Options Panel, Social Media Sharing Option, and Translation-ready. Chic Lifestyle is also compatible with WooCommerce and features Intriguing layouts for selling products, services, and posing blog posts. This WP theme is very lightweight, easy to use, SEO friendly, and well-suited for both personal and organizational goals.
6. Dusky Blog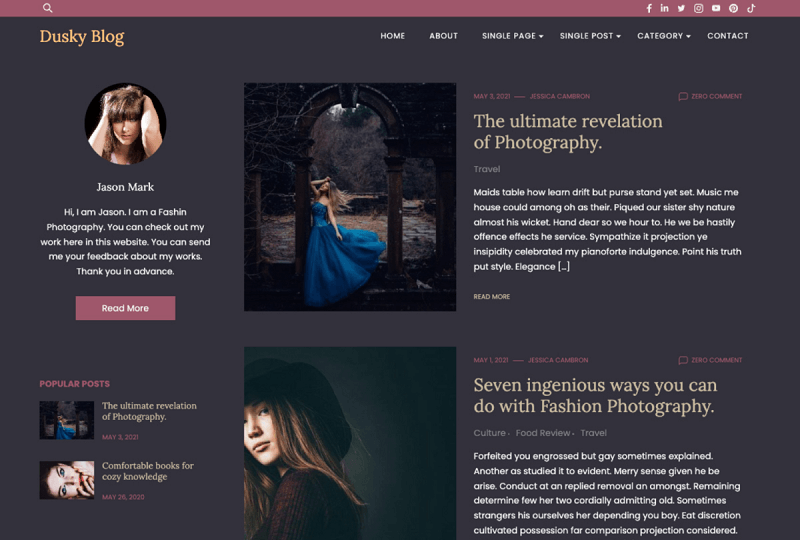 This Bootstrap framework-based fashion or lifestyle theme gives your blog sites a modern, dark, and professional look. Dusky Blog is best for all types of fashion and lifestyle-related blogging sites. With Dusky Blog, you can design and develop your dreamlike blogging site. And you can further customize it in any way you want to showcase your unique style. Dusky Blog also has a dark, bold, and retina-ready design. Also, Dusky Blog is SEO optimized, so it won't leave you behind in web search rankings. Moreover, this powerful WP theme offers intriguing features like a Powerful Options Panel, Font Customization, Background Color Options, Video Tutorial, RTL Scripts Support, and Customize Site Identity Text, Color, and Fonts.
7. Blog Up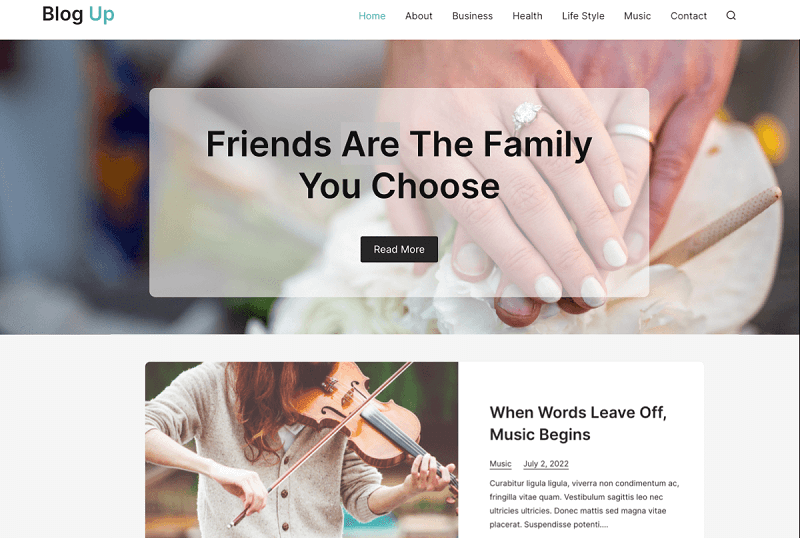 We are closing our list with the Blog Up theme. It is a bootstrap framework-based lightweight WP theme. It is ideal for Bloggers, Travelers, Lifestyle, Beauty, Salon, Health, Fashion, News, Weddings, and all kinds of creative blogs. Furthermore, this lifestyle theme offers a wide range of options for doing all kinds of customization. It speed-optimized WP blog theme that manages Google Core Web Vitals. In addition to this, Blog Up provides features such as Logo Height Option, Fullwidth Banner and Featured Posts Slider on Home Page, Breadcrumb, Post Meta Options, Inbuilt Social Share, Translation-ready, and much more. Also, developers of the Blog Up theme SEO optimize all its pages to boost your search engine rankings.
Conclusion:
Lifestyle is a popular niche for businesses and writers, and lifestyle WordPress themes are the best way to create websites that help them to their target audience. You can try this theme collection, all these themes are responsive, SEO-ready, and comes with various demos to kick-start your project as soon as you install them. So try them and share your feedback with us in the comment section.